The header plays a crucial role in driving maximum user attention while accessing your website. In this article, you will study the most important plugins used to create an attractive header for your website.
You will find so many other alternative methods that attract the user's attention towards your business but one of the easiest and simplest methods is to create an impressive header on your website.
The impressive website consists of social media icons, site title, navigations, logo, hero images, and more. So here we have listed the best WordPress header plugins that is dependent on all your complete requirements and needs plus user-friendly features.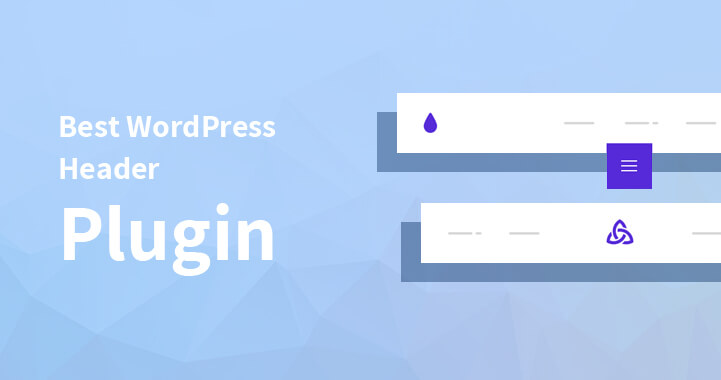 A unique header is the very first plugin that we would like to suggest because it is suitable for every type of need.
Even if you are new to website development or designing you will find this plugin is easy to use. It provides the simplest option to make an attractive header with lesser effort.
By using the best WordPress header plugin we listed very easily you can add images from the WordPress media library. Along with this, you can add headers to the particular categories or tags.
Some of the top features provided are
Easy to disable and enable headers
Option to add header images to pages or posts
No coding skills or experience will be required.
To personalize the header, user-friendly options are provided.
Supports tags and parent categories
Highlights are
Free
Easy and very handy to customize
Another best WordPress header plugin is Insert Headers and Footers. From one single place, you can customize and place scripts with the help of this plugin.
Along with this, you can also add custom CSS, Google Analytics, Facebook pixel code very easily.
Features provided are
User-friendly interface
Easy and very quick installation process
Options for adding code or scripts including JavaScript and HTML
Option for custom CSS
Supports Facebook pixel code, Google analytics, and more
Highlights
Free
Friendly
Easy to use
Another plugin that you should try at least once is Fixed and Sticky Header. This plugin allows you to make your header section sticky i.e. static means even if your visitors scroll your website then also the header section will remain constant it will not change.
In addition to this, you will be provided with some more customization options such as custom font color, custom background, and much more.
Features provided are
Easy customization option
Fixed header after adding id or class plugin setting
Custom background
The fixed header on the scroll
Font color option
User-friendly interface
Highlights are
Friendly
Quick to use
Easy and free
If you are looking plugin that offers a feature i.e. easy to interface and comes with the codes for Facebook pixel, Google Analytics, Google DFP code, post injections, and footer option then Head, Footer & Post Injections is one of the best WordPress header plugins for you.
You just have to copy the code which is generated and paste it on the required field to get the results.
Features provided are
Mobile and desktop injections
Easy options for centralized management
Mobile injections and distinct desktop
For special code placement, it supports placeholders
Independent from the theme used.
Highlights are
Effective
Free
Easy and quick to use
Related Post: How to Add and Customize Video Headers in WordPress
Another plugin that you must try is Ad Inserter. Using this plugin one will get access to the advanced advertisement features.
Also, it supports different ads including media.net, Google AdSense, amazing native shopping ads. Another main feature of best WordPress header plugins is adding ads after or before the header tag.
Provided features are
Supports every ad niche
Easy past and copy function
Automatic ad insertion option
Flexible ad insertion option
Versatile and flexible
Highlights
Another best WordPress header plugin that supports every element is Sticky Menu on Scroll. While using this plugin you can customize the spacing, position and help you to enable the stickiness to display on specific screen sizes.
Provided features are
Push up element
Position from top
Admin bar aware
Enable for specific screen sizes only
Stick any elements
Highlights
If you are looking for a best WordPress header plugin that is easy to use and easy to interface then you must choose header footer code manager in the header or footer section you can add snippets or above or below of your page's content very easily.
Features provided are
Manage exactly where to load script
Support custom post type
It manages the post or pages that need to loads
Make use of shortcodes to add the code manually
Highlights are
Free
Friendly
Easy to use
Another plugin that you should never miss is My Sticky Menu. At the top of the pages, this plugin will make the header or menu sticky. However, it can be used to create multipurpose bars to welcome your visitors
Features provided are
Modify the background color, sticky transition time opacity, and visibility
Create floating sticky bar
Deactivate it for small screens
Have slider and fade effects
Highlights are
Friendly
Good support
Multipurpose
The active installation of this plugin is more than 40,000+. This is the reason it is considered one of the most popular and best WordPress header plugins.
It offers some of the easiest ways to add custom post-type headers. Thus it comes with a very easy-to-use interface.
Provided features:
Open-source software
Simple to use interface
Support for WooCommerce shop page
Support to desired post or page
Highlights are
Great support
Easy to use
The last plugin that we would like to suggest is WP header images. This plugin helps you to establish custom header images for every page. The best feature offered by this plugin is that you can easily add an image whose CSS is manageable from the theme.
Some of the provided features are
The best alternative to add unique header images to the category of WooCommerce
Provide WooCommerce categories different images
Along with categories, menu pages, products, posts, and links can be used.
Highlights
Free
Completely customizable
Easy to use
Conclusion:
The best method to create an impressive and attractive header section is to use a plugin from the list mentioned above.