For those who are looking for the best WordPress CRM plugins to boost their businesses online, we have the needed list and are going to share with you today.
CRM or customer relationship management is the cornerstone of any successful business operation. Irrespective of the type of the company or undertaking you are trying to boost, the number of potential clients is what lets you stay ahead of your competitors or rivals.
However, having a powerful army of clients and customers is only half of the work. Nurturing productive and mutually beneficial cooperation with them.
Understanding their specific needs and fulfilling their expectations, keeping the track of each client's communication history with you and other relevant procedures are what will make you a real winner.
Hence, if you use a WordPress hosted website, in all probability, you will not want to miss the chance of going through best WordPress CRM plugins.
Each of these products is ready to significantly ease the process of your business relations with its clients, will let you have the most important details and insights at your disposal all the time, and generally, will make all kinds of customer relationship management tasks more fruitful and interesting at the same time.
Another attractive and worth-a-shot option is EspoCRM. It is an open-source customer relationship management solution with robust, rich functionality that can be used to manage sales, marketing, customer support, analytics, and more.
Designed to meet the needs of small and mid-size businesses, the software has an intuitive interface with a steep learning curve and is really easy to implement.
The system's Web-to-Lead tool allows your business to build a seamless connection between a web form on your site and your CRM. With its help, you gain the ability to capture new leads, group and segment them, specify the fields that will be synced to suit your business needs, and even automate sending opt-in confirmation emails.
So, no more enduring the time-consuming process of manual copying and pasting customer data from one platform to another.
Apptivo Business Site is a WordPress CRM plugin. With this CRM plugin you can easily create a website that has all Apptivo features. You will be able to customize the contact form very easily.
Even you can easily create newsletter signup forms. The plugin user can manage the testimonials of their customers. It supports the wordpress version 3.0 and higher upto 4.6.17. You will have an access to the complete guide which will show you how to integrate Apptivo plugin with your wordpress website. Basic requirements are:
– Php version 5.0 or higher
– WordPress 3.0 or higher
– SoapClient for php should be installed.
Agile CRM is a customer relationship management platform (CRM) at its core and comes packaged with marketing automation, web analytics and a complete social suite – making it an all-in-one sales and marketing software for small and growing businesses.
It is one of the most cost-effective solutions for small and medium businesses. It helps in giving your customers the power of All-In-One CRM without burning a hole in their pockets – Yes, it is cost-effective, and comes free for 10 users..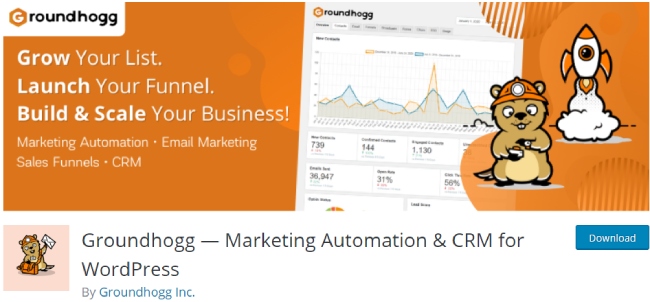 Groundhogg — Marketing Automation & CRM for WordPress is a CRM plugin. Metrilo is a best analytics tools that gives best performance and strategic decisions. Without any problem you can connect with marketing channels.
Easy to track the sales funnel. With product performance data, you can develop your brand in a strong way. You can manage your customer and clients database with the segments and tags.
WooCommerce email marketing is possible. One can insert the data and email. You can experience the feature by starting with free trial. It is a official plugin for Magento, Shopify and WooCommerce users. Event can be tracked including time duration, emails interaction, searched products, etc.
One of the most versatile and best WordPress CRM plugins you can integrate into your website is called WP CRM. Some of the basic features you can exercise with this plugin are user management, filtering and editing, contact forms for front end users, possibility to quickly add new user data, etc.
Zoho is the next highly popular client and leads management solution developed with the simplicity and affordability in the developers' mind. Hence, even the startup users will be able to keep their contact relations and client data or information under control and surveillance.
Brilliant Web to Lead is also one of the best WordPress CRM plugins trusted by more than 8000 users and webmasters.
In order to use this plugin, you are required to have Salesforce CRM account. The idea behind it is to synchronize your work with all the leads received through your website with your CRM account so that you won't need any kind of copy-paste work and will not miss a single lead from your sight.
UpiCRM is one of the free WordPress CRM and lead management systems that is simple to install and use. From group work and cooperation to monitoring, checking and tracking options, the possibilities of this plugin are many.
However, please, note that UpiCRM has not been tested with the latest versions of WordPress and may cause some issues when working with them.
Meet CRM Perks Forms – WordPress Form Builder which is also among the best WordPress CRM plugins thanks to its versatility and high quality.
It is an intelligent and smart customer and lead management profile giving you an ultimate control over clients and leads, demographic data collected, user's search history on your website, etc.
WordPress CRM plugin manages to bring all the practical CRM tools under one hook and enables you to access them via WordPress interface you are already in close friendship with. Thus, managing your users, customers, works, tasks and projects will be easier than ever.

If you choose WP Forms as one of the best WordPress CRM plugins and add it to your arsenal, you can be sure that nothing will get between your customer relations management platform and your site.
Add a contact form anywhere on your website you want and let your customers easily get in touch with you with their questions, inquiries, orders and more.
Presspoint CRM is the next valuable CRM solution you can supercharge your WordPress based website and business with.
It's a paid tool and offers you a pro quality services and features, ranging from managing user's permissions to see their history tab, download and upload files to content restriction and more.
If you are looking for an all in one CRM solution with advanced functionality and solid framework to work on, look no further than Maximizer.
It's the tool that will definitely make your customer care and support more personalized and well assorted with content management, sales automation, marketing, reports and dashboards management, etc.
Grow your startup and small business and result in higher client satisfaction with the help of Less Annoying CRM.
It's really simple in usage and affordable in pricing, as well as comes with professional support to get the things flowing for you.
Another feature rich and user optimized plugin chosen by thousands of WordPress users comes to be known as WP ERP.
Create and manage contacts, group and segment them, schedule and fix meetings with CRM module of this plugin, assign tasks to workers and team members, filter contacts with the help of keywords, etc.
Another CRM framework that is worth to give a try is called Jetpack CRM.
More leads, more business, more results in less time and no expenditure is possible with this free CRM plugin, which is also well supported and constantly updated.
Ninja Forms is one of the most powerful forms building mechanisms for WordPress and is presented with customer relationship management integrations you can have at your disposal.
CRM WordPress Leads is one more potential leads builder ready to work flawlessly with your favorite CRM platform, be it Zoho CRM/Zoho CRM Plus, Salesforce, SugarCRM, Freshsales or Vtiger CRM.
CRM and Lead Management Plugin is custom built to be well integrated with your WordPress profile to open up new opportunities for you to capture more leads and not only.