Comments are one section which shows how interactive your website is and the number of comments shows how popular each of your articles is. Hence for a blogger who keeps on writing interesting content a well designed comment area would mean better engagement from his visitors.
Hence it forms as an essential part of WordPress sites which uses Wordpress as a blog.
Here is the review of few best plugins we found and used in several WordPress themes:
1.       Wordpress default commenting system
Wordpress in itself has commenting system which comes along with it. Now there are several premium WordPress themes that have WordPress commenting used and styled properly:
If you are using twenty thirteen or twenty twelve theme then commenting is naturally styled with those themes.
There are many users who don't want to use different plugins in their system and hence use the default WordPress commenting system.
It has comment moderation system as well as auto approvals for commenters who have more than 1 comments approved.
2.       Disqus commenting system
Disqus is one of the most popular plugins for WordPress comments and has around 1,15,000+ downloads via the WordPress.org plugin section. It is used by many popular news websites. To use disqus on your website all you need to do is visit disqus website and register your account and then add the plugin in your WordPress system and use the account details when installed.
Pros: The advantage of using disqus is that it allows for open id, google, twitter, facebook and normal users with disqus account to interact on your website. Secondly you can automate the commenting moderation or have manual approval system. You can visit disqus dashboard from within your WordPress admin and moderate comments and reply to anyone.
It has nested comments, gravatars for commenters, author highlight and upvote and downvote. You can also sort the comments by newest, rating etc. One can also follow other users. Several language support.
Disqus is free of cost and also the comments section is stored in disqus system in their servers. So if in future you want to integrate disqus on your moved site or new domain you can use same credentials.
Cons: Downfall of disqus is that it's slow and takes longer than usual time to load after the whole page is loaded. Sometimes with slow speeds it doesn't even load. Barring this downfall it is a nice system for comments.
Click here to download Disqus comment plugin
3.       Comment Luv
CommentLuv is another very popular WordPress plugin for comments with more than 733,697+ downloads to it on WordPress plugin repository.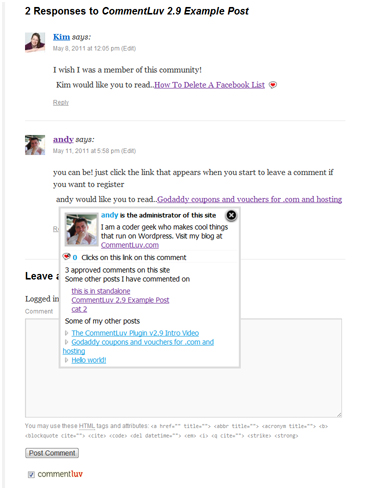 Commentluv adds the last blog post of your blog when you comment on some other's comment box.
Pros: CommentLuv adds the last blog post of the commenter's blog. Provides support in several languages. And also has nested comments and follow other comment author features.
Cons: There are other host of features which are only available after you buy comment luv pro. Single site license costs: $67 and Unlimited sites cost $97. Reply email to users when then get reply to their comments, Twitter link added, advanced gasp anti spam bot added into comments and company claims you will get more traffic to your blog.
The main con for CommentLuv is that many authors try to get advantage of the last blog post link using it and hence causing a lot of spam from visitors who are there to only get back a link. Second con is that sometimes the system gets hanged up because the comment authors blog is somewhat unreachable at that moment and it tries to constantly find the last blog post. Lastly most of necessary features which are readily available for free in disqus are paid in CommentLuv.
Click here to download the free version of CommentLuv
4.       Livefyre comment plugin
A Livefyre comment is again another popular WordPress comment platform used by many. Official downloads counter of Livefyre comments in WordPress repository shows: 92,000+ users.
Just like Disqus Livefyre allows a person who is commenting to use their social profiles on facebook, twitter, google + or linkedin.
One can also follow the conversation and as well as reply to a specific person within the conversation. Also one can add links and change style a bit when commenting.
It also has auto approval and spam removal systems like disqus. The only difference with disqus is that the company claims it is faster than disqus and shows real time conversations as it uses XMPP chat technology which is lightweight and loads faster.
Livefyre other than that has more or less same pros and cons as Disqus. However livefyre may take a little more time to customize than disqus which requires almost no customization.
Click here to download Livefyre plugin
5.       Jetpack comments plugin
Jetpack comments are offered by WordPress as default. Or else you can download the same using WordPress repository.
Jetpack plugin comes with many features like After the deadline, posting on facebook etc. One of the features out of it is the commenting system. The look of it is as shown below.
Jetpack comment is better than normal comment of WordPress in a way that it integrates social accounts like facebook, twitter etc  and also gives a nice threaded css customizable commenting system.
Click here to download this plugin
6.       Intense debate plugin
Intense debate was largely popular till WordPress 3.4.2. However the plugin hasn't been updated since then. However it still runs properly on your theme. It has some good features like twitter and friendfeed integrations.
Also it claims to have good moderation techniques.
Here is where you can download this plugin: http://WordPress.org/plugins/intensedebate/
To be continued on next part….