Users may be prevented from seeing content owing to legal requirements or because of the nature of the content if age limits are set up and enforced. With the correct WordPress plugin, age verification may be set up without requiring any code changes on your part.
Age verification is an essential component of any website that sells age-restricted products such as alcohol, tobacco, or adult content. Not only is it a legal requirement, but it also ensures that minors are not exposed to inappropriate content.
If you are using WordPress, there are a variety of age verification plugins available that can help you meet these requirements.
In this post, we have conducted extensive research and selected the best age verification plugins for WordPress. Whether you are a small business owner or a large corporation, these plugins offer an easy and cost-effective way to ensure that your website is secure and compliant with age verification laws.
This plugin helps to make age-restricted content accessible to users of full age while concealing it from visitors who are under the legal age to access it.
There are choices to appoint a needed age limit, describe the verification form, introduce the popup into all of the website or just chosen pages, and appoint the scenario that will take place thereafter.
The look may also be changed, with parts that are paintable and the ability to upload one's own photographs among the customization options.
The Age Verification offers different verification procedures available to choose from while working with WordPress Plugins.
You have the choice of asking that the visitors to your website submit their age, showing drop-down boxes, or utilizing basic yes/no buttons.
It allows the user to modify the Success and Failure messages (title and content), as well as select the number of days that cookies will be saved, switch on debug mode to test popup changes without storing cookies, and adjust the number of days that cookies will be saved.
This plugin will display a Popup asking visitors to your website to verify their ages while they are there. The Popup will be closed when the visitor clicks the Yes button, and they will then be able to continue reading your content.
When visitors click the no button, they will be sent to a new URL that you have put up to provide them with information about your policy.
The CPS plugin is suitable for use on 18+ adult websites, websites with restricted material, and any other websites that need visitors to confirm their age, knowledge, or acceptance of a warning before continuing to view the information on the page.
Even has potential for application in deceptive web marketing practices. The configuration settings are as user-friendly as they possibly may be. In point of truth, this is not a WordPress plugin at all.
It is a script that you copy and paste into your website, and it will cause the verification window to quickly appear whenever someone navigates to your website.
This plugin may be used in place of other Cookie Notice plugins to notify users that your website does, in fact, make use of cookies and to ensure compliance with the legislation governing EU cookie law.
Everything necessary to determine the ages of gate visitors is included in this free standard plugin. Easy Age Verify Premium gives you access to more sophisticated features in addition to Premium assistance.
It was conceived as a tool to assist website proprietors in ascertaining the ages of their site users. This technology is particularly useful for websites that offer age-restricted items like alcoholic drinks and cigarettes, which can only be purchased by customers who are of the appropriate age.
The Easy Age Verify plugin gives you the ability to tailor it to exactly meet the requirements of your website. They provide "Turnkey" solutions that are already set up for each specific sector. The plugin is safe to use and compatible with the most recent version of WordPress, which includes security updates and user-friendly features.
The Age Okay plugin is a useful tool that gives website owners the ability to determine the age of their visitors before granting them access to the site.
The user-friendliness of this plugin is its primary focus, and it has been designed in such a way that the proprietor of a website does not need any prior knowledge of coding in order to modify the plugin so that it fulfills all of their specific requirements.
However, there is certain functionality that can be added to the PRO version by applying extra code. extra information on this may be found in the documentation that is provided by Age Okay.
This plugin also provides additional capabilities, such as age verification popups and age gates, which may assist guarantee that users under the age of 18 are not mistakenly exposed to information that is improper for their age.
The Age Okay plugin is getting more and more popular as a result of the growing number of websites that are launched each and every day.
Agy Verification offers a cutting-edge and adaptable approach to the verification of any kind of information. You just need to set up the words and make some modifications to the design before you can get started.
You have access to a wide range of customization options using the Age Verification System for WordPress plugin. You have the ability to show the lockout based on a variety of different parameters, including certain blog articles, custom post kinds, categories, and even product categories in WooCommerce.
Although this Best Age Verification Plugins for WordPress plugin is not totally adjustable, it does allow you to add background pictures and content so that it maintains consistency with your brand. The plugin comes with over 20 responsive themes that you can use to style your blocker.
The Meta Age Verification software is a sophisticated tool that assists internet companies in determining their users' ages and complying with applicable laws.
Because it is needed by law to verify a user's age in some companies, such as those dealing in alcoholic beverages, tobacco products, and adult entertainment, the verification of a user's age has taken on an increasingly significant role.
When active, the Meta Age Verification plugin will cause a pop-up window to request that a user's age be verified. This will ensure that users are of the required minimum age before they can access any material on the website.
In order to set up Details. In order to install, you will need to sign in to the administration dashboard of your WordPress site, go to the Plugins menu, and click the Add New button.
Age Verification Plugins are paid add-ons that provide you the option to personalize the age verification; that appears on your website. It enables you to choose the minimum age requirement, personalize the language and style of the popup, and even use a picture or video as the popup backdrop.
Age Verification Popup works with WooCommerce and has the capability to monitor user data for compliance reasons. Additionally, it has the capacity to verify users; ages.
The Age Verification feature allows you to impose age limitations on the content of your website, including your products and services.
This safeguards your company by ensuring that it complies with the laws of the relevant jurisdiction about the minimum age required for purchasing particular items, such as alcoholic beverages, tobacco products, and so on of a similar kind.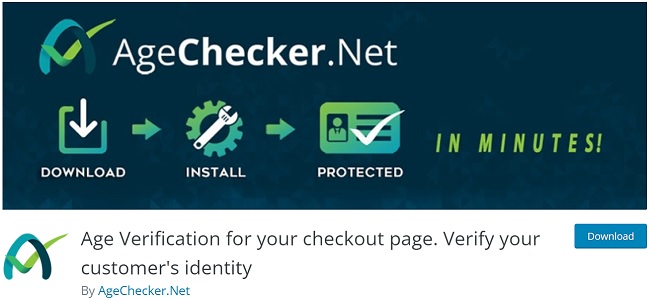 Age Verification for your checkout page is necessary for highly regulated businesses such as vaping and tobacco, alcohol, and guns since compliance with the most recent state and federal rules is essential for sound business operations.
It makes it simple to keep up with the most recent developments thanks to a versatile system that enables you to personalize the age verification standards depending on the area and adapt the verification procedure in accordance with the requirements of your company.
It includes Plug-ins for all major ecommerce platforms. It Customize minimum age, digital signature requirements, and order blocking by location.
Using the age-restriction screen, you are able to limit access to your website as a whole or to certain pages within it using Age Verification Screen for WooCommerce plugin.
Utilizing the customizer tool, the pop-up appearance and messages may be easily installed and configured. A straightforward checkbox or confirm/cancel buttons are the two options available to you in terms of the age verification process.
One of the most popular ways to secure your website is through an age gate plugin. This plugin requires visitors to verify their age before being allowed access to your website.
This is especially useful for websites that sell age-restricted products, such as alcohol, tobacco, or adult content. An age gate plugin can also help protect your website from legal liability, as it shows that you have taken steps to ensure that minors do not access age-restricted content.
When choosing an age gate plugin, it's important to consider the user experience. You don't want to make it too difficult for visitors to access your website, but you also don't want to make it too easy for minors to bypass the age verification process. A good age gate plugin should strike a balance between security and usability.
Age Gate Lite is a useful Best Age Verification Plugins for WordPress for website owners who want to ensure that their content is only accessible to users who are of a certain age.
This tool works by requiring users to confirm their age before they can access certain pages or content on the website. The Age Gate Lite tool is easy to install and can be customized to fit the needs of any website.
This tool is particularly useful for websites that contain adult content or for websites that sell products that are only available to users who are of a certain age.
Age Gator is a powerful online tool that can help you learn a lot of information about any website you want. This tool is used by website owners, researchers, online marketers and even regular internet users who want to get more information about a specific website.
With Age Gator, you can learn the age of a website, how many pages it has, how popular it is on social media, and even where it is hosted.