Whenever we read or visit any blog post we try to check who has written the post. This is usually to give authority to any post.
It is also to give a personal touch to your post because in a big WordPress site like Mashable there are many authors.  Hence it is important people know who the author of that post is.
Also if they like they can follow their favourite authors in different platforms like facebook, twitter etc.
Below are some of the plugins which we have used and found good:

1. Simple Author Box :

Simple Author Box is the simple author's WordPress Author Bio Box Plugins that permits you to link your social media profiles with biography in a beautiful box.
Some most important features of a simple author box are:
– RTL and AMP support.
– Awesome appearance across all channels like phone desktop, etc.
– Includes author gravatar display.
– You can easily customize as per your theme.
– You can open an author's website link in the new tab.
You can choose your own fonts, color, style, etc for customization. You can even add your profile.
2. Sexy Author Bio :


This plugin adds a unique author biography with large flat design, social icons and large font are given by default. you can change the settings as per your choice like adjust the font size, color, link color, background, etc.
Most important features of this plugin are
– Support for different social networks.
– Available with various icons you can choose any of them.
– This plugin supports responsive design.
3. Ultimate Author Box Lite :

This WordPress Author Bio Box Plugin is the most popular option for people who needs a clean and efficient bio at the end of there pages. These plugins are available for free to use and download.
The Ultimate Author box lite is perfect for adding some details about your post and pages.
Most important features of these plugins are:
– Available with 5 templates that you can choose from.
– Different custom color schemes are available.
– Supports social media display images.
– You can add unlimited tabs to the author box.
4. Co-Author Plus :

Co-Author Plus is an old and most popular WordPress Author Bio Box Plugins. Co-Author Plus allows you to add multiple authors in one article. This plugin will not display the author bio information in a box.
For example, articles are written by different authors, and you want to give the same credit to every contributor. In this situation, Co-Author Plus will help you out.
5. Author Bio Box :

Author Bio Box is a simple solution for adding an author bio box under your article. It also allows you to add photos and images to your social profile with icons. At the bottom of the post, this plugin displays a box with the author's biography and social icons.
Author Bio Box is free software. Where you can modify it under the rules and regulations of GNU.
6. Author by Weblizar :

Author by weblizar is a simple solution for adding an author bio box under your article. It also allows you to add photos and images to your social profile with icons.
Main features of Author Weblizar is
– Responsive design
– Hundreds of options are given for fonts
– Buttons are given for 12 different social media profile supports
– 10 different author templates are given.
7. Molongui Authorship :

Molongui Authorship offers a quick and simple approach to WordPress bio box, where you can give credits on the same post to different authors.
Some features of this plugin are
– Responsive design
– Template tags are provided
– Author box customization
– 70 social networks to link to
8. WP HTML Author Bio:

WP HTML Author Bio helps the author to display there an introduction, social media, new content, and the comment. Any reader can view all this information in a creative way. Any writer can put their social media profile via this plugin.
Main Features are
– Unlimited Color
– Description Tabs
– Social Media Tabs
– Latest Post Tabs
– Latest Comment Tabs
9. BuddyPress :

BuddyPress is more than an author bio box. This WordPress Author Bio Box Plugins is modern, robust and sophisticated social network software. This plugin provides a usefull way to add social information to the end of any post. BuddyPress is available with different languages
10. Features of BuddyPress :
– Show off user profiles
– Host private conversations
– Build communities on your websites.
11. Author Box for Divi

Author Box for Divi has a nice snippet about author and a profile pic/gravatar. Also listed are the authors social networking sites. So basically one may follow the author on those social sites. Also listed are few latest posts of the author.
Best part about Author Box for Divi is that it also allows for Google+ and automatic Google Authorship Verification.
12. Starbox the Author Box for humans

Starbox for humans as the name suggests makes it easy for authors to engage with their site visitors by adding an author box at the end of the posts.
Additional advantage of Starbox is that it provides both google authorship as well as facebook authorship.
One can also place author box under the post title.
13. Author Avatars List/Block:

Very similar to Author Avatars List/Block in terms of working but this one is responsive. Author Avatars List/Block gives more options to its users than Fancier. It also has Google Authorship as well as social networking site links. Recently author of this plugin updated the plugin and added Facebook Authorship as well.
More tabs on this plugin are paid apart from the latest posts.
14. Author Box after Posts

Author box after posts is toned down and simple to use than the above three. All you need to do is install this plugin and use it to display your gravatar as well as social links which you enter in your profile. It increases the number of links to 10 inside profile tab. It however doesn't offer Google Authorship.  It is compatible upto WordPress 5.5.
15. Author Bio Ultimate

Author Bio Ultimate again is a toned down plugin used to just add author profile under posts. It allows for adding a few social links and bio and gravatar of author. Disadvantage is that it doesn't provide google authorship.
Advantage is it provides support for other few languages like German, Spanish, French etc. However one can use other plugins mentioned above as well with different languages.
16. Author Details

Author Details is yet another plugin doing the same thing. However the plugin offers inclusion or exclusion based on pages, posts, archives and category pages.
It doesn't provide google authorship.
17. Smart Author Bio Widget

Smart Author Bio Widget is comparable to fancier author box and has more or less the same features. However social author bio offers HTML content area for bio of authors which very few other plugins provide so this is one major advantage of using Smart Author Bio Widget.
Provides Google Authorship.
18. PublishPress Authors

Custom About Author is updated only upto 3.5.2. However for simple blog users who don't want much settings this runs fine. However doesn't provide any such extra features which other plugins provide.
Google authorship is missing.
19. (Simply) Guest Author Name
Simple plugin with 3 styles, and 3 borders to choose from. Popular social links and bio can be displayed. No other fancy features.
20. HM – Cool Author Box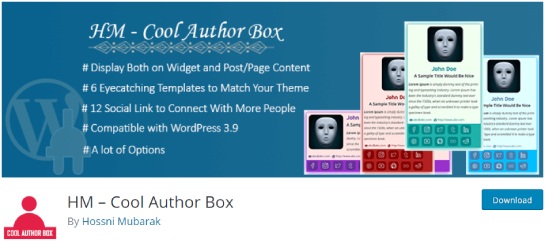 As the name suggests if as per posts or categories you want your own author bio to be displayed but with different description this plugin comes very handy.
Simple plugin altogether however no other features other than this. Social icon links are also given. HTML editor, Google Authorship are missing.
Conclusion
If you are looking for a author box plugins with google and facebook authorship then Starbox as well as WP Author Box Lite plugin comes handy. However if you are only looking for Google authorship then: Social Author Bio, and Fancier Author Box are the ones to be considered.