Building websites today is a fun game in today's virtual world. But if you are less experienced, you must have heard of HTML more than CMS. That's not your fault in any case. So chill and read what we have got to say about CMS vs HTML website design for your site.
What's Exactly HTML?
Hypertext Markup Language creates static webpages for the server. It is originally used by those who are learning the ins and outs of website designing and styling sheets. It can pretty much work on any of the text editors online or offline.
There are other Markup Languages like XML – Extensive Markup Language or LaTex – mostly used for the formula in writing and publishing books and other articles online.
However, apart from CMS vs HTML comparison, worldwide comparison with other Markup Languages is also made to choose HTML for easy editing and coding. In other words, HTML's coding language is fairly simple than other Markup Languages.
So, those who are not familiar with coding or are not from a computer science background. can easily grasp the knowledge of tags, attributes, and other formats necessary to know about HTML.
Using HTML, web designers add a flair of creativity to different web pages. These include font color and size, background images, audio and videos, hyperlinking the text or images, etc.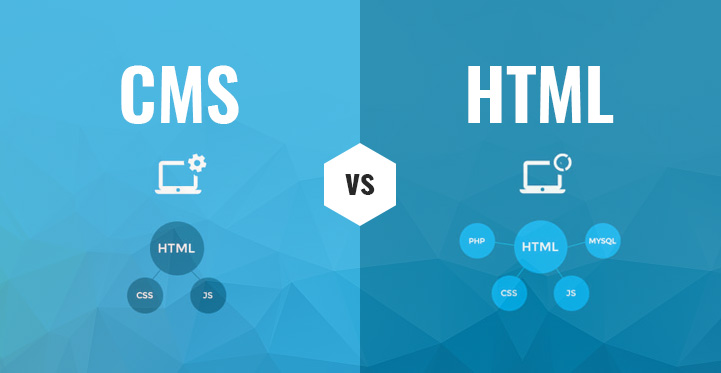 What Do We Mean By CMS – Content Management System?

It's a software that has pre-defined templates. You can upload it onto the servers you are working on. It doesn't even require that level of coding while comparing CMS vs HTML.
Using the CMS systems, you are in power to create the best dynamic website for your team. You can give administrator rights to your employees. Then they can act like virtual assistants and content managers online, even sitting at remote locations.
These functionalities consist of uploading/editing/updating images, posts, and content; creating original content and other developmental tasks online for generating leads and a better readership for the website.
Now that we are clear about the basic information about both tools helping to create a website and its design like never before, then let's jump onto the carefully read and used differences between these two.
CMS vs HTML
Frequency of Managing The Website
Firstly, get to know if your website—the one which you intend to run or already have a business on—is going to be frequently updated or not. Are you going to have more than two pages on your website? Or is your business sufficiently running or will run even on a single home page?
If you know the answers are leaning towards not having too many updates and keeping a single frame for customers to peruse and contact you, then an HTML is the best choice.
HTML websites are difficult to update frequently but are free and do not require you to look after the management aspect as often.
Besides that, if you think you will need to update the content regularly because you are scaling up business operations, then you will need a backup of the CMS website design.
While comparing CMS vs HTML, we find the former is the best choice for businesses that want to compete, grow, and stimulate new sales.
Time That's Taken For Setting Up
CMS website software comes with pre-built themes and other buttons. This can be modified and manipulated as per the current market and business needs by the administrator with points and clicks.
Hence, with minutes, your website can be ready whenever you wish to update, create, or change the layout.
However, that will be equally difficult for HTML-backed web pages. The coding for even a bit of beautification for your website is long. Even after being simple to understand, it takes time to write long passages of code without generating any errors.
So, when you are planning to update the themes according to the season or the offer you want to run, this can only be possible through CMS—saving time and aiding to tap customers at the right time.
Customisation Examples & Choices With Ease
CMS is a software that backs dynamic pages. Then it should be clear from its specification that it offers everything from updating and creating new web pages.
So, whether it is a promotional poster, a special text, or anything that you want your audience to see as soon as they enter the website on a special holiday, you can make use of CMS without further delay.
Visiting the settings and editing sections on the themes that your website is already running, you can browse buttons and objects to add or delete with just the point-and-click mechanism.
However, the task is quite tedious while using HTML sheets and frames for setting up a website. At times, you will need to write all the codes again, or manually go through the lines which need to be changed.
However, the effect of the changed lines can be adverse on the whole HTML document with slight errors. So, to debug the coding, you will be forced to write the whole script again.
This is time-consuming and quite difficult to manage when you want to have a cutting-edge advantage. In other words, when you want to be ahead of your competitors, you cannot rely on HTML codes.
You will have to switch to CMS over time, as your business and its scalability increase.
Multiple Users Can Use The Website At Once
If your website aims to have various features, we find while comparing CMS vs HTML that the former is a better option for multiple customers and client support. Using CMS, different accounts for contributors and admins are created.
So, when you want the users to post a comment, refer, or share on your platform, they can easily register an account using the CMS website templates and designs.
But if the website is maintained over HTML styling sheets, then others can't throw their input. The organic traffic would only be able to catch hold of the information your website has to convey.
The multiple-user interaction would not be possible using the HTML codes.