One of the easiest ways to communicate with different parties of business is Email. It is the source where you get all important notifications associated with employees, business meetings, etc.
Furthermore, it gives you best storage space for archiving critical information related to shared files and more.
Email becomes more important when your company has a website. You will need third-party best email hosting providers for business that allow you send and receive many emails to your customers without the fear of getting blocked and or landing the email to spam folder.
Many reports out there that still believe sending email to customers is most effective SEO practice for any business.
As per reports, email-marketing is one of the best techniques for businesses to market their products and services without extra efforts.
So, do you think Email is the best service to pick? If yes, then this post has shared the complete guide on choosing the best email hosting providers. So, let's start!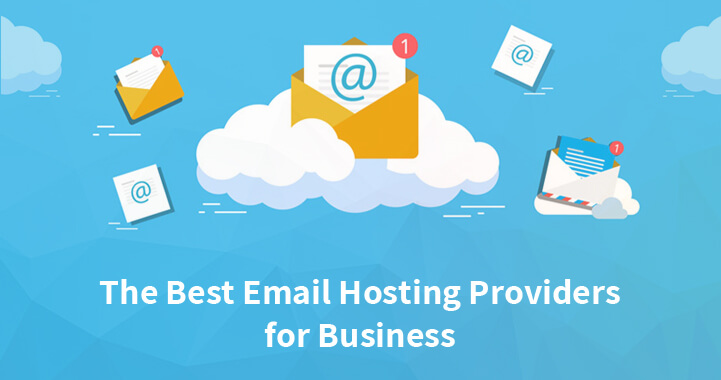 Choose how you will host the services
You will have three options to choose from, so check below:
1. Shared Web And Email Hosting
Many web hosting services also work as best email hosting provider. For example, if you choose Godaddy as hosting provider, there you will get email hosting too. Even more it offers you best hosting subscription for free.
2. Self-Hosted Email
If you don't want to use third-party email service provider then choose Self-hosted email, so you can host your emails own.
It comes with advantages but disadvantages too. Admin needs to maintain the costs and systems to maintain the entire email hosting.
Another thing you will need to work is keeping your email marked as spam, which makes third party hosting a better option.
3. Third-Party Email Hosting
If you need more features in your hosting then look for the best email hosting providers. With the best hosting providers, you will easily cut by your additional costs of self hosting.
Moreover, with the hosted email service provider, you will come with many business tools that allow you make your work easier with the options like video conferencing, chat, etc.
Now, yet another thing you will need to know- difference between email client and email hosting. The email host is server that stores files and messages associated with your domain name, while Email client is the user who use to read and write the messages (emails).
What Are The Features You Will Need To Look Into Email Hosting Provider?
When you choose best email hosting provider with your email, you will get many features too. And when you choose self-host you will need to build own features. Choose from the options to manage and customize your emails.
The toughest decision is when you are choosing third-party emails. There you will have to choose from many features and consider everything to evaluate.
For example, you are in business of healthcare or banking, you will have to follow strict compliance regulations that may not crucial for marketing agencies.
So, to save your time we have evaluated the best features that you will need to look. And these will be applied to almost all businesses.
Custom domains- It is crucial feature that allow you create multiple email-accounts of your domain using your company details and URL.
Security- your ultimate goal of sending email is also to prevent emails to being in spam folder. Hence third-party providers allow you manage your emails with security. This come with anti-spam and virus filtering options that give your business easy support.
Email size- with best email hosting provider you will get 25MB size for sending emails to your customers. Even more some offers FTP that let allow you send larger files than 25MB.
Storage space- If you are regular user of email for sending and receiving larger file messages from clients, employees, and customers. It is necessary to have larger space, max 2GB for a user.
Customer support- Most of email service provider comes with 24/7 customer support. Hence you need to hire a person who can manage whole your email business without fail.
Checking all these features allow you choose the best email hosting provider. To know more about the best servers, check the list of top 8 hosted email services and benefits.
What are the best benefits of working with best email hosting providers?
Here is the list of benefits you will get in the quality of email hosting providers.
No intervention of the second party. With email server and website server you will get complete over your email. It can be pain if you do not know how to handle it smartly.
Lesser risk of ending up email in the spam folder. By hiring third-party email providers, the risk of getting penalized for spam reduced. Further, it will allow you avoid the issues entirely.
If you pick self-hosting, this can be done only if you know how to do it and also it requires lot of technical knowledge. When you work with third-party emails, it allows you add stay focus on working instead of other things.
Now, we are moving to the list of email hosting providers.
8 The Best Email Hosting Providers For Business 2023
By consider all above-given factors; we have come with top 8 email hosting providers that are best for any business needs. So, have a look below.
Office 365 is one of the best Email hosting providers launched by Microsoft Company with an aim to provide best contribution to email hosting and business communications. With this suite, you will get maximum benefits as follows:
With office 365, you will not only benefit with email hosting but you will actual get the best office packages. It includes excel, word, PowerPoint, access, etc.
It does not require internet access to work. You can use this suite anywhere and anytime you need.
Office 365 includes advanced tools that allow you directly share the attachments easily instead of uploading files. Further, this will support the same working of the documents.
You will easily unlock all the premium features when they will come out, if you are using its subscription panel without paying additional fees.
The office 365 is filled with tools that simply work on many aspects of your business. With this suite, you can even do much of your work offline. Hence, you will be able to access many of files when working offline.
Specifications:
50GB mailbox storage
20MB maximum attachment size
Sync with exchange apps
Custom script creation
1TB overall storage
24/7 customer support
Why to use Office 365?
It has variety of powerful tools
It can be used by both online and offline
Price:
Buy Premium version at $12.50 per month
Buy Microsoft exchange at $4 per month
It is yet another best email hosting provider for business who prefers cloud based tools. It can be best alternative of office 365, combining company's communication and collaboration applications.
It is simple to use and adding many advanced features that business needs. It has following advantages:
It is easy to use by any business
It comes along with many business tools including calendar, contacts, file, video conferencing, instant messaging, and many more.
It is cloud-based system that help top create, edit, and store everything you need.
Offer excellent email hosting features.
Specifications:
25MB email attachments
9% uptime for email
Secure messaging
Create Google docs, sheets, and presentations
Customer support
Alert center
Voice and video conferencing
Custom email address
Unlimited emails
Why to use G suite?
Easy to use
Need cloud based email solutions
Allow to work offline
Price:
Buy starter plan at $6 per month
Buy standard plan at $12 per month
Buy business plan at $18 per month
Zoho mail is also popular email hosting server that designed by Zoho company as alternative for companies those need to work on low-budget. By choosing this server you will be benefited with the following.
With Zoho you will be provided with android mobile apps or iOS.
It give modern take on social networking features
Allow you send quick message to colleagues in a group
It comes with various business tools such as 30 GB storage, Zoho office suite, docs, and more.
It comes with all standard features at lowest price.
Specifications:
25MB email attachments
5Gb free storage
Email recall
Email hosting for multiple domains
eWidget
free mobile apps
tech support for complete 24/7
functional options
bookmarks, notes, and tasks option
Why to use Zoho mail?
Best for solopreneurs and other business owners
Pay only for the features
Pocket-friendly email hosting
Price:
Buy the annual plan for $1 per month
Buy standard plan at $3 per month
Buy professional plant at $6 per month
GreatMail is one of the effective email hosting providers for many businesses. It offers basic email hosting plan for custom domain address with two plans.
Even though you can manage the email addresses linked with domains from one administrator panel. It also comes with enhanced security that keeps your data updated and prevents the mails to deliver in spam.
Here is the list of benefits you can expect with GreatMail.
This provides cross-platform support, meaning highly compatible with outlook, apple mail, and other email clients.
It comes with highly encrypted security that keeps your data safe and protects mail from spam.
This can help you manage multiple domains associated with the company URL and email address.
It does not charge extra for anything.
They will provide you everything that you will need to run successful business campaign.
Specifications:
Offer high compatibility with a variety of email clients.
Can help to manage multiple accounts
Unlimited size of attachments
Encrypted with SSL and TSL security
Offer state of the art and spam filtering technology
Enhance the sync of calendar and contacts
Why to use GreatMail?
Best for small and large businesses
Provide minimum 8 mailbox with great storage
Cons:
It does not come with advanced features.
Price:
Buy standard plan at $99.95 with annually ($8.33 per month)
Expand mailboxes by paying $1 per month
If you are looking for the best email hosting provider that support companies of all sizes, then SiteGround is the best to use. This is best for all that offer some exclusive benefits, as it offers business websites, commercial websites, and more.
This will be the best option for all who need to migrate their hosting to SiteGround by using WP migratory plugin.
It exceptionally has high up times with 99.98%
It provides faster loading time up to 99%
This will manage WordPress hosting
It offer innovative technologies
Easy to use email
24/7 customer support
It is highly flexible
Specifications:
Here we will provide the list of small-specific features that you can get with its standard plans.
2000Mb mailbox
50MB file attachment
Send up to 400 emails a day
Send up to 40 recipients per mail
Receive up to 20 emails per minute
Undelivered mails will retry after every 24 hours
SpamExperts is enabled on server by default
Why to use SiteGround?
Best for every new website
Best for migrants website
Make collaboration easier
Price:
Buy the startup plan at $6.99 per month
Buy GrowBig plan at $9.99 per month
Buy GoGeek plan at $14.99 per month
A2 hosting is yet another best service that offers high-quality bundles of email hosting. With this, you don't want to deal with multiple control panels. This hosting comes with several Notable benefits, so have a look below.
A2 hosting provides unlimited storage and data transfer
It is highly compatible with variety of software
It provide automated backups
Up to 20x faster
Offer 99.9% commitment
Available at easy money-back guarantee
Best for boosting conversion and SEO rates
Specifications:
Provide unlimited custom email address
50MB file attachment
Spam protection
Email forwarders
Auto-responders
Give options of webmail software with three options like built in features, compatibility, and more.
Why to use A2 hosting?
Best place for hosting email and website
It is all-in-one solution for managing your tools easier
Price:
Buy the Lite plan at $3.92 per month
Buy the swift plan at $4.90 per month
Buy Turbo plan at $9.31 per month
FastMail is also one of the best Email hosting providers that comes with customizable storage option and manage the costs.
It is great tool for individuals and businesses alike. This majorly focuses on business team features and core email experience for the customers.
Here is the list of benefits you can access with FastMail.
It can be used on desktop apps, mobile, and in browser.
Support multiple email forums like outlook, thunderbird, and Mac mail.
You can multiple domains and sub domains
You can add quick filters to organize your personal messages
You can easily share calendars and contacts
Store files
Provide email attachments and share with FTP
Specifications:
25GB storage
It supports various tools like calendar, contracts, etc.
Thread your messages for easy to flow exchanges
Precise at searching
Custom email
Work on priority
24/7 technical customer support
Why to use FastMail?
Ad-free
Fast
Deliver security, privacy, and reliability
Price:
Buy professional plan at $9 per month
Buy standard plan at $5 per month
If you are looking for affordable and advanced email hosting provider then choose Rackspace technology.
This is specially designed technology for small businesses to give then support you need, hence they can look for other tasks for their business. This won't charge extra, you will need to pay what you need.
Here is the list of benefits you will expect with it.
Work as email hosting and variety of communication and collaboration apps.
It doesn't charge extra, pay what you need.
It comes with two options email hosting and hosted exchange
Sync with desktop and email client
Available at higher-tier features
Provide cloud storage and instant messaging
Specifications:
Support various tools like email, calendar, and contacts
Access anywhere offline and online at any time
Gives anti-virus protection
Comes with ad-free policy
100% up-time Guarantee
Team is available at 24/7
Why to use Rackspace?
Best for companies who needs only email hosting
Reliable and secure
Offer at right budget
Price:
Buy Rackspace email pack at $1.99 per month
Buy Rackspace email plus pack at $3.99 per month
Buy Rackspace add archiving pack at $6.99 per month
So, you see these are the best Email hosting providers you can choose hassle-free for gaining the vast traffic, revenue, and conversions to your website.
Now we are moving to some crucial facts you should know about before choosing a right hosted service.
How To Choose The Right Hosted Email Provider?
There are many emails hosting providing services are available. Hence, it is important to review all the options carefully so, you can get the most out of that.
The key feature of choosing the right hosting provider is not only that reliably sends and receives messages, but also provide additional tools such as shared contacts, calendars, and more.
To make little easier, we have tested various tools and evaluate the top business email hosting services. Here's is the guide you will need to follow to come up with a right decision.
What is a Hosted Email service?
You know that email will never be outdated. This communication platform is best for every business such a slack, Microsoft team, and more. Currently, 86% of professionals prefer to use email for business purposes.
There are many host companies are available that has undergone massive technological changes nowadays and provide biggest change in the host, store, and distribute.
Businesses are looking for cloud with hosted email solutions while some are looking for the affordable yet best email servers.
Every size of Businesses has realized that email marketing is the best SEO Practice that seems professional and gives 80% success rate.
Moreover, if business connects with a scalable and secure hosting service provider, this guaranteed the up time and open rate.
Running in-house email server provider does endow with more control and wider customization as well as tracking for small to large scale of businesses.
But to manage the email marketing every business need specialized staff that support both software and hardware.
With a third-party email hosting service, you can manage the emails without paying any initial investment.
Managing the number of users, accessing the security protocols, connectivity, and hosted solutions make this a reliable option in the today's competition.
Even more, the numbers of IT companies are moving to Email marketing services. The benefits it offers cheap email storage, include per cost averages, and simple ease of deployment and connectivity.
If you are ready to buy one of the best email hosting providers then you do not need to look only advantages, but also look for cons so you can come with a right decision.
Know your Costs and Your users
One of the important things that every business owner looks into is COST. And that is most driven technique you will need to check before moving email to the cloud hosting.
Not only cloud, the owner need to check the overall cost of severs hardware and connectivity along with security products that will be run by skilled staff.
Hosted email also comes with other services like web hosting and infrastructure (IAAS). It means there are many extras are available with hosted services.
One can select the extras that further increase the overall cost of per user. However, it depends on your choice and company needs, you need extras or not. If you check the extras this will add 10% extra cost per user.
For example you want to add couple of channels in the TV that you need then pay for those extras. It means you have to pay what you need.
If we see the opposite sites of hosted service provider many operators companies believes that hosted email services are useful for mainly sending general purpose email to customers for in-house deployment.
One the other hand email marketing has becomes a successful method for reaching more targeted customers.
Hence, many email service provides offer special services with aimed to target specially customers that enhance the communication level, because these will not only work for marketing but also for targeting.
On the other side, many email service provider offer great volume such as creating custom email, tools, and tracking metrics.
Email Usage Patterns are changing Too
If we check on specialize uses for email, you must check on what user want from you. Are they reading your emails?
Are they deleting your emails? Does your mails reaching in spam? Check on whole data and then look for the tools and features you will need to use.
One of the successful tools for sending and receiving email is Microsoft outlook. But that is not applicable for sending large number of emails, thus companies are moving to the email clients such as Thunderbird and more.
These email clients offer great insights about your users including interest, what they are doing with email, and more.
With this data, you will really come up with the good decision on choosing the right features and tools for your email marketing. Currently, the trend is running with name "inbox zero" This means keeping the inbox count at zero stored emails.
Mainly, it is way of deleting or achieving some emails, so that your inbox will always be empty. This helps to know how user is dealing with their inboxes.
In the survey, it is found that over 1,000 respondents attempted to adhere "Inbox zero" while other users are using email for the personal purposes (means they are not reading any of your stuff)
Related Post: 10 Best free WordPress Hosting Services for Start Your Blog 2022
Configuration and compatibility
Cloud server has becomes the top choice for every website owner because it is more likely to deliver email to client bit easier.
But still majority of sites have not adopted cloud email hosting provider, it is simply because they do not migrate domain or some have not activated the services yet.
To start with email hosting, you must need a new domain that must be configured to the new email host. With the help of service provider the process either find simple or hard.
Hence, the customer support team is always available for your support. In many cases there is a validation face that may require some technical familiarities, so the user needs to go step-by-step procedure.
You can even check tutorials videos on search engine that help you resolve the issues. And if you are unable to resolve that you can ask for technical help.
The initial step is sign up on the best email hosting providers. Once your organization complete that step, rest follow the on-screen detail coming to you. In general, for sign up user need a verified email address to complete the sign up process, this called SSO.
This can be enabled by three methods such as, using the back-end directory service like AD (Microsoft active directory), OKTA, or other compatible web services associated with SSO.
Mobile apps and email services like Google G suite, office 365, etc. The method you choose mainly depends on how you business is configured today and what are the strategies you need today for long-term cloud hosting.
On this note, you should definitely do a conversation with IT staff or your in-house team.
Now moving to the next concern, which is compatibility. If you are in the business of email marketing then may be you better understand the whole concept. There is no doubt to say that a Microsoft window uses some form of Microsoft offices.
The third-party clients like Microsoft outlook can provide compatibility, but how much we can't say anything about it.
This is especially true when you are sending and receiving emails. It only takes one meeting invites, which is quite frustrating in today's world. Well, using outlook is not a major concern, but portability is.
If the service is entirely web-based then it cannot be possible to send email offline. You will need to connect to send email.
Email is best method to set up a communication, but that does not means you just rely on this only. You should look for alternatives as well.
Email can be slow, respond late, and not familiar with any users. Because of this, many businesses requires collaboration with various tools that has vast features and fill the communication gap.
For example, you can choose chat bots, chat tools, video conferencing and more tools that best for making your communication just better with the customers.
You can interact with tools like slack. It is highly compatible tool that combines customizable chats features with file sharing options as well. You can find more tools on the internet that allows you deliver and get what you need.
The Mobility Factor
Yet another important question you will need to consider is checking the compatibility with mobile devices. Here, you will need to access the question that how many employees or customers access the emails via mobile devices?
An important question you will need to resolve quickly because many of the email hosting providers deliver some kind of web client with the default inbox.
As per our research, almost all of the emails can be accessed by mobile devices. So, if your customers would not use their emails on the laptop or Pc so you need to use the best email hosting provider that usually deals with mobile.
In the recent research, it is clear that email is one of the most popular applications for mobile devices across tens and Consumers.
According to the workflows, business processes, and customer responses email is one of the important communication take place which should not be skipped.
Once you discover the mobile email in your organization, it automatically becomes an important point for you to choose the best email hosting provider that supports mobile applications.
You need to check the email client that promotes the third-party solution and is dedicated to the phones.
Most companies will prefer to pick the third-party solution that is highly compatible with the mobile devices and mobile-oriented and points protection solutions.
You will have to choose a third-party platform that is restricted to client devices and hosted with mobile-friendly features.
Security and Privacy
In email marketing, the main concern of security with spam. It is often Ban not only those who live in their email inboxes but also for the idea administrators who managed the Email Marketing Services.
The good news is that spam filters are getting better every day and email providers getting the best response from their customers.
Well, the bad news is also coming from the market because these features are not still perfect significantly that effective they should be.
Currently, the spam filters are based on machine learning, which primary method is to determine what's bound for the Trash Bin.
According to machine learning, this becomes effective over time and there is no surprise that services become better even it will tend to have better spam detection.
Many unlucky customers don't have built-in spam detection. It can often be audio to root email correctly through third-party fitting services.
Some of the businesses prefer engaging with the third-party spam filter because it comes up with great customization reasons.
Yet another key concern for the customer is data protections inboxes open contain GBs of business-critical and personal data, the hacker also legitimate marketing companies so they can make big money off mining.
And that may be including the company which is providing the email services to you. If you need to look for the best email hosting provider then you need to aware of such policies and scratches the security concerns they are offering to you.
If you want to protect yourself ensure that you have great information about the data safety and compatibilities as well as the other encryption and malware scanning from the providers.
You will need to implement additional measures on your side including the encryption from local email clients such as taking the VPNs to other multiple locations.
One of the great ways to protect is using the email encryption. This can do wonders for protecting your organization privacy and the data from the hackers.
When you are selecting your provider, make sure to choose third-party protection by sharing all the information from your end.
Make sure they are providing SSL certificates and also saving that your data will be highly encrypted and no one can use it then after you can make your purchase.
Antivirus and Phising detection
If you are sending an email to your client and they clicked on the pay-pay link, and the link they clicked was not the real PayPal link, then what happened? It is considered as Phising or your company can consider as a big scam for the customers.
If you want to ignore such faults, then you need to choose the hosted endpoint protection source that is available to resolve your trouble.
This task is done in the hope of getting more users and providing them confidential information that they are looking for.
Well, most of the businesses will have that suits in place that often caused to the e-mail service provider and giving them an additional layer of anti Malware and anti-scam. In our reviews, we found a surprising variance in this department, so be careful.
It is a utility for the business owner; this could be one of the most important factors in the term of background features. This will be better than filling the Insurance claim or looking at points due to simple social engineering practice for them.
For any business today, this is to use email is a brainer business simply can't be done in many cases without it but it doesn't mean you can change the platforms every month. Because this often turn you in many flexibilities like, empowering cost, features, and more.
This is time to jump on factors; you need to keep informed with every protected method and other pointers that will not give you any problem in the future.
You will need to discover and evaluates all such methods that need to improve your business. After discussing with IT staff and some investigation, you will come up with the best email hosting providers.
FAQ's
Q1- Do I Need Email Hosting?
Yes! It gives you full control over sending emails to behave. For example, if your business has some rules and regulations then you need to store all your email on the specific service and locations and this can be only done if you host your email.
Q2- Can I Use my domain email without hosting?
You can easily create a professional email address without the need for a website. You can even do it with or without web hosting.
If you want to get email hosting, you will need to have a domain name. Once you already have got your domain you will need to connect your web or email hosting.
Q3- Can Google host my domain name?
In 2015, Google domains registration service was launched by Google to help users to register a domain name that you use with your WordPress site. Unlike the other popular domain registrars, Google domain does not offer any type of hosting.
Q4- How can I get a free email domain?
To get a free email domain, first you need to visit the Bluehost website and click on the get started button.
Now add the email account to your domain.
Use the user custom domain email with the blue host or you can use it with Gmail.
Follow the onscreen details and your domain will be created.
Q5- Can I use Gmail with my domain for free?
Yes, you can use it by two methods. One is free and the second is Google Workspaces.
Q6- Is Gmail for business free?
You can create a free business account for Gmail. But if you want to use it for sending and receiving emails, then you need to choose an affordable option that is $5 per month for users. If you want to commit for the twelve months then the cost drops by $50 per user for the year.