Using white background seems like a fashion these days. Everyone is giving it a shot. The dark and patterns that had been a massive part of the design process are gone by now.
The use of white background may seem like the easiest and safe way to create a clean design, but the truth is that it is not always the case.
When we are using white backgrounds, we need to be sure that they go well with the overall design and work with both of your text and image choices.
It needs to be in harmony with the design and not look like an afterthought. Thus, they need to have beauty and purpose about the overall scheme.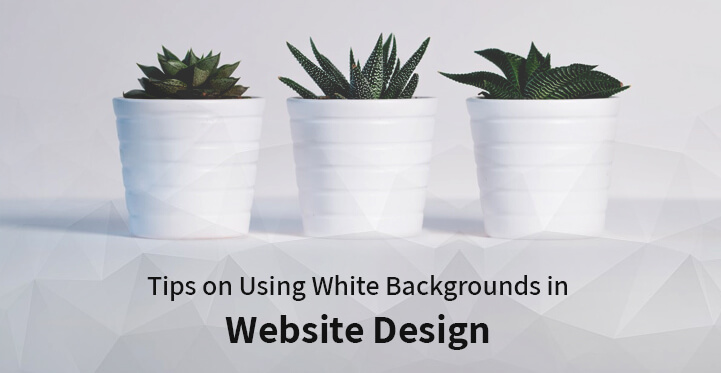 So, how do designers make white backgrounds work for them? Here is the answer.
Why should we choose a white background?
It has been a popular choice since forever to use white backgrounds maybe because the color is in the default setting for HTML and CSS. However, in recent months, there has been a resurgence in its usage.
White has been the most common color for the blogs and e-commerce sites, but designers using white backgrounds for all various types of projects is what we see more of these days.
The exact cause of this happening can not be easily pinpointed, but the number of sites that prefer lighter colors is pretty easy to see. The trend a few years back was to use a dark theme or maybe black for the background altogether.
What I have noticed is a notable co-relation between using a white background and two well-known web design trends:
1. The latest responsive design:
The classic white design has regained its popularity due to responsive design and grid 'stops' for different types of devices since it is somewhat more comfortable in usage and gives a natural feeling.
What happens in some responsive designs is that the site locks to a specific pixel-width of grid stops and a background 'edge' is shown for all that is outside of it. There is no extra design thought necessary if we make the background white, which will make there edges invisible.
2. The styles being minimal and flat :
White color depicts simplicity, and Simple is a huge trend even these days. By using a white background, we get the chance to use bold, bright colors, which are the symbol of the flat designs, making things easier to pair.
3. What does the white color reflect?
White is the simplest of colors. This lack of color has its context but can also take on the meanings of the color in its surroundings.
What is the color of faith, softness, light, and purity? Certainly, it is white! White is a generally positive color as well.
4. When used as a color for the background :
white can work as a cast member who not only supports its color associations but also takes in what is around it. This allows the full meaning of the design to be displayed. For example, when paired with pink, it will take on feminine attributes.
5. Using a white background :
we can remove visual obstructions and de-clutter as white emphasizes clarity. The hue will emphasize other aspects of the design like text and images and is all a part of the simply designed and minimalistic visual aesthetic. The visual emphasis will work well for the elements present in the design.
6. Other white shades :
Several different colors represent hues in the shadow of white. These include pearl, ivory, snow, milk, corn silk, linen, paper, cream, seashell, and alabaster.
There are other white hues which include some different color, most often black, that create a soft tone for white generally for on-screen reading. Although pure white is the standard when it comes it printing, some users and designers are having doubts on whether pure white can be harsh on the eye or not.
7. How should you use white?
Contrasting: When using a white background, a brighter color or black will appeal more to the users. Black is, in fact, the most common color choice when working against a white background since it is easy to see and read. The same principle is applied when selecting photos.
A photo that has less white focus will appear friendly with a white background, and so pictures can also be distinguished from the experience using a black border.
8. Simplicity :
Simplicity is the reason why white is chosen in the first place, and to accomplish the deal, go for a minimal and simple design as well.
9. Use of simple images :
This applies when choosing images as well. Go for less complicated models where less is going on to create an overall more straightforward look.
10. Use of excellent Typography :
When everything is simple in design, beautiful typography is of crucial importance. This leads to the type being a primary focus in the overall design. Choose one or two great fonts and make proper usage to create a stunning website.
11. Providing space :
Using white background is a part of a trend, and you have to utilize it properly. You have to give all the elements on the screen their proper space with margins and borders. Space should be a part of your focus as much as the objects are. This will make your work more appealing and congestion-free.
12. Use of Accent color :
Should you only use the black color on white? No! An extra 'pop of color' will provide good focus to certain parts of your design and in a subtle way. So pick a color that compliments the black and the white backgrounds.
Conclusion :
The use of white backgrounds may not be a new thing, but this is undoubtedly the time to use the trend! Using white backgrounds can be a clean and sleek way to produce a clutter-free design that is appealing to the eye. Hence, white can bring a modern feel to almost any type of web design project.