WordPress is the most popular system for managing the content that can help you to broadcast a strong message and useful information about coronavirus.
If you belong to the medical industry or a news channel then you should start establishing a powerful and informative website with WordPress. You can easily spread consciousness of coronavirus disease i.e. COVID-19 with the WordPress theme.
WordPress is easy to use and handle you can easily add any information on it which will give you the desired output. You can customize the website as you want without getting any technical bug or an error.
Unlimited features and options are available in WordPress so that you can give any look and feel to your website.
We team of SKT Themes works hard to provide you a theme that would be fully functional and easier to apply changes. Just make sure that you are using good and updated plugins to improve the functionality of your website.
With WordPress, you can start any type of business website or a blog in no time. You will get access to hundreds of plugins that are available for free.
Some plugins are also made for spreading awareness for coronavirus you can also use such plugins. In this blog, you will get the basic idea of how to start creating a website on your own plus we will talk about some essential steps that should be considered.
Select the domain name

The very first step to Start the website during Coronavirus is to select the perfect domain name that will showcase your motto and the services you are providing.
Suppose you want to create a website to spread awareness about coronavirus pandemic then you should select a domain name in such a way that the name is related to coronavirus.
Many things are there in the domain names that need to be done for services and products. The domain name should be simple but unforgettable.
This is the most effective thing that should be done to get expected results. Make sure that you have selected the domain name that will be best suitable for the services you are offering.
Examine the best WordPress hosting

After selecting and registering your domain name now it is time to select the best WordPress managed to host from a number of options. You will find that there are many options for choosing WordPress hosting.
But it is important to check each and every feature of WordPress hosting provider.
Select a hosting that will satisfy your business requirement. You should choose a hosting provider as per the services you will be offering for example if you are a blogger and wanted to start a blog then you should choose shared hosting instead of managed hosting.
You can also compare two different hosting providing companies by checking their services.
Install a theme
The next step is to choose a perfect WordPress theme related to your business topic. If you are starting a website during Coronavirus then you can choose some WordPress themes that are based on the medical terms.
Some of the best WordPress medical themes are mentioned below. These themes are of the premium package which is included with lots of features.
Do not forget to check the features of each and every theme so that it will best selection for your business website or a blog. Plus check the support feature and the customizing features. Because these features are necessary for giving a look as you want.
Medicare Pro is the best theme to start a website during Coronavirus. It is designed and developer for the organizations related to the health and fitness centers.
An organization such as surgeons, hospitals, health clinics, gym, yoga studios, etc can use this theme. No technical skills are required to create or manage a website.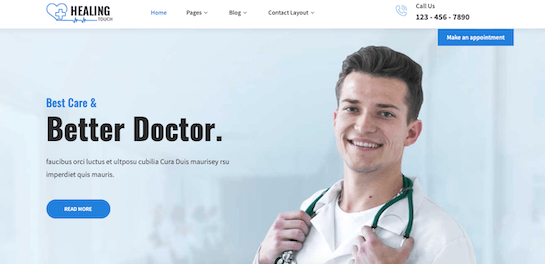 Healing Touch Pro is a premium quality WordPress theme that has fashionable layouts and customizable features to extend its functionality as you need.
All sectors related to health and fitness can use this theme. The theme is designed by professional experts so they have focused more on security and SEO.
Search most useful and helpful plugins
Plugins are the most important tools for enhancing the functionality of your WordPress website. If you want to start a website during Coronavirus then you can install such plugins on your WordPress website that will benefit you abundantly.
On wordpress.org you should find some coronavirus data plugin that will showcase the complete information and statistic from the globe.


If you want to showcase updated information about coronavirus then this plugin is the best option. There are many plugins that would be helpful for your business such as slider plugin will enhance the look and feel of the header section; security plugins will prevent your website from cyber-attacks and more.
Work on website speed
The most important aspect to run your business successful is to speed up your website for good performance and search engine rankings.
Different plugins are also available to optimize the speed and performance of your website. Just you have to find the best plugin for optimizing images and multimedia content.
It is important to enhancing the website speed to improve the user experience. Plus this technique also helps to increase the conversion rate and lower the bounce rate.
Try to provide true and authentic content
After considering all the points given above now you will have to focus on your website content. Content is the most important factor for ranking your website on search engines.
Do not provide outdated or fake content because Google and different search engines ban such website that does not provide authentic and high-quality content.
If you are starting a website during Coronavirus then make sure to provide the true information generated by medical centers of the globe. Plus try to create high-quality content to prevent your website from being plagiarized.