An ideal real estate website can build a bridge between you and your buyers that can give enormous benefits to your business. If you are creating your 1st website, then WordPress is the easiest CMS to get started with.
One doesn't need any coding knowledge to create a WordPress website. It contains a number of key features, but your site may need some additional functionality.
For this reason, themes and plugins are made available. Themes and plugins makes it easy to customize your site as per your need.
WordPress has the ability to help you rank high in search engine results. Additionally, Wordpress is designed by keeping security in mind, this helps protect your website.
Why WordPress for your real estate website?
Creating a WordPress website is not a rocket science anymore. One can simply get started just in few steps. You don't need to be tech savvy to create a WordPress website.
WordPress lets you configure complex features easily with the help of plugins. Also, there are many themes available that are suitable for your real estate website.
You just need to pick a theme and you are set to get started! Let's have a look at some top reasons why WordPress is best:
Open source: WordPress gives you the freedom to customize, modify and build your website as per your requirement.
User-Friendly: WordPress doesn't require you to learn any coding language like PHP or HTML for creating a WordPress website. It's pretty easy to use for a beginner.
Free: WordPress is free to use and with unlimited validity.
Flexible: The most important part of WordPress plugin is that it is flexible and can be extended with the help of plugins.
Plugins & Themes: A plugin helps you add some additional functionality to your website. There are almost 45,000 free WordPress plugins available. WordPress has made available 'n' number of themes for different sectors- e-commerce, blogs, classified, directory, real estate, etc.
A theme is a collection of templates that define the overall layout and appearance of your website. WordPress has a good range of free and premium themes almost for every category.
SEO Friendly: WordPress has the ability to let search engines easily crawl the content of your site. It creates pages that are easy to understand for search engines.
Also, with the help of permalinks, title tags and heading – features of WordPress helps in optimizing your site's SEO.
Steps to Create a Real Estate Website with WordPress:
Step#1 Pick a Domain Name:
The very first step is to create a domain name. A domain is nothing but the web address of your real estate business. Selecting a domain name is similar to choosing your brand name.
There are several important factors that need to be considered before choosing the brand/domain name; it should be unique and easy to remember.
Step#2 Buy a WordPress Hosting Plan:
WordPress hosting is an environment that is specially designed to meet the needs of your WordPress website. Check out the reviews and number of satisfied customers before making a choice.
For a hassle-free real estate WordPress website, pick a fast and reliable WordPress hosting provider. Also, make sure you choose the provider based on the uptime and scalability of the plans.
Some hosting providers will always ensure the availability of latest versions of WordPress and release automatic updates on a regular basis.
Now, this is a plus point for your platform. These facets will help you measure the competence and potential of the hosting provider.
Step#3 Choose your theme :
There are thousands (more than 10,000) of free and Premium themes available with WordPress. All these themes are customizable. Explore for a real estate theme and pick from a collection of themes given.
You can also choose a real estate theme from this list: https://www.sktthemes.org/wordpress-themes/realtor-wordpress-themes/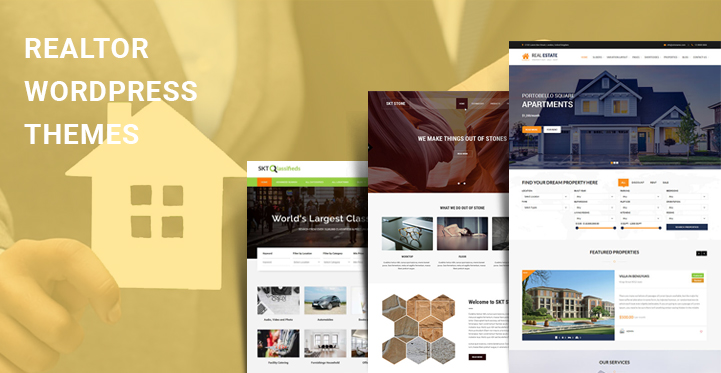 Major of the user these days prefer browsing on mobile rather than desktop/laptop. Always choose theme that is responsive across all the devices.
Also check the browser compatibility before choosing your theme. Run a basic test on different browsers like Mozilla Firefox, Google Chrome, Safari, etc.
Most of the real estate theme comes with features of listing, sorting etc. However, while choosing the theme you don't need to look into the ones having listing functionality, as this feature can be covered with the help of a plugin.
If none of the themes suits your need, then you can always go with a multipurpose theme and later configure it with the help of a plugin.
Step#4 Install Your Theme:
In order to deploy your WordPress theme, you need to install and activate it first.
To install the theme:
1. Open your WordPress dashboard
2. Go to Appearance>Select Themes
3. Select "Add New"
4. Use upload button to browse your theme that you have downloaded earlier (zip file). Or you can also choose from the list of available plugins from the dashboard.
5. Click on Install button to install your desired theme.
Step#5 Adding Properties:
The main purpose of your real estate site lies in listing properties. Add as much as information as you can to be descriptive, accompanied by relevant photographs. This section will help your visitor to engage more on your website.
In case you do not have property listing section with your theme you can install a plugin.
To install the plugin:
1. From the WordPress dashboard click plugins
2. Select 'Add New'
3. Choose and install from the list of available plugins
Step#6 Appointment System:
This is the best way to encourage your visitor to set up an appointment, the easier the appointment process the more the chances of booking an appointment.
There are many WordPress plugins available which are extremely flexible and with numerous features.
A good appointment system plugin will help you save all the appointments in a database or can send email notifications to your clients once appointment booking is confirmed.
Step#7 Maintain Security:
WordPress is the most popular and widely used CMS that makes it the biggest target for website hackers. You know how stressful this can be – making an impact on your business reputation and revenue.
Most of the automatic updates include major security fixes. Make sure you always keep your WordPress platform updated. However, to be on the safer side, you may integrate add-ons such as Sitelock.
Using this add-on, one can protect the website from attackers. Another precaution you can take is verifying each and every plugin/widget before installing them on your website to avoid any chances of exploiting your site to hackers.
Summary:
This article gives you all that you need to build a high-quality real estate WordPress website.
We hope this article helped you with a step by step process to build a Real Estate WordPress website, right from choosing your web hosting provider to maintaining the security of your website. We are sure you will consider these points to unlock the key principles of building your website.