A lot of popular bloggers post their Instagram pictures on their WordPress blogs. There are a lot of plugins that let you add your Instagram feed to your site.
But what if you want to think about turning the tables? You should automatically publish from WordPress to Instagram since it will get your blog more traffic from a different platform.
Another benefit is that you will be making your blog's name on the social landscape, and people will look up to you for content in this niche on Instagram, too, now.
WordPress to Instagram? Will it Work?
You may think that publishing your WordPress content on Instagram is crazy because WordPress is a blogging platform, whereas Instagram is a photo-sharing platform. However, with time people in all niches have started to post content in detail on Instagram.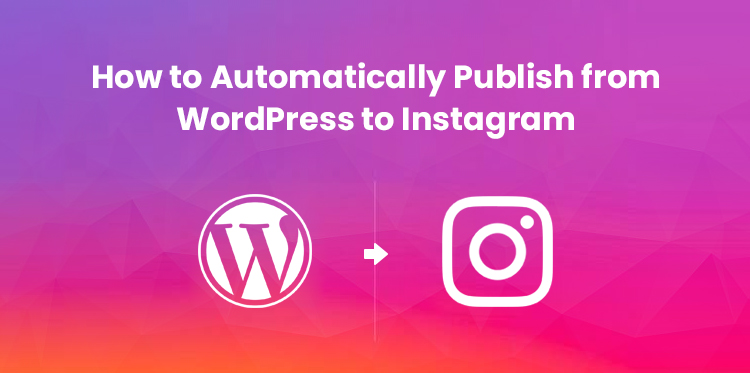 You can consider Instagram as a microblogging platform now. Many microblogging Instagram pages are already successful. At the end of the day, whether it is on your WordPress blog or your Instagram page, people want valuable content.
Since you are already posting well-researched content on WordPress, why do it again for Instagram? You can just repurpose the content for Instagram and use it.
This way, you do not have to make a lot of content and gain a massive following on both platforms. The good thing is that it is not hard to do and can be done with a good plugin.
What is the best plugin for the job?
Blog2Social is a great plugin that lets you connect your blog to social media platforms. You can use this plugin to post from WordPress to Instagram! The basic version of the plugin is free.
It lets you manually post from WordPress to Instagram or any other social media platform. However, the premium version costs $79 because it lets you automatically publish from WordPress to Instagram.
The plugin makes your life very easy, as you can manage your blog and social media handles with your WordPress dashboard. That is why the premium feature of this plugin is worth it! You can try the product on a free thirty-day trial and see whether you like it.
Going from WordPress to Instagram!
The first step is to install and activate the plugin Blog2Social. Once activated, you can view it in the WordPress dashboard and other menu options. When you hover over the plugin in the menu, you will see an item named settings, and you should click on it.
Check out the few things that you should figure out first. Free users will not get much to do here, but you should set the time zone correctly since it will sync to your Instagram.
In the auto post tab, you can handle how the plugin handles publishing to Instagram automatically. Free users will not have access to this feature since it is a premium feature.
Most sites will only want the post options to be selected. This means when you share a new blog post, it will also be shared on Instagram. However, you can also post updated posts on Instagram. Why waste all that old content?
Connect to Instagram and start sharing
Go to the Networks page of the plugin, and you will see all the social media options. You will have to sign in and verify your password. When you sign in, a warning will be given that you may receive emails and that your account is being accessed from the Cologne area of Germany.
Click on the continue button. Blog2Social will have to get verification. The verification code will be sent to your email linked to Instagram. You just need to enter the code into the Blog2Social box. Once you are verified, you can automatically publish from WordPress to Instagram.
Setting up posts
When you start writing a new blog post in WordPress, you will see the Blog2Social custom sharing and scheduling meta box on the right side of the editor. You will know if the auto poster is activated, and once you publish the post on WordPress, it will be posted on Instagram.
Sharing posts from WordPress to Instagram manually

Go to the site & blog content menu item. You can see the list of all the posts on your blog. Admin can search all the posts by title, author, posts that have already been shared, and so on. Click on the share on social media button to go to the next step, a new Instagram post.
The page is straightforward, and users can easily understand what they must do. You can edit the body and image of the post to be shared.

Both are made from the featured images and blog text. Decide the timing of the post immediately or at a preset time. You can also add other social media profiles to cross-post with too.

With the help of this plugin, WordPress enters the social media automation tools market and competes with other products like Hootsuite.

Click on the show calendar, and the calendar appears. The content calendar will appear, and you can schedule your posts at a time when it suits your marketing needs. You can also save a post as a draft for later. Scheduling is also a premium feature in the Blog2Social plugin.

If you want to automatically publish from WordPress to Instagram and want this scheduling feature, it is worth trying this plugin's free trial.

This plugin offers a calendar scheduling feature and social media automation. You are also getting the capability to repurpose your blog content into social media content. This makes it a powerful tool!

Conclusion

The best option for WordPress users to get their blogging content to Instagram in a microblogging version is by installing and activating the plugin Blog2Social. It is simple to use, fast, and lightweight.

The best thing is that you can use the tool for free if you want to post on Instagram manually. You only have to purchase the plugin if you wish to automate the process.