This time we want to shine some clarity on the best web services WordPress themes for web designers and developers, hosting and domain providers and registrars, cloud computing providers, web creation, customization and management services, marketing and digital agencies, as well as other web and blog related services online.
If you are looking for the outstanding platform to present you're your web services for your personal or corporate websites or blogs, there are thousands of offers you can find while surfing the Internet.
There is hardly a shortage of digital companies and web service provision ag3encies, as well as web services WordPress themes which will cover your web and social media requirements.
However, getting your head around what it offered and how to make the right choice can be a time consuming and bewildering task with no guarantee of success.
Therefore, we have done our best to put together the best web services WordPress themes for you to start the establishment of your online profiles and enlist your web services, packages, special offers, specialists' profiles, team members and more.
Follow our roundup to get a flavor of what they are and which are their strong points you can reap a good profit from.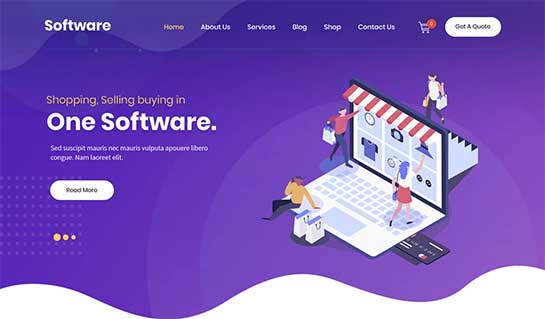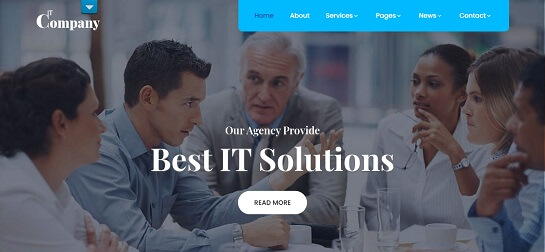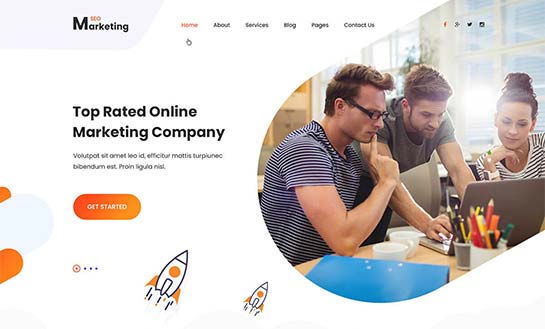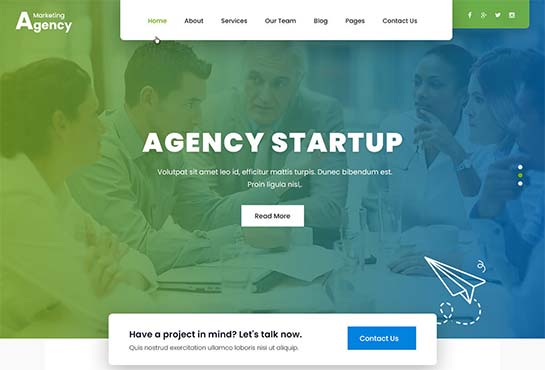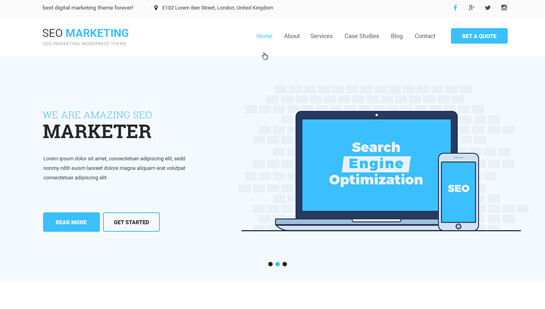 SKT SEO is one of the newest web services WordPress themes with a unique look and clear design to make your whole content stand out with legibility. With a durable coding running at its core and responsive web design touches across the default template, SKT SEO is going to provide you with an exceptionally good platform that both you and your online guests will enjoy greatly.
With smooth and undistorted navigation from top to bottom, fast loading and HD readiness for large images, this template comes with customizer ready performance for you to take a total surveillance over how your profile is functioning and which appearance it shares at the moment.
Seamless usability and pixel perfect image view are guaranteed with this fully responsive and cross mobile compatible template.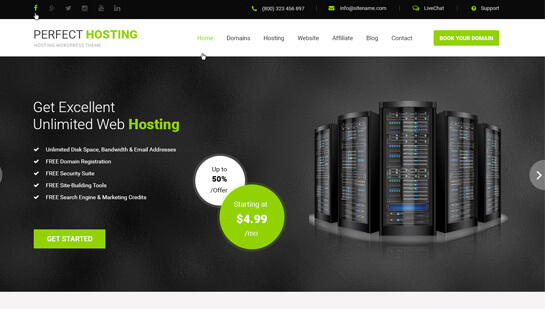 SKT Hosting is the next valuable web services profile building template that makes the creation of a professional and saturated website simple and straightforward, as well as a cost effective process.
Offer your hosting and domain, cloud or other web services, showcase the profiles and portfolios of your experienced staff and webmasters, show prices and discounts via the preloaded homepage sections or manage them as per your content categorization.
With fresh and modern design matching every screen resolution and requirements, SKT Hosting as one of the resourceful web services WordPress themes generates durable coding with HTML5 and CSS3 blending making your future website as beautiful and legible as it is mobile friendly and easily customizable.
Additionally, one can find default slider with 10 slides and totally controllable animation elements, customizer based performance for diverse changes and interventions, sidebar layout variations, page builder and plugin compatibility, etc.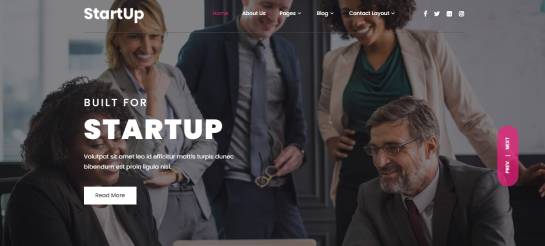 If you are a startup venture or a small newly started company which cannot find the best starting point, SKT StartUp Pro can be the answer you are looking for. Purchasing this powerful and seriously worked out template at an affordable price is another advantage of this template making it highly attractive for those small companies who are working on a tight budget.
SKT StartUp Pro is effectively optimized for a productive client engagement thanks to its responsive and mobile friendly nature, as well as SMO and SEO coding making your site active both in search engine and social media battlefields.
Map your clients' journey with easy by the help of the handy toolbox generated with the theme.
There are different pieces of codes in the form of shortcodes to be used easily whenever this or that functionality or content setup is needed.
Additionally, you are free to stylize the theme with the right colors and social fonts, typography, images, slides on the homepage slider and more.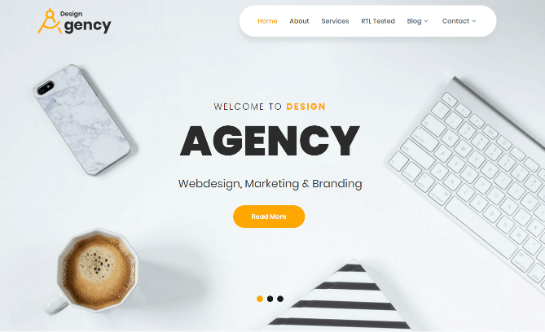 In the modern world, where building and promoting a website is basically the main factor determining the online budget distribution, finding the right template out of the web services WordPress themes can never be a breeze.
However, responsive and shortcodes compatible, widget friendly and plugin compliant, Design Agency Pro is the one that will easily prove that you will get a higher return on your initial investment of your website based on it.
By the application of this wonderfully robust and amazingly pliable template you will never be left with multiple funnels to be stretched along the installation, activation and customization processes.
All the things and procedures are kept as simple and achievable as possible even for the novices of the field.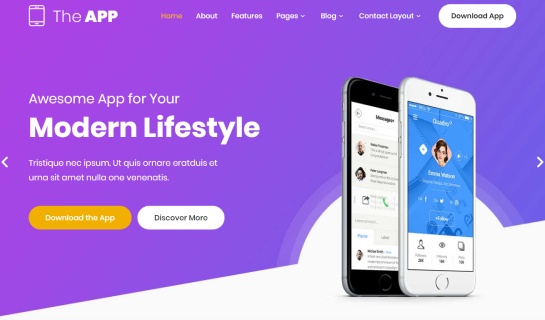 If you are looking for a creative and fully fledged modern template among web services WordPress themes to launch a site in as little as just an hour or two, look no further than The App Pro. A conversion centered design has been added to the theme which means that your website is going to grasp the web visitor's attention and stress the unique working style your company has adopted.
With creative design and eye catchy graphics, The App Pro is totally responsible for the compact look and feel of your site whenever your web viewers jump from mobiles to desktop usage or vice versa.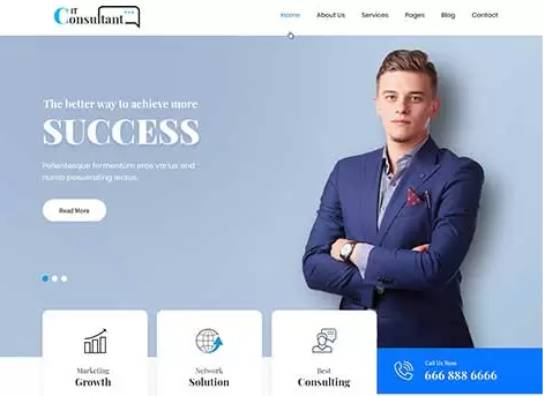 IT Consultant is the last template included in our article that is custom built to go hand in hand with any digital product or service manifestation.
This business supportive website is particularly suitable for web service providers, IT consultants and experts, web designers and developers, web application managers, app and program authors and other representatives of the digital world and its management.
This website builder features a splendid collection of prebuilt sections and preloaded features to make your work simpler and more productive.
Among them are gallery section for portfolio expertise, minimalistic design style for the uncluttered look, plugin compatibility for commercial and multilingual purposes.