When it comes to the perfect web design, you'll find out that particular term is more of a misnomer. Web site designs like most aspects of web design is one that changes by the month and what may be trendy last year may no longer be in vogue.
That's why you need to research some of the top companies in your current niche as their design, layout is bound to give you a few ideas and suggestions that you can use for your own.
And as for the platform that's easy enough to answer, it's WordPress for it happens to be one of the best and comes loaded with all the tools and advanced functionality that you will ever require.
You may want to check out some of our venue booking WordPress themes for they happen to be one of the best and with good reason.
All the themes from our collection of venue booking WordPress themes have been designed by the experts and in line with the theme codex, and so are naturally up to the latest standards.
Moreover, all these themes have been tested for their various features and are ranked accordingly. So let's take a closer look at them, shall we?
This theme certainly showcases the fact that you can expect nothing but the best when it comes to venue booking WordPress themes. The theme itself is a multipurpose one and can be used for most industries right across the board and several niches.
It also comes with a minimalistic look, one that's in line with current web design trends as well as a nice layout along with neutral colors in the background.
It also comes with built in color picker that should come handy when you are trying to change the colors and tones of all the page elements on your website.
Moreover, the theme is completely customizable and comes with 600+ Google fonts as well as icons, so you can tweak with the typography as well.
It is also customizable with external plugins and comes with both parallax and infinite scrolling which should help keep the bounce rate on your website down.
With these external plugins, you should be able to optimize your website and more importantly, ensure that you are able to provide your users with advanced features and functionality.
This should result in better SEO rankings which is why the price tag of $39 is quite reasonable.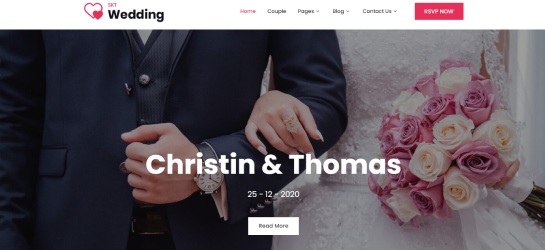 This theme is a classic one, with a neat layout and intelligent and intuitive design that soon makes it apparent why this theme, one of the top ten among venue booking WordPress themes, is indeed as good as it gets.
It comes with a neat design with gallery and default sliders for showcasing important images as well as high resolution images.
The theme itself is responsive and completely scalable, meaning that your users can check out your website through various devices as when commuting to work.
What makes this theme stand out is its simplicity and it does not come with over the top widgets but just a few to provide your website with added functionality and to help your website perform better over the long term.
It also comes with a blog template that you can use to share your personal thoughts and feelings as well as templates for your other pages.
You can also include a social media plugin so as to enable your users to login to your website directly by using their social media credentials. From top to bottom, the theme stands out for all the obvious reasons and it comes with a price tag of $39 only.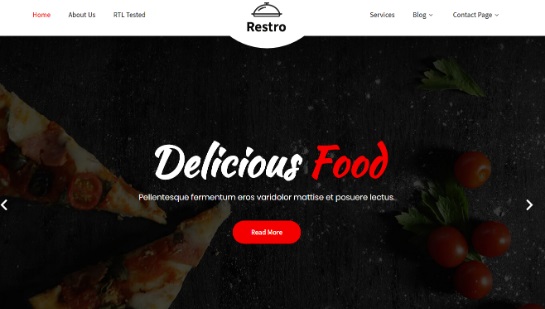 This theme stands for everything that's best about venue booking WordPress themes – innovative design, intelligent navigation as well as a minimalistic look.
This theme manages to encompass all of that and much more; it comes with several layout, header and side bar options along with over 650+ Google fonts as well as a built I color picker with which you can change and modify the color and tone of the theme and its various elements.
The theme is also fully customizable and if you happen to be one of those who is not that familiar with codes, then you can rest easy.
For this theme comes loaded with over 100+ short codes along with detailed instructions on how to use the same. Customizing the theme is a simple process, and even a novice should be able to handle it with ease.
What's more, it comes with a menu area for your menu along with categorization options as well and an integrated blog to write about it and market the same.
It also comes with a home page slider that comes equipped with all the tools you need for better visualization so you can display high resolution images to attract more traffic. The theme comes pegged with a $39 rate, but given all its advanced features, that's a real bargain.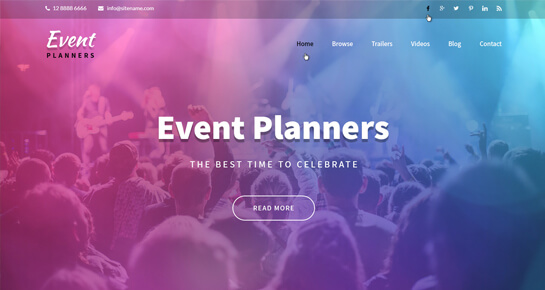 Considered to be one of the best, among all the venue booking WordPress themes, this theme makes it apparent why it is that good.
For starters, it is a responsive theme and one that's completely scalable and comes with no fixed width. Essentially, that means that your users would be able to view your website on any device without any loss of functionality.
One of the most quoted reasons for the bounce rate is that the end user could not access complete functionality of the target site and this led to a loss of potential customer. With this theme, you can definitely avoid the same and give your performance a boost in the process.
The theme itself comes with a nice layout, default slider with animation controls, pause and much more; you can use the same to showcase high resolution images of your products and services and even start a slideshow of sorts.
It also comes with social media integration over 50 networks so you can choose the ones that you need for your website. This is essential as it can help you to streamline your marketing and to leverage social media as well.
It is compatible with external plugins that you can use to improve the performance of your website as well as provide your users with advanced functionality. All of this is available for only $39 which is a reasonable rate.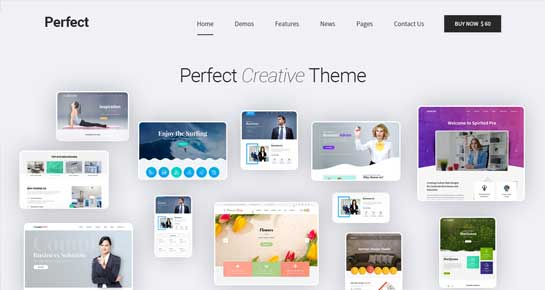 This theme, manages to edge out most others among the venue booking WordPress themes on account of its advanced functionality and key features. For starters, it comes with a 100% responsive theme as well as integrated parallax and infinite scrolling.
The parallax scrolling is a nice effect as it allows the background to scroll at a different rate than the foreground, and as such, it should certainly help your website look spectacular, and attract more traffic, as a result.
The theme also comes with integrated infinite scrolling which should help you boost up those page views, improve SEO rankings as well as keep the bounce rates all the way down.
The theme comes with a nice layout along with header and sidebar options; it also comes with 650+ Google fonts as well as 100+ short codes built for pages like accordions, columns, gallery and much more.
The theme is completely customizable so you can reshape your website the way you want it and what's more, this theme comes with free installation as well as round the clock service for a year.
The Ele Luxury Hotel WordPress theme is indeed 100% responsive and comes with a nice design along with a neat and uncluttered layout along with header and footer options.
What makes this theme stand out is that it comes with animated columns which you can utilize in any post to make it stand out further.
It comes with a home page as well as a few templates, and as the theme is compatible with third party plugins, you can utilize advanced page builders with this theme to develop the other pages with advanced page builders.
What's more, you can also use the same to provide your users with advanced features and more functionality. You can enable your users to purchase their items online and then, as the theme is woo commerce compatible, you can set up an Integrated payment portal as well as one that accepts digital payments.
All of this should help you rebrand yourself and in the process, enable you to develop a loyal fan/ customer base.
The theme has been coded by experts and as such, it has been coded with HTML5 and CSS3, so you can use more animations on the website, if required.
The theme manages to make your website stand out for all the right reasons and given its advanced features, and the various tools that it comes with, it becomes apparent to all that the $39 rate is indeed a reasonable price.