UX designers are responsible for designing systems that provide a great experience to the users. If the user experience is good, the visitors will spend more time on the application or website.
Software companies generally make better revenue if their UX is improved. Today we live in a world that is highly reliant on technology, which is why the need for UX designers or UX design firms has also increased. If you work in the field, then you can benefit from having a portfolio.
Your portfolio or your company's website will highlight the success of your past projects and your core competencies. Here are a few themes that can be suitable for your business: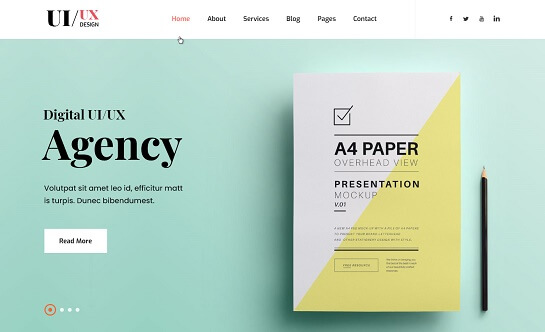 The color combination of this theme makes people excited to work with you. If you think that you have what it takes to improve the UX and UI of other's sites or apps then you need to impress them with an amazing website.
The header of this theme briefly describes what your company does. After that with the help of animated elements, you can display what to expect from you.
Display important numbers like clients, projects, and employees. This will give your prospects an idea about your organization's scale and see if you are a good fit for them or not.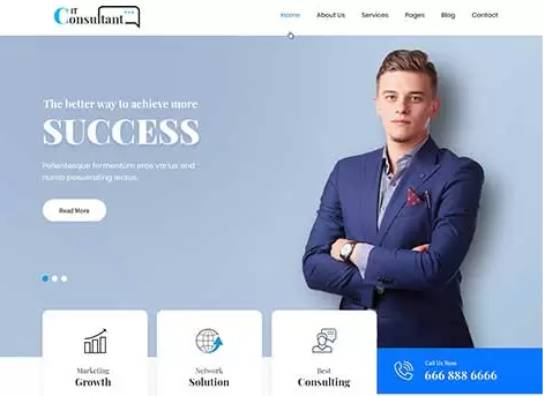 This theme was built for IT consultants who are looking for a responsive website.
If you build your website using this theme, visitors will be prompted to book your services. It was made using elementor and it can be easily edited block by block.
IT services is a big industry and that is why you need to clearly describe your services. This theme gives you space to do the same. Not everything about your company can be said with words which is why this theme has space for high-quality HD videos.
You can describe the process with which you help customers. Overall, this theme helps you onboard new customers easily.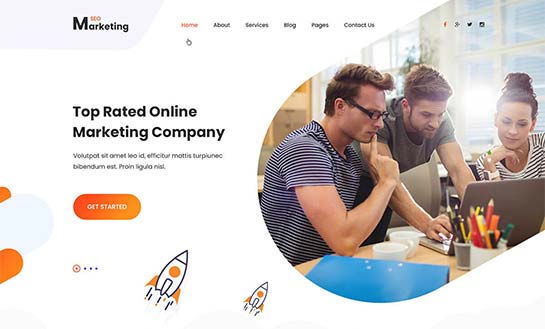 This is an excellent theme for agencies that provide services to other businesses. It has some amazing animated elements that can help you communicate your brand's message without any words.
The same animated elements will keep visitors browsing your website because it will be like a treat to their eyes. You can highlight your services, USP, pricing plans, testimonials, and other information with this theme. In the end, you can add a contact form that allows others to contact you for your expertise.
This is a top-notch theme designed for information technology companies. This is one of the best UX portfolio WordPress themes because it is video friendly.
Why waste space? When you can describe your business with the help of a visually appealing video. Include statistics that help you build your brand's authority and win the trust of the visitors.
Display your old projects in the next section. This is the section where you can highlight your actual experience as a UX/UI developer. Make a more human brand by publishing the team member's information on your website.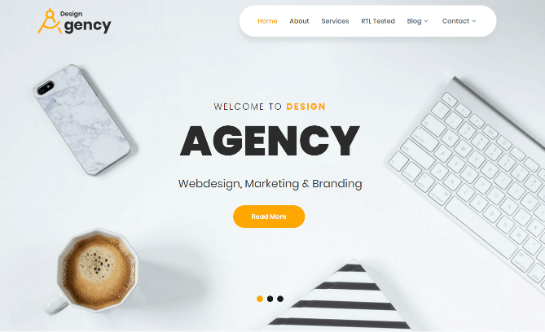 This is a neat and minimalistic theme that can help a lot of IT agencies. In the beginning, you can highlight the core functions that your firm serves.
You get a lot of space to write about your agency. If you want to convince others to do business with you, then you need to be able to describe yourself well.
You can showcase your latest projects. This will give the visitors a hint about which type of projects you usually undertake. If you are not providing UX development services alone, then you should share the credit with the rest of the team.
Doing this makes your company more human and potential clients know the professionals who will be handling their project. In the end, you can add a contact form that will help you collect leads.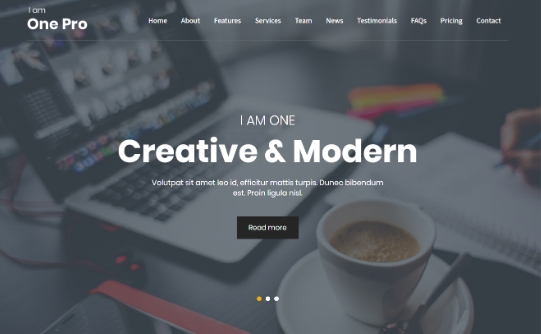 I Am One PRO is a multipurpose theme that can be used by businesses that provide much-needed services. This theme starts with the important question of why businesses should choose you for a service.
It provides a lot of space to answer the same question. If you are able to convince them within the first block, you will get a lot of qualified leads.
This is one of the best UX portfolio WordPress themes because it gives you the opportunity to create differentiation.
This modern theme will help you create a website that will be nothing short of a visual treat. It is extremely important to balance the visuals with content about your business.
However, without impressive visuals, people will not want to read. That is why this theme works! It is primarily made for IT companies that develop intuitive applications. However, it can be customized to fit your needs.
SaturnWP Pro is a theme that will help you build your website with different sections. You will be able to communicate your offerings and USP effectively with this theme. It has a lot of amazing stock images which saves your time.
When clients want the UX of their website or application developed, they will want to know more about how you operate. This theme has a section where you can publish your work process.
In the end, you can collect the email addresses of the visitors and provide them with a personalized offer later on. Stay connected with the prospects through the use of social media. That's why this theme lets you connect your preferred social media channels.
Bizness Pro is the ultimate theme that any service oriented business can use for their website. A lot of amazing UX portfolio WordPress themes provide you with space for publishing statistics related to your business. You can utilize this section to create trust.
In the next sections, you can highlight your core competencies and services. One of the best ways to win the trust of high ticket clients is by publishing case studies. These case studies will describe how you approached each project and the result your company was able to get.
You should use this theme if you are looking for a fresh approach. This theme starts with a video where you can explain all the details of your business. One of the best things about this theme is that it has a special section where you can highlight your USP.
Displaying your pricing options enable you to attract only qualified leads. Because if a visitor cannot afford your services, they will leave the website.
This may sound like a negative thing but being transparent about your pricing ensures that you get high quality leads. Overall, this theme will ensure that you are able to sell your UX development services.
Kraft is a theme that lets you explain complicated business processes in a simple manner. Your client may not be a UX expert but it is up to you to explain that complicated service in a simple manner.
Explain the services that you provide and what makes them unique. You can add other details like your mission statement, team members, and clients. Overall, this is a great theme to win the trust of the potential customers.
This is a theme for businesses that provide consulting services, but it can be edited for your UX development company. Adding details related to your old projects can help.
Those details can be qualitative like case studies or statistics. Thankfully, this theme enables you to add both type of details. This results in increased confidence from the prospect's side and they are more likely to be interested in your services.
SKT Landing Page is a theme that helps you create a professional landing page for your business. The color combination works well to keep the user focused on the site.
There are many UX portfolio WordPress themes but not all of them give you that much space to explain your work process. You can answer the questions that most of your prospects usually have.
This saves your time and ensures that you get leads but they don't have doubts which could have been solved earlier. When all the information is provided, you can add the contact form in the footer.
Posterity Pro is a futuristic theme that can be used by any IT company. If you develop futuristic UX and UI for applications, then this theme is fitting for your business. You can list the benefits of doing business with your firm in the first section of the website.
The unique aspect of this theme is that it gives you space where you can highlight why others need your services? This is your chance to highlight what makes you unique.
One of the best things about this theme is that it gives focus on highlighting past projects. In this section of the site, you can add your previous projects which can impress others.
Just after that, you can add testimonials from your current or old customers. Once all the information is shared, you can provide a call to action. This theme works like a lead magnet for your UX development business.