If you are looking for a clean and visually accurate website builder that will not clutter your site up and will not complicate the content digestion for the website guests, then you are lucky to have access to a wonderful collection of the best ultra minimalist WordPress themes.
Ultra minimalistic web design is one of the preferred trends in the digital platform that has been and still popular among thousands of users.
Otherwise stated, it can be considered as evergreen that continually impresses both website owners and site's users from the front end.
Well, the advantages of this type of web design are boundless and those are what justify the preference of today's digital specialists.
Basically, what makes it so desirable is its simplified and clutter free interface where all kinds of unnecessary or excessive elements and shades are eliminated.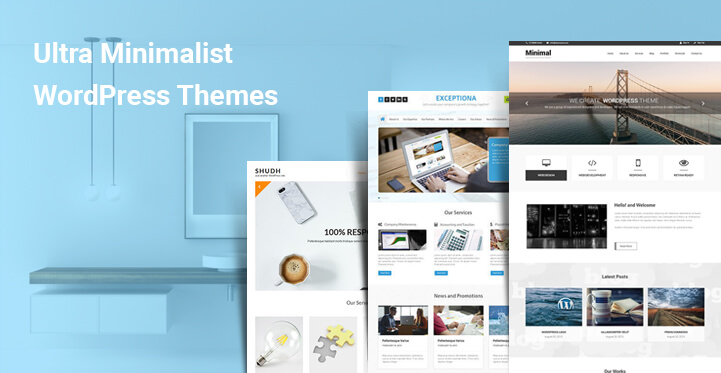 Whether you are planning to create a completely new website that will look contemporary and easy to follow for the audience or want to give your old dated website a second wind with attractive and pixel perfect design, our ultra minimalist WordPress themes will accompany you in both cases.
Modern web designers believe that the popularity of flat design is associated with a tendency to minimalism when creating a user interface. And really, these two trends have quite a lot of similarities: removing unnecessary shades and gradients, texture is consistent with the main goal that is to eliminate all unnecessary.
Therefore, all ultra minimalist WordPress themes you will find below are also flat and material design based to grant you with an ideal and modern looking, hassle free and clean interfaces to enjoy.
Additionally, these blank and ultra minimalist WordPress themes are well equipped with high quality features and preloaded Google approved fonts with diverse types and subtypes for adding large, bold or other fonts to the site for making a quite legible and easy to notice typography.
There are also dozens of other controls and live customizer based performance for instant customization changes and their live preview. All in all, these templates are as accurate and impressive in appearance as they are durable and versatile at the core.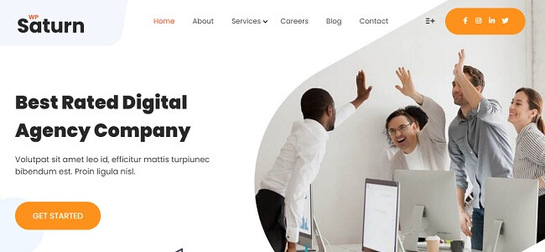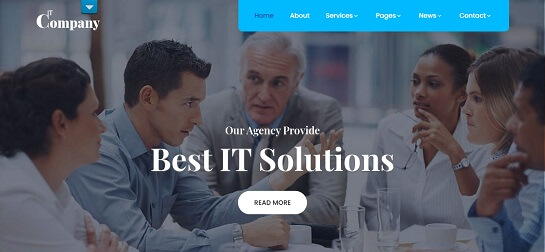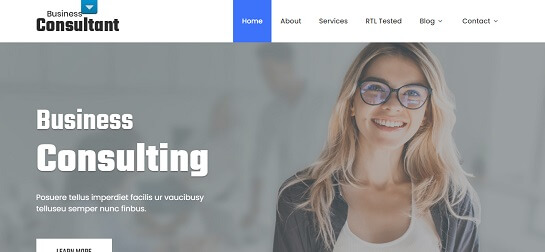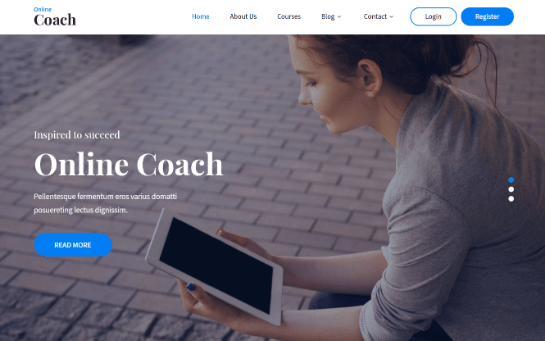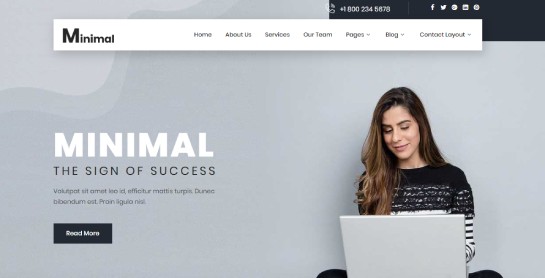 Naturo is one of the clean and ultra minimalist WordPress themes to revolve around absolutely any type of minimalist websites and blogs.
Whatever the nature of your digital profile, you can be sure it is going to be fully legible with clear interface and legible content based on high quality and modern typography, as well as visually eye catchy with homepage images to be added to the default slider.
Additionally, you can add different new functions and design touches for keeping your site more dynamic along with its minimalistic look.
And you can do that by relying on compatible plugins and extensions such as commercial and multilingual, caching and site optimization, additional fonts and buttons, etc.
Exceptiona is multipurpose and well structured, shortcodes based and easy to customize website builder sharing the same ultra minimalistic nature as the other templates put together here.
The less visual information competes for the website user's attention, the more impact your unique visual and textual web content has.
It means that everything has been done to simplify the process of web content digestion for your website users thus guaranteeing better user engagement and higher conversion rates.
Each and every element of Spirited Pro combines functionality and stylish minimalist look. Thanks to this unique combination, Spirited Pro is a true symbol of taste and style which is manifested in moderation, clarity of composition, elegant look and feel, presence of subtle colors and the absence of the screaming ones, and finally, a general harmony so peculiar to the ultra minimalistic WordPress themes.
If we leave the aesthetic part of the theme and delve into its functional base, we need to mention that Spirited Pro has been tested across multiple browsers and devices, mobiles and gadgets, shortcodes and plugins. It is also unspeakably responsive and ideally coded to meet all the criteria of the modern digital arena.
Fully documented and admin friendly, customizable from top to bottom, durably coded yet simple in management, Shudh Pro will never leave you helpless when it comes to the creation and development of any minimal styled personal or corporate website.
Every single part and element knows its specific place and denomination, every preloaded shortcode can be used to streamline the process of web management and new content publication, and every missing function can be compensated with a new plugin installation and activation.
If you are looking for a mix of modern and clean minimalistic web design, Clean Pro is going to be a true inspiration for you.
HTML5 coding and CSS3 animations add a depth to this website builder that is optimized for conquering new rankings in search engine queries, as well as for delivering your content to popular social media platforms.
It is hallmarked by tons of white space and features homepage default slider for niche specific images, offers widget ready areas for quick arrangement, and functions well with WooCommerce, translation, SEO, SMO, shortcodes, gallery, slider, contact form and other useful plugins.
SKT Landing Page is one of the advanced and top rated ultra minimalist WordPress themes that is going to give your site a modern and decent look.
What the professional designers of SKT Landing Page have done is the combination of minimalistic and modern flat web design tendencies, which has resulted in a clear and unique interface where lovely colors are used to create visual interest or attract web user's attention without utilizing any supplementary design elements or graphics.
In addition to the visual excellence and lots of white space to be used for whatever needs to be stressed, SKT Landing Page is also stunningly flexible in terms of customization, and 100% responsive in the way it is delivered to the mobile and desktop users.