A stark compilation of training center and training courses WordPress themes.
These have been gathered for all types of online training individuals, specialists, teachers, trainers, coaches, training agencies, educational institutions, kid centers etc. to deliver their services through digital channels and reach to a wider audience.
The notion "education or training without leaving home" seems to be ultimately attractive and desirable for thousands of people worldwide who have a great desire of enriching their knowledge base, refurbish their vocational skills or experience in something new.
This extremely prosperous phenomenon is likely to have benefits not only for those wishing to take online courses, but also for training institutions, agencies and centers that can organize everything with minimal costs and efforts, that are to be put into the establishment and further maintenance of their online profiles rather than spending astronomical financial means for construction, professional staff and much more.
On the other hand, with website becoming a staple component of any wide – scale success, the number of niche – specific training courses WordPress themes is rapidly growing.
And in the diversity of such themes those being specially developed for online training and education purposes have been searched and found by us, so that you can contemplate them and make sure each of them will take the lead and will stimulate even more creative thoughts in relation to your future online training center.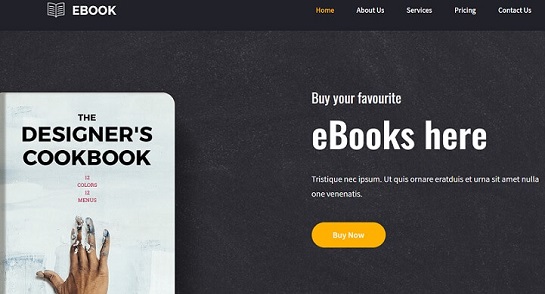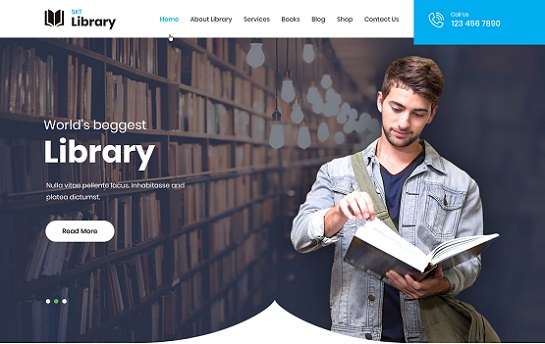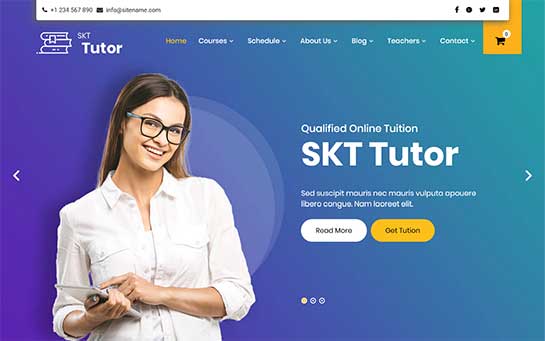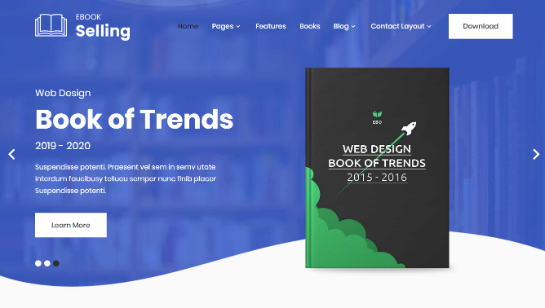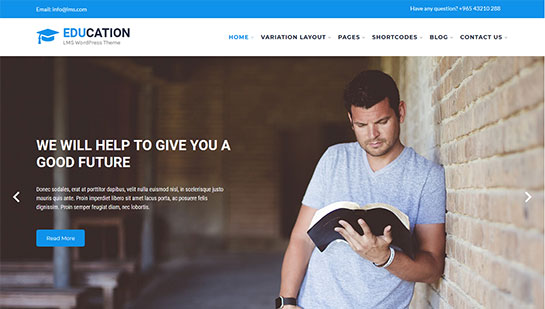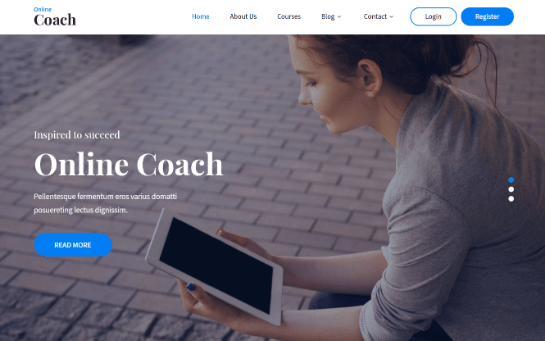 Any education or training field can be fully revealed with Online Coach Pro as an ideal training center and training courses WordPress theme for any training or coaching institute, computer and digital agency with online classes, educational centers with programs of any level and for any candidate of any background, etc.
This robust and versatile, inherently comprehensive and precise, visually engaging and motivational, fast – loading and mobile – compatibility checked template will not only share unbeatable performance as for the present.
But will inevitably result in preventative further maintenance, meaning that the universal and modern coding of the theme will let any webmaster or admin easily replace the existing look and feel of his website with the one better fitting to his needs.
Breathtaking colorful design and lively graphical tints will get all your young and mature learners excited and interested, so that they will undoubtedly subscribe to your courses via your website.
Even if you are not – techy at all, this impressively pliable and high – quality WordPress – powered template will breathe life into your business perspectives and will contribute to the learner's conversion into them.
For your convenience Play School features aesthetically pleasing atmosphere, homepage default slider for showcasing the most motivational notions pertaining to your agency, center, institution, club, kindergarten, school, pre – school or whatever it is, pause time, animation and other controls for slider, as well as up to 12 slides availability, multilingual support and SEO – integration for higher rankings.
Flat Pro is a smart and secure, error – free and award – winning training center and training courses WordPress theme that matters the most when viewed closely for any kind of trainer, coach and training – related initiatives through an online space.
Break all the stereotypes of traditional ways of tuition and present something valuable to your potential participants and learners via your bright and credible, alluring and smoothly navigable website.
Nicely formatted homepage sections and areas, full color changing options and other customization controls, shortcodes inclusion and plugin support have been masterfully united together in the core of Flat Pro.
Multipurpose and fantastically ambitious, fast and lightweight, HTML5 and CSS3 based, user and customer – centric, Bony has successfully passed all the tests of online courses, training and run-up support.
This clean and elegant, serious and compact, massively supportive and sophisticated template is specifically ideal for online medical courses, seminars and programs, however, the list of available topics is no way limited to the enumerated ones.
Bony is in full compliance with the latest WordPress standards and feels fantastic when browsed by any low – powered and portable device, be it a mobile or tablet.
If you are looking for an exceptional and cleverly – coded, entirely flexible and adaptive template for showing off all your trainings, online programs of any kind, starting from educational and financial, accounting and legal courses to fitness, gym, weight loss or other relevant programs, here is Exceptiona at your full direction and domination to bravely embark on a trip to business advancement and increase of the client rate.
And whether you are a startup or a beast in your field, this e-commerce ready and Contact Form7, qTranslate X – compliant, shortcode and Google font – based training center and training courses WordPress theme will take your profile off the ground in the shortest period of time imaginable.
Built for the experienced and top – rated trainer, coach or specialist with a focus on online educational and training platform, BeFit Pro seems to be irreplaceable.
This highly – recommended and inherently competitive website builder brings maximal sensibility towards every single part and option of the theme so that everyone can highly benefit from them when exercised in the right manner.
And since the theme has been foreseen to serve even for the startup in the field, every average WordPress user will totally assimilate this product with extendable nature.
Local Business Pro is another training center and training courses WordPress theme that will leave every expert of online teaching or instructor speechless.
Pick from a saturated color wheel of the theme and exemplify your strong points, so that your website visitors will immediately grasp your advantage over others.
Publish all your relevant data, ranging from your technical, historical and contact details up to your categorized courses, training's, individual and group programs, their prices and more in an easy to find way, and finally, enable all your online students, learners and scholars to access to your courses while on the move.
The increasing use of internet has not left education be missed out. The access to quality information from the comforts of the home has gained huge popularity. There are thus many online training's and courses which are available to the learners online.
There is no dearth of the subjects that can be touch base using these platforms. The students can take courses related to their subject or use the time and the platform to enhance their skills. There is a lot that they can do and learn in their free time.
Many of us do not take that course that we always wanted because we think that taking that timeout would be big issues.
With the online courses and training the time does not become an issue. It is because of this reason why many students enjoy these special courses and look forward to the online form of learning compared to any other form.
The training courses and the institutes which offer these courses has also increased their student base with the help of the online facility. The businesses which are thinking of joining the bandwagon require support.
It is understood that most of these people who does not have much of technical knowledge to create an online site which will connect to the users. The users can in such case use the training courses WordPress themes.
These themes are designed by professional and contain all the important functions that would be required.
The needs of the training institutes are very different compared to any other service providers and business. They require high-quality videos access, contact ease, and contents space, all this and a lot more has been included in the themes.
The fact that the niche is unique makes the developers takes a special interest in designing. This in no way means that the users are stuck with what they get.
The courses WordPress themes are highly flexible. They are the ones which do not spoil the layout and allow the users to add quality content to the greatness of the background.
The themes are customizable which an added benefit is. This is what most of the users appreciate as these themes help them with the idea of creating something that is related to the business and not something common.
WordPress has laid out a lot of such themes for the easy use of the website owners. Now, this is a benefit but can also be a trouble when you are not sure which one will best suit your needs.
The choice is made simple by the top 10 themes which are listed down for the users to pick. These themes are chosen based on various important criteria which are relevant to the type.
These website themes are designed keeping the non-technical users in mind. Thus they are very simple to use and do not require even a single code to be written.
They are ready to use platform where the content can be added and the website can be created in no time. The users can add a simple plug-in to enhance the functions when they want.
If you are running an institute, then you may want to get around to establishing an online presence at the earliest as it will allow you to cater to a much larger audience.
Think about it, let's say that you are training students regarding a particular vocation, and at most, you have the capacity to enroll about 100 students for any given semester (granted the number's a tad small), but if you did have a professional website set up with the help of some of our training courses WordPress themes, then you could possibly cater to ten times that many students if not more.
This is why it is essential that you check out some of these training courses WordPress themes and set up an online website, based on WordPress platform at the earliest. If you need more reasons, then do read on.
Choosing the right theme: It is important that you choose the right theme for your website; make sure that you choose one that is fully customizable and comes with support. You can choose to go ahead with free WordPress themes and some of them do provide support but most premium themes will give you round the clock support which can be handy. Remember that this is a business website and therefore needs to be professional.

So you need to decide what you want the website to be about; whether to just market your institute or set it up as an online portal for you to hold online classes for your students. And once you have decided on your objective, you can choose the right theme for your website.

Mobile friendly: It goes without saying that you need to ensure the theme you choose is 100% responsive so that it can be viewed through any digital medium without loss of functionality. Your uses should be able to access your website and even watch online seminars, seamlessly without any hassle or loss of functionality. So make a point of doing a beta test with some of your chosen themes and see which one makes the cut.
CMS: If you are planning to host online seminars, you need to make sure that you apply for the right bandwidth since you would be streaming live as well as sharing large media files with other students. And to date, WordPress has proven itself to be quite effective when it comes to uploading large sized content or even streaming live media files effortlessly.
And with the right WordPress theme on your website, you should soon be able to cater to a large online audience. With your website in place, you can now streamline your marketing, get more students to enroll in your course and train them effectively.
You can also use your website to list details about your training course, duration, fees and even host a payment gateway to enable students to register and pay their fees.
You can do all this and much more with these themes and that's why you need to use them to set up a dedicated online training course for your students at the earliest.