When it comes to an online portfolio, having a well-curated, esthetically pleasing, and sophisticated portfolio will bring about new readers/audiences to your website. With WordPress, anyone can quickly build a website from scratch.
WordPress is a popular CMS dominating the online sphere for years now. Whether you're an amateur or a professional photographer, you can showcase the best work to procure new clients.
When it comes to picking a great-looking theme with distinctive functionalities, there are several things to consider before you choose. Some of the essential aspects to look for when choosing a theme are:
Design
Typography
Images
Sliders
Customization
We've handpicked a list of top photography WordPress themes that you can use to show your photography skills and portfolio. Note that you can use the themes in the list by either downloading them or purchasing them.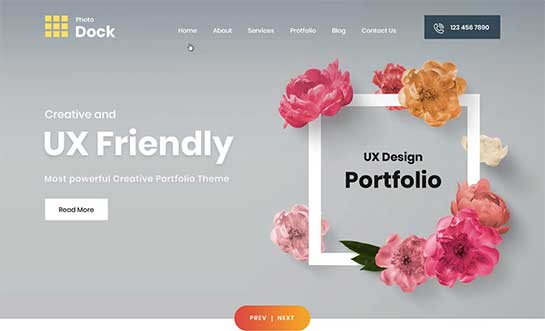 PhotoDock is a pro version WordPress theme that is continuously updated to work alongside the latest versions of the CMS. It comes with the support of CSS and JavaScript for speeding up the website.
PhotoDock offers advanced typography that could help users to have a custom-build design. A wide array of color schemes and support for numerous plugins and WooCommerce makes it an ideal choice to showcase an online portfolio for photographers.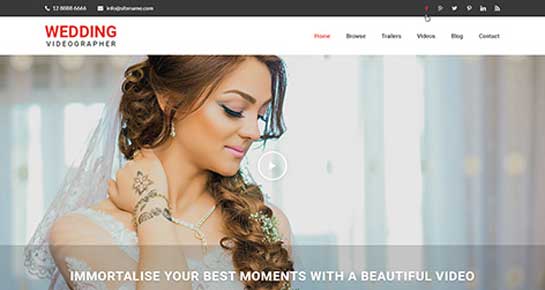 Wedding Videographer has an exponential response rate, and it is worthy of being on the list of top photography WordPress themes. Other than photographers who want to showcase their portfolio on the internet, the theme is suitable for birthday parties, event organizers, event management companies, and wedding anniversaries.
One of the most distinctive features of the theme is that it comes with pre-default "demo content" that anyone can use to build their website without delay.
You get a calendar plugin, support to WooCommerce, among numerous other features for the needs and necessities of your website.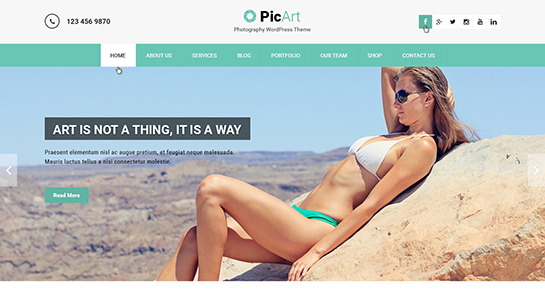 PicArt comes with default layouts that could go around perfectly on the product page and the home page. You get the very best selection in terms of customization on all the pages of your website.
There is one more reason why Picart is very much popular, i.e., the theme is a complete WooCommerce WordPress theme that is specifically designed keeping online portfolios, pictures, and photos in mind.
The theme offers compatibility with devices of different screen sizes. It is responsive and, at the same time, is compatible with mobile screens. You can use the six different sliders to showcase your portfolio in the form of either in the form of picture or video.
The most responsive template in the list is continually updated to support the latest WordPress versions. By the looks of it, SKT Lens Pro offers compatibility with WordPress while complying with XGTML 1.0 Transitional alongside W3C CSS Valid.
Furthermore, you'll also get numerous CSS Menu types that accompany smooth animation effects. The theme also provides support for several popular plugins used worldwide.
Moreover, you'd be glad to know that the template is exponentially optimized for SEO, making indexing the website in different search engines.
With Photo Session Pro, anyone's on the lookout for a theme with great visualization; Photo Session Pro is genuinely one of the top photography WordPress themes. You can do so much more with this theme.
You can show numerous beautiful images that you've clicked throughout your career to define your portfolio without having to document it like it's the 90s.
The theme offers simple options and compatibility with famous plugins such as Contact Form 7 and WooCommerce. With seamless customization, you can get your website up and running. The theme is perfect for casual bloggers, corporates, photo enthusiasts, photographers, and building purposes.
A highly responsive theme that offers great support for mobile devices. Alongside being compatible with Contact form 7 and WooCommerce, it also supports several popular WordPress plugins.
The theme developer has already revealed that the theme is exceptionally consistent with SEO and has an integrated avenue for SMO.
You can also add gallery plugins for adding as many elements as you can add to the theme of your website. Once you're done uploading your portfolio, you can also use the blog page to connect with your prospect and clients interpersonally.
With support for unlimited domains/websites and one-click demo import, any photographer would instantly fall in love with the theme. You get color-changing options, and picking them is a seamless task.
You can also try the opacity options alongside transparency ones with the support of over 50 social icons. Besides being 100% responsive, the theme is also Google-friendly for mobiles.
You can add a contact form alongside the captcha to reduce the rate of cybercriminals. In addition to this, the theme also offers faster support through a dedicated phone, forum, Skype, and email.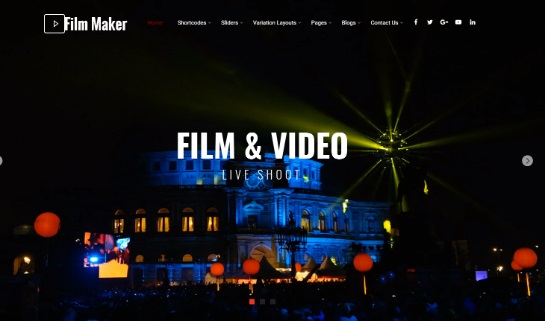 Filmmaker, also popularly known as SKT Filmmaker, is curated for wedding shoots, videographers, outdoor media, modeling portfolios, and TV/fashion shows to showcase the work of the professionals.
As a multipurpose template, Filmmaker is an Elementor-ready template that makes importing easy. Additionally, as an add-on, the theme comes with over 63 designs that are perfect for making several website pages.
You can use the template to create a business, professional or personal blog and build an eCommerce website. Moreover, this brings up yet another feature, the support for the WooCommerce plugin. The Filmmaker is simple, flexible, fast, and offers exponential customization.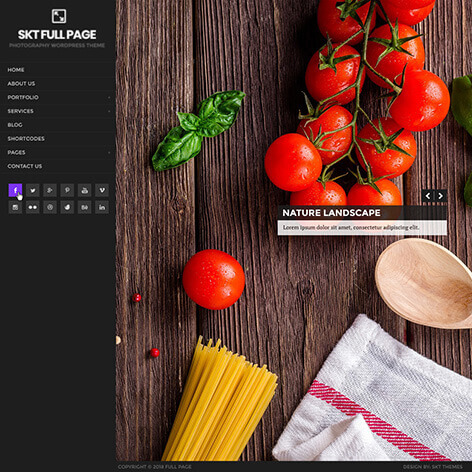 A multipurpose theme that is great for a wide array of industry leaders and businesses. With a default slider that comes along with the theme and has animation and pause time control.
The slider plugins, such as revolution slider, crelly slider, master slider, layer slider, fusion slider, and accordion sliders, could also work with the theme. It doesn't just support the old WordPress version and the Gutenberg making it ideal for the ever-changing ecosystem.
The theme has social commenting plugins with multilingual and gallery plugin support. It also supports over 800 Google fonts, with an added benefit for typography.
If you click pictures and at the same time make films, reels, and videos for YouTube, you can use this theme to build an online portfolio.
What's more, the theme itself comes with readymade template that are directly compatible with Elementor and 7-8 editors compatible with Gutenberg. It works excellent with Contact Form 7 and the WooCommerce plugin.
As the name suggests, MovieMaker is a template perfect for creators of short films, music videos, creative videos, TVC Visual, movies, films, and film editors.
The theme is ideal for people already in the creative field or those who want to break into the area. It comes with a dark background, making it suitable for promoting, selling, and showcasing several works with impeccable aesthetics.
The selection of these top photography WordPress themes will give you the basic idea of what you need to get started with showcasing your online portfolio.
Before these themes and templates came into being, creating a professional website was exclusive and time-consuming. As the times are changing, so should we. Hope this list helps you find the perfect theme for your website without having to break a sweat or look for alternatives.