If you are looking for a reliable start for your tools and machine equipment website or storefront, service provision profile or blog, you are welcome to follow our article to find the best tools WordPress themes crafted especially for such purposes.
From repair tools and solutions to construction and renovation, from mechanic and auto related topics to machine and cleaning, industrial and household appliances websites and not only can be ideally promoted with the help of any of these tools WordPress themes.
Whenever you are trying to start something new and original in the digital platform, regardless of its scope and caliber, you should perfectly figure out how to get started with.
Especially, if you are not techy enough to evaluate the offered and available website creation tools and mechanisms, you are likely to feel teased by a wide variety of options and their descriptions.
Therefore, we have already tacked together a fantastic assemblage of tools WordPress themes which are all of premium quality and can serve anyone's needs, even if the latter is not professional in web creation processes.
These machine and tools WordPress themes are universal and multipurpose in their nature which means chances are great you can have and customize them whatever the topic of your website it.
From niche specific websites catering to tools and instruments, machine and equipment to a broader digital profiles and e commerce practices, absolutely everything can be done and showcased with these tools WordPress themes.
Digging into any of these website templates is going to be not only something affordable, but also fun given the endless customization and management options to walk you through the enjoyable process of web creation and styling as per your wishes and plans.
You can also quickly explore the Admin dashboard of each, make use of endless shortcodes and make each of them even more powerful with new tools and plugins support.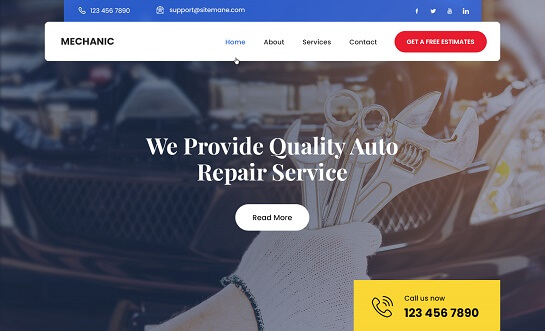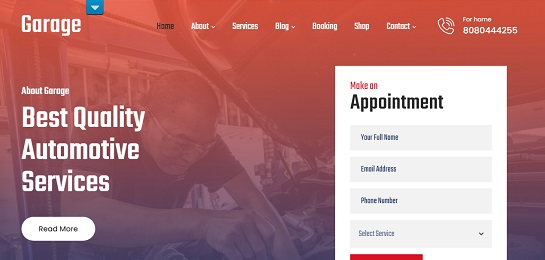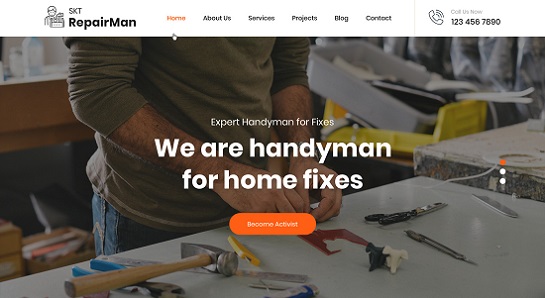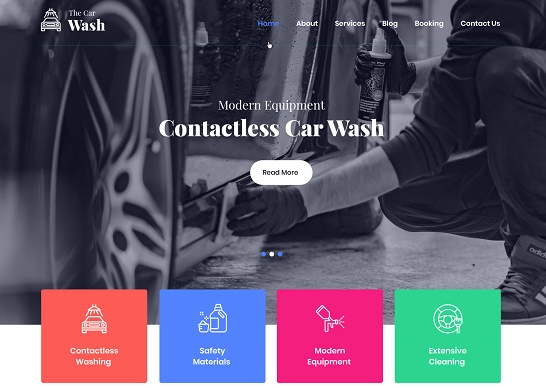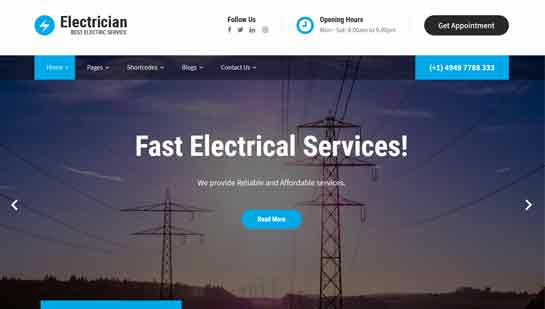 Electrician Pro is an industrial website template for cleaning and air conditioning, gardening and landscaping, yard and home improvement, house and interior design modeling, construction and repair, as well as other tools and machine, equipment and service related businesses.
Whatever your expectations from this responsive and mobile optimized template, they are going to be justified, as Electrician Pro shares a wonderful combination of simplicity in usage and a wide array of practical tools to reach all your goals.
From jumping online with a storefront and selling your merchandise online to pairing your site with search engines to social media or sharing multilingual content, everything is possible if working with this theme and compatible plugins together.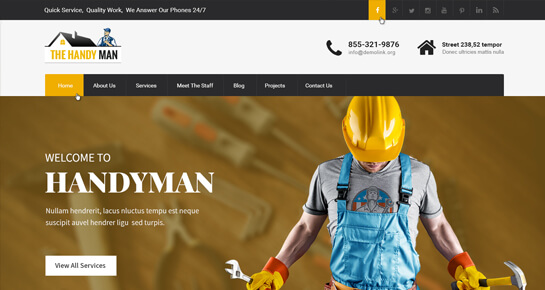 Choosing the best website builder right from the start is decisive in ensuring the pro quality final digital product.
Therefore we have added SKT Handyman Pro in our list of the best tools WordPress themes, so that you can have one of the most dependable and profitable website builders at your disposal without spending hours on finding it from elsewhere.
How your website is going to look and which functionality it's going to offer to its users is all up to you since SKT Handyman Pro is wonderfully controllable and easy to change both in look and feel.
You can modify and customize each and every part or element of it even tens of hundreds of times, until you find the best version of your website worth sharing with its end users.
If all in one web solution among the modern tools WordPress themes is what interests you the most, look no further than SKT Perfect.
This modernly designed and coded, visually serious and attention grabbing, flexible and user friendly website template is going to fulfill any kind of business and personal needs.
Be it a presentation of available services or sale of tools and equipment, integration of new clients and consumers from search engines or social media networks, display of high quality imagery on the homepage, etc.
The theme's default capacity is enough for ensuring your site's unmistakable performance and availability around the clock.
However, if you want to boast more results and revenue, better qualitative rates for your site, you are free to add and configure also compatible plugins which work just stunningly with SKT Perfect.
Solar Energy is a multipurpose WordPress theme that has already proven its excellence when supporting the creation of a bulk of professional websites.
Around 20 homepage sections are added to the theme for the most accurate content display with accompanying images and multimedia, call to actions and buttons, best typography with contemporary font choices and the most eye catchy color combinations.
More than 100 inbuilt shortcodes are also added to the theme for you to enjoy the simplicity of dealing with the theme instead of suffering on a hard coding or styling procedures.
SKT Stone is another versatile and admin optimized website building system you can manage to be an enviably good framework that will go hand in hand with your relevant tools and machine, stone or construction, contractor or service provider, designer or engineer website.
You can take SKT Stone from being a neatly developed and visually inspiring template to something advanced with new functional touches and design solutions, integration of new tools, shortcodes, e commerce platform and multilingual content with respective plugins, add ons and extensions.
WoodCraft is an ideal template for furniture and construction, wood and carpenter, online shopping and design websites, blogs and online portals to win the attention of the target users and newcomers.
This template has been designed and coded to easily turn into an online shopping platform with online bookings, sales, online payment gateways and other useful tools to be included with compatible plugins so that your online guests and shoppers will never face any difficulty or discomfort.
The theme is also wonderfully responsive to enable the customers on the go enjoy the site and its content and even make purchases quickly.