If you're planning to build a sports website especially to attract soccer players then check these Soccer WordPress Themes. These will be the right pick for your website, as they all come with easy to use plan.
You do not need to stress because without writing coding or working with a tech-savvy person. You can create your website easily and it will be an exciting adventure for you.
Besides looking into easiness, the deciding factor usually depends on the targeted audience. Look for the Soccer WordPress Themes that help you create an engaging and quality website that brings a large audience to your business.
Moreover, you should add interactive content, blog, and videos which is crucial for your business growth. Now, let us dive deeper and explore the Soccer WordPress Themes 2023.
Best Soccer WordPress Themes 2023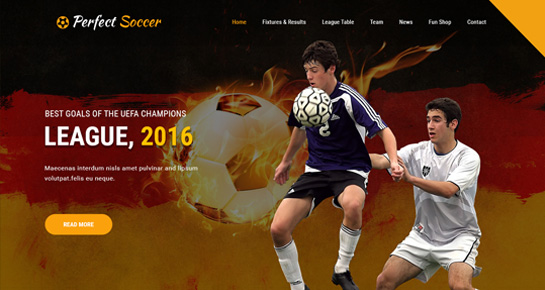 Soccer is the ultimate soccer WordPress theme to target American football, NFL teams, personal blog and coaching. This is a professional and well-structured WordPress theme that use pre-made styles inner pages, shortcodes, and widgets. It will help you to display your game results, team members' schedules, etc.
The Soccer WordPress theme is good for Merchandise sports equipment. It is covered with the latest version of WordPress and compatible with every plugin specially WooCommerce. This is a fully documented ready and extensive WordPress theme that helps you to manage every element of the website.
Despite that, the theme is very responsive mobile friendly and has been coded with Google mobile-friendly functions, so that you won't find any issue while working on the theme. In addition, the theme is more social sharing plugin-friendly.
This also includes a drop-down menu of up to five levels, which has been coded to drive a range of traffic to your website.
If you are intended to create a soccer website like a pro then check the SKT Golf soccer WordPress theme. This is an outstanding theme that you will get a new Avenue of communication between the sponsor's fans and clubs member.
This is built with an easy page builder that supports your multi-purpose design of the theme. Thus, anyone can come up with a magnificent website by referring to the documentation, as it contains step-by-step working on the setup of the website.
Despite that, SKT Golf includes a footer that can be represented in the configuration with banners, sliders, or videos. Moreover, the header is also designed with multiple variations so you can choose the best suitable for you. Events like Google Analytics maps, slideshows and others are very compatible and give you brilliant performance.
Further, it is integrated with several plugins that give your website an outstanding approach. This is social media friendly and comes up with security plugins that have a vital role to work on the latest programming language.
The homepage sections can be easily replaced with the content. You can place your social media plugins like Facebook and Disqus. Explore the new features and jam-pack your website with SKT Golf.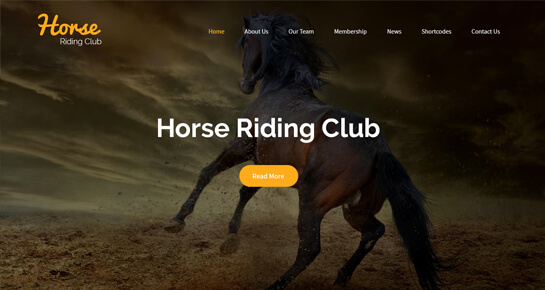 If you want to interact with a range of audience that loves to work with your website then try horse riding. It is a modern WordPress theme that conquers all your demands. This is one of the best football and soccer WordPress themes on the list that helps you create extra value to the followers and Fans.
Besides, Horse Riding is built with WP bakery page builder that allows you to create and come up with the unique layout. It has a frame from which you can choose between the different layouts. These are designed pages and advanced contact forms. 
It is a WooCommerce compatible theme, so you do not need to go and install multiple features. It comes with in-built features that allow your visitors to enjoy the fully responsive website and gives you a consistent approach to satisfy their needs.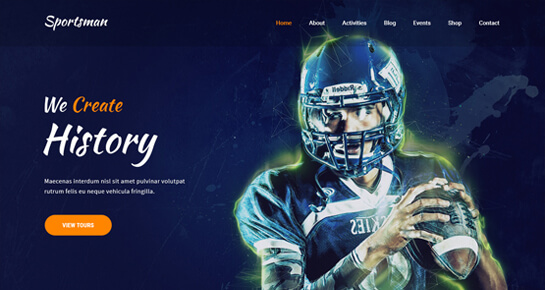 If you want to build a trendy website then look for Sportsman Pro. This is an Ultimate web design that comes up with various options of blogging and eCommerce platforms. It includes a collection of multiple inner pages that you can use actively for a website. 
There is no need to install extra plugins because it is already featured with SMO and SEO plugins. The theme is already loaded with a lot of essentials. Furthermore, the theme is compatible with WooCommerce that lets you enjoy the eCommerce platform for your business. 
Sportsman Pro is outstanding that include 5 layout variations for the footer and header section. You can click any elements on your website, especially the colors of your choice.
The best of the theme is it includes a sidebars. Also, this is a specially designed WordPress theme that provides you with a fantastic revenue-generating platform.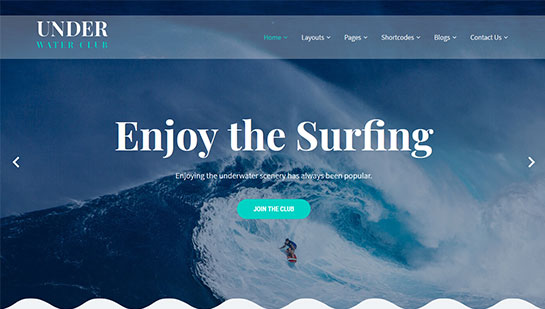 Underwater Pro is an outstanding WordPress theme with a simple and very professional look. This can be used for creating websites like Scuba Diving, adventure agencies, surfing, and other activities. This is a highly compatible theme that comes with the latest version of WordPress and also the plugins. 
Besides, it also includes 6 columns where you can include different types of services that you provide such as driving, rafting, surfing, and more. This is a completely flexible and customizable WordPress theme you can invest hassle-free. 
It is a WooCommerce compatible theme, so you can start your eCommerce platform to sell the merchandisers. Furthermore, it comes with a call to action button and a friendly coding theme as well as more consistent features that give your entire website a cool approach to lead the market.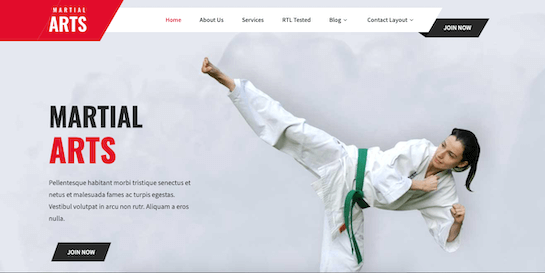 If you want a website that carries its visibility, drives maximum engagement, and satisfies your investment look for Martial Arts. This will be a fantastic WordPress theme that will give you fantastic results on your selection.
It offers you a lot of time-saving features. It is must ready responsive and SEO friendly soccer WordPress theme. Besides, this going to be a modern website with powerful tools that bring engagement to your website.
Moreover, the theme is a one-click demo import and compatible with documentation, so you can solve any query while watching documentation. 
The template can be used for personal trainers or Clubs as well. If you want to go with a premium plan you will unlock the hundreds of features that completely give you an active boost every section is created uniquely. Thus, you can enjoy great results in the market.
If you are looking for something unique and professional then you should take part in the Ele fitness, soccer WordPress theme. It is a very dynamic and responsive theme you can find beneficial for your business. It comes with an events calendar that helps you share Sporting events. 
Moreover, the WooCommerce integration allows you to sell sports products or services. Also, the blog layout section will help you connect with the audience every day.
With Ele Fitness Theme, you will enjoy the unique features and jam-packed sports club. Apart from that, it is WPML compatible and helps you create an engaging platform for your visitors. 
This website does not only give you full permission to add images and videos but also helps you to rank easy on the search engines. Despite that, it includes shortcodes that are offered for creating pages, posts, and customizing the header and footer section. The documentation is also available for the customization process.
SKT Marathon is the best WordPress theme that is simply inspired and help you to expand the fan base online. This is a modern website that increases online-offline interaction and engagement towards your business. It helps you to generate more value and a better experience for the customers.
With this, you will generate more revenue because it comes with a function that a web required. It includes documentation for a customer, so you can create a website hassle-free. The theme is RTL language supported, Google fonts included, give free access to the computation customizations and many more features. 
Besides, the theme is very best for running the marketing or health club outdoor sports and more. The best of it's every section is easy to scrollable and give your users good value.
Adventure is a cool Soccer WordPress theme which is specially designed for the adventure sports website. You can list all the sports or you can Merchandise.
This template is used for summer and adventure camps where activities like hiking cycling seeking ice skating and others can happen. This theme is well compatible with events calendar plugin and has various events can be easily shortlisted.
Based on responsive mobile friendly and devices friendly features, it is best to choose. Further, it is built in several functions and shortcodes are provided.
Thus, you can get the best use of plugins. Despite this, it is a translation ready and multilingual friendly theme so you can attract a large customer base.
The Zym is considered as most responsible Google mobile-friendly WordPress theme that acts on all the devices. It is compatible with WooCommerce with easy shop management and creating an effective store website.
This is a powerful WordPress theme that includes animated features. Also, it is coded with HTML5 and css3, so you don't find any issue while working with that. Moreover, contact us page, compatibility features are available in the theme.
Summer camp is a fantastic template that you can easily employ in your website design. If you want to come up with alluring touch then it will be an amazing theme to get started. It is specially designed for sports websites and give you exactly what you need. 
You can choose between the several sports theme. You will find this theme that fits with your particular needs. Besides, it is a set of 40 custom blogs that allow you to create the engaging one.
This is not a time-consuming WordPress theme. You can find the end-to-end approach that gives you a spark to come out with the results you want. Additionally, it is a fully-featured theme and worth exploring.
Mountain Biking is the best WordPress theme you can choose for your web solution. This is a way to create a profile and beautiful website related to Mountain biking, cycling, and more. This is also a very affordable solution to come up with the best. 
It is 100% GPL license ready and full feature theme. The PSD will be provided on the demand. Also, the installation process is very fast and you will get one-year customer support. Along with that, you will find this website SEO and SMO friendly.
If you want to be a part of the sports industry and want to get with a fantastic way to start, then choose the GB extreme. This is a cool WordPress theme that work on modern and creative features. It is an ideal soccer WordPress theme for football clubs. 
GB Extreme comes with beautiful home page layouts. It is also integrated with WooCommerce support so one can sell the Merchandise easily. You don't need to learn the code.
Enjoy the interactive drag and drop features and get the results. This is a smart go-to tool that helps you to engage and maintain multiple fans and followers towards the business.
Whether you are running a football club, tennis club or Karate the website should be inspiring and engaging for the fans. This is why SKT Karate is considered the best WordPress theme for creating a sports website.
It is an interactive WordPress theme that gives you an outstanding solution to create a more valuable experience for users. 
Besides, it includes player's lists, staff details, and many more. It comes with WooCommerce integration, so one can easily enhance the selling experience of the customers. So, why not get it?
If you are looking for a trustworthy WordPress theme that enhances the credibility of your business among customers, then choose SKT Extreme. This is a nice responsive website that is designed to give your customer convenient accommodation to search.
Furthermore, this is a fantastic theme that comes with highly customizable features and easy to use plugins. Moreover, SKT Extreme is WooCommerce compatible so that you can start the Merchandise easily. The website is crafted with customized templates that can quick tweak elements to engage the customer's attention.
Plus, the theme is SEO friendly so that you can rank your website easily on the search pages. The theme is providing various options to make a website more attractive. So try its demo now.