We live in an age where everyone lives a sedentary lifestyle. As a result, people rarely get to experience the thrill our bodies were meant to experience. That's why the business of extreme sports has become so popular.
If you have also started an extreme sports center and want to gain new customers, the easiest step is launching your own website.
To ensure that your website makes an excellent first impression, you must pick the right theme. While many free themes are available in the market, you can find the best functionality only with a paid theme.
All extreme sports are a bit similar, which is why a theme designed for one sport can be used for another. For example, if you want to design a website for a hiking center, you can use skydiving WordPress themes.
There are thousands of themes out there, and having a look at so many themes can confuse you. This blog has highlighted the best themes for extreme sports websites. Other than that, we also talk about why these themes are suitable for a successful extreme sports business.
The best skydiving WordPress themes for your business
There are more than one suitable themes for you to build your website with.
This is the classic theme for extreme sports centers. You can provide your visitors with a visual list of your activities.
To ensure that customers have the best experience on your site, you should make your website responsive, easy to navigate, and visually appealing. All this is possible if you use the SKT Extreme theme.
If you want more people to join your club, SKT Extreme should be your top choice. It focuses a lot on club stories, activities, and members. This theme supports the elementor page builder plugin. You can install this theme and then use elementor to make the necessary edits.
People are highly interested in adventure sports, but no one will find your website on the internet because there are thousands, if not millions, of websites for each niche.
You will have to get more people interested in your club and activities through what appeals to them. This can be done with the help of an active blog, and you will only be able to do this if your website has a blog sidebar.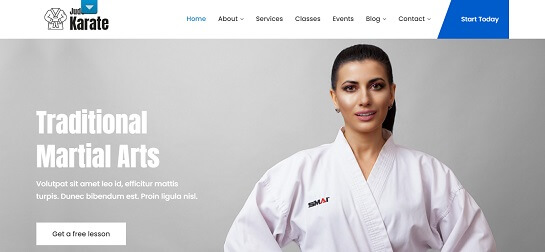 With the help of this theme, you can clearly highlight what benefits you will gain if people choose your center for extreme sports activities. You have to diversify and offer more than one option to attract different types of customers.
If you choose this theme, you will be able to list out all the available options that you provide. To promote your business, you may host many events, but you can also list those events on your website. People do business with others when they have established a level of trust.
Testimonials are a great way to do that because they are assured that no matter what happens, at least their money will not be wasted.
This theme has a dedicated testimonials section, where you can flaunt the positive things your customers have said about your business. This theme gives a great structure to your website.
This is a theme that can be used by all extreme sports. If you have been looking for skydiving WordPress themes, then you can count on GB Extreme to make a wonderful website for your skydiving business.
It has a section where you can elaborate on why you provide the best skydiving experience in the region. Your business is nothing without your staff, which help you provide the best skydiving experience.
That is why it is best to provide them with a space where their hard work can be highlighted. It is also good for customers to know who their guides will be, and they can know them before going through an incredible journey with them.
This theme comes with an appointment plugin where people can book an appointment. You can use this as a call to action. When someone books an appointment through your website, they no longer remain a visitor but are converted into a customer.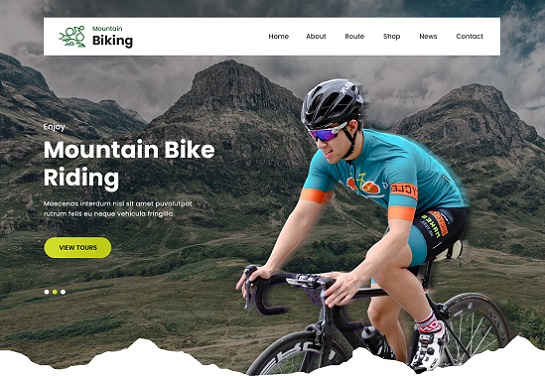 Mountain Biking is a WordPress theme used by cycling clubs and other outdoor sports businesses. You do not need technical knowledge to customize your website once this theme is applied.
All you have to do is customize elements as you like, and your website is ready. This theme is also optimized for high speed.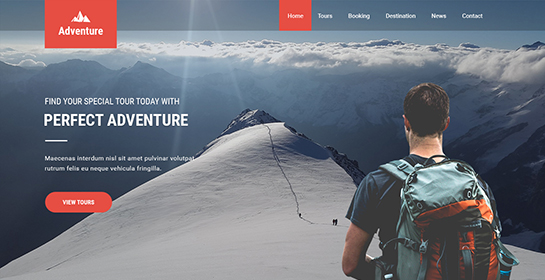 Anyone with a business related to adventure sports and traveling can use this theme. It is focused solely on converting visitors to customers.
It can be done by highlighting what services you offer, a checklist with reasons to choose your business, most popular adventure services offered with amazing visuals, and finally a booking plugin.
By the time a visitor drags down to the booking form, they will have a lot of reasons to go with your business. The design structures of this theme make it compatible with old browsers too. Your site will be functional on laptops and on mobile devices both.
This is a theme that is useful for golf clubs. Although it is specially designed for golf clubs it can be customized to suit other extreme sports too. You can list your services and accurately describe your pricing plans.
Potential customers appreciate such transparent pricing. Even if you are a rookie in the field of website development, you will be able to handle this theme. The theme is uploaded as it is but you can make any tweaks that you want later.
Before you start the editing proces, make sure that you have a good image of what you want your future website to look like.
Eventhough this theme was designed for soccer clubs, it is also used by people looking for skydiving WordPress themes. The color gold, red, and white fill the viewer with a lot of passion.
You want people to come to you with passion and that's why these colors are used in this theme. A sidebar is available where you can add your blog.
After installing this theme, you will be able to set up the homepage within minutes. Call to action element is available in the header of this theme.
This theme comes with sticky menu with which you can create a menu of the extreme sports that you host. You have a lot of sections in this theme and each section of the homepage leads to another page. If you want to keep the user busy, then this theme is ideal for your business.
The Athlete theme is used to design websites for sports training center, fitness clubs, gyms, sports shop, extreme sports, etc. You can add a shortcode plugin, with which you will be able to add multiple shortcodes.
It can be used to design websites for multiple industries as it has the functionality that most businesses will benefit from. Speed is extremely important to ensure that the quality of the website is great.
Installing this theme will provide your website with good speed and reduced bounce rate. Creating your website is not enough, you have to ensure that it is discovered. That's why this theme is SEO friendly and it also allows you to install SEO plugins.
This WordPress theme is used for companies that provide aquatic activities like surfing diving, snorkelling, etc. That's why the main colors of this theme are blue and white. Blue represents water and that's why it is suitable for this theme.
If you want to sell products alongside your website, you can always use the WooCommerce plugin. Since the sky's color is also blue you can also use this for activites that are related to the sky like skydiving. That's why this theme is one of the best skydiving WordPress themes.
While some people are convinced with testimonials, others are convinced with numbers and business related statistics. If you can inform your customers about the number of events or activities that you have conducted through your website, they will be ensured that you are an established business.
This is how you can build trust with your potential customers. This theme has an entire section dedicated to numbers and business related statistics.
You can inform customers about why it is important to do the activities that you provide and then in the end customers are able to make a booking.
This theme has extremely proactive colors, it will make the customers active and they will want to take an action. It was designed for marathon organizers but can be used by other extreme sports organizers too. You can portray the benefits of choosing you as an organizer with animated images and texts.
This theme is HD ready making your website visually appealing. It is important to keep in touch with people who visit your website. You will be able to do that by adding different elements like social icons and newsletter.
With this customers will be able to follow you on multiple platforms. If they were not convinced once, you will get other opportunities to convince them.