This is a reliable collection of the best renovation WordPress themes designed and developed for construction and architecture, design and renovation industries and their branches, private contractors and engineers, handymen and home service providers, etc.
We all know that construction or renovation is far simpler said than done. However, this fact scarcely stops anyone thinking about renovation or home improvement since there are boundless professional businesses and individuals waiting out there to do everything for you.
If you are a construction or renovation company to offer your multiple services to your audience, you website is one of the powerful tools to come into play. Moreover, not only its content is what matters, but also its easiness in usage, precision, responsiveness and fast loading, etc.
Hence, whether you want to make your potential clients informed about your business, or want to broaden its mission away from merely providing them with information and modeling ideas, having a professional website is a must.
Our renovation WordPress themes will greatly help you in living out your dream website fantasies without spending too much money or time on it. All of them come with simplified and quick installation and management processes, as well as cost effective nature from a financial standpoint.
SKT Architect Pro is one of thoroughly checked and constantly improved renovation WordPress themes to serve the requirements of construction, architecture, renovation and interior related industries.
Visually clean and precise, functionally advanced and unbeatable, this template unites simplicity with powerful performance.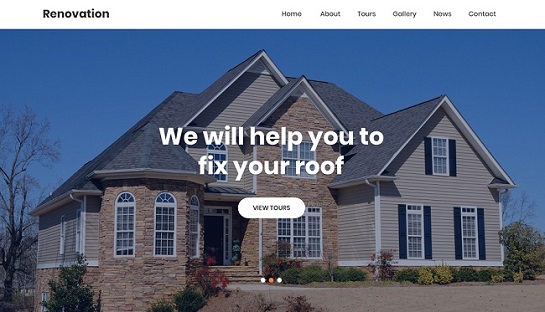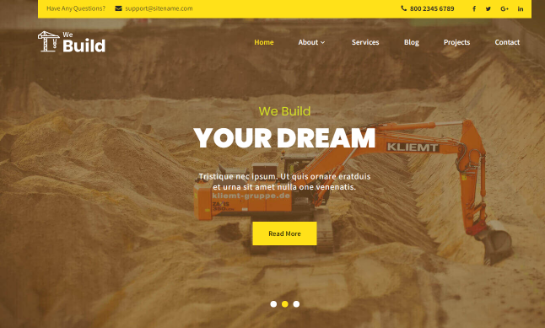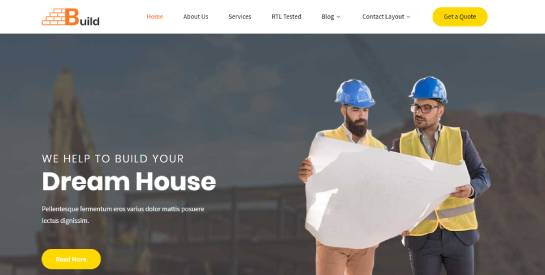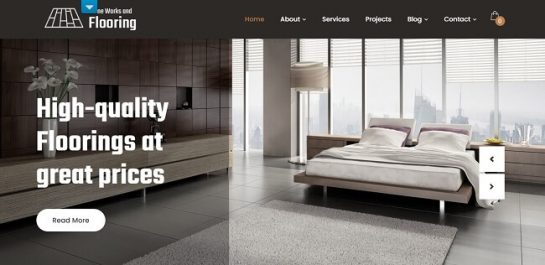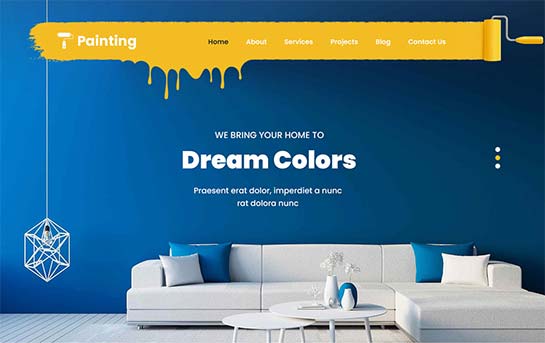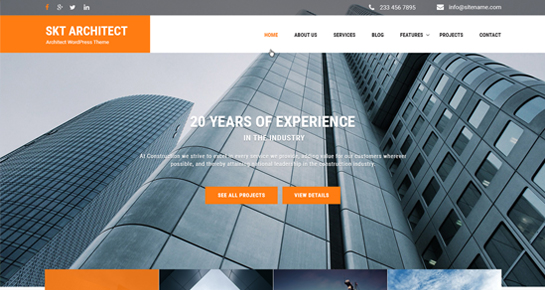 It comes launched with reasonable content segmentation possibilities via the default areas and content sections. Among them are home, about us, services sections to tell your business story, offer services, as well as blog section for diverse news and events, plans and press releases.
SKT Architect Pro has a unique layout with parallax backgrounds on the homepage, as well as possibility to add up to 20 homepage sections. Google fonts and font based icons are there for you to establish the right typography and icon distribution, as well as several shortocodes included by default.
In case you need additional shortcodes for better results, you are free to install shortocdes plugins as well.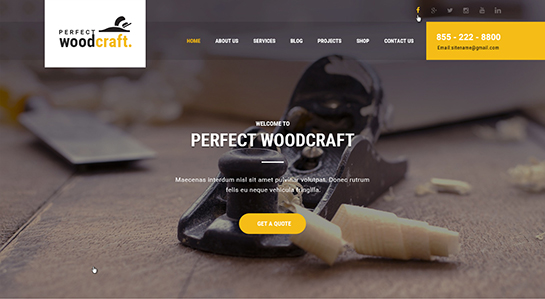 WoodCraft is fresh faced and seriously worked out template with an average website admin in the theme developer's mind. It is thoroughly specialized in demonstrating any web content catering to renovation and construction, handymen and craftsmen, furniture and interior.
In case you want to run an online shop and sell your wood based furniture and other home décor items, WooCraft is ideal for you with its ecommerce based and WooCommerce compliant character.
Advantages are endless with this template, including its feature rich nature, simple installation and one minute activation processes, included shortcodes, fonts and icons, as well as their controls. Modern flat design touches make WoodCraft a masterpiece with streamlined and easy to perceive visualization.
Maintenance Services Pro is the next highly practical template included in this article revealing the best renovation WordPress themes for present.
Let your potential clients get matched and communicated with the best models and offers, as well as professional contractors and renovation experts via your website.
Include all contact details in the footer area, as well as contact us section and be accessible around the clock. Blog and page control options are at your fingertips, as well as homepage full width slider to showcase the most successful projects done.
Drag and drop, scale and edit the given layout as per your wishes and give Maintenance Services Pro a new try, this time already with your preferences, preferred color and fonts combinations, etc. The theme is also responsive and knows the perfect way to adjust itself to any screen size.
Designed to be accurate in what it is doing, Furniture Pro is the next instrument to be used for your current or future renovation or furniture website. This affordable and laudable website builder will never let cost or complicated coding stand in your way to success.
You are lucky to purchase this template at a pocked friendly cost and never spend any additional penny to hire designers or developers to finalize the look and feel of your website.
With Furniture Pro, you are capable of using the given platform to distribute your services, projects, drafts, home improvement and remodeling schemes and more. This intuitive and smart template is also readily responsive and cross mobile compatible, as well as widget friendly and deeply customizable.
Start your website planning on the right foot with Furnish. It is also among the top rated renovation WordPress themes for construction and renovation industry specialists and contractors.
This modern looking and well structured template can be your heaven to keep everything up and always organized in a few simple clicks and controls from the theme backend.
It generates admin optimized dashboard, convenient content locations and boxes, testimonial area to contribute to the social proof of your business, etc.
Packed with responsive design and multilingual readiness, Furnish can speak in favor of your online presence and take it to an international marketplace with lots of new opportunities. From easy color customizing options to social media integration and controllable slider, Furnish shares it all.
Handyman is the last safe and sound, contemporary and dependable template to be found in the collection of renovation WordPress themes and truly deserves it.
Launched for renovation and construction industry, this template can be easily utilized to stress out the expertise of your staff and team members, handymen and other specialists with huge experience.
Lightweight and visually clear, Handyman is ready to obtain a good ranking for you with the help of its client optimized and robust nature.
Offer your home renovation and fixing services through your posts and pages and let people have easy access to your content even while they are on the move while using their portable devices.
In today's global world your business needs to be accessible to people from all corners of the world so as to maximize the profitability.
With the intense competition all around this domain, you have to take care of each aspect of the business. As we all know that first impressions are very important, as they portray your personality, so it is very important that you have a website that looks provides a great first impression.
Without a website you are already missing out on a wide range of audience, however, having a website that looks bad or disoriented, is even worse. Potential customers are very responsive to the presentability of a website, and if they see a website that looks shabby, they will already think twice about doing business with that company.
Hence, a website with our Renovation WordPress theme can turn out to be a pretty good idea, as our themes are advanced and aesthetically pleasing.
In the world of infrastructure and design, connectivity is the key to getting the best deal. More people are searching online for better renovation and redesign experts than ever.
People are looking for experts to get their work done and so to capitalize this resource our Renovation WordPress themes fit right in. With our themes, you get to easily portray your true potential and capabilities, so that you get the right kind of customers you were looking for.
In the field of renovation and construction, you cannot afford to miss out even on a single client, as it could potentially be the next big deal. So presentation is a necessity to make a lasting first impression. This is where our Renovation WordPress themes come into the picture.
Using our themes you can make your website one of the power tools for getting good business. Our themes are advanced with all the security protocols set in the right places so that you just have to worry about the clients and not about the technical problems related to the website.
When it comes to technical capabilities, our themes turn out to be the best. All of our themes are reviewed and tested so that we can assure 100% result to our patrons. So, using our themes is pretty basic and one does not need to spend a huge amount of time setting up our themes.
When it comes to tweaking themes as per your desire, you can easily do that too with our themes. We have made sure that tweaking our themes is easy and anyone could do it.
The renovation WordPress themes are advanced in all respects, be it technical or its presentation and they are ready to help your business grow.
Using our WordPress themes, you can finally reach out to a wide range of audience, or educate your current and potential customers about the services that you offer. There would be no place that you wouldn't be able to reach with your website, and with our themes, you are all set to make a lasting first impression.