We are thrilled to bring you the output of months hard work in the form of psychiatrist WordPress themes.
Those Psychiatrist WordPress themes are ideal for psychiatrists and psychologists, analysts, mental specialists, psychotherapists, hypnotherapists and other medical experts.
Psychiatrist and psychologist services are highly demanded at present both in public and private mental health care.
Whether you are running a public mental care association, private psychiatrist clinic ensuring fully – confidential and one – to – one treatments, having a website around the clock is a must.
WordPress content management system never feels the lack of health – centric and medical – based websites for multi – dimensional and multi – service usages. However, finding the best one to match your needs can be a daunting task.
Moreover, a step away from poorly designed and structured psychiatry or psychology websites is compulsory for you to win the trust and loyalty of your patients.
The below – mentioned psychiatrist WordPress themes bring together the clear – cut evidence that a presentable and user – friendly website does not necessarily cost you tons of money and efforts.
Each and every template suggested in this article can be the most reasonable investment in your health care and medical website to multiply your deliverable's and patient – base.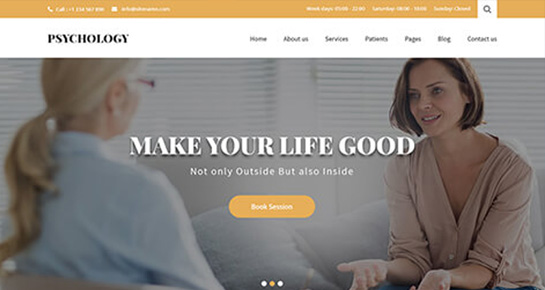 Simple and elegant, subtle and awe – inspiring, Psychology is one of the user and admin – centric psychiatrist WordPress themes for psychiatry clinics and medical journals, as well as other relevant medical topics and niches.
This template is all about beauty and adaptability to make the creation of your website both beautiful and enjoyable.
Persistent in its true nature, Simple loads accurately located theme sections accompanied by nice – looking slider. One can select high – resolution images and photos and demonstrate them via the slider.
The easiest theme controls are at your fingertips to add your content and contact details, make use of the given shortcodes, manage color picker for the nice color gamut, and more.
The theme is also consistent with responsive web design requirements and is wonderfully practical with a wide range of plugins.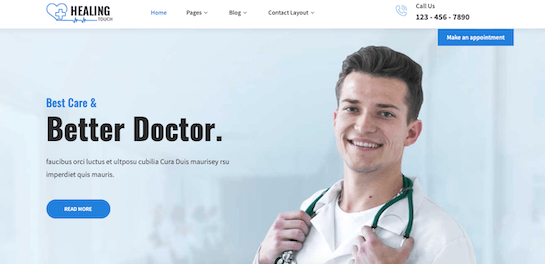 From individual and couples counseling, group therapies to psychiatric services and consultations, any kind of relevant content can be best showcased with the help of Healing Touch Pro.
It is a clearly coded and stylized, well – dressed and updated template with powerful, yet easy to understand backend. Attract the attention of more psychiatry patients with your informative posts and pages.
It all starts with neatly arranged homepage with convenient areas and homepage slider, as well as fully manageable and customizable layout.
From backgrounds of sections to slider images, from colors to typography, everything is subject to your instructions and changes.
Packed with bizarre usability and precision, SKT Dual purveys readily responsiveness and cross – mobile compatibility, as well as translation – readiness and e – commerce – readiness.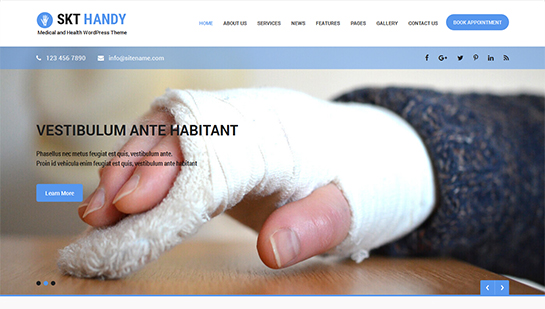 Offer your psychiatrist consultation, evaluation and treatment services online via Handy. It is one of the clear and responsive, shortcodes – based and fully adjustable psychiatrist WordPress themes to give a helping hand to any kind of doctor or health care specialist.
Provide your patients with the most searched information, services, working hours, location and much more to save their times and nerves.
It is perfectly balanced between simplicity and powerful framework with testimonials section availability for the positive reviews and feedback from your previous patients.
The soft – sell approach to offering your relevant products and items, prescriptions and medicine is fully exercised within Handy when supported by WooCommerce plugin. In plain English, you are powered to run your online medical store and keep it open in 24/7 format.
Medicare Pro is the one to reflect all the needs and prerequisites of a dependable medical website in a unique way.
Amazingly pliable and robust, clean and eye – catchy, Medicare Pro is a clutter-free and adaptive framework that does not need any knowledge in developing or designing.
Optimized for high speed and energetic navigation, this template is custom – built with a non – techy website admin with pretty little experience in the digital world.
Show off your best qualities via the homepage slider and its slides, make your content well – laid out on any mobile or device screen and result in a great user experience.
It also comes with lots of choices catering to preloaded shortcodes, fonts, calls to actions, social media and other icons and yet much more to be available with Perfect Medical.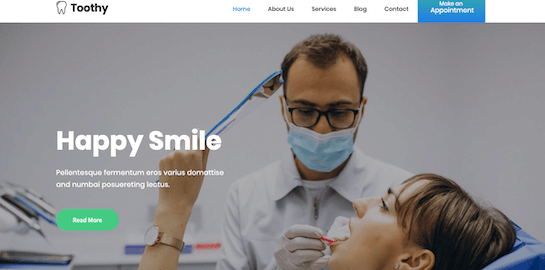 Choose Toothy among the diversity of psychiatrist WordPress themes and adjust it the way to support your medical exposure in the digital arena. Reasons to fall in love with this intelligent template are endless.
From fast response rate to decent navigation, from easy to use structure and mobile – friendly design and coding, all the primary features of a top – notch WordPress – powered product are available.
In case you want to have one universal website across multiple portable devices and platforms, look no further than Toothy.
Use the given package of shortcodes for easy content setup whenever required and decorate your presence with the most elegant icons. There are also standard pages given in Healing Touch, among them 404, search, archive, category, etc.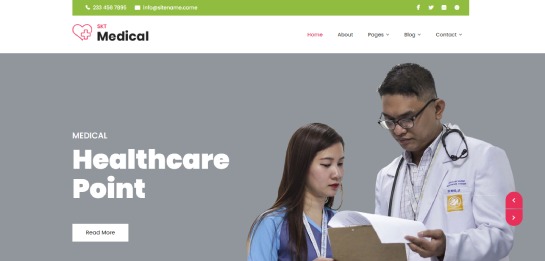 The techniques and strategies, coding and design peculiarities of SKT Medical Pro are more than enough to improve your results and gain more clients.
This mobile and device – optimized website building tool will get your website higher results and rankings on search engine positioning and will bring more target audience to your website.
Let people find your medical and psychiatric practice served in a user – directed fashion and split your content into easy to digest pieces of information.
Insert them into the theme sections and areas, add your favorite descriptions and images and give contact details to quickly get in touch with you.
It is also in the collection of the top – notch psychiatrist WordPress themes to help you with the increase of conversion rates via practical plugins and extensions.
Whether you are a psychiatrist or an organization that specializes in offering counseling and other services such as hypnotherapy, you would definitely need to establish your presence online.
Most customers just log on to the website and book their sessions online. And while your brick and motor model may work just fine, the fact remains that until you get the word out, you would have to bank your business on just the usual word of mouth.
This is why you need to check out some of the psychiatrist WordPress themes and select the right one for your website.
All themes come with detailed layout and it is essential that you check each one out individually so that you can decide which one suits your business better.
Since you are in mental health business, it is important that the design and the layout you choose appears professional and well designed, just the sort that can get a patient to trust you with their issues.
When it comes to psychiatrist WordPress themes, most of them come with page builder or at least, the premium ones do.
You can use these to develop content for the main page and other pages; more importantly most of the themes come loaded with templates that you can use, from a billing form to a page for recommendations and suggestions.
The good news is that since you have chosen to base your website on WordPress, you do not have to code anything.
All the hard work is already done and all that's left is for you to assemble and fit the pieces together; by customizing your website, you should be able to streamline your marketing strategy and even help increase in rankings in SERPS.
From the header to the footer, you should be able to customize the lot including the font but please remember that most free themes do not come with page builder nor do they allow you to tweak the layout.
But the premium ones do not cost much either, so feel free to check them out but remember that apart from the layout and the design, you would still need to test out the theme to see how it appears on other browsers.
And while you are testing that aspect, you may also want to check and see how responsive your website is and whether others can easily navigate it. All of these count as essential metrics for calculating SERPS rankings.
Once you have selected your theme, layout, template for your website, all that's left is the content. Just make sure that your content is error free and that you proof it several times before posting the same on to your website.
It is vital that the content you post on your psychiatrist website is factual, and lets users know what sort of services to expect from you. At the end of the day, it comes to the final touch, a few good graphics and with that, you should be set.