One of the basic and essential tools the person will need in order to start the crafting of his personal blog or website is a professional and well – structured personal WordPress themes available for them.
It's a widely known phenomenon, that there are endless possibilities and chances both for individuals and companies coming along the global networking system.
As for the people trying to personalize their professions, hobbies, works, services, products or whatever it is in the digital world, the Internet is of great benefit to them in many diverse ways.
Hence, by the application of a handy bunch of the proposed handy tools and strategies every single individual will have all the potential to fully demonstrate his profile in the online market from the ground up.
Keeping this in mind, in this article, we have sort out the best and highly recommended WordPress templates worked out and developed primarily to cover any personal and individual undertaking or initiative in the most productive way.
All of them share the necessary theme controls and other features for the individual to take the whole process of the relevant website or blog building upon himself.
Personal WordPress themes for building some personal blog and websites
Me is extensively intuitively, deeply customizable and adaptive, well – developed and seriously worked out one of the individual and personal WordPress themes to cater to any individual business or profile, resume and CV presentation.
With the application of this user and developer – friendly template you will not need to be familiar with all the structural and technical aspects of the medium in depth.
Since the theme management options are really intuitive and smart to be exercised in the easiest way, at the same time saving your time and efforts to the maximum extent.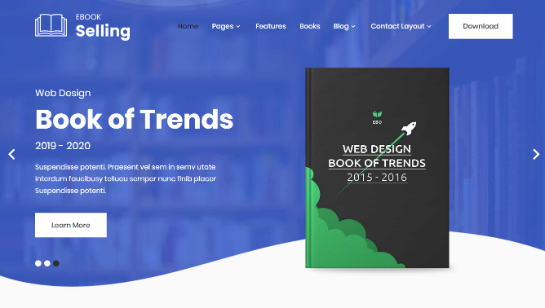 SKT Launch Pro is stylish and modern looking, bright and dynamically designed, very flexible and adaptable, technologically cutting – edge and easy to customize template of WordPress ready to feature any personal or private online performance.
With this perfect product every single person will be able to identify all the functional and visual drivers of the theme and subsequently stress out all the specific and attractive points of his newly launched products, services.
eBooks and other items so that they will be easily accessible and available for the website visitors and potential clients.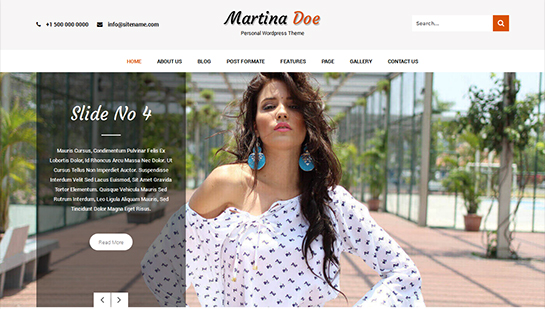 Built on pliable and sophisticated framework, proved by eye –catching and alluring design, Character appears with its multipurpose and feature – rich nature to be exercised in relation to any private and personal matters and affairs.
This modern and resourceful theme meets all the current requirements specified by the WordPress community and comes ready with lots of customization options to redecorate and restructure the default theme to match his needs and working perspectives.
Character also shares totally responsive touches and mobile and device – friendly layout to be qualified and suited for any mobile and device usage.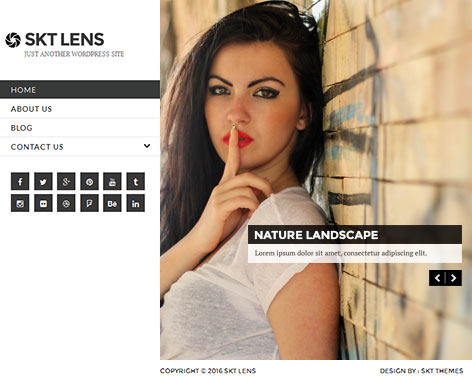 SKT Lens Pro is considered one of the best and the most convenient website creation and management tools to carry out any personal or individual plans and projects to be exceptionally deployed in your website or blog.
This one of the personal WordPress themes with its neatly and precisely distributed overall structure and its dynamically developed integral parts can cater to exclusively any matter, from portfolio and resume display to wedding production, design agency, beauty center or something of the kind.
The theme comes integrated with SEO and SMO optimization, shares multilingual support, as well as perfect operation with a set of modern and useful WordPress compatible plugins.
If your primary goal is to make a visual impact on your visitors by means of the high quality and alluring images and content of the website homepage background, Panaroma Pro can be an ideal selection.
This professional and sophisticated premium personal theme will contribute to the building of any private website or blog at any level of the website construction and design.
Apart its stunningly beautiful appearance, Panaroma Pro is loaded with a powerful package of theme inner options and settings to make the website control and customization an easy task to perform.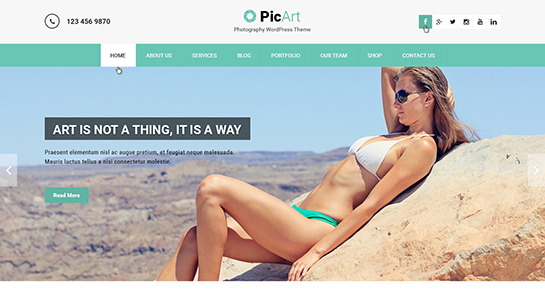 PicArt is fresh and colorful, powerful and pliable, polished and refined template at your disposal to undertake the manifestation of you and your relevant activities without worrying about the difficulties and complex situations you may ever encounter, as PicArt will prevent you from such uncomfortable and sticky conditions to the maximum.
Thus, the theme allows you to create, design, develop and has total control over the personal website or blog across a variety of fields and areas, at the same time providing premium quality website performance on the one hand, and perfect customer experience on the other.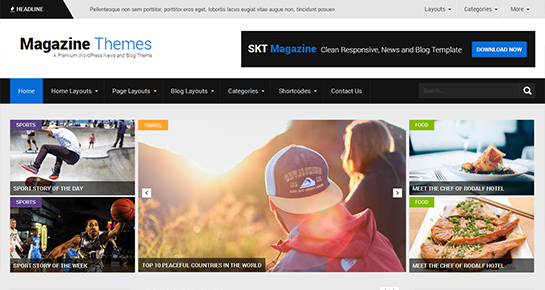 SKT Magazine Pro is designed to showcase any magazine, journal or news – related website or blog, highlighting any single aspect of the life and lifestyle, ranging from politics and science to sport and beauty.
You may externalize and organize the website operational potential as per your requirements in order to maximize the number of people visiting your online platform daily.
For the website better optimization, you are free to install all the compatible plugins, such as Disqus, Facebook comment plugins for the website social media integration, WooCommerce plugin for commercial and shopping purposes, as well as qTranslate X and other plugins for the website multilingual support.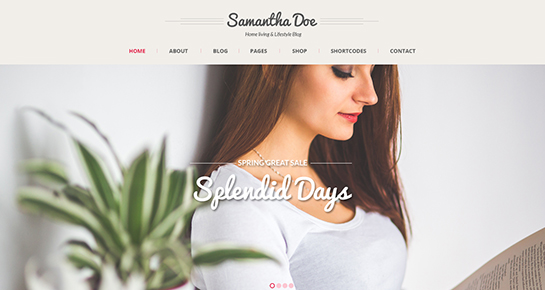 Girlie has been planned and implemented specifically to satisfy all the needs and pretenses any feminine representative may express.
Hence, Girlie is designed and dressed with many girly touches and shades to be visually and graphically perceptible for the website female visitors.
This elegant and imaginative, smart and secure, well – structured and well- developed personal and individual WordPress powered website will for sure simplify all the management and customization process of the whole web page and blog, as well as manipulation and distribution of the whole relevant content.
There are endless possibilities and opportunities for individual professionals to grow their business when they take up their work on the internet.
This Global networking system has totally changed the game for the last few years. It does not matter if you want to showcase in what field you are expertized or you want to sell personal products to customers, going online and setting up a personal website will be your best option to grow and flourish in this competitive market.
Many organization and individuals underestimate the power of the online market and hence are forced to fall behind their competitors.
Past is gone when building a website was either costly or a hectic job to accomplish. With the introduction of WordPress and it's diverse themes has helped millions of companies and individual professions to expand and stand out their business amidst high competition.
Personal WordPress themes will help you to build a super flexible, top-notch website with a very simple easy to use interface with a lot of functionalities.
With these personal WordPress themes, you can customize the website just the way you want. You will have your website ready in just a few hours without having to code a single line.
And moreover, you save a lot of money as well as time, which you can use to enhance your business or personal offerings to your audience and clients.
'The first impression is always the last impression'. We all have heard of it, right? To make your website and your business or individual proposals look more promising, you can change the colour, background, header and footer of the website.
With help of Personal WordPress themes, you can also add a homepage slider with images of your recent projects undertaken or a calendar of your recent business meets or events.
This can be one of the elite ways to welcome your visitors. You can also customize the menu to help your customers a smooth experience navigating through your website pages.
These themes also support a lot of plugins which can be used to enhance the functionalities of your website and on the other hand will give your visitors a smooth and interactive user experience.
For example, You can address your customers queries by integrating a live chat plugin or maybe you can offer your customers to download brochures of your business proposals in PDF format by the help of PDF viewer plugin.
There are plugins too that acts as a marketing tool for your website such as the social networking plugin which helps the users to share content from your website in different social networking platforms like Facebook, Twitter, Instagram, etc.
Nowadays the solution to every problem is Google or Bing. These Personal WordPress themes have a built-in search engine optimization feature to help your website rank better in search giants like Google, Bing, Yahoo, etc.
So that it gets recognised by people more than other websites of similar nature. During earlier days smartphones and tablets weren't popular and people were habituated in using computers to access the internet.
But now the scenario has totally changed and people use small devices more.
This is where these responsive personal WordPress themes come into play. These themes will make your website look perfect in any screen size.
In short, if you want to grow your business, reach a larger market base and stand out in every possible way from your growing competitors then these personal WordPress themes will surely make your dream come true in reality.