One page scroll WordPress themes as the name itself suggests, offer all the target content wrapped up in one nice – scrolling page.
Advantages of this kind of one page, or otherwise stated, pageless design may seem to be boundless for certain individuals or businesses to reveal their true nature.
It will let anyone highlight the most influential and informative parts of the while content easily on the one hand, and provide the end – use of the site with the chance to look for it and find in the blink of an eye.
One page websites also tend to give more visual appeal by keeping everything streamlined and to the point with nothing excessive or overwhelming at the same time.
Subsequently, along with many multi – page designs, one page or single page design structures of the contemporary websites are gradually becoming more and more demanded across the globe thanks to their privileges brought to the forth in case of any single topic or niche.
In this article our main focus is on one page scroll WordPress themes for all kinds of undertakings and initiatives to be showcased online.
All of them stunningly incorporate every single functionality or trait any valuable pageless design – based on one page scroll WordPress themes should share.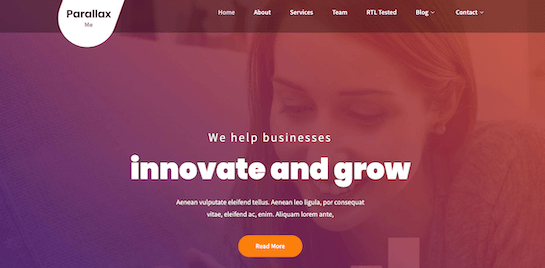 SKT Parallax Me is one of the most lovely and elegant – looking, yet avant – guard and functionally cutting edge one page WordPress templates at your leisure to slay the forceful competition in your industry.
With this amazingly developed and well – laid out and future – oriented website building tool you will never get into any trouble while its installation and activation.
Moreover, the theme's customization options will intuitively contribute to your intervention from the theme backend to add or remove, hide or highlight whatever you may think essential for your website continual viability and user – directed performance.
Create pixel – perfect and nice- looking, as well as categorized texts via prebuilt sections and areas with minimum endeavors, expose your high – quality photos and videos in gallery section or with the help of homepage parallax to impact your target audience perception.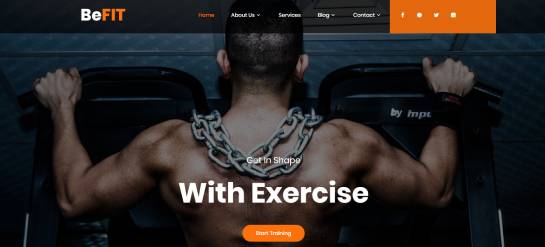 Creating a challenging fitness or gym website that will unite visually alluring one page design with well – managed functionality is as easy as one – two – three for a website admin of any background, if BeFit Pro is to be your right hand.
If we rummage in the meat of the justified reasons why this template is worth our attention, we will find a host of benefits.
Armed with Google fonts and Font Awesome icons, it features convenient sections and parts like home, about, services areas, animated columns, portfolio area to showcase the most effectual patters to prove your expertise in the field, as well as contact us section for much – expected contact details.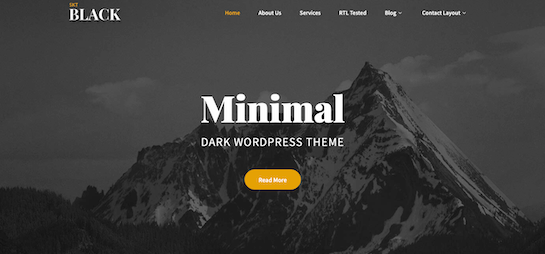 In case you are looking for the best personal or organizational storytelling strategy for your future website of any nature, look no further than SKT Black Pro as one of the top – quality and error – free one page scroll WordPress themes.
No more stress about distorted or hard to read content when viewed via mobiles. SKT Black Pro strikes the eye with its invincible responsiveness, as well as cross mobile and browser compatibility, meaning that your one page – located content will respond to any suggested device or gadget screen sizes and requirements.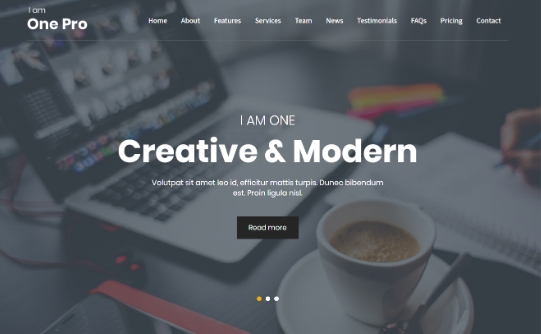 Dynamic and pixel – perfect, intelligent and very smart, simple and lightweight in performance, elegant and modern in appearance, creative and classy.
I Am One Pro is one of the optimal and easy to use platforms stylized with single or pageless management design and all – inclusive toolbox.
This amazingly coded and launched template incorporates whatever is associated with stability and perfect usability, as well as seamless legibility of your content.
Pro version of the theme has the following tools and features to practice: color changing options to express your favorite color combinations, homepage slider with more than 10 slides availability.
As many as 30 separate sections on the homepage, several page templates, Google fonts and much more.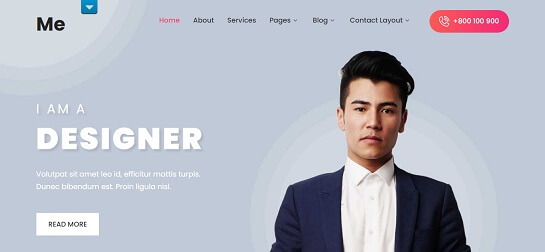 Simple and lightweight, yet founded on the current functional and design solutions, Resume Pro has been scrupulously projected and roundly updated to provide you with one of the most effective one page scroll WordPress themes framework that will let you zip through your near – perfection website in the shortest period of time.
As a result, it will be more than an assemblage of all your content in one single page. It will readily demonstrate all your personal qualities in a detail – oriented manner.
Simply add all your informative content in the given areas and make them easy to find for your website users.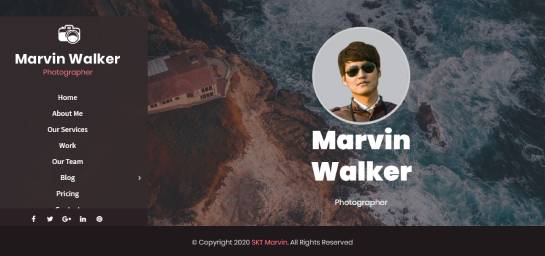 Totally integrative and trim, totally intuitive and authentic, Marvin is dressed and professionally shaped to impress, motivate and prompt to certain actions to get in touch with you.
Completely responsive platform to adapt and adjust itself according to any suggested screen resolutions. Concentrate all your personal and vocational information in one accurate – looking page and let all your visitors scroll up and down with perfect navigation.
Skills section is also included for enlisting all your skills and professional qualities, as well as pricing section for giving the pricelist of your services.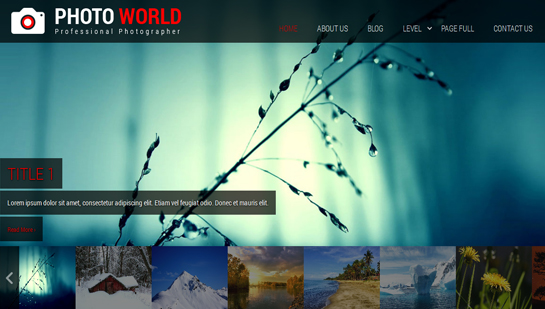 Photo World PRO, as another world – class pattern in our list of one page scroll WordPress themes, exemplifies the correlation visual appeal and highly intuitive and advanced inner performance.
Being general – purpose in its entirety, this amazing template is particularly suitable for all kinds of photographers, whether profy or amateur, designers and artists, freelancers and other portfolio owners to make their pieces of works shine throughout your compact online profile.
The authors of Photo World PRO has made it as responsive and mobile – friendly, plugin supportive and easy to use with the given shortcodes as it is SEO and SMO – optimized for boosted results and social recognition.