An all embracing collection of the best and the most practical insurance company WordPress themes is discussed this time for insurance companies and agencies, agents and consultants, accountants and bookkeepers, brokers and financial experts and other relevant specialists online.
Insurance is a centuries old activity referring to such fundamental categories as money, loan, credit and taxes.
In today's fast growing and ever changing world, where it seems to be overwhelmingly difficult to take care about yourself and your property, insurance agencies and services offer reasonable compensations in case of the accidents and events which disrupt the normal flow of human life.
Naturally, everyone is interested in ensuring the safety of whatever is valuable for him and this is where insurance comes into play.
The image of property or business turned into ashes is frightening for every modern person or businessman thus leading to uncertainty and continuous restless situation.
Therefore, insurance as a modern form of risk management is highly demanded.
In this article we are thrilled to present the best insurance company WordPress themes to your attention. Each of those templates will revolutionize the way your company or private agency communicates with the client base, offer services or share expertise.
Those affordable and open source insurance company WordPress themes offer superior functionality rolled up with an exceptionally good web design and graphic solutions.
It means that your website will have unique characteristic features which will be well exposed across different platforms and environments stressing your company's identity.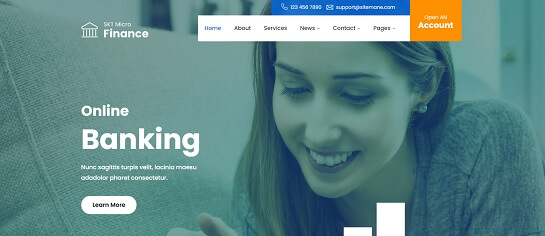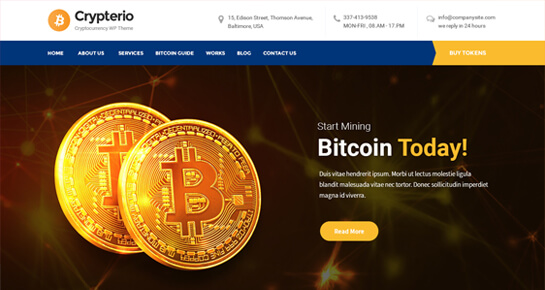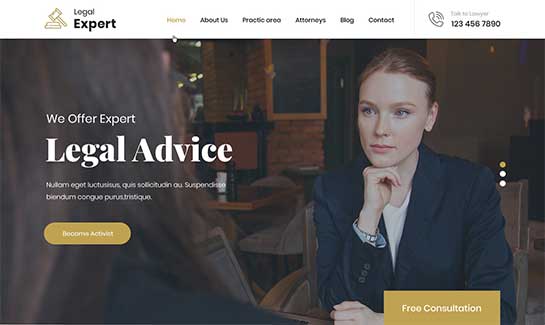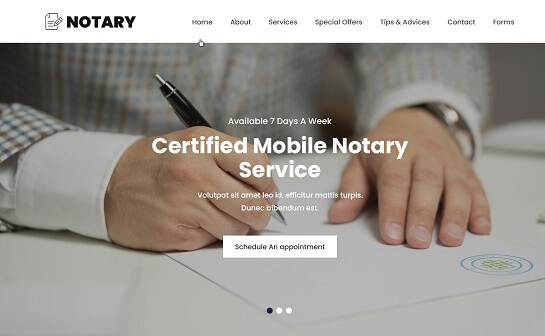 Finance is one of the seriously developed and wonderfully worked out templates you can find in the repository of insurance company WordPress themes.
It is custom built to tailor to the needs of every accounting or bookkeeping, insurance or financial advisory, consultation and other relevant legal or financial websites and blogs.
Decide what you want your website visitors to do when they land on your profile.
Insert your business profile, services and contact details into convenient content parts, arm the homepage slider with the most informative or efficient images, reasonably display calls to actions and manage footer and header areas with useful links, social media icons, recent posts and more.
There are also blog and page, sidebar and layout choices at your hand, packs of shortcodes and fonts, color management options, plugin compatible framework with SEO coding at the core, etc.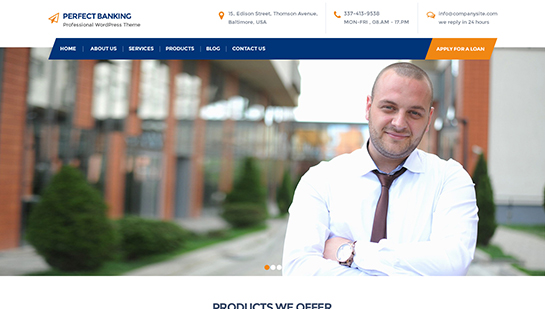 SKT Banking is feature rich and multipurpose template ready to serve businesses catering to legal and insurance world, online trainings and lessons, meetings and conferences and more.
Just like your insurance business guarantees the compensation in case of the customer's slips and falls, your website based on SKT Banking will be flexible and smoothly navigable enough to guarantee perfect user experience in case of both mobile and desktop accesses.
SEO optimization of SKT Banking stands for the philosophy of making your profile ranked higher in search engines and being sure clients looking for the relevant content will meet your profile in search engine rankings.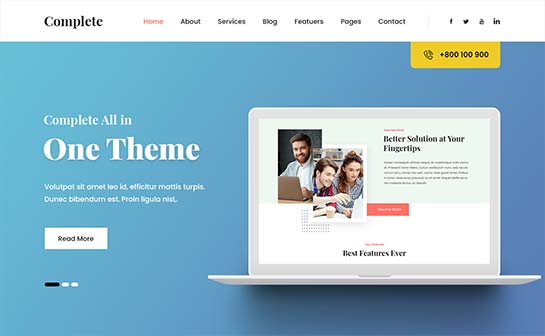 Of all the insurance company WordPress themes you can find while searching the worldwide web, Complete Pro is among the most reliable and intelligent ones to simplify your workload in many different ways.
Functionally unbeatable, visually elegant and eye catchy, technically advanced and clearly coded, Complete Pro enables you to communicate your content in a unique fashion determined by you and applied from the backend of the theme.
The integrated Google fonts and icons, shortcodes and nice looking homepage slider, slider controls and page/post layouts, header and footer variables and other essential elements contemplate to the overall look and performance of your website.
The theme is also translation ready to optimize your site for the usage of the international audience, as well as commercial ready to sell digital or physical products, services and more.
Meet SKT Corp Pro as another modern looking and self secured website building tool included in our collection of the top rated insurance company WordPress themes.
On the whole, this fully competent and sophisticated template aligns with the contemporary standards and working principles of web design and development, search engine optimization and social media engagement, as well as commercial ready and mobile friendly clear coding.
In addition to all the advantages mentioned below, SKT Corp also comes with painstakingly easy admin dashboard for quick changes and their reviews, a plethora of color and font matches, more than 100 preloaded shortcodes at your disposal, as well as page builder compatibility for inner pages.
Are you looking for an extravagant and dynamic template to make your profile visually crisp and attention seizing? Then give our Gravida a try to explore a wide range of online opportunities and marketing strategies accompanied by an exceptionally good design and visual touches.
It has a limitless capability of being altered, managed, resized and changed whenever needed to meet your client's demands and expectations.
With available demo version and one click installation process, Gravida is also surprisingly flexible in customization with customizer based performance, prebuilt galleries and carousels, testimonials for the clients' reviews and recommendations, multiple homepage layouts possible and much more.
Tested for its page builder compatibility and translation ready nature for better localization, Gravida is also SEO and SMO friendly for promoting your services on different social media platforms and search engines.
Condimentum is the next well arranged and white based business and corporate WordPress template accomplished by minimalistic design style principles and as such can grant any insurance agent or manager with a dependable platform to work on.
The theme's fully fledged nature with top quality elements, components, parts and sections is a big asset to any website laid on it.
You can find 100% responsiveness and cross mobile compatibility ensuring your site's pixel perfect performance on any device or mobile, full color and font, shortcode and page layout controls, Nivo slider on the homepage with pause time and animation, etc.
Life is astonishing yet sometimes can be disastrous. Every people in this world loves to take care of things that are valuable to him.
The scared feeling of catastrophes that may eventually turn his business or properties into ashes thus leading to uncertainty and unrecoverable situations forces people to pay whatever it takes to have a backup plan from these unfortunate and unpredictable events or accidents.
This is where insurance companies mark its position among people. With the increase of the economic development and the lifestyle of people insurance is a common demand for people which acts as a modern form of risk management.
Whether you are an insurance agent or own an insurance company, you must be able to create a close relationship with your customers so that they feel confident about your company's promises if something goes sour in their lives.
To make your business profitable you must create a connection with a large base of people which is only possible by taking your business into the world of internet with the help of a website. Developing a website from scratch can be very expensive and time-consuming.
In some cases, you do not have the exact knowledge to develop a website good enough that will help you take a strong hold on your online marketing efforts.
If you solely want to focus in the insurance business and do not want to go through the hassle of having a website designed from scratch then surely you can use insurance company WordPress themes which will help you to enhance the speed of the entire website development process.
Now talking about the website you need to keep certain important things in mind so that the website looks exceptionally professional so that people don't hesitate to put parts of money in your business for his safety concerns.
The layout needs to be simple and highly flexible to navigate which can be easily achieved with the help of these insurance company WordPress themes.
Your insurance business is all about gaining future client's trust, so you must design a serious and effective homepage with lots of images in the form of an image slider to look promising into the eyes of your website visitors.
Insurance company WordPress themes also allow you to change colours, fonts and backgrounds of your website along with many other different customizations to help you design your business website as perfect as you desire.
These themes are also integrated with search engine optimizations so that your website gets noticed by people when they search about insurance related queries on search engines like Google, Bing, etc.
Taking about functionalities, these insurance company WordPress themes offer a whole lot of plugins which perfectly suits your need to design an interactive website for your customers.
First of all, customers will always have queries related to which insurance plan would be best for him. In this case, you can use live chat plugin to answer all their queries sitting at your place through your website.
Effective, right? Another plugin known as PDF viewer comes in handy when customers want to view your insurance plans.
You just need to activate this plugin in your website to allow your customers to view the site's content in PDF format.
You can also opt for mailing and newsletter plugin to send email reminders to your customers about the next date of his or her insurance renewable or new offers to upgrade their existing insurance plan.
Adding a plugin that supports different payment gateways will be helpful for the customers who are willing to pay up the insurance fees right on your website.
These WordPress themes are highly responsive, that means it would run flawlessly on any screen size.
Altogether, these insurance company WordPress themes are perfect for your website to give it a sophisticated yet powerful look with a bunch of customizations and functionalities in hand enhancing the user experience and making a profitable business out of it.