Human rights are influenced by the legal industry that carries core qualities as belief, understanding, reliability, and professionalism. If the potential client finds a lack of any one of the core value, your reputation will not worth to him.
Therefore, while creating a website your theme should indicate all these 4 core values that take your law firm, NGO or related business on the top.
The human rights WordPress themes are mostly designed for the legal industries that will make your business little easier and give your potential customer a useful resource that he needs.
However, plenty of human rights themes are available with free installation. But it is important to pick the right theme for your business that will settle down your motives easily.
Probably this is sounding difficult. Hence, we have picked the top 10 best themes; all are suitable for Lawyers, consulting institutions, and related business. Find out your best one!
Top Beautiful & Functional Human Rights WordPress Themes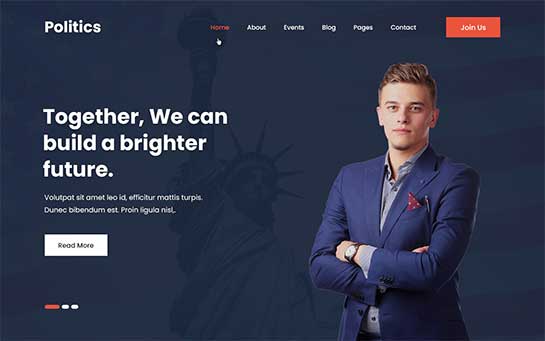 Political Candidate is our top picked human rights WordPress themes. It is designed for plenty of business-related to donation, fundraisers, political parties, and political campaign type of websites.
Trust and reliability are the important components for your business, this is why Political candidate is the best theme to get started with.
With this theme, you will ordination counterfeit provide complete details regarding how many dishes Nations you have received yet.
Material design and simple in situated theme make this a perfect choice for your business. It is suitable with latest WordPress standards, so you are not requested to go for the heavy terms of scripts and codes.
It is lightweight, super-fast, and easy to load theme In every device. However, it's 800 Plus fonts based items are easy to manage and you can modify it according to your needs.
This includes a timeline of events, campaign news, and blog Layout to make your website more trustable for the customers.
Key Features:
Compatible with plenty of page Builders.
Showcase your portfolio in an effective manner.
Tested with Google and slider plugins.
SEO optimized and SMO friendly theme.
Include filters and multiple page layouts.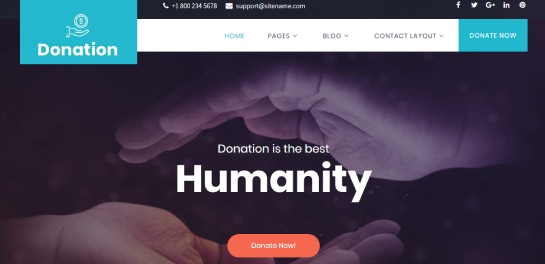 Donation is the second-best human rights WordPress themes you can choose for your NGO, donation, fundraiser, and charity events website. This has been created in order to facilitate NGOs and charity programs.
It is an easy way to collect donation easily online. This is a helpful website for the people who really need donations and improve their standard of living.
The website related to the betterment of the society, hence, it should be compatible with several donation plugins so that you can easily accept the donations coming globally.
Donation theme is compatible with a number of plugins and includes inbuilt gallery and portfolio, you can use to showcase your projects. The theme includes deposit slider that has external slider plugins and you can add own.
Moreover, it is translation ready and RTL tested theme which can be easy to use and manage by any person. The homepage is also easy to handle and you can operate it without any problem.
Key Features:
The free installation also available
Completely documented theme.
Comprise a number of blog layouts.
Contain a hundred Plus shortcodes.
Include 5 level dropdown for useful navigation.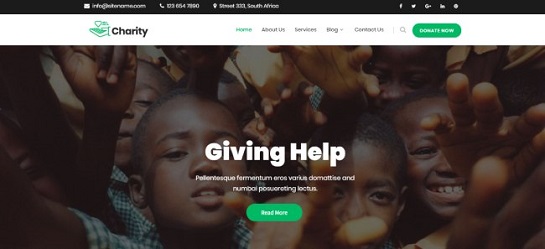 SKT Charity Pro is one of the best responsive and SEO friendly themes which is integrated with SKT donation plugin, so you can accept the multiple donations from the globe.
It supports NextGen gallery compatibility that providing easiness of portfolio setup. SKT Charity Pro consists of multiple layout options for the blog and sidebar, which you can easily customise as per your website requirement.
Similarly, the blog is also essential and makes the theme highly scalable and flexible. The purpose of the theme is to support the number of businesses and charitable NGOs.
It can be also used to integrate the woocommerce for selling the tickets of your charitable events. It is navigation friendly and Google cross-checked theme to support your business from multiple channels.
Key Features:
Well suited with q translates X for multilingual options.
The theme is coded with SKT elementor page builder.
Cross checked theme with multiple devices and browsers.
Include an inbuilt call to action buttons.
Easy Customisable theme.
The purpose of creating a website is spreading your plentiful thoughts to the youth, so they can act and feel for the changes that our country required.
If you are a person who is a social worker working for the good and commercial group and social then SKT Activism Pro is the well-suited theme for your business.
Activism will provide you with the best professional looking website that can easily gain the trust of the individuals in your business.
It includes countless features such as social integration, retina Ready, full-width slider, Mega Menu, appropriate options for media elements, drag-drop features and styling appearance.
Moreover, it is a customisable theme you can easily modify according to your website requirements you can handle the same without any intervention of the person it is featured with high-quality advantages and you can run your business smoothly.
Key Features:
The contact page is customisable with Google Map.
Shortcodes can also modify.
You can add the video, images, content under the header section.
Both inner and external menus have full screen.
You can create a number of pages.
Highly integrated theme with plugins and media elements.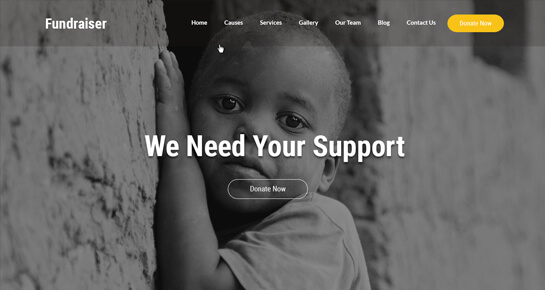 Fundraiser Deepak Singh Human Rights WordPress themes design for any type of website-related to fundraiser Charitable Trusts and NGO's.
The theme is well suited with a new version of the word-press and it is created under HTML5 and css3. This includes the four layout variation to design the header section.
Moreover, it includes standard pages like Archives, categories and 404 pages to giving your website a professional look.
This also includes the five layout creations for the blogs and included additional plugins that make your work product fine and you can rock on the Google search pages easily.
Besides these, it comprises the analytics Google maps and Gallery slideshow which easily fascinate your website and customers get attracted to it.
Key Features:
It is based on material and flat design.
Friendly with social media icons.
Free demo available so you can easily install and use it.
The device can be accessible on every kind of smartphone and browsers.
You can add disquss to the Facebook plugin for the commenting.
If your business is about the law that helps needy people and fights for human justice, Ele attorney is the well-suited theme for your business.
It is not just limited for professionals if you are practising law to accomplish the needs of people you can use this theme to accomplish your goals.
This template you can make a website more visible to the youth and make your services accessible to everyone this theme is SEO optimised and you will have high visibility on the internet market once you impress your audience with professional website appearance along with the services.
You will become the top of the choice of every customer and reach your goal easily. As an attorney website, this provides you with full standards compliance and elementor page builder, so you can create multiple pages and adjust the theme layouts as per your requirement.
Key Features:
It is a well-executed theme that can display your services easily.
With this theme, your user will get a delightful experience.
Include more than 200 icons.
Widgets friendly theme.
Support woocommerce and social media Optimisation and Search Engine Optimisation plugins.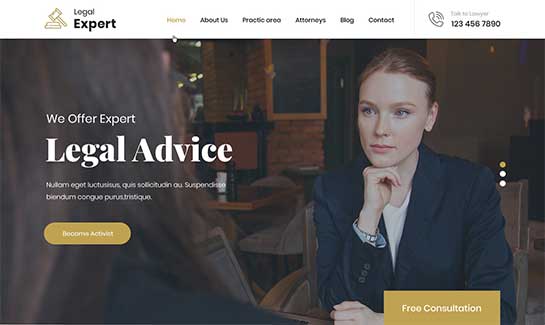 Legal Expert is also a top-picked human rights WordPress themes you can use for a law firm, attorney, legal services and charitable trusts.
It includes animated sections that can be easily replaced with the inner pages. The theme is highly documented and Stellar support. Moreover, it includes blog pages and the number of templates which you can use as per your requirement.
This theme has passed the documentation and Google mobile-friendly test, so you will not get any trouble while using this. It is supporting the latest WordPress standard.
The ultimate goal of this theme is to bring a positive impact on the audience which also adds the sense of security and trust in your audience. You can also have a testimonial option to showcase your previous services to the client. Try this!
Key Features:
You will get one year of customer support.
Well companionable with popular plugins like woocommerce and contact forms.
Colour changing the theme, so you can choose a colour which is best suited for.
Include default sliders with 10 slides and animation.
Integrated with social media icons.
If you want to help senior peoples who left their home in the sake of happiness, senior care is the best theme you can pick.
It doesn't require any necessary knowledge about creating the website and handling the thing this is a very easy and best multi-purpose theme which you can use for designing any kind of website-related with Charity or helping needy people.
This is a completely dynamic and customisable theme which you can go through and represent your website in the way you wanted it includes a number of header and footer section with four layouts, so choose your best one and make its proper functioning.
According to the Search Engine Optimisation perspective, it is a safe and well-supported theme that include security plugins to keep your website safe from the hackers.
Key Features:
Security plugins included.
You will get a number of visitors to your website through the operating system, MAC, and others as well.
RTL tested and POT file included theme.
Easy to load and work optimum.
Include analytics, gallery slideshow and other eye-catching features.
If you are searching for a theme pictures tablet friendly, file read e-commerce social media integrated and fantastic call to action supported theme, IT consultant Pro is the best one to take for your business.
It is also known as consultant WordPress theme with his this simply dedicated to the persons who are looking for the theme for giving the genuine counselling for the poor and needy people's, charity, human rights etc.
If this is your subject then this is going to be an amazing thing because it is at the wedding and retina wedding theme which is tested on the number of security tracks and providing you with with a full documented theme, so you can follow up the easy setup process without taking the help of a tech person.
This theme will actually target to users who are mostly speakers the coaches and take parts and debates to showcase their skills.
The plus point with this theme is you will get 980 grid that gives your website a complete professional and stunning look.
Key Features:
Coded with elementor page builder.
Include templates for inner pages and inbuilt homepage section.
You can replace the slider with your choice.
Minimalist design that usually focuses on providing the information.
Codex standards WordPress theme.
SKT Dual exam contrasting theme that can help you to market your services to the needy people.
It includes a fantastic appearance for your website because the background is actionably completed with images that can easily change. Also, it includes the right section of visual effects and the left section content display.
This theme is developed on the basis of the latest WordPress standards that support Cyrillic and Latin subsets.
It is a one-page length theme that can handle multiple pages and one place. The inner pages also great that contains header and footer and Optimize sidebars up to four columns.
Also, it includes proper call-to-action buttons that can be used by any company to market their business online.
This is a fully compatible and well noticeable theme that not just give you fantastic appearance, but also give your customer complete trust.
Key Features:
Include dual homepage visualisation.
Consistent with woocommerce for online shopping.
Easy to use and handle by anyone.
Can be used for the multi-purpose businesses.
Include supportive plugins such as email, Skype and support forum.