It is simply impossible to create an immersive website experience if you are overlooking the appearance aspect, especially while dealing with art-related services. So, you need to make your approach more impressive and beautiful with enticing themes and attract more audiences.
Thus, we will discuss the best handicraft shop WordPress themes here that you can choose as per your necessity to create a jaw-dropping website appearance. Have a look.
So, to present your website creatively in front of your customers, handicraft shop WordPress themes are always a great choice. However, make sure you are checking all the features before making any decision.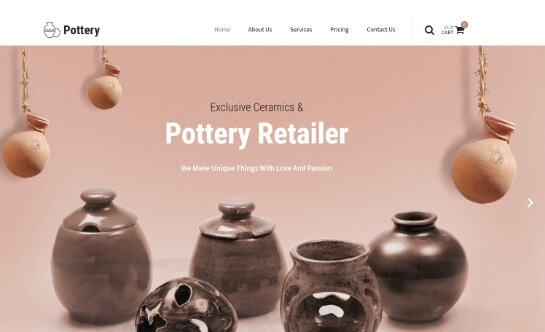 Your pottery store needs online recognition if you want to reach out to a large number of people. However, it is impossible to do in this digital age if you do not have a website. To expand your brand image, you need to create a website appeal that can give you quick success.
To create that appeal, you must choose a theme that is solely dedicated to improving your pottery services. For your need, SKT pottery is one of such handicraft shop WordPress themes that you need to know about right now.
Here are the exclusive theme features:
It is a fresh elementor based theme.
Lets you include high-resolution HD videos on your website
You can perform theme translation with PO/Mop file
It lets you use multilingual plugins to convert the content into any other languages
Color picker options are given to change colors
You can upload a high-quality logo to your theme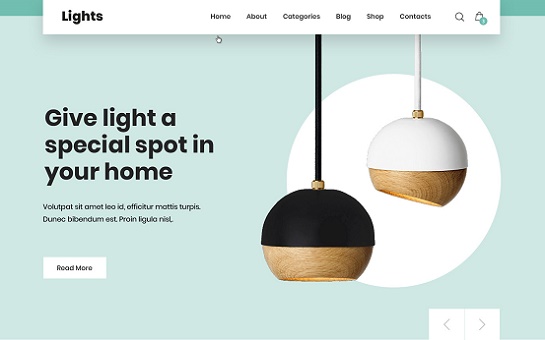 SKT Lights is one of the modern and creative WooCommerce-based LED lighting themes that can be your ideal confidant if you want to give your online business a new arena to flourish. This theme is filled with umpteen features and functionalities that can make your website-making journey easier.
One can use this template to sell various decor items, ceramic-related items, handmade crafts, or interior accessories, as this theme is made to fit all these service offerings.
Here are its features that you must know:
You can easily customize the theme as per necessity
This theme is integrated with various WooCommerce shop functionality such as drop-down menu, drag and drop builder, quick search widget, etc.
Integrates unlimited palette of color, advanced header, custom sidebar, etc
100% responsive theme with multilingual capabilities
There are 4 predefined header layouts added to this theme
CSS, JS, and PHP files are included in this theme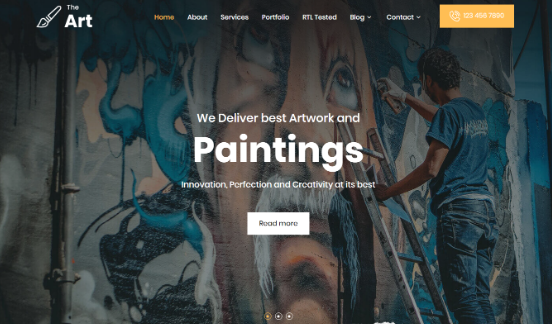 The art in which you believe must be reiterated through your website to create an attractive impression. And for doing so, The Art is one of the best handicraft shop WordPress themes that you must consider to create a stunning website appearance.
This theme is highly responsive and a Google mobile-friendly one that you can use to create a unique user experience. The theme has been developed with Elementor page builder that will offer you seamless ease to make any changes to your theme.
Here are the features it offers:
It had several header layout variations that you can use
There are plenty of footer variations provide in this them
The Customizer option panel makes personalization easier for you
There are 2 types of gallery compatibility provided in the theme
With PO files, this theme is translation ready
It is multilingual ready with qTranslateX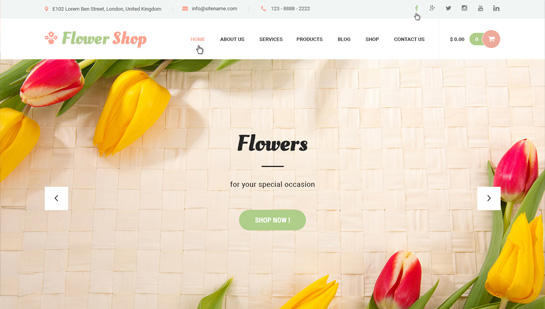 The Flower Shop theme comes with inbuilt SKT page builder that can make your job easy in terms of management. The aesthetic appeal of this theme creates a perfect look for the floral shops, which will attract more customers to purchase from you.
This theme has passed the Google mobile-friendly test so that you can stay worry-free about the presence of your website across the various screen resolutions. This SEO-friendly theme is simply a great one to drive good traffic to your store.
Here are the features it offers:
This is SMO friendly to them.
It is simple and easy to manage with is provided documentation steps
This color-changing theme comes with various color pickers
There are fonts included in this theme with 800+ varieties
This is a customizer-based theme that you can easily tweak as per your need
Variations are provided in this theme for both the header and footer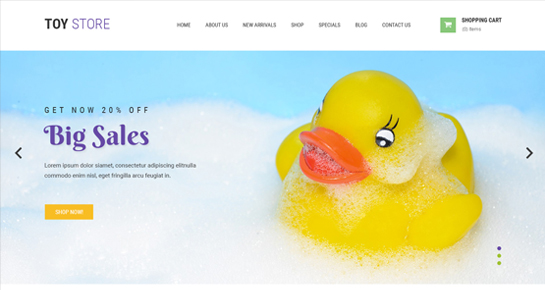 The Toy Store theme is a perfect template that you can pick to give your shop an impactful look. It is hard to retain your customers and make them close a purchase with you if you lack a cutting-edge web impression. But with this theme, you can stay worry-free.
This theme comes with a gorgeous appeal that can surely give your visitors some good vibes. Moreover, this WooCommerce based toy store theme includes a brilliant suite of functionalities that you must include in your website.
Here are the features it offers:
There are header and footer layout options available in this theme that you can modify at any time.
The home page section is flexible enough to let you make changes to your content.
There are plenty of possibilities with font, text, layout, and images
It includes some super easy steps in the guide to make your work easier
It is translation ready with POT files
Coding is done as per SEO standard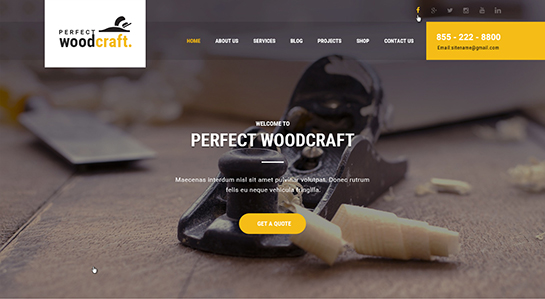 To showcase your crafts, you must utilize top-notch handicraft shop WordPress themes that can rightly create an attractive appeal. This theme is a perfect rendition of beauty and features that can give your woodcraft shop the right performance boost.
This responsive theme is coded with much care that makes it go well with plenty of screen resolutions and cross platforms. To work with various plugins, this theme caters to seamless compatibility. Hence you can have a happy time while creating a gorgeous website.
Here are the features it has in its store:
It is well documented.
Easy to use with its customizer-based backend
There are 4 types of header and footer variations provided in this theme
Works well with SEO friendly template
Coded with HTML5 and CSS3
There are 100+ built-in shortcodes include in this theme.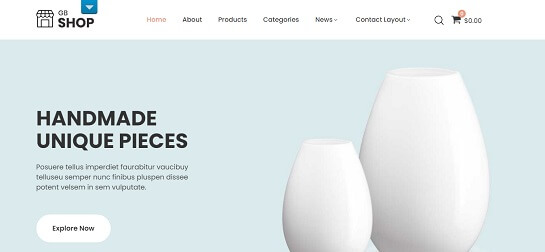 To create a shopping store, you must portray a unique appearance on your website. Shopping stores must have all the features and functionalities in your theme that can give your customers the right reasons to shop from you.
GB Shopping is one of the superior handicraft shop WordPress themes that you can use to create something very unique in terms of user experience. This theme is filled with plenty of features that make your job easier over your site.
Here are the features that you must know about:
Coded as per SEO standards
Goes compatible with various browsers
Cross-device compatible
Coded with HTML5 and CSS3
100% responsive
SMO friendly
For your unique-looking tailor shop, you must have a website design that can give your visitors the impression they want from you. This theme is made to deliver the charm you want on your website to create something great.
It is mainly designed for custom apparel, fashion designers, clothing stores, fashion stores, etc. So, this theme is a perfect solution for all your fashion store-related needs.
Here are the features you need to know:
This template can offer you complete authority over your tailor and fashion industry with its responsive design.
It supports the WPBakery page builder plugin, Gutenberg, and SiteOrigin page builder.
This theme includes coding perfection that is done as per WordPress SEO standards.
Compatible with WP hosting
There are color picker options for better customization
Page builder friendly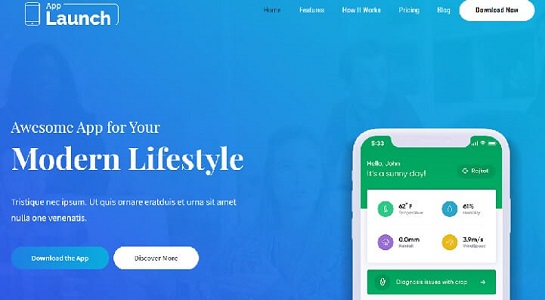 Ele Product Launch is one of the perfect handicraft shop WordPress themes that you can pick to give your website a unique and professional outlook. This theme is created to promote a single digital product or a single app.
It contains a very powerful WooCommerce plugin compatibility that can give your eCommerce business a lot of growth. This theme is specifically created to give you both ease of work and seamless and responsive performance.
So, here are the features it brings to you:
Offers customization option for each page as it boats elementor page builder
There are editable features integrated into this theme
A large number of shortcodes included in this theme
There are retina-ready features integrate into this theme
There are more than 3 homepage designs provided in this theme
Integrated with social media apps to boost your visibility
Starting with your home decor business is always beneficial and progressive. But if you lack speed in the digital world, it might hamper your growth.
Thus, you need to give it a fresh start with a good website that is simply incomplete without handicraft shop WordPress themes. So, this Home Decor theme can be the best solution for you if you use it in your website building.
Here are some features that make it a great choice:
With Page Builder plugin compatibility, you can create and edit anything quite easily
There are 40 total pre-built page layouts included in this theme
30+ creative font page demos included in the theme.
This theme offers A+ grade page speed
Compatible with qTranslateX
SEO compatible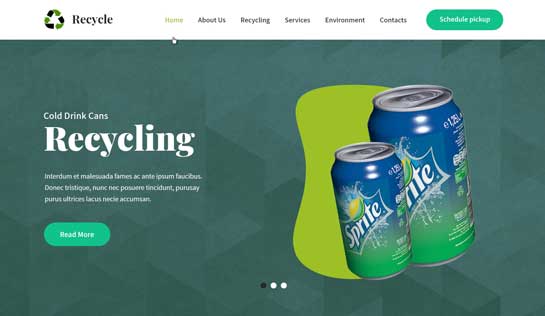 SKT Recycle is an all-purpose green business WordPress theme that you can easily use to beautify your website for various business purposes. It is one of the most engaging themes with brilliant features and functionalities.
It uses the elementor page builder that lets you build unique pages for your brand. This theme is perfect to create a craft-friendly approach that can help you to gain more visitors and conversions in no time.
Here are the variety of features that it bolsters:
The coding is done with HTML5 and CSS3.
The widgets in the theme support testimonial, document download, timeline, lightbox video, etc.
This theme is very responsive with the better loading speed
You can use custom widgets for the SEO tag
No coding knowledge is needed to use the theme
Three are 4 styling variations for the header area.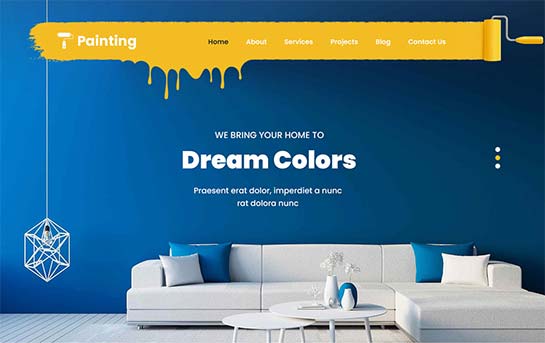 Do you want to give your painting-related business the right direction to grow? Then creating a responsive website is your first task. But how do you do it if you are not having the best handicraft shop WordPress themes?
Well, don't worry; the Painting theme is here to have your back. It comes with a unique-looking design that fits rightly with your website. At the same time, it is very easy to use, which can help create something very attractive with your online presence.
So, here are some of the features it covers:
Here are 100+ shortcodes for better functionalities
Lets you add additional shortcodes with shortcode plugins
Compatible with WooCommerce
Goes suitable with page builder plugins
Boasts SEO-wise coding
Compatible with SMO plugin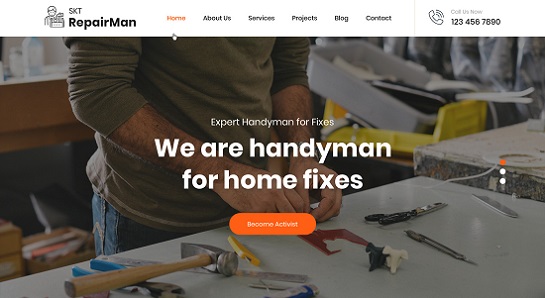 Renovation services are nothing less than art; as if you do not have a sense of creativity, you can never deliver innovative projects. This impressive sense of creativity needs to be reiterated through your website also so that you can attract more customers quite easily.
There are plenty of features and functionalities included in this theme to give you a unique web presence. At the same time, you can seamlessly create an impressive customer experience.
Here are the features this theme includes:
Fully SEO optimized
Multilingual theme with GTranslate, TranslatePress, WPML, and other related plugins
Gutenberg optimized
Goes compatible with the latest WordPress SEO standards
WooCommerce compatible
There are 5 level drop-down menus available in this theme.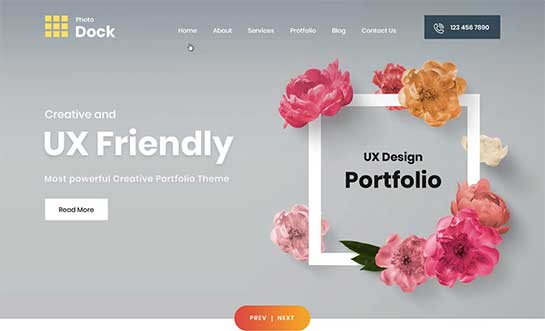 Photo Dock is just an appropriate theme to create an impactful portfolio. This theme includes a large number of beneficial functions that are just made to make your job easier.
A theme matters a lot in deciding the type of user experience you will be able to render through your website. However, there is nothing to worry about anymore when you have this theme. It has a bunch of features that can make your job easy and convenient.
Here are the features it showcases:
Google mobile-friendly theme
It is translation-ready and multilingual-ready.
It had been tested with free sliders that allow videos too
You can showcase a fancy hamburger menu on your website
WooCommerce compatible
Allows 5 drops down levels