It may be a daunting task to find that perfect theme for your gaming site that rightly carries out the gaming spirit with its charm. Most gaming sites are more inclined to apply a top-notch gaming theme that is attractive and user-engaging.
This is important to make your audience stay hooked to your site so that it can boost your ranking and showcase your creativity regarding gaming.
So how do you create that perfect look and responsive attributes of your gaming site? Well, it's simple with a highly intuitive theme that is solely designed for gaming purposes.
Here are a few gaming WordPress themes that you need to know to give your website a very game-freak makeover.
While you look for a high-end gaming theme for your WordPress website, it needs to be highly intuitive and responsive so that it can engage and impress more and more users.
The Game Developer is one of the best game portal WordPress themes which is created to fulfill all your needs.
This theme comes with natural blogging templates with various blog layouts. To earn an advertisement, you can add as many widgets as you want. Also, it is created so nicely so that you can place affiliate links anywhere.
All the sections are straightforward to manage. Page builders are totally compatible with this game developer. This theme nicely works with other plugins like Elementor, beaver, sandwich, etc.
Best Gaming WordPress Themes for 2023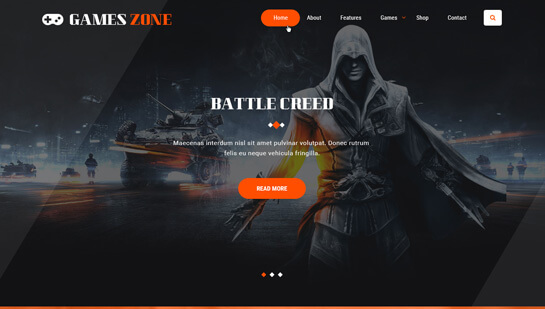 Here are few more exciting features it covers:
Multilingual friendly as it goes compatible with plugins like qTranslate X, polylang, WPML, etc.
SEO friendly with silos structure
It lets you work with social sharing plugins
Includes sidebar variations
Integrated with 800+ google fonts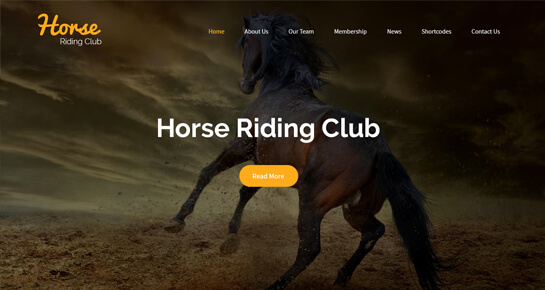 For your gaming website, a nice-looking theme is significant to attract more and more users. This Horse Riding theme is just created to serve your purpose.
This theme comes as a CSS3 animated website solution that can load plenty of nice effects. All the effects in the homepage area can easily be removed with a single click.
This theme's homepage acts like a landing page capable of holding up to 10 sections. The top slider area comes with pause time and animation control for the 10 slides that you can add to it.
You can choose any other slider plugin and paste the shortcodes of it in the slider area.
Here are few more exciting features it has to offer:
Tested with varying screen resolutions
Includes POT language file to make the translations easy
Widget friendly sidebar, header, and footer
Constructed with maintaining the codex standards
Secured coding to go compatible with security plugins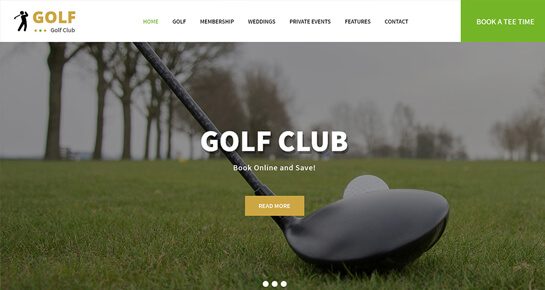 For your sports-related WordPress website, the SKT Golf is perfectly created to get aligned. It is feature-packed to offer you the best performance.
It is effortless to use and understand, and anyone can design a website with it while referring to the documentation. After the purchase, the installation of the theme is entirely free.
The WordPress sports theme's coding is done as per the prerequisite SEO standards, which makes it very SEO-friendly. It is cross-browser-friendly. This theme is compatible with many page builder plugins like Live Composer, Elementor, Gutenberg, etc.
Here are the features which make it more exciting:
404, archives, search, categories, and other standard pages make it a very professional looking theme
Coding is done based on WordPress codex theme review standards
Works suitably with RTL languages
Social media icons friendly with 2000+ icons
Coded with latest programming languages: HTML and CSS3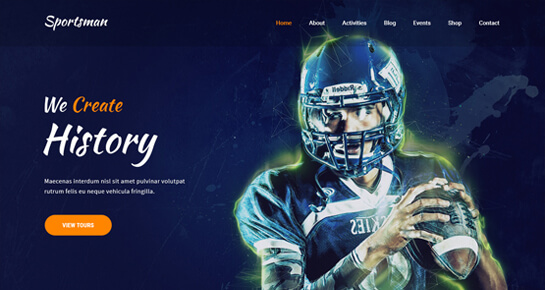 For your sports and athletics-based WordPress theme, the Sportsman Pro is simply the best one among the gaming WordPress themes.
This theme is excellent with its sports training center, fitness, health club, sports club, sports material shop-related designs. Along with numerous shortcodes, you can easily add any of the additional functionalities to the website.
It is designed to become highly responsive for any of the devices. It goes utterly compatible with cache plugins to offer a very speedy performance. This theme has five layout variations to design the footer section of the theme.
Here are the features it tends to cover:
Coding is done on various SEO standards
Works well with RTL languages
Tested with cross browsers
Designed to be SMO compatible
Designed to go compatible with WooCommerce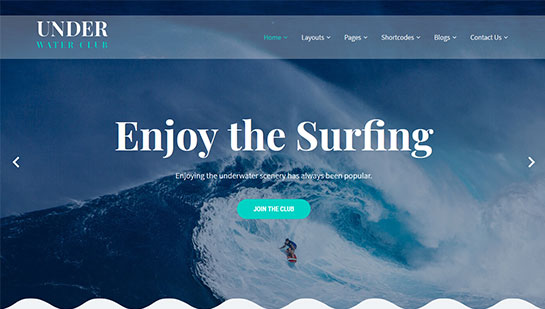 Do you want to create a website on aqua diving clubs, snorkeling, surfing, sea adventure agency, and other water activities? Then a blue-themed aqua theme is simply going to be the best one for you to create an awe-inspiring appearance.
It includes a slider with a call-to-action button for joining your aqua venture so that users can directly enjoy your service.
Below the slider, there are 6 columns that show different types of services. You can view this website on any device as this theme is AMP plugin compatible.
Here are the features it includes:
Easy to customize with images, texts, fonts, etc
100% responsive and tested with different tools
This template is compatible with many paid plugins, along with SEO, SMO, Swiper slider, etc.
It is Google mobile-friendly
WooCommerce compatible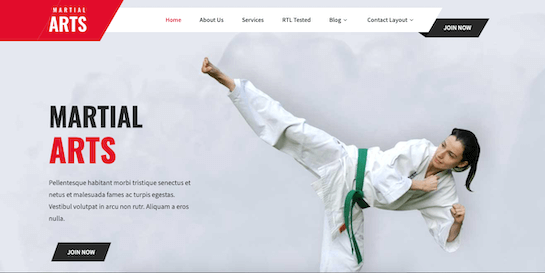 Are you looking for a very intuitive theme for your martial arts website? This one is going to be the best one for you. With lots of features, this theme is very user-friendly, classy, and definitely secured. One can use this theme to set up online classes and clubs.
This theme goes suitable for the most popular WordPress plugins with a number of page builders, SEO plugins, etc.
It lets you enhance the look of the website without any technical code. The Elementor page builder compatibility helps you with the customization process.
Here is the feature it includes:
Easy to apply CSS3 code to the custom CSS file
It lets you access more than 5 homepage templates
This plugin lets your users book an appointment from any location at any time.
Easy to handle and maintain with a support team
Easy to navigate with a call to action, buttons, links, and hover on it
Are you looking for very responsive gaming WordPress themes for your soccer website? Then the Soccer theme is simply the perfect one for you to pick. It is a straightforward and easy theme that is ideal for any beginner.
There are plenty of easy-to-use panels and options for customization. This theme is color-changing with each and every element.
The footer layout comes with about 4+ choices so that you can easily customize it. Also, there are 4+ variations for the header layouts.
The homepage section is coded to have easy-to-select pages for proper setting. Along with standard 404, categories, archives pages, this theme is very professional looking.
Here are the other features it includes:
Compatible with WooCommerce plugin
Support is provided through email and support forum
Default slider comes with pause time and animation control
Coded with secure codex
Translation readya
SKT Marathon is one of the best gaming WordPress themes with its multicolor features. It is simply great for health coaches, runners, athletes, sportsmen, and lifestyle-inspired people who want to start a website.
The marathon WordPress theme's theme design is exceptional as it is crafted with the latest Elementor page builder.
With one mouse click, you can download the demo content for this theme very easily. The theme is excellently mobile and user-friendly.
It works well with Swiper Slider, revolution slider, and Nivo slider. It is fully responsive and retina-ready.
Here are the features it includes:
Coded with SEO approaches
Coded with HTML5 and CSS3
Supports RTL languages
It comes with flexible layouts
Supports boxed and full-width page layouts
The Complete Pro is simply created to go compatible with any of your website requirements as it is complete from every aspect.
This full color-changing theme is very easy to customize with color picker options. It is a full font-friendly theme with 600 + Google fonts integration.
This theme includes a homepage section which is very easy to manage with the sections. It is built upon a customizer that lets the changes be done with live preview options. There are Multiple Inner Page layouts with a sidebar on the left and right or with full width.
Here are the features it includes:
Multilingual ready with WPML and qTranslate X compatibility
Tested with RTL compatibility
Checked and tested with multiple contact forms like contact form 7
100+ ready to use inbuilt shortcodes
Available with various blog layouts
For an adventurous gaming website, Adventure is simply the ideal one. The Adventure WordPress theme can easily be used for any adventure sports website where you can list all the sports and merchandise. This template is simply great for the summertime adventure camps for various activities.
This theme is very social media friendly with 600+ social icons. Also, it is very much WooCommerce compatible so that you can create an online shop for selling items and camp tickets.
It has up to 5 drop-down levels, and it is compatible with the mega menu plugin. It is very effectively coded with Customizer, which is very lightweight.
Here are the features it offers:
It is CSS3 based and goes compatible with animated columns
It comes with 4-footer and header variations
SEO friendly
Translation ready and multilingual ready
HD and Retina ready
SKT Appliances Pro is one of the most impressive WordPress website themes that lets you create a perfect website for gaming consoles, gaming devices, and other appliances. Also, it is multipurpose to use for other home appliances.
This template is cross-browser compatible, and also it is cross-device compatible. There is no need to have development expertise or to write a single line of code for its functionality. This theme is created properly while maintaining all the WordPress coding standards.
The home section is totally animated, which lets you control it properly. There are 5+ other sliders that are tested with the template.
Here is the feature it offers:
Supportive with RTL languages
It comes integrated with 900+ Google fonts
Works fun with multi lang
Footer and header friendly
Sidebar friendly
Are you looking for gaming WordPress themes that are capable of giving you a very versatile performance? Then the SKT Software Pro is just the ideal one for you.
This IT startup theme is simply suitable for any niche, which lets you create a very impressive website in a breeze.
The visuals are very attractive, which can actually add more charm to your gaming website. Designs are very pretty to attract more and more visitors.
It is fully responsive to target more mobile users and other device users. There are 4 various header layout options that let you design a very impressive website.
Here are the features it includes:
Easy to add or remove any WordPress tools
It lets you add other plugins to add information about authors and their bio.
Supports breadcrumbs and other suitable plugins
Easy to function with lots of shortcodes
Offers access to custom CSS
For a military WordPress theme, the SKT Guns is the ideal one as it creates the feel of a war veteran or military website.
This color-changing website with various color picker installed options lets you customize the website the way you want. This theme is loaded with more than 800+ fonts to give you enough typography choices.
It includes the default slider, which comes with the animation control and pauses time control. More than 6+ different slider plugins are also easy to use with them.
It is compatible with lots of other plugins to work on WordPress. It is 100% responsive and easy to run on multiple devices. There are inbuilt 100+ shortcodes that let you add your own type of content.
Here are few exciting features it offers:
It comes with a blog layout and page layouts.
There are header and footer layouts to make the website more impressive.
Compatible with social sharing plugins
Translation ready with PO file
The homepage is managed with unique sections
Conclusion
For your intuitive gaming website, the gaming WordPress themes are simply the great ones.
The themes mentioned above are packed with features and very easy to use, which offers your website a very responsive appearance that effectively attracts more users. Pick one that suits your purpose.