If you are looking for a cost effective option to be found among elevator service WordPress themes, we are happy to simplify your work.
In this article, we are going to highlight the best templates which are specialized in meeting your elevator service provision needs and not only.
From elite and residential elevator installation and maintenance services to elevator modernization, home and interior design offers, electronic and sliding doors, tiling and painting, flooring and roofing and generally any service catering to construction and repair, renovation and building can be ideally showcased with any of these elevator service WordPress themes.
Gone are the days when you need to spend tons of money on the promotion of your service provider or contractor profile or establish strong communication with your prospective clients or partners.
Today there are hundreds of practical means of digital presence that have come to replace old dated and traditional methods of advertising and promotion that are somehow out of gear for the modern Internet user society.
Moreover, some of such digital templates and tools offer a reasonable price/quality ratio so that you can make a reasonable selection for your future profile without being afraid of the initial and upcoming costs you need to make.
Each of elevator service WordPress themes you will find here is a bright example of the above mentioned price/quality correlation.
Security and user optimizations are the highest priorities of these elevator service WordPress themes.
Perfectly coded to meet all the security standards and be immune to hacks, they are also GPL based to give you infinite freedom in your actions and creativity to model, reshape and reconstruct the default platform at your hand without much of a hustle.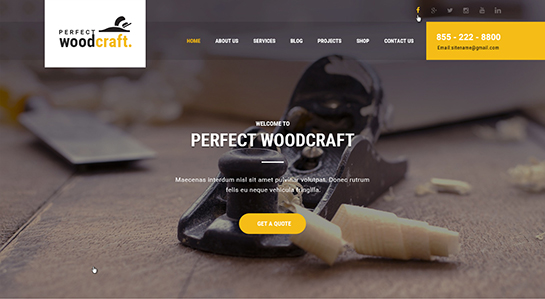 One of the most sophisticated and serious looking elevator service WordPress themes that can provide the digital transformation of your business, be it an elevator service provision, automotive or logistics, utility or other services, repair or renovation, handymen or craftsmen, is called WoodCraft.
This unbelievably resilient and smart at its core template is custom built to undergo any type of change and modification at the speed of your ideas and wishes.
Hence, you will be capable of tweaking the theme's backend and using color picker functionality for setting up the right tone of your site, manage fonts and their sizes, types and colors for the most legible and Google friendly typography, add new plugins and extensions for making your site more productive and invulnerable.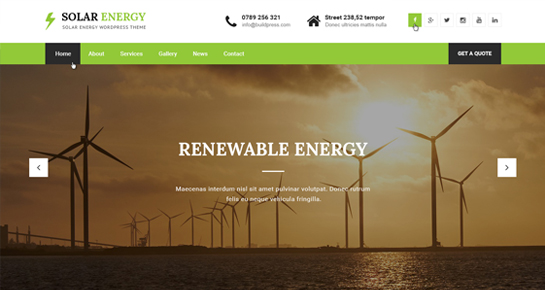 A team of experienced WordPress developers and creative designers stands behind Solar Energy ready to support you at any stage of your site's establishment and ongoing customization.
It's one of the newest multipurpose templates authored by SKT Themes and as such provides its users with a completely versatile model of a website base ready to comply with the highest demands of digital world users.
This template is also pocket friendly which means that you are going to have access to a stunningly flexible and modern website template that lowers your site's creation and further operational costs.
The polished and hassle free navigation levels of your site, accurate content categorization zones and search functionality along with other standard pages like 404, categories, archives and more are all guaranteed with Solar Energy to result in a superb user experience whenever they interact with your digital profile.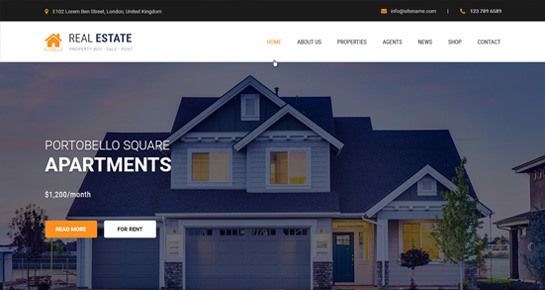 Setting up your elevator service provision profile and demonstrating the whole proficiency of your specialists with wise design and graphical solutions, advanced technological framework and preloaded shortcodes pack Real Estate comes with is effortlessly enjoyable for the non coder website admin.
Even without any prior experience in WordPress based websites or the knowledge in web development trends, you will be able to create the best version of your site around Real Estate with manageable homepage sections, Customizer supported settings, layout and color choosing options, external plugins and more.
Translation readiness is another key facet of Real Estate to let you translate and localize your content for international and multilingual audience.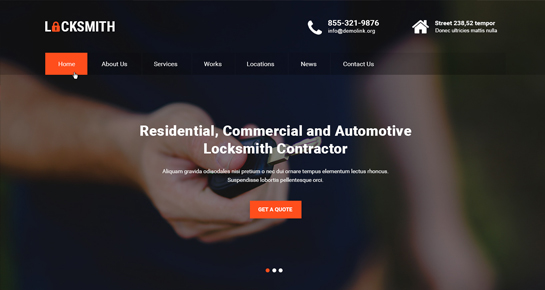 People judge a book by its cover. Therefore, your website needs to be visually appealing and inviting to affect the client's perception of your business before they will browse your content and find the service they are mainly interested in.
Locksmith is one of such visually effective and functionally cutting edge locksmith and elevator service WordPress themes you can consider for your business and enhance its manifestation online with high quality images on the homepage, compactly presented widget friendly areas, right color mix up and more.
From visual aesthetics to HTML 5 coding, responsive design and SEO friendliness, every single aspect and touch of Locksmith is attuned to what is important in the current digital world to stand out from the crowd.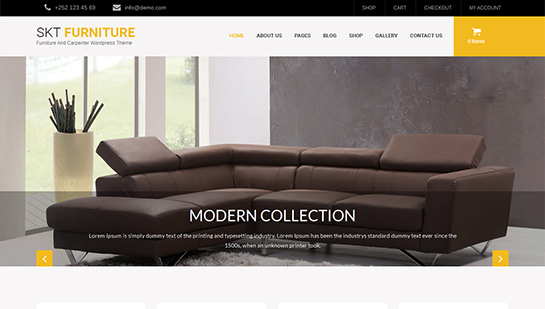 Furniture Pro is the next commercial ready and WooCommerce compatible WordPress authored template you can have at your disposal. This pro quality yet simple in usage template that will let your best offers and affordable pricing policy, seasoned specialists and installers as well as their portfolio take center stage.
Keep your website operational day and night and accessible to potential clients around the clock.
Generate your unique content, add HD images and be sure they will be delivered in the most legible format across diverse platforms and browsers, environments and portable device resolutions.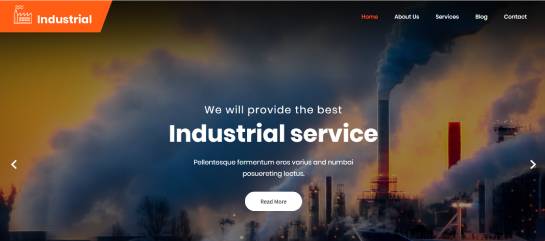 By using SKT Industrial you will use all the possibilities to prove your credibility to your prospective clients and persuade them that, your elevator installation, repair and maintenance, modernization and other services should be trusted.
The durable coding SKT Industrial is based on is essential for the ongoing sustainability and reduced downtime of your niche specific website.
The same accurate and bold coding is what makes your site and its content equally well performing with mobile and desktop versions, as well as ensures they are totally search engine optimized to have the target audience finding you in search engine results and clicking through.