A roundup of the best cycling club WordPress themes is showcased in this article for cycling clubs and cycling blogs, sports and cricket centers, as well as bicycle and athletes relates topics and niches.
It's amazing how digital platform has changed the way people perceive the reality, communicate with each other, get impulses and motivation to perform this or that action, change the lifestyle and more.
As for the sports and leisure activities, they are more than well displayed in the worldwide web with all their manifestations, branches and performances, from sports and cycling clubs to tours and tournaments, from private coaches and trainers to sports enthusiasts and fan blogs.
Hence, with this biggest chance for the sports based industry to promote itself, in this article we have put together the best cycling club WordPress themes for sports clubs, cycling and bike racing activities.
Tours and competitions, as well as any other sports and athletes, instructor and fitness related activities online.
Each of the cycling club WordPress themes marked here is a powerful unity of form and function bringing thousands of customization and management controls for every website admin.
Set up an eye catchy website that will work stunningly across different platforms and make sure your website viewers are more than satisfied.
Whether you are going to fill your site with fresh sports news and updates during any sports event, or run a separate blog dedicated to this or that professional athlete, those cycling club WordPress themes will be ideal for your needs.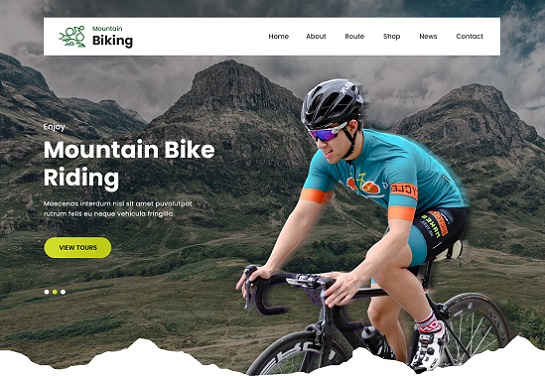 One best option from the list of cycling club WordPress themes is Mountain Biking. This theme is much faster in performance and executes its content without wasting time.
This template is totally responsive and user-friendly too. One should use this template while promoting different cycling events or stores such as enduro, cross country, downhill, cyclo cross, road, fixed bike, and so on.
Some top key features of this template are well organized, ready for tablet, mobile devices, and desktop computers, 900+ Google fonts available, and so on.
The same design can be sued to create an eCommerce store or a shop where you will permit your customers to shop their choices and make payments online. The template is well coded and followed with all major WordPress practices.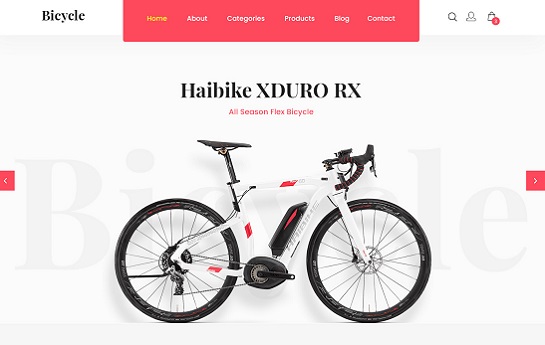 Bicycle Shop is perfectly designed with all modern design trends. Whether you are looking to create a bike store, adventure tour website, or a travel blog, the design and features of Bicycle Shop will go perfectly with your desire.
The main purpose behind this theme created was to help you to reach your targeted audiences easily. A well-designed contact page will help you to accomplish such goals. To help you in enhancing the customer's relationship it also comes with an attractive blog.
Prebuild the about us page will help your visitors to know about your business and your offerings directly. With the proper type of information, the visitors will be able to reach yours quickly.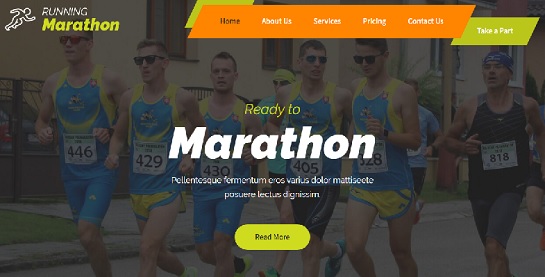 SKT Marathon is elegant and beautifully designed from the cycling club WordPress themes list. It featured a minimalist design approach so that your customers can navigate through your website easily and efficiently. The template is very carefully designed and developed.
However, the theme is included with lots of tools, prebuild pages, and settings to maintain the professionalism of your website and make it looks more trustworthy. Some business owners might look for the blog and portfolio option in the future.
Thus all required features are added so that you don't need to look anywhere else for your desires. With the one click importer option, you can import the demo content very easily.
Some major features included with the template are user-friendliness, mobile-friendly, cross-browser independent, multilingual and more.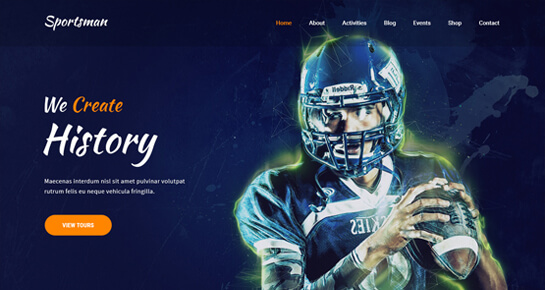 Sportsman Pro is one of the intelligent and smart golf and cycling club WordPress themes which strategy is focused towards the comfort of the end user.
It means that this website building tool is absolutely fantastic in usage and application for both sides, for the website admin on the one hand, and the website guests on the other.
With one click installation and activation, with admin friendly area, packs of shortcodes, Google based fonts and icons, Sportsman Pro comes equipped with all the primary elements and characters for you to make your site above competition.
The theme is also readily responsive with great adjustment capabilities to perform amazingly when accessed by mobile and device users who are following your daily updates and sports news.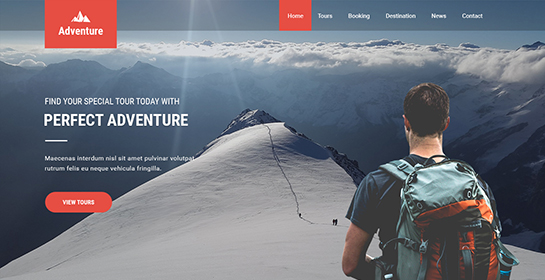 What makes Adventure so lovely and inspiring is its unique structure with awe inspiring visualization and visual touches. Ready to present any kind of adventurous or adventure related content, this theme is suitable for sports and leisure activities, tours and competitions, private and group trainings, cycling and boxing clubs, etc.
Use all the advantages of this template to make your sports profile energetic and stable across devices and mobiles, tablets and laptops. Exercise the preloaded shortcodes to add animation boxes and more, extend its functionality with a wide range of compatible plugins.
Events Calendar plugin has been tested with Adventure for more organized look and feel of your website while keeping the track of all the important sports events and cycling competitions, venues and organizers, etc.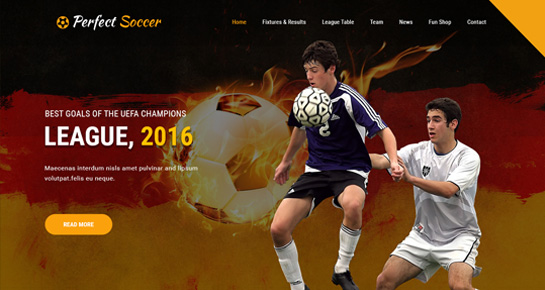 Soccer is one of the freshest and powerfully developed sports and cycling club WordPress themes ready to host any kind of sports activity, training, club or center, tournament or competition website or blog.
This inherently elastic and dynamically worked out template shares the most responsive layout with mobile compatibility, plugin support for commercial and translation purposes, color and font management options, site and sidebar layout controls and much more.
Homepage prebuilt sections together with nice looking slider, blog layout for keeping your fans and followers hungry for your updates and interviews, standard pages like 404, archives and more are also given within this top rated template.
Before purchasing the theme you are welcome to enjoy its demo version to make a thorough understanding of what this template has to offer you.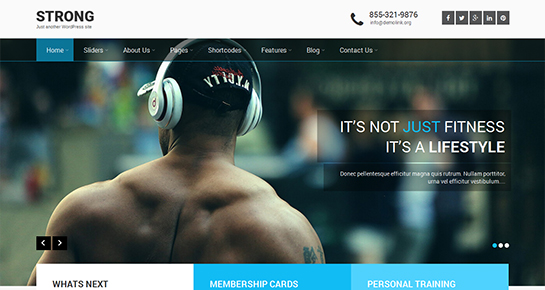 If you are looking for a professional level quality sports and fitness related template that can be controlled by a non techy user, look no other way than Strong Pro.
Ready to pedal you into the dynamic world of sports or cycling, fitness or gym, Strong Pro celebrates ready made framework with responsive and cross mobile compatible coding, as well as customization ready layout with a handy toolbox from the back of the theme.
From bike rental services to the sale of relevant accessories, specialized saddles, brakes and cables, clothing and jackets, from sports forums giving information about ongoing competitions and tournaments to personal blogs of famous sportsmen.
Teams and sports events, Strong Pro can effortlessly showcase any kind of website to your potential clients, customers, buyers and followers.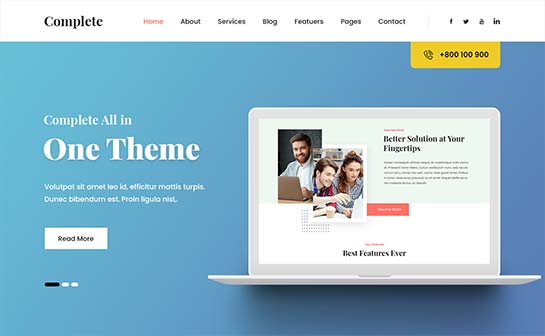 A minutely worked out and designer made, Complete Pro is a stunningly sophisticated and comprehensive solution ready to tailor to absolutely any kind of digital needs or host a website of any nature, caliber or denomination.
As such, Complete Pro is a valuable candidate when it comes to setting up sports or cycling websites for demonstrating top quality images and photos of the sports world or providing the audience with frequent updates, news, interviews, highlights of various games, leagues, competitions and more.
You can freely make use of the prebuilt homepage sections and additional pages, like home, about us, blog, contact us, header and footer areas for additional details and links to posts, social media and more.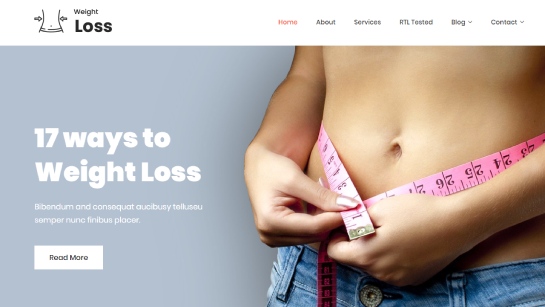 Fitt is the next recommendation for sports and health club, cycling or biking club, fitness and gym center, weight loss or muscle gain activities, etc.
Ready to wear multiple outfits, undergo different changes and customizations for the required look and feel, Fitt comes bundled with elegant and light appearance, as well as heavy workload or coding controls for the website admin reduced to the absolute zero.
More than 100 shortcodes are there for you to apply, blog section for keeping your website alive, blog and page templates to choose from, sidebar layout controls, as well as full integration of Google fonts, icons, color controls and plugin compatibility.