A serious collection of the best currency exchange WordPress themes to professionally assist you in the creation and development of your financial and money based website. Whether you are planning to craft currency exchange or rates.
And foreign exchange market, money transfer, bitcoin and crypto currency, investing firm, online payment gateway, credit card, accountant or any other financial website, these currency exchange WordPress themes are here for you.
Sale, purchase, exchange and speculation on different currencies form a great market share in financial and business spectrum.
While having to do with major and central banking institutions, local investors and brokers, commercial companies and organizations, investment units, forex clubs and funds, this market is rather vast and dynamic.
Hence, if your final objective is the elevation of any financial or legal website to offer relevant services and currency exchange rates, offer consultation and investment plans, credit sales and more, these currency exchange WordPress themes will walk you through the success path.
Test your creativity with the modern trading WordPress approaches and make sure your website is absolutely stunning in look and feel.
Each of these currency exchange WordPress themes will be an irreplaceable tool to get your business feet wet! Each of them determines a wide range of values which are important to the current and future operation of your site.
While being future scalable, these templates are well developed to meet all the challenges as of present and future with all kinds of resolution compatibility, browser support, follow up of SEO algorithms and more.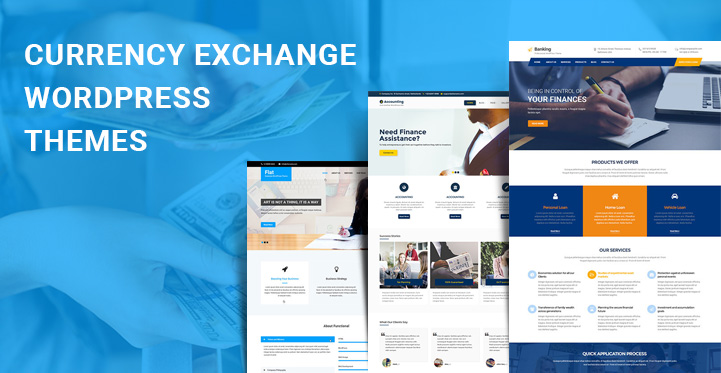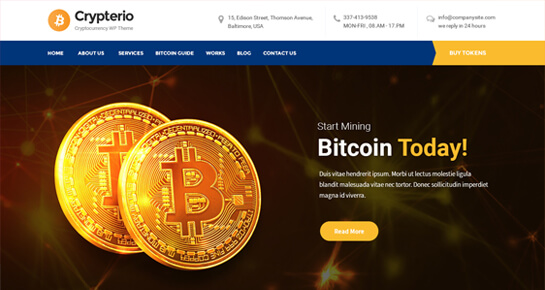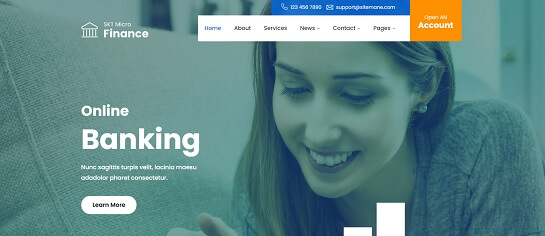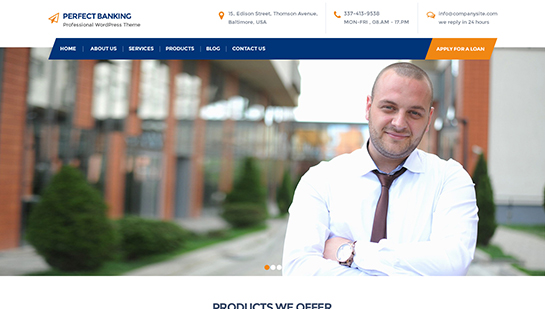 The current state of your financial business and the prospect of its future development heavily depend on the right setting of its online existence and the choice of the strategy for achieving a larger marketplace.
In this relation, SKT Banking is one of the niche specific banking and currency exchange WordPress themes you can purchase without any hesitation.
The responsive layout along with reasonably added homepage sections and content segmentation areas, visually clean and crisp design to exude professional look are all signs of a premium quality product at your disposal.
Start by replacing the default content with your own one, showcase exchange rates in neat and easy to follow structure, their ups and downs, display the profiles of your staff and specialists and share your contact details.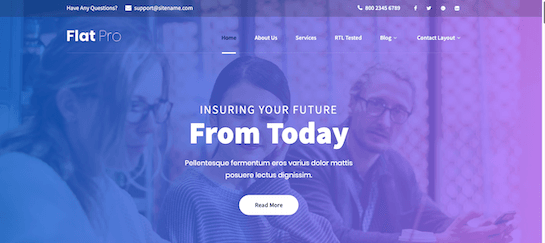 If you are thriving for excellence in the digital realm, look no further than Flat Pro.
The advantages of this modern and uniquely designed template are endless.
Starting from mapping your client's journey with legible content and right call to actions to keeping them engaged with high resolution images and frequent blog updates, the possibilities of Flat Pro are directed to profitability and customer retention of your business.
Integrate a currency converter, show currency rates in live mode, enlist popular currency profile and make sure they are updated constantly to prove your audience you can be trusted.
Based on a flat and material design for better cooperation with diverse platforms and future resolutions, Flat Pro can be used for other financial purposes as well, including online trading platforms, personal and corporate money transfers, accountant businesses and more.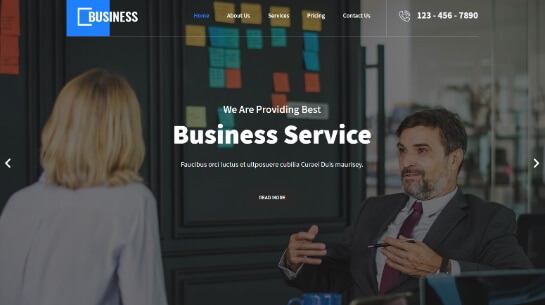 If you are going to deliver your accountant and financial services electronically and make them accessible to more people, consider the candidacy of Local Business Pro for the position of your website basis.
All in all, your exchange currency or accountant agency website built on Local Business Pro can be a low cost alternative to many other advertisement forms, both traditional and non traditional.
It means that you are going to have less stress about financial means and more freedom in customizing your website the way needed.
The SEO and SMO compatible nature of this shortcodes and fonts armed template should also be taken seriously since they are responsible for the high traffic, qualified clients and social media integration of your site.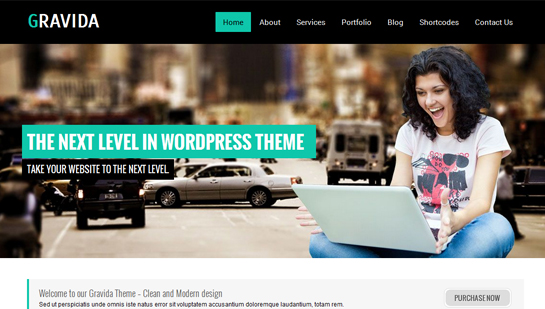 In a world where a client's satisfaction, compliant or claim can go viral instantly, meeting your customers online is what you need to guarantee for your currency exchange or money transfer, financial transaction or loan granting website.
Gravida is the next corporate and complex solution to your financial and business needs in the digital spectrum.
The clients want your business profile to be proactive and showcase personalized attention to anyone. Therefore, Gravida comes with prebuilt contact form to accept inquiries and questions from every single client and display an individual approach to answering them quickly.
As for other important components of Gravida, it is HTML 5 and CSS 3 based, fully plugin ready for adding special touches to the default template, such as powerful commercial platform, multilingual content, more shortcodes, etc.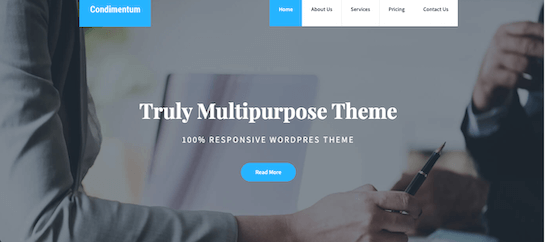 A useful website is not only about qualitative content that is added on a regular basis. It is also about how informative, legible and shareable it is, how effective it is displayed in terms of typography, size and colors and how well it responds to the mobile and desktop requirements.
Condimentum is one of such well prepared and seriously taken care of currency exchange WordPress themes to boost the online presence of financial institutions and services of all sizes and calibers.
Instead of bombarding your website guests with excessive design solutions and cluttered interface, Condmentum will provide a visual accuracy and easy navigation for your audience to feel comfortable while following the currency changes and rates on your website.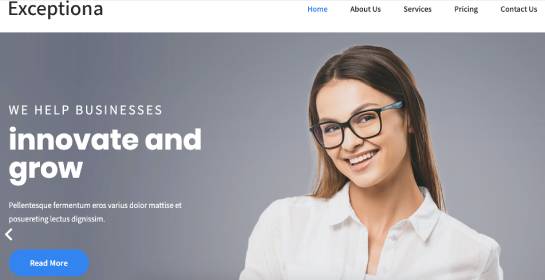 Exceptiona has also managed to gain popularity with currency exchange and analysis, financial and legal businesses and their representatives.
Designed both for individual and corporate usage, this clean and easy to use, customizer based and mobile friendly template will open up tons of new horizons and monetization opportunities for you.
This template also follows the minimal web design philosophy giving you more flexibility around your website in adding new look and touches to it with colors, icons and buttons arrangement, homepage sections and additional content areas, typography, images and more.