If you are looking for one of the superb chess WordPress themes that comes chock full of features, elements and integrations, we have selected the most suitable templates for you to review today.
Whether you prefer a web builder each and every character of which is well taken care of or the one with a great general picture and all inclusive nature, you will find the best fit among chess WordPress themes assembled below.
A human has been creating real miracles for centuries: he conquers deserts making them fertile, creates cities and monuments that conquer time, builds a social life, explores science and produces grandiose techniques.
This creation is accompanied by struggle and effort, and during that process it's not always possible to catch the right plan leading towards success and triumph – there are constant mistakes and fails. But he tries not to succumb to prejudices but to carefully weighed judgments.
He is more inclined to trust in a force governed by consciousness and intelligence rather than in cunning or wickedness. This is what distinguishes a human being from an animal that acts instinctively.
Well, what we have illustrated above is what figuratively describes the true nature of chess. It's one of the most ancient types of intellectual games incorporating elements of sports and science and taking the real battle on the chessboard.
And if you are going to elevate a chess related website, it should inevitably be as intelligent and powerful, as the game itself. It should exemplify your creative and quick witted mind and make you a winner in the digital realm.
Thus, if your goal is to create and promote any game zone, chess club or association, chess player or grandmaster, draughts or domino, or any other kind of sports or game related website, look no further than this handpicked collection of chess WordPress themes.
These website tools are ideal for proving the majesty and grandeur of your chess or sports related website with quick controls and customization options.
Furthermore, all of these chess WordPress themes bring an amazing host of tools and controls ready to make your online experience something fully meaningful and endlessly productive.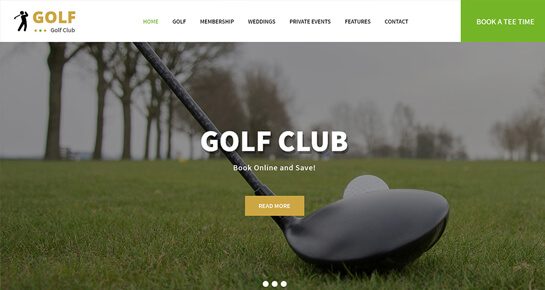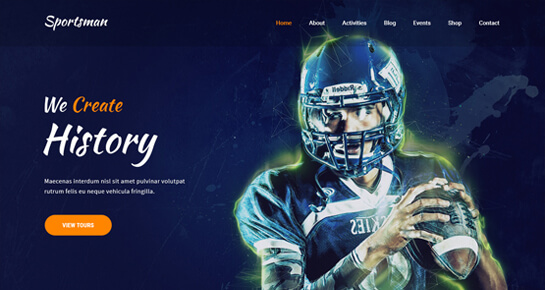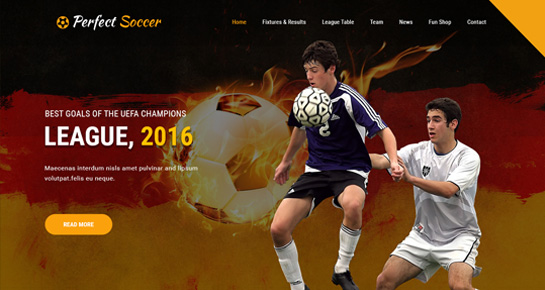 Market your chess club or academy, game zone or soccer club, league or fitness center, health club or any other intellectual or physical sports related website on the basis of Soccer.
There is hardly anything Soccer lacks when it comes to the proper processing and launching of your site within the shortest timespan.
In addition to quick and affordable first step of your site creation, the subsequent steps will also make you happy given the freedom of your actions for customization works as well as simplicity in usage eliminating the need for spending more and hiring web masters to finalize your website's look and feel.
If you prefer a classical solution to building white and based chess website, Black and White is what needs your attention.
Use the whole flexibility of one of the most elegant chess WordPress themes to present chess tips and strategies, puzzles, news, events, famous chess players and more with your posts and pages, blog area and more.
Make the most of widget ready zones to their full potential to set the right tone of your website with quickly helping information, contact details, links and more.
The theme is also 100% responsive to enable your web guests take advantage of your site even while on the go, as well as is optimized for plugin usage to boost the site results, promote events, translate content, enable social sharing and commenting, etc.
Horse Riding is one of the royal horse club and horse riding, draughts player club and chess WordPress themes you will absolutely love.
Practically, there are no rules when it comes to the creation of a chess website with Horse Riding. Everything is up to you, from visual and eye catchy effects and animations to the functional framework, default features application or insertion of new ones with plugins and shortcodes.
You can also use the extensive documentation to use right from the start for following the right path towards your site's excellence in the virtual arena.
Adventure celebrates a unique charisma and energy ready to make your chess website attractive and motivational.
You are given absolute freedom to decide the way your site's homepage, menus, content arrangement and image location is going to be.
You are the one to make header, footer and sidebar areas minimal or full with information, homepage slider presented with high quality photos, typography set with Google friendly fonts, languages your content is going to be displayed with and much more.
One thing that your digital profile cannot get enough with Game Developer is its daily users. The developers of this fantastic theme have put together their best practices to make it as user and visitor centric is it is necessary for winning their attention first and loyalty later.
Visual composer and page builder plugins can be of great assistance to you to provide you with DIY practice to manage everything in the most effective yet simpler manner. As for the other compatible plugins, there are many.
You can find a relevant tool for any purpose, be it commercial or WooCommerce related, content translation, SEO and SMO optimization, better contact form or image management or something else.
Your wonderful chess or fitness website is only a few clicks away with Fitt.
Packed with all you will ever need to create a valuable online presence and get the most wanted flows of new web visitors, Fitt welcomes you with modern and durable HTML 5 and CSS 3 mix and match, practical selection of designer made layouts and widgetized zones, full color changing capacity and live customizer for you to thoroughly control your every step.
Completely commercialized and e commerce ready, Fitt also makes it easier to advertise your events and sell tickets online without much of a hassle.