Starting a finance company in a tough economy is the right thing to do because many businesses and individuals will be looking for your services. However, it is not easy to attract the right clientele, and it does not happen without any effort from your side.
Therefore, you need a website that properly lists your services to represent your business. A good website is easy on the eyes while communicating the message as effectively as possible.
To get started with a website, you can get a developer or try the best website for free. While developing your website from scratch will be too expensive for a portfolio, creating a basic website with the help of free options will not leave an impression on anyone.
The best option is to find paid WordPress themes and customize them according to your needs. Thousands of paid WordPress themes are available, but everyone is not right for a financial services company. These are the top 13 chartered accountant WordPress themes.
The best-chartered accountant WordPress themes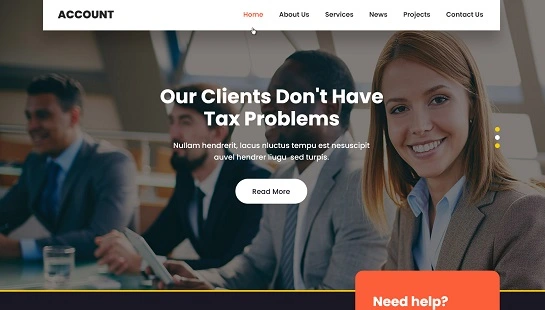 Think of the additional services your business provides that are not found with any competitor. Then list these additional services in the top section of this theme. When someone visits your website, they will see the main points on why they should use your service.
You can get strong sales results with the help of the right chartered accountant WordPress themes. You will be able to display business-related statistics which prove why your company is the top choice for customers.
Once you have made a strong impression on the website visitor, you also need a call to action to move the sales process forward.
That's where the contact form at the end of the website theme helps you. You can prove your financial intellect by publishing case studies online that you have gone through. This establishes you as an authority figure in the financial services market.
Good finances are the backbone of the global economy. That's why these financial services WordPress themes must be responsive and should work on mobile phones.
This way, potential clients can easily access important websites and get their needed consultation. In addition, this theme is easy on the eyes, and it's effortless to install.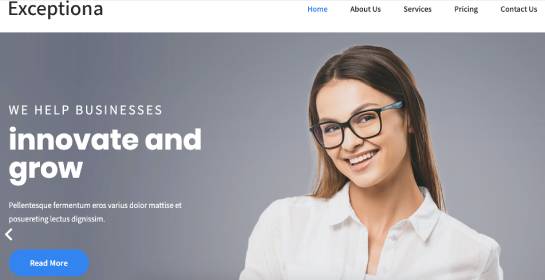 While it's always good to have a WordPress website that helps you get more sales. Your website is mainly a way to communicate the services that you provide and with what rate of efficiency you can provide them. You can display this with the Exceptiona theme.
After your organization has displayed that information, you need to leave some call to action. Exceptiona has two CTAs, one is the phone number of the sales staff, and the other is a contact form.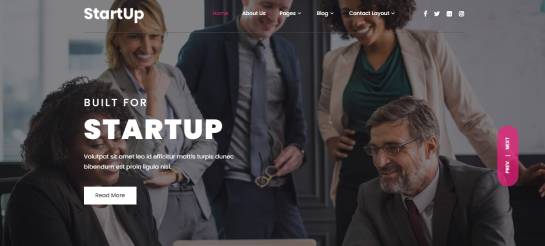 This is a very colorful and lively theme that helps bring out your business idea to fruition. If prospects have got bored of seeing the same boring financial services websites, a website made of this theme will be a change for good.
With the help of this theme, you can communicate what services you provide and your pricing plans. However, just that is not enough; you also need to give the visitors a reason to choose you.
With the help of the testimonials section, you can use the positive testimonies of your old customers as a sales pitch for your prospects.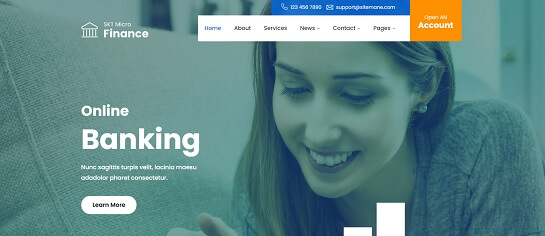 This theme is mainly for banks and other financial institutions that provide a loan to individuals. However, because of the inherent financial nature of these services, you can use it for other financial services businesses too.
When someone easily navigates through your website, they become sure that their journey as a customer will be similar. This theme works incredibly hard to ensure that customers have a good experience.
If you want people to buy your services, you need to explain your services in simple words and add relevant content from that industry. SKT Microfinance has a blog section that helps you gain authority in the industry.
It also easily explains the services they provide. That's why it is one of the best chartered accountant WordPress themes.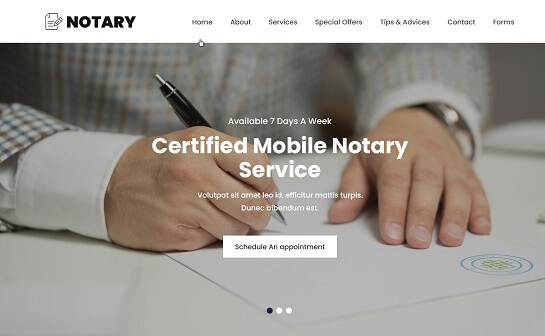 There is a calming look on this theme that will make your visitors scroll further. It's so aesthetically beautiful that its effect can almost be hypnotic. While it is for notary services, you can also use this to represent financial services.
To increase the morale of your team, you need to ensure that they get the recognition they deserve. This theme will recognize the members of your team, this way, future customers will know who they will be interacting with.
Business consulting is a growing sector that generates more than $10.5 billion in revenue in India. Thousands of business school graduates choose business consulting as a career path. Other than business consulting, people also provide financial services.
If you have a business in that field, your website needs to be highly sophisticated. That's why people choose to go with this theme. The key to any financial services portfolio is numbers too.
With the help of this theme, prospects will be able to see how many clients you have served, how many years you have been in business, and other important information. Prospective clients can then make their decision.
This theme represents people who provide legal services and fight for justice in court. It comes in black, white, and brown colors that give the theme an alluring look. You can also use this theme if you provide financial services.
When potential customers start getting new financial services, they have multiple questions. This theme has a dedicated FAQ section that answers most of them. This extremely useful feature makes it one of the best chartered accountant WordPress themes.
GB Insurance is one of the best themes for insurance providers. Insurance companies need to have multiple features on their website. The customer should be able to check the pricing, tenure, annual fee, etc.
This is a simplistic theme that lets the website shine through useful features. If you have any other financial services business, this will be a good theme to use for the website.
SKT Specialist is generally a business consulting theme, but it can be used by financial specialists too. Every company has specific areas where they have strong expertise. If you want to highlight your expertise to build your case, you should use this theme.
As a financial services business, you may provide multiple services. However, you are undoubtedly going to be better at one of those services compared with the rest. It is alright to highlight the services clients cannot miss taking from your business.
You can then prove this by displaying customer reviews with the help of this theme. It is better to focus on selling a product or service that is already doing well. Instead of wasting energy on multiple services.
This is a common business strategy that this theme brings to life. You can get a lot of new leads if your website is always the first to cover news about the financial sector. That's why this theme provides a section dedicated to a blog.
This theme has a corporate look to it which can be useful if you provide financial services like accounting, consulting, insurance, etc. Overall this theme is vague, but the only thing highlighted is corporate culture.
That's why so many businesses from multiple other sectors use this theme. Highlighting corporate culture on a website can be beneficial for businesses that have a B2B sales model.
Experience wins the trust of any prospect, that's why this theme highlights the experience in the number of years, clients handled, and other information. When a visitor gets to know that you have the required experience, only then will they try to contact you.
In a sense, providing details about your past experience in the field can help you get higher-quality leads. If you keep the website vague, you will get leads that do not convert. However, if you paint an accurate picture of your business, the leads you get will be high in quality.
This is a colorful theme that can positively describe your business to a prospect. Now there is no need to make things complicated, as you can highlight which industry you work in. If you provide financial services, then it will be highlighted on a section of the website.
If you want to assert to your potential customers that you have dominated the market, then there is no better way than to use actual numerical information. You can highlight the number of customers, number of countries served, projects completed, number of employees, etc.
You cannot explain some things with images or text, but some concepts need to be explained through video. This theme is video friendly, and if you want to explain to prospects what your business is and what your team has achieved, you can easily make a video and upload it.
This means that Blendit will let you upload a sales pitch. Be careful about what video you upload, make sure that it is a first impression video.
Now you can control what the customers think about you when they visit your website. This theme helps you grow in sales because of these features.