Since WordPress community is highly capable of bringing a universal fame for your brand or business, we are going to explore some of the best boxing gym WordPress themes you can use for the creation of your professional and lead generating digital profile.
You are welcome to check this roundup for any boxing or fight club, fitness center or gym, bodybuilding or muscle gain, health and nutrition club, personal trainer, martial art or another relevant website or blog.
Once your boxing gym or fitness center opens its doors for its clients, the main task becomes the attraction of the maximum number of customers to your business.
This is achieved through a well thought put promotion strategy where the creation of a pro quality website has its unique place and value.
Each of the boxing gym WordPress themes we have included in our collection can be a green light for any kind of box and gym, fitness and sports websites, blogs and profiles to market their services and products, personal trainings and courses online.
These brilliantly designed and strongly coded boxing gym WordPress themes are all designed in such a way that will enable you to give your website a dynamic and enthusiastic touch with attractive visual shades, images, colors and more.
Apart from setting the right tone of the website matching your business idea and policy, there are also dozens of other choices and controls catering to your site's functionality and its extension with plugins, structural peculiarities, page and post controls, etc.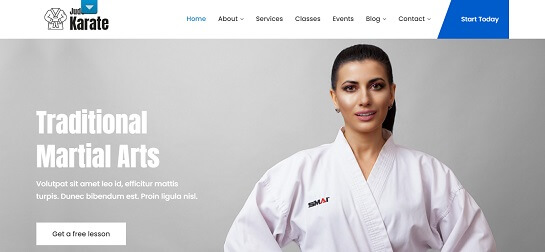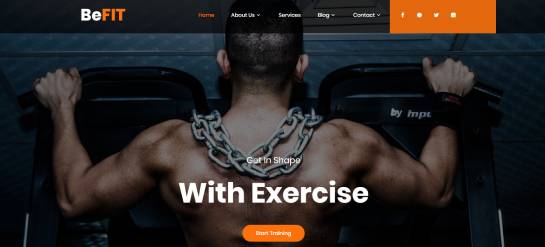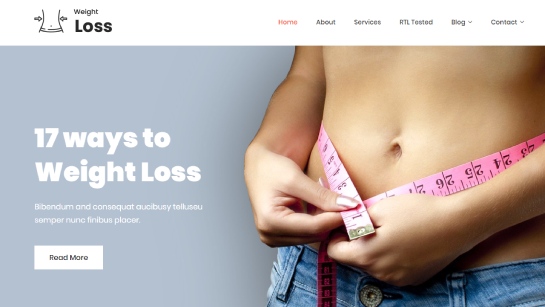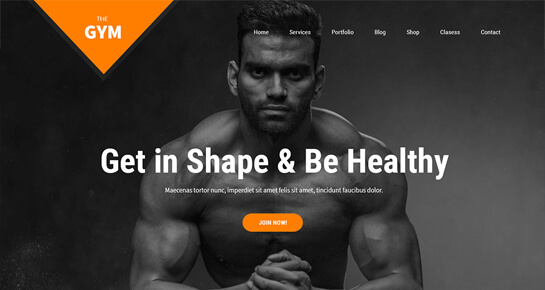 The person who is inspired from fitness, gym, wellness, can use this theme as their business to aware people more about their health and fitness. With the help of SKT Gym Pro one can also run campaign.
Basic features of Boxing Gym Wordpress Themes are 100% responsive on all devices, cross browser compatible that can be viewed easily and effectively in various screen resolutions, multilingual ready, WooCommerce friendly that permits to sell the product online.
This theme is very flexible and light weighted that can be used by various business like boxing or Gym club, fight club, fitness center, yoga center, bodybuilding, muscles gain, health and nutrition's club, personal trainer, or can be used by any blogger to start creating a blog related to fitness.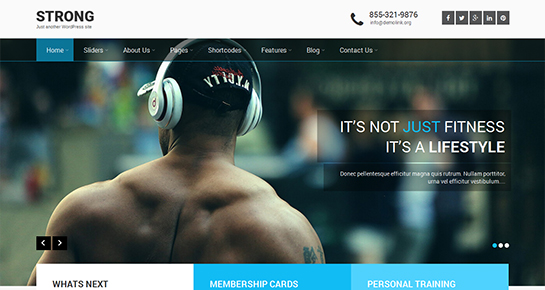 Leveraging the true power of digital marketing can be best discovered by Strong Pro. It is one of the most encouraging and energy yielding crossfit and boxing gym WordPress themes anyone can purchase and use for his niche specific website.
The theme is balanced between durable framework and easy to use toolkit in order to make your website creation and further management as easy and intuitive as possible.
With demo content imported after quick installation and activation, Strong Pro is also speedy in performance, smooth in navigation and retina ready for making your visual content pixel perfect across an avalanche of modern platforms.
Involving the majority of practical online promotion tools and strategies can be fairly easy with Strong Pro that is completely optimized for SEO and SMO purposes, as well as shares the most versatile and responsive layout for you not to miss a single mobile user website guest.
Discovering the whole power of SKT Fitness Pro and utilizing it for generating more sales and clients will be easy even for the novice of the digital arena.
Whether you are an expert in building exceptionally good website platforms or just making your first steps towards building something unique and valuable, SKT Fitness Pro will deliver the needed results for you.
This well coded and fonts packed, widget ready and slider featuring website builder is integrated with social icons and social media integration, color management system and numerous shortcodes for galleries and pricing tables, team members and testimonials.
Finally, our collection of the best boxing gym WordPress themes concludes with a template known as Gym Master.
This modern and quality checked website toolkit ranges in style, structure, functionality and adaptability to fit every website level.
Hence, from cozy and to the point boxing gym profiles to professional shopping experienced website systems to sell your products and services, every single website can be easily shared with Gym Master.
The theme is also designed with SEO and SMO touches, reliable customizer based controls, page and post layout management tools and much more to give your business undeniable results.
It's not just the locality of your box club or center or the expertise of your trainers to help you win. It's also your digital presence and the way it communicates to your clients are what make your fitness and sports related business succeed.
Soccer is one of such prospective sports and boxing gym WordPress themes that can guarantee your site's effective presence online and its growing into a costly asset.
This fitness and gym marketing platform is built for the beneficial cooperation of trainers and fitness specialists with clients and customers.
Keeping all your information, membership plans and pricing, the diversity of services, images of your club or fitness center, its equipment and technical saturation can all be presented in the theme's posts and pages, homepage slider and gallery area and be accessible for the website guests all the time.
The next all in one fitness and gym, box club and box training website system with a designer touched appearance and animation styles is called SKT Guns.
Your center is unique and client centric and so should be your website in order to reflect the best of your offers and services, consultation and groups, etc.
For this you need to take advantage of the backend of the theme and add your own touches and colors, engaging and promotional content, images and videos to the website.
In addition to being open 7 days a week, 24 hours a day, your website will also be properly indexed in order to be understood and crawled by search engines, as well as accurately functioning with additional shortcodes and plugins.
Creating a state of the art personal profile that will reflect your talents and skills, proficiency and knowledge in the sports and fitness industry is possible with vCard.
Created for personal and resume style, independent contractor and freelancer, personal coach and trainer websites and blogs, vCard generates flat and material style design, preloaded icons and call to actions, widget friendly areas with sidebar layout, easy to use and modify homepage sections and more.
Free installation along with full documentation and one year support is packed within this offer. It means you can overcome all kinds of technical and functional obstacles when implementing certain improvements and changes to your site.
If you're planning to open a boxing gym or a fitness center, then it should be known that survival is the key here. There may be various other fitness centers all around the same place, and thus the competition can be huge.
You must rise above the competition, by providing better facilities, features and services. But before you go to any one of that, your first and foremost job is to let people know of your new venture.
This is very much important, to make your business successful. If people don't know about your services, then it will tough to continue the business. Also, you should always be able to attract the customers more, and for that reason only, you need something unique.
Building a new website for all your boxing gym and fitness center services will be a master plan for bringing all these together. That's why you need Boxing Gym WordPress Themes.
With this, you can now build a brilliant website, tailored made to your own liking, along with various dynamic and enthusiastic features.
Not only that, you can add more to your website with numerous attractive images, fonts, galleries, etc. that will make your website look more professional and lively. With increased performance and fluid response, it will never be a problem for your users to browse your website.
No matter where they are, and access from whatever device. The website will also be mobile friendly, to be used with portable devices on the go.
The integration of SEO and SMO will seem like a lifesaver, because, with SEO or Search Engine Optimization, you will get more customers directed towards your website, with the help of Google Search Results.
And with SMO, which means Social Media Optimization, you will also attract users and customers via various social media platforms, like Twitter, Facebook or even Instagram, to name a few.
Both of these technologies will help your business to grow rapidly, without breaking a sweat. And that is all possible with these WordPress Themes.
Every bit of information about your center and services will be provided to the prospective customers, with the help of the website.
This includes contact details, pricing details, etc. so that users will know what to expect when they visit your fitness center or boxing gym.
With various options to put numerous pictures, including galleries and sliders, so that users could get a glimpse of your special place.
There will be support for plugins as well. If you're planning to provide consultation services as well, there will be options for that too as well.
The website will be built right in the way, which it will be more client-centric and thus welcoming your prospective client's more to try out your service.
There will also be support for various kind of suitable plugins and widgets as well, so you can proceed to use whatever you think to meet the requirements for your specific case.
Therefore, without a doubt, Boxing Gym WordPress Themes is the most efficient way to create your own fitness center or boxing gym website.