A search based assemblage of the best app developer WordPress themes for app developers and programmers, mobile apps online courses and tutorials, web designers and developers, IT consultants and experts, computer repair and maintenance service providers and other representatives of the digital industry.
A quite time will never come if you are engaged in the digital form trying to sell your products, services or programs and apps.
Along with continuous development and rapid changes in this field, one needs to exercise all the possible channels in order to stay competitive in the online platform.
This is especially true for IT and development world experts who cannot but perceive even the subtle signs of a possible online success.
This article shed lights on the most practical templates you can apply for you future app developing website or blog, schedule and launch them, make them easy to access or sell them online.
All of the app developer WordPress themes compiled in this article are created with the end user's success in the developers' mind. It means that each template will deliver a fully fledged layout that it simple in usage but highly productive.
Additionally, those app developer WordPress themes are loaded with first class features and elements which you can easily leverage to craft your unique and personalized website in no time.
Mobile App theme is the best combination of features, colors, customization options, and demo which comes with high-resolution images that look good on every device and browser. Without writing a line of code you can work with this theme very easily.
Mobile App theme is capable of traffic loads and a large number of audiences. Thus the template is mobile-friendly, user friendly, and multilingual too. It supports various plugins so that you can add new functionality to your website with less or no effort.
It is provided with different sections so that you can add details on upcoming projects, customer feedback, portfolio, gallery images, and much more.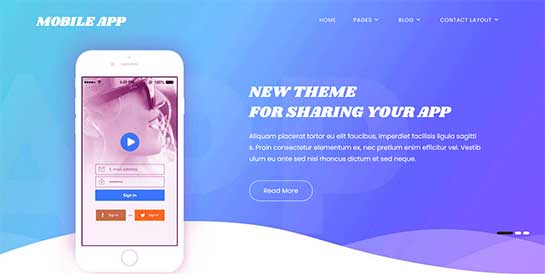 Mobile App is one of the most responsive and modern templates from the list of app developer WordPress themes.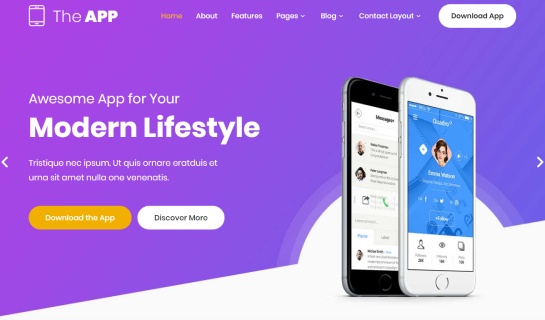 The App Pro is one of the niche specific and highly versatile app developer WordPress themes to market your apps and software programs, online courses or IT services.
With clear and totally presentable layout, this template comes balanced between simplified usage and feature rich framework.
It means that you can control the look and feel of your profile with less effort and in less time.
The preloaded package of the theme includes lots of shortcodes, color controls and Google approved fonts management, widget friendly sidebar and footer areas to arm with the needed content, posts and links, portfolio gallery for showcasing your works and much more.
With easy to follow documentation and clear coding at its core, The App Pro is also plugin compliant and thus can grant you with a totally manageable commercial platform to sell your digital products and more.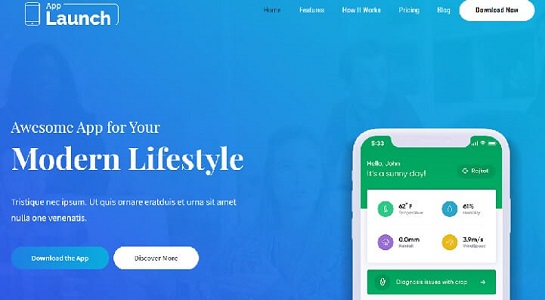 SKT StartUp Pro has all the prerequisites to be the best foundation on which any technical startup company or developing agency can build its website.
Serious looking and amazingly customizable, SKT StartUp Pro comes with preloaded demo content that needs to be replaced by your own texts and images.
You are also responsible for the serviceable color gamut of your site since you have access to color controls.
Built and stylized in compliance with the latest trends and approaches of the modern digital world, this website building solution is fully HTML5 based and CSS3 stylized for you to enjoy the secure and pixel perfect operation of your site.
It is also seamlessly responsive and generates sleek navigation so that nothing will hamper the excellence user experience of your website visitors.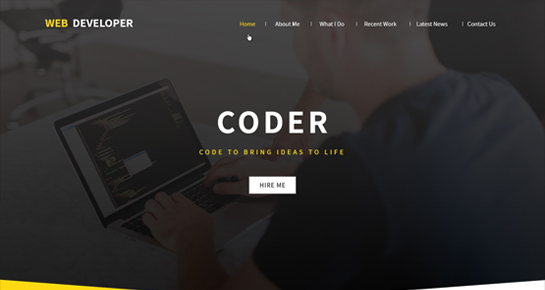 Web Programmer is a great theme that makes sure your online business looks great and offers related services in the best possible way. You can make your business live in just a few minutes by importing the demo content.
No need to invest a lot of money in hiring developers or designers. The premade content will make sure your business motto is able to understand by every person. However, the demo content of the Web Programmer is minimal, clean, and responsive at the same time.
The demo content works best for web development or design agencies. To enhance the functionality of your online presence you can add an appointment plugin, SEO plugin, counter plugin, timer plugin, pricing table plugin, etc.
The integration of third-party plugins will make sure your website runs smoothly and effectively on the web.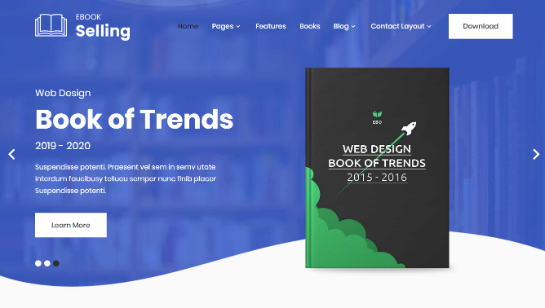 From e book authors to app developers, from private consultants with their books to programmers to present their portfolio, anyone will appreciate the advantages SKT Launch Pro offers.
As one of the top rated app developer WordPress themes that is also cost effective, SKT Launch Pro provides you with all the favourable conditions to create and launch your digital products and serve them to a large audience immediately.
This wonderful and inherently dynamic template unites visual excellence with functionally advanced operation.
Responsiveness and cross mobile compatibility, SEO friendly coding and SMO integration are also among the essential characteristics this modern template shares.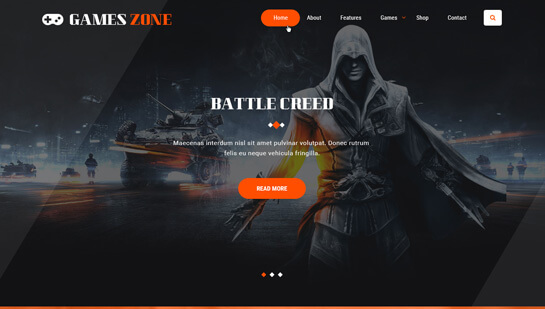 Game Developer is the one that delivers a complex solution for a development agency website, app and software developer blog, digital or design agency, game developer profile, app store or any other commercial activity online.
This visually stunning and technically hassle free, totally controllable and easy to modify template incorporates cross mobile and browser compatibility with 100% responsiveness, several blog layouts to choose from for successful blogging purposes and easy to manage homepage areas for content dissemination.
With Game Developer you are encouraged to earn extra money through advertisement and affiliate links since the theme is made for such purposes as well.
Plugin compatibility tests have been performed to approve this theme's functionality with relevant plugins and extensions, additional shortcodes and commercial solutions.
Among them are page builder and visual composer plugins, translation and SEO, social sharing and slider ones, etc.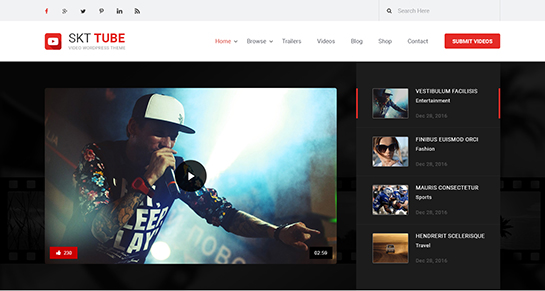 Ready to serve the needs for app and game developing industry, programming and developing practices and other digital and IT related activities, SKT Tube is one of the dynamic app developer WordPress themes at present.
This video based website establishment tool comes with professional support of video materials so that you are free to share your video tutorials and lessons, working process or whatever you live via the homepage video slider and not only.
This top quality app development and showcase website template is also loaded with dozens of shortcodes making your virtual life a lot easier when it comes to tweaking to the theme's core for content setup, customization or functional changes.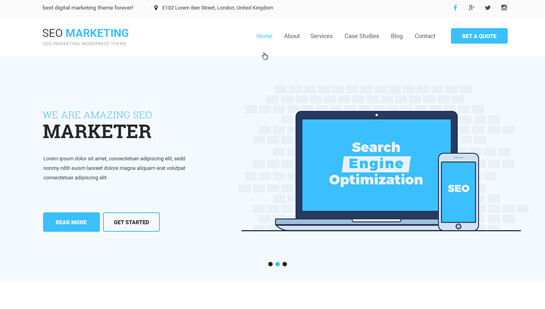 The complexity and multiplicity of SKT SEO is smartly delivered in a simple and easy to use solution in the form of SKT SEO.
With clear and legible layout and convenient content zones, SKT SEO is suitable for any kind of digital profile creation, from SEO and marketing activities and offers to app and mobile developing agencies, experts and more.
This easy to control and fun to customize template lets you handle widgetized areas such as footer, header and sidebar areas are and present them with any secondary content, quick links, social media icons, contact details and more.
The theme's sections are also convenient for showcasing your business profile, staff and its members, services, portfolio and much more to satisfy the most demanding website user's needs.
With the increase in the number of smartphones the websites owners now demand apps which makes their business more accessible. The enterprises are looking for out-of-the-box apps which provide a modern outlook and interface to the users.
There are so many demands that it becomes overwhelming for the app developers. But if you have a business which can cater to all these demands then there is no reason for you to hide.
Create a website using App Developer WordPress Themes that will help the visitors understand the services offered. There are many developers out there and thus the competition is high.
The visitors will be converted into customers only when they are convinced with the quality of services but even before that they check the website and if they feel that it has clarity on work then they will find it easy to use the services.
This is true for all business and service provider to use the website as the prime source to connect with the clients.
While choosing the App Developer WordPress Themes think of the features you wish to add to the website. This could be an important decision and here is a list of few highly important features which must be included.
About the team: When you want the customers to know about your business the best way to build this trust is with the help of introducing the team.

The dedication of the team and their expertise should be mentioned so that the clients will understand who they are dealing with. Let them know what the team has achieved with reference to reviews and ratings.

Protection: When you are talking about client's information and work then make sure that all safety precaution is taken and mentioned on the website.

This will ensure them that whatever information they provide are safe with you. Most clients are worried about their confidential information's security and look into the website to check whether safety measures are in place.

Data Backup: Let the clients know that the website has continuous support and takes care of the data which is with them. Regular back up in such case ensures that the information is safe and in case of any mishap not everything is lost.

Most app developers do not provide this security to their clients which become a point of concern. This is must that the website provides all information regarding the process and makes the clients aware of the process.

Support: This is a must for every service provider and the clients also wish to know about the after job support. Retaining clients become easy and with continuous support, the service is also made better.

If there is a unique selling point mention it here. Talk about the service and the technical process followed. Allow the clients to gather as much information as possible before they make the final decision.
When the website is being finalized there will be a lot of things which will attract your attention choose wisely and pick features which are an absolute must for it.