People have been RSVPing to events for over seven decades now. The first recorded use of an RSVP was in 1953. RSVP is an abbreviation of the French saying "répondez s'il vous plait," which means "respond please." When you send an invitation to someone and want to know who will be attending the event it is important to add an RSVP section.
A lot of invitations are sent online these days. If you run an event management company then you must be sending multiple invitations online through your website. You need to add the right WordPress RSVP plugins to your WordPress website to extend this functionality.
Here are some of the top ten RSVP plugins that you can use and trust without any problems.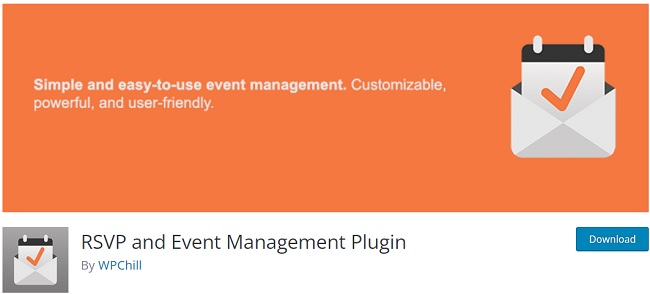 You have creates the perfect event but need a plugin to manage the attendees. This plugin is the perfect tool for the same. The developer of the plugin creates this tool to manage their wedding invitations.
It can be used in various events like business seminars, weddings, community gatherings, birthdays, and more.
With WordPress, you always have the option to customize the front end of the page. Adding this event just makes it easy to manage the information about the attendees while you get to customize the invitations with WordPress Dashboard.
Features
Open registration or private attendee list
Custom Questions
Import contacts
Attendees can add extra guests
You can add a passcode to RSVP
Effective attendee management
Email notifications whenever someone RSVPs to an event.
This is one of the free WordPress RSVP plugins that allows you to sell tickets online. You can sell tickets to any event and get RSVPs in return. It will be easy to get a head count of the number of attendees with the help of the plugin.
It is extremely helpful if you are hosting some sort of virtual event. You can integrate this plugin with your Stripe account or your PayPal business account.
A lot of people use credit cards these days and connecting with Stripe allows you to accept credit card payments. Now your event is open to accept revenue from different payment sources. It is more accessible for the same reason.
This is a free event calendar plugin that is trusted by big event creators around the globe like UPS, Harvard University, AT&T, Avon, Stanford University, and more.
It allows you to virtually create, manage, and share your events to anyone throughout the globe.
This plugin is considered one of the most advanced calendar plugins. You can use it to sell tickets to events and scale up your business.
It includes modern features, simple UI, and incredible features. That is why this plugin was able to attract the attention of thousands of users.
Related Post: Best 14 Event Management WordPress Themes for 2023
You no longer have to hire a developer to create a responsive contact form. Use this plugin to create an intuitive contact form. All you have to do is install the plugin, activate it, and then edit it.
You get multiple pre-built form templates. It is the perfect choice for you to add this form to your event's website. Those who want to RSVP to the event can fill in the form.
You have to make sure that you make it clear that filling out the form is necessary to send an RSVP to the event. When you install this plugin you do not create any hassles as this is a single contact form plugin.
The name of this plugin alone is enough to suggest its functionality. It is another extraordinary event management tool. You can accept payments from PayPal or Stripe. You can handle scheduling, event marketing, and RSVP tracking with this tool.
The brilliant thing about this tool is that it enables you to integrate components of email marketing. When your event is reaching its final date, you can easily send people to remind them of the due date. It is also extremely easy to track those who have already confirmed their attendance.
This plugin is simple as it easily allows you to embed an RSVP form on your web page.
Your guests can now confirm their attendance through a WordPress web page. You don't have to contact them endlessly to confirm their attendance. All you have to do is send them the link of this RSVP page.
Your guests will not have to leave the website to confirm their attendance or purchase event tickets. This one plugin makes everyone's life extremely easy. You have enough to handle when you are managing a big event! Plugins like this will help you automate tasks.
This is one of the perfect WordPress RSVP plugins because it helps you run and manage events through your WordPress site. Running an event management company is not easy as you have to create new events regularly. Having this plugin means that you have a support system.
You can integrate this plugin with WooCommerce. Know what that means? You will be able to sell tickets to online and offline events. You can integrate this plugin with Zoom which will help you launch webinars.
This is a trending plugin that many agency owners, solopreneurs, marketers, and event organizers are using.
Have you ever used calendly? It is a simple and easy-to-use tool, right? People can schedule a date and time for an online call. This WordPress plugin takes the same concept but now you get to add those elements on a WordPress web page.
It is extremely easy to create new events. All the users have to do is select the date and time.
Apart from the main calendar, you can also add a mini calendar on the sidebar. If you are not satisfied with the functionality and want to add high-tech features then it is extremely easy to add custom shortcodes.
BookingPress is an amazing appointment booking plugin. If you run a busy organization and want to know all the appointment information before then this is the right choice.
You can also use this plugin and add it to your event RSVP page. Those who are attending the event will have the option to book an appointment.
Whether it is a big enterprise, a small business, or an individual using it. This plugin always provides the same mind-blowing functionality.
It has an amazing UI and UX. Other than that, it is also extremely easy to integrate the plugin with your website.
You can collect and manage event registrations with a customizable form. This plugin helps you create a customizable form along with an email template.
Are you already overwhelmed with the event planning? You have to manage catering, programs, location, etc.
Why should you worry about how people successfully register for the event? Create a WordPress RSVP page and customize a registration form with the help of this powerful plugin.
One important thing to note is that before you start working on creating an RSVP form with this plugin. You need to install the parent plugin, The Events Calendar. Don't worry, both the plugins are free.