Genuine reviews on a website play a crucial role in influencing the choices of anonymous web visitors. Today, most webmasters are developing review websites to boost their accessibility and visibility for their targeted web visitors and search engine platforms.
If you are a WordPress user, then you can easily add a review system to your website, without even adding a single piece of code.
WordPress offers a host of robust review plugins for free to help you add a review to your site in minutes. But for better results, you need to choose the best plugin that can help you generate more leads for your business.
Here, in this blog post, I've listed the seven best free WordPress rating plugins that are armed with advanced features that will take the usability of your site to a higher level.
Free WordPress Rating Plugins for Adding Reviews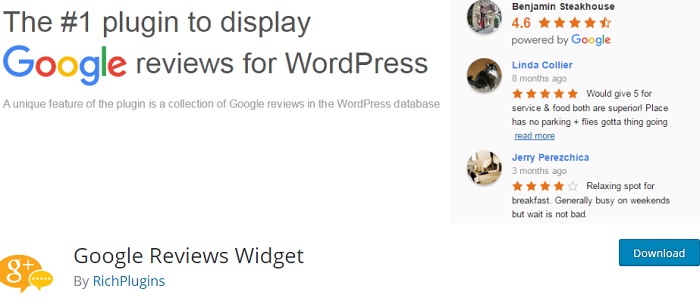 The latest version of the Google Review Widget is 1.8.2. The last update was done 1 month ago and active installations are 50,000+. Required WordPress version 2.8 and above. And tested up to 5.3.2.
This plugin is a WordPress rating plugin. It will help you to display your Google business review in the sidebar widget of your website.
The best feature of this plugin is that it will save all Google reviews in the WordPress database. The plugin is very easy to use and available for free.
It is optimized with the SEO standards.
All Shortcodes are supported with the plugin. Page builders like WPBakery, Page Origin, Elementor, and Beaver Builder are supported with it.
If you want more extended features of this plugin for your business then you can make use of the Business Version of this plugin. In the business version, you will get a powerful collection builder, Google Trust Badge, Google Rich Snippets, etc.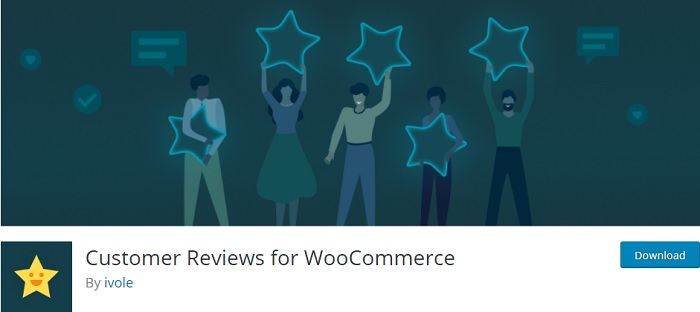 The Customer Reviews for WooCommerce plugin is created by ivolve. The plugin was updated recently and the current version is 3.9.2. A total of 10,000+ active installations have been done till now.
It supports the WordPress version 4.5 and higher. Hence tested up to 5.3.2. The plugin is available in 3 languages that is English US, Norwegian and Spanish. Customer Reviews for WooCommerce is another best WordPress rating plugins.
This plugin will assist you in getting more sales and revenue with social proof. You can encourage your users to leave the positive comment on your blog which will improve the conversion rate.
An automatic review reminder is set up with this plugin that will remind your customers to leave a comment or review on the product they purchased.
Reminders will be sent via email. In short, this plugin is best to enhance the customer reviews. Able to import reviews. Support to integrate with Google Shopping.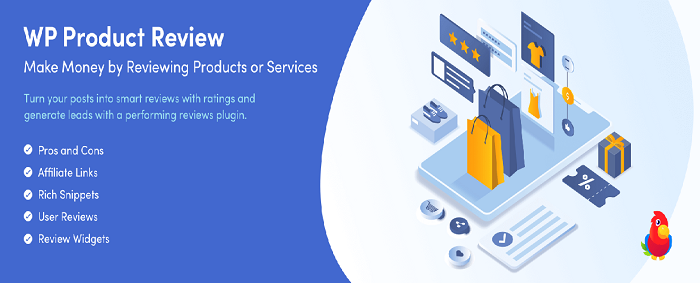 WP Product Review Lite is a WordPress rating plugin. That will assist you in communicating with your customers.
You can showcase your website reviews in an easy way. This will help you to produce more profit by adding some navigation buttons to it.
This plugin is supported with the rich snippets. Each field of this plugin is customizable by your end. A link is provided to view the documentation in detail.
By visiting the plugin options page you will be able to activate or deactivate any of the buttons or can modify any color.
In the premium version, you will have access to the shortcodes, comparison table, rating icons, support, and updates for 12 months.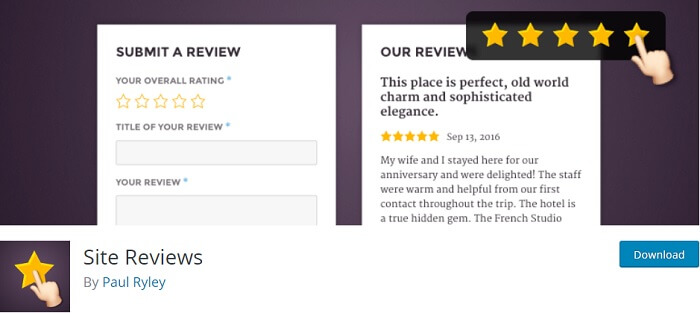 Site Reviews is a WordPress rating plugin. With the help of this plugin, you will be able to showcase some positive reviews on your website or a blog. This plugin is very handy in use.
You will have permission to access the shortcodes, blocks, and widgets as you want. You will be able to restore and back up all your plugin settings.
This plugin is very easy to set up and implement. You can assign the reviews to a product, post, and page. Site Reviews supports multilingual features. Hence polylang and WPML plugins are compatible to use.
Active installs: 1k+
User rating: 5/5

WooDiscuz is a robust review plugin, designed especially for WooCommerce websites. It allows your potential customers to discuss your products and also ask pre-deal questions. It also adds another discussion tab next to the Reviews tab.
With this plugin, you can give a rich user experience to your visitors by providing them the ability to talk about your products directly on your site. Users can vote for comments and share your products.
Related Post:Customer Reviews and Testimonials Plugins for WordPress
Active installs: 300+
User rating: 5/5
Ultimate Blocks is a Gutenberg Blocks plugin, specially designed for bloggers and marketers. Currently, it has more than 15 custom Gutenberg blocks.
The unique block of this plugin is Review Block. It lets you add an attractive review box to your blog posts. You can add rows of review criteria with star ratings. The cumulative star rating will be calculated automatically. You can also edit the title of the review, author name, summary, and a call-to-action button.
The great part of the block is, that it's schema-enabled. That means you can show star ratings in Google searches by using this plugin.
Active installs: 2k+
User rating: 4.9/5

Good Reviews is a feature-rich WordPress review plugin that helps you add reviews and testimonials to the posts and pages of your WordPress site.
The plugin makes it easy for you to showcase reviews on your posts, pages, and widgets by making use of Schema markup. This feature lets you make your site more interactive and friendly to Google and other search engines.
Even, you can embed quality pictures of your reviewers and link their companies to your posts to boost the credibility of your reviews. There is also an option to display a single review or a bunch of reviews that you want your visitors to see.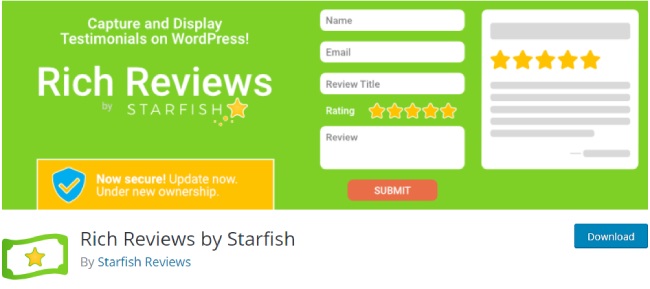 Active installs: 1k+
User rating: 4.8/5

Rich Reviews by Starfish is a straightforward plugin for WordPress. It offers a ton of advanced features to simplify the reviewing process on your site.
With the use of this plugin, you can save a lot of time and effort. You just need to provide the ISBN and the book review will automatically add a title, author, and cover photo on your behalf.
Even, you can add custom fields to your reviews to make them more flexible. This feature will help you review movies, TV, and music shows in minutes.
You can use this plugin to improve the flow of web traffic on your site. It is jam-packed with all the necessary features that will help you achieve the desired goals with ease.
Active installs: 2k+
User rating: 4.6/5

The Judge. me Product Reviews for WooCommerce plugin lets you display Amazon.com client surveys of specific products that you choose.
For this, you need to be a member of both the Amazon.com association program and the Amazon.com item publicizing API with the aim of using this plugin.
With the use of powerful shortcodes, you can easily display your client reviews for a specific Amazon product in minutes. Plus, style your survey iframe from the shortcodes, via custom CS, or by integrating a responsive theme.
You can add the "Amazon Reviews" widget in the place or in addition to the shortcode. It also allows you to grasp reviews from Amazon International sites as well.
Active installs: 40k+
User rating: 4.3/5

WP Customer Reviews is an incredible WordPress plugin that enables you to create a specific page on your site to generate client testimonials for your business. It simply facilitates your web visitors to leave business or product reviews within a few clicks.
And the best part is that you can decide which reviews appear on your site – all thanks to its submissions moderation.
It also offers some powerful shortcodes that will help you add reviews and review forms on any page or widget of your site on the fly. Plus, it comes up with various anti-spam measures to protect your site against automated spam bots.
Active installs: 1k+
User rating: 4/5

The plugin lets you add two different audit shortcodes- one to display your surveys, and the other to show off an audit frame that allows your visitors to submit reviews.
In addition to the Ultimate WordPress review plugins, it offers a host of super-easy options that allow you to edit review ratings and scoring, embed review categories, require login and email confirmation, and change how surveys are displayed.
Active installs: 80k+
User rating: 3.7/5

If you want to create your reviews, then WP Review will be an ideal option for you. It offers you multiple options for your review scores.
This is a responsive WP tool that comes with inbuilt Google Rich Snippets support that lets you show off your reviews in an interactive manner.
There are a ton of exciting features and customization options that will let you tweak the color, position, and other aspects of your review system with ease.
It also offers a tabbed widget to let you display the most popular reviews of your site to your potential visitors.
Conclusion:
All the WordPress rating plugins mentioned above in this blog post are reliable and customizable. These plugins will revamp the look of your review posts in minutes. You can use the most suitable one to add reviews to the web posts and pages of your WordPress site.
Author Bio: Tracey Jones is a professional WordPress developer for a leading WordPress plugin development company called HireWPGeeks Ltd. Apart from this, she is also a serial blogger with a strong passion for writing information-rich blogs and articles about WordPress.
The popularity of any website is dependent on how the users find it. Business websites take a lot of effort to ensure that the visitors get to the website and they find it relevant.
The websites are thus created with so many functionalities that just ensure that the experience is enhanced. The business website wants the visitors to say good things about the website which will gain them more visitors and customers.
Now when we are thinking about a website and creating a buzz around it then the best way to do it is by using comments. The business websites that have great reviews from the random people who have used them have a great brand.
There are so many websites that are creating review websites just so that their accessibility and visibility are enhanced.
If you have a website with WordPress and you want to add a plug-in then it is an easy task. You do not have to bring in a lot of change and you can simply add a WordPress customer review plug-in using guided steps.
This is a great source for non-technical users who do not want to get involved in coding. These comment sections can be added without having to write a single code.
There are a lot of plug-ins which are available for the users. These robust reviews can be added in no time and create an impact almost immediately.
The user can go through the list of the most popular WordPress rating plugins which is available by WordPress and choose the one that suits their needs.
The WordPress customer review plugin is a very popular one amongst them is WooCommerce Comments which is a popular one for business websites.
The websites that deal in products and sells thing online find this form useful. You can add comments suction using the plug-in which allows the customers to leave feedback or review the product.
If there are any questions then the customers can use the same platform to ask questions which creates more awareness about the service and the product in question. This is a great way to provide a great experience to the visitors and give them a platform to discuss.
Another great one that is very popular is good reviews. This is a premium service that adds testimonials and reviews to the pages or posts on the website.
This is a great way to make the website Google friendly and highly interactive. This is a popular way to gain points for the Google search engine as well.
The users get to choose to showcase the reviews either just one or multiple as they please to be added to the list.
If you want the website to work well then the best way to make sure that the visitors feel that they are a part of it. The best way to let them express themselves is with the use of reviews.
The immediate and appropriate response creates a positive image of the website and at the same time keeps the visitors connected to it.
If you have an online business and looking eagerly for ways to boost your profile, then you need to check out some of the WordPress plugins for adding reviews.
A WordPress review plugin page featuring reviews posted by other customers can play a pivotal role in influencing new users who have landed on your page.
Remember how the old "word of mouth" worked wonders with the Cola giants when they started their operations early?
Well, the same principle except that these reviews would be posted by real customers and in real time which makes it all the more important for your website to feature a review page.
If you are developing certain key products and services and looking to market them effectively, then your website must feature a review page.
The reviews featured on this page should enable your prospective leads to get a good idea as to how good your product is so that they can make an informed decision.
So if you are using WordPress, then you can set up your review page in a matter of minutes. All you need to do is to check out some of our WordPress plugins for adding reviews and follow the process as listed, to set it up accordingly.
Just remember that there are many types of plugins available for adding review pages to your website.
Some feature a simple template that will enable users to post their reviews on certain products while others enable users to post pre-purchase questions as well.
This, in turn, should help you to interact with prospective customers and get the conversion rates to shoot up.
Setting up the WordPress rating plugins page should not be hard, all you need to do is to check out the various plugins and read the reviews for the same. Once you have selected the plugin all you have to do is download and install the same using the FTP server.
You are not required to do any coding, and the whole process should be automated enough that your review page should be ready in a matter of minutes.
Once you have downloaded the plugin and installed the same, you will need to activate it. And in the process of activating it, you may want to check out the various options it lists and you can use the same to tweak your review page as per your preference.
The good thing about using plugins to set up review pages is that these pages are easily indexed by search engines as "reviews", so when a user posts an actual review on your review page, it should get better visibility and as a result, better traffic online.
Most plugins are free and while there are a few that do charge a small fee for additional features, you may want to check out the free ones first.
Soon, with your review page all set up, you should be able to notice a sizeable increase in traffic and online conversions, and that's exactly why you need to get these plugins installed as soon as possible.