Video content is in huge demand these days. If you have your own website, then make it video-friendly.
One aspect of video-friendly websites is enabling the admin to start a live stream. A live-streaming site helps you talk to your followers. Anyone on the internet who is at your site can view the live stream.
It is an excellent opportunity to talk to your site visitors genuinely or announce a launch. Most site admins want this feature on their websites now.
If you use WordPress to manage your site, you can easily add this feature using a plugin. The problem is that there are multiple options. We have highlighted the top live-streaming plugins you can use.
Most WordPress live streaming plugins help you connect your site with your YouTube channel. Now whenever you are going live on YouTube people will be able to view it on your website too. Embed Plus for YouTube is one such plugin that helps you embed and customize a YouTube gallery on your website.
The standout feature of this plugin is that it helps maintain your site's performance by using lazy load tactic. A lighter version of the player is loaded until it is clicked. After that the plugin loads the actual YouTube embed.
This ensures that heavy videos on your site do not slow down the speed. A good loading time is essential because it ensures that users do not leave your site within the first ten seconds.
You may be wondering it is great that I can embed YouTube videos to my site but how can I edit my site after those videos are added? Get ready for this news. The plugin is compatible with the Gutenberg block editor. This means that the same drag and drop features can help you add your YouTube videos to your site.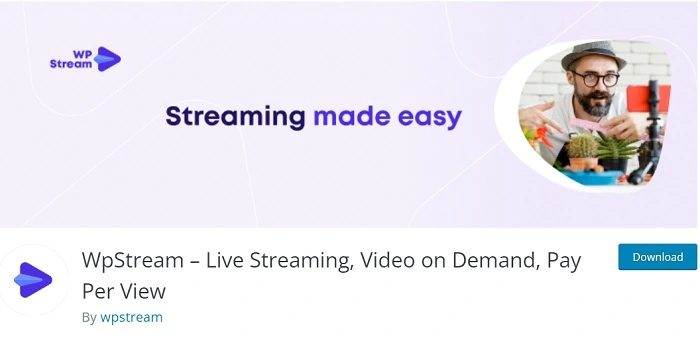 WpStream is the only video streaming solution on WordPress that is designed to help you create your video streaming website without adding any load to your hosting server.
WpStream makes it possible for you to stream live content directly. When you take control of your live streaming, you can maximize the use of video content.
Get ready to go live on your website with the help of any device. You built the audience but this device will help you interact with your audience.
You can even monetize your live streams with the help of WooCommerce. Mix your business with live video streaming and watch those profits roll in. It is extremely to add your logo and branding elements to your live streams with the help of this plugin.
This awesome plugin enables you to start a live stream from various sources like a phone, laptop, and computer with a webcam.
You can display your live videos with a web player that has a chat option. There are many WordPress live streaming plugins but this tool gives full control of video content to the creator. You have full ownership of all the video content which is uploaded to your site.
You no longer have to depend on any third-party platform for your video content.
The video server used by this plugin is reliable and scalable. You can broadcast live videos using HTML5 in Chrome and Safari browser.
This plugin can be used on different web browsers and devices.
This is a dedicated video streaming player that will help you distribute the video content.
You can easily embed your live streaming into a web page using this plugin. It is extremely easy to embed HTML5 videos that are compatible with all popular browsers.
Your video plays automatically once a page is completely loaded. This ensures that your website loads at a good speed while still being able to host your online live streams.
You don't have to know programming to start a live stream on your website. All you have to do is install this plugin and start embedding videos.
The plugin is compatible with the latest version of WordPress. To ensure that it is always functioning optimally you should keep updating it. While the plugin is perfect but if you want advanced options you can add shortcodes to extend the functionality of this tool.
Ever thought how good it would be if your salespeople could talk to your customers while they were browsing your products online? Well, now this is no longer a distant dream. Use this plugin to enable your salespeople to guide your customers with the help of a live stream.
This plugin enables store owners to provide a comprehensive experience. You can reach more people with your online store while providing them with the experience of a physical store.
Sell online but provide a personal touch to every customer by utilizing this plugin. This feature clearly sets you apart from other e-commerce stores. You are providing a better customer experience by using this tool.
Your customer retention rate will skyrocket just because you are one step ahead of the competition.
Now you can go live on YouTube and ensure that YouTube live is also covered on your site. WP YouTube Live is a plugin that helps you do this with a shortcode.
You need to set all your YouTube live streams to be public otherwise this will not work out.
You also have to option to enable to auto-refresh to see if a live video is available. Although user caution is advised as this will increase the server load.
This is a great plugin for Youtubers who are looking to create a website for different reasons or for businesses that want to have a YouTube presence now.
It is amazing if you make an announcement to your audience all at once. This makes things efficient and streamlined.
There are a lot of WordPress live streaming plugins but this one is different because it allows you to live stream your audio to a WordPress website. In other words, your website will seem like a radio. That is why this plugin is named Radio Player.
Once you activate this plugin your website is ready to play any MP3 file. Now you can easily broadcast podcasts, radio stations, and other audio content.
This plugin makes your website video chat friendly. You can create a public chat room by utilizing this tool. This can be used by your sales team to clear the doubts of prospects by talking to them face-to-face.
You can have private two-way video calls which are protected. The plugin also has a match criteria which is used to match you with another video caller. It enables screen sharing so that your site visitors can share important information.
If you are looking to make a fun site then this is the ultimate plugin for you but you can also use this if you are looking to make a business site.
S3 Bubble is a company that provides media streaming solutions. If you are struggling to create content regularly then you can rely on this tool to help you. The plugin developer claims that you can save thousands of dollars from AWS by using this tool. The good news is that you can check the free trial.
Looking to create a site where you can host webinars regularly? Webinars contribute a lot to the sales of a product or service. You should enable your website to be webinar friendly by using this tool.
This tool helps you host live webinars on your systems and screen sharing is also allowed. You don't need to buy the premium plan of Zoom but you can install this plugin on your site.
Video shopping has become a trend these days and it gives you an edge over the competition. Sale Assist is a video commerce tool that helps you connect with your customers through video and give them a proper store-like experience through your website.
Engage with your customers to ensure that the sale happens. If your customers face any problem then they can simply face time your sales executives or you. After that, it is up to you to help them through the process and ensure that the sale happens.
Transform your website into a video streaming service by using this tool. If you are looking to start an ambitious project but don't have enough funds to invest in a coding team. Then you can invest in this tool for now and it will convert your website into a fast video streaming site.
You can add existing content from Vimeo and YouTube. You have different categories like movies, episodes, and short-form videos.
It is important to categorize the content so that your users can search for the right content. Starting a video streaming website is a brave endeavor but there is no better plugin to choose than this one!