Are you looking for the smartest help desk WordPress plugins to take your customer support to the next level of performance? We at SKT themes have already reviewed the content of WordPress directory for the best support ticket system or help desk WordPress plugins to narrow down your selection and save your time.
Thousands of businesses and companies are competing to win the attention and loyalty of customers and clients.
Doing this is not always easy, but exercising all the possible tools and technics to do it is what will bring more and more clients closer to your doors. One of such technics to rely on is a professional customer support and service.
A great customer support is not just about being polite to them. It's also about meeting their needs, being responsive to their requests and demands, saving their time, solving their issues, and generally, offering them an exclusively well client experience they could ever have.
If you are already online with your business or personal website, you need to think about the integration of powerful tool and plugins for making your communication with your client base more organized and time saving.
Well, help desk WordPress plugins and other relevant third party software are ideal solutions in such cases.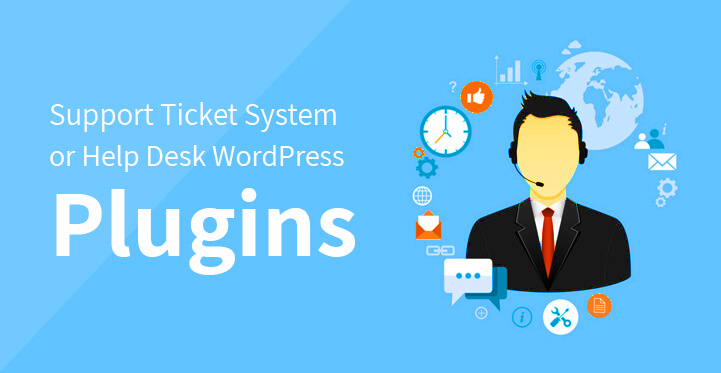 Whether you want to provide your website users with the most convenient helpdesks to direct their inquiries and questions, tickets and more, receive them instantly from the back end, connect your site with popular help desk systems and platforms.
Manage email notifications to keep the track of your client's demands all the time, be sure you can do it all with the best support ticket system or help desk WordPress plugins discussed below.
Knowledge Base is another most popular WordPress support ticket plugin for WordPress users. If you choose this plugin that it would be a perfect move to interact with customers and to maintain business relationships with them. The plugin comes with limited features that will satisfy your requirements to manage the customer relationship.
It also has some awesome design features to create a front end and backend as you want. This premium tool is completely customizable from everyone. Easily you can build custom fields so that you can gather the desired customer's information.
Customers will be able to request easily because it has a neat and clean user interface. It is very easy to configure just need to install, download, and activate the plugin.
The plugin comes with 2 licenses that give you 6-month support and future updates. One can sort and search the ticket based on custom fields such as priority, date, and department. Customers will have the authority to select the concerned department and ticket priority.
You will get a regular license at $49 whereas you get an extended license at $200. The plugin was updated last month, but it not compatible with the Gutenberg editor.
Features:
It is compatible with chrome, safari, firefox, IE9, IE10, Opera, Edge, and more.
Supports the WordPress version 4.7 and above.
Shortcodes compatibility.
Uses categories.
Customizable permalink.
Widgets.
Responsive.
Support for nested categories.
This is another most effective WordPress support ticket plugin. This plugin is a little different from other's support plugins because it has the feature of live chat, video chat, and voice chat.
This plugin is very helpful as it assists you in managing the ticket system plus it provides a number of options to communicate with the customers when needed. To make your business more valuable it has advanced reporting features.
Without any hassle you can customize the look of this plugin with the help of a visual composer page builder. Without adding any extra software on your website, customers can use video, and voice chat.
Chat support will help you by giving you proper information about your customer including their IP address, location, and more. This plugin is available for free and a premium cost. The regular license comes in $45 and extended license comes with $399 with free 6-month support and updates for the future.
Features:
In real-time you can even track your customers or the website visitors.
The plugin is a complete solution for voice chat, video chat, messages, live chat, and ticketing system.
Live chat and video calls are added on the plugin with the help of Skype and G-Talk.
The plugin is best suitable for every browsers and device.
Multilingual friendly, thus it supports different languages.
Fully responsive.
Social integration toolbar.
Advanced reporting feature.
Catchers Helpdesk is the top most helpful WordPress ticket system that permits you to replies that are common so that you can forward it to other customers to save your time and efforts.
This feature is very helpful to make your work faster and provide customer support in efficient way. Free version of this plugin is sufficient if you have just started your business online but if you would like to extend its features then without any issue you can jump to any add-ons of its.
These add-ons will help you by providing some premium features to extend your website functionality. Premium plugin starts with $39. You will get complete access to setting option to customize plugin as you want.
Features:
Front-end ticket submissions.
Email fetching.
Allow users to upload file attachments.
Reply templates.
Client management.
Filter tickets.
Select default person to assign tickets.
Categorize tickets.
Help scout is very helpful WordPress ticket system with different mailboxes you can make your team organized for shared email address. You can also keep a track on your team's performance with the help of WordPress dashboard.
Help scout is integration with more than 50 plugins so you can also use any third party plugins with the help scout system. It will also work perfectly with the live chat plugins plus the live chat will get stored on the customers profiles that is personalized.
If you think that the layouts of help scouts are not suitable to your website design then you will get abundant of option to change it. Plus you can an option for voicemails and phone calls. More than 50 voicemail services are permitted to use. Also available with phone call logs.
You don't need to waste your time on writing code because you will get access to more than 75 keyboard shortcodes.
Features:
Shared inbox.
Reporting on real time.
Integration of many tools.
Live chat integration.
In-app messaging.
Customer management.
Knowledge base.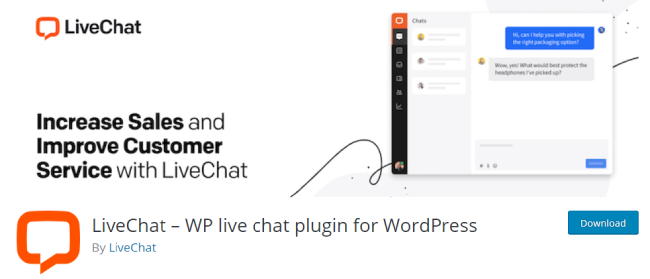 LiveChat is a WordPress ticket system the main motto of integrating this plugin to your website is to provide better customer service and enhance the conversion rate. This plugin is used by 27000+ users.
This plugin is also used by popular companies such as PayPal. This plugin has very easy setup process. It helps you to communicate with the customers instantly.
LiveChat comes with many features including proactive chat invitation. With the help of this feature chat operator or a support agent can send personalize messages automatically?
Plus at the same time different live chat session can be initiated to make customer service more efficient. With this plugin feature i.e. building ticketing system, you can provide 24/7 customer services.
Features:
Instant connection.
Easy and simplest way to provide customer support.
Enhance the conversions and sales.
With live chat you can increase overall sales and order value.
24/7 customer support.
Visitor tracking.
Chat invitation.
File upload support.
One of the best ways to integrate awesome helpdesk ticket system into your WordPress powered website is called WP Support Plus Responsive Ticket System.
From free version to full documentation, paid add ons, professional technical and pre sale support, everything important is wrapped up in this handy plugin.
Some of the basic features of free version are as follows:
Unlimited tickets and agents support
Possibility to submit tickets on behalf of the others
Guest ticket
Support button
Custom fields
Responsive design and coding
Possibility to add note to the support team and many other useful features.
Email piping and notifications, stick and export tickets are among premium add ons you can have along with this plugin.
Awesome Support is another recommended option in our list of the best help desk WordPress plugins. It's the output of many years of hard work and improvement of experienced WordPress professionals and now you are lucky to have access to it in its best version.
You can check the demo version of this plugin where you will find many practical options, like login as Admin or Agent, Submit Ticket as a User, Guest login, login and register.
The features you are going to find with this pro quality plugin are many. Complete ticketing system is processed to enable your web users to submit their tickets quickly and you to receive and respond to them from the backend. It also comes with Zendesk, Helpscout and Ticsky support to import tickets from those platforms.
Another great WordPress ticket system plugin worth considering is Zendesk Support for WordPress.
Actually, Zendesk is a popular helpdesk and customer support system that can be effortlessly connected to your WP site with the help of this plugin.
What this plugin actually does for your users is eliminating the need for them to switch their accounts for ticket submission.
They will be provided with Single Sign on, meaning that whenever a user tries to login to Zendesk, the plugin will check whether the latter is already logged in to your WP website. If yes, then that user will not need to register on Zendesk to get in touch with you with his tickets.
Additionally, you can have Zendesk support web widget anywhere you need on your site's page so that your web users can quickly chat with you, ask questions, submit tickets, etc.

JS Support Ticket is a plugin that smartly unites easy to use and lightweight nature with high quality and effective tools and features.
The free version of this user optimized plugin makes front end ticket creation for all your visitors and guests easy, enables the admin of a website to create tickets on behalf of the users, offer useful filters on tickets both for the user and admin, etc.
Email notification can also be enabled for receiving email whenever a new ticket is received, edit tickets any time you want, change the order of ticket fields, etc.
One of the feature rich and fully fledged upport ticket system or help desk WordPress plugins you can find currently is launched as uCare.
Arming your WordPress site with this amazing help and support toolkit is going to be one of the reasons your web users and business clients are going to love you. Build customer trust with the help of uCare and prove you care for every single website guest you have.
uCare is tested with hundreds of WordPress themes and has never resulted in any issue with them.
Hence, you can choose this plugin without any hesitation and be sure your users can submit tickets both from their PCs and mobiles, as u Care is 100% responsive.
You will be amazed by the diversity and avalanche of features this support ticket system is going to grant you with. First and foremost, this plugin is very light and fast in performance which means that the overall speed rate and operation of your WP site are not going to suffer at all.
Further, multiple users and groups are supported like support Admin, support Agent and support User, work on more than one ticket is possible at the same time, as well as notification system is perfectly working.