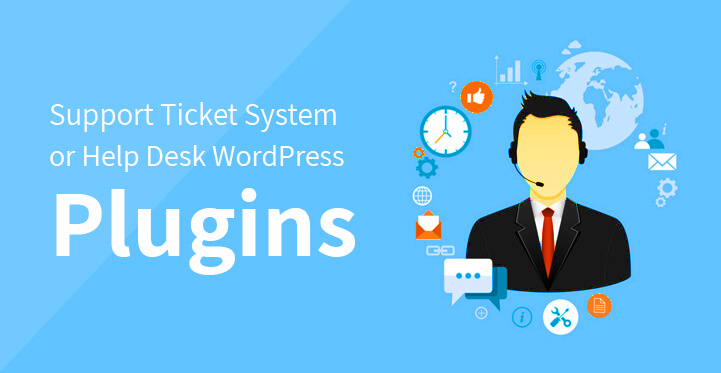 Are you looking for the smartest help desk WordPress plugins to take your customer support to the next level of performance? We at SKT themes have already reviewed the content of WordPress directory for the best support ticket system or help desk WordPress plugins to narrow down your selection and save your time.
Thousands of businesses and companies are competing to win the attention and loyalty of customers and clients. Doing this is not always easy, but exercising all the possible tools and technics to do it is what will bring more and more clients closer to your doors. One of such technics to rely on is a professional customer support and service.
A great customer support is not just about being polite to them. It's also about meeting their needs, being responsive to their requests and demands, saving their time, solving their issues, and generally, offering them an exclusively well client experience they could ever have.
If you are already online with your business or personal website, you need to think about the integration of powerful tool and plugins for making your communication with your client base more organized and time saving. Well, help desk WordPress plugins and other relevant third party software are ideal solutions in such cases.
Whether you want to provide your website users with the most convenient helpdesks to direct their inquiries and questions, tickets and more, receive them instantly from the back end, connect your site with popular help desk systems and platforms, manage email notifications to keep the track of your client's demands all the time, be sure you can do it all with the best support ticket system or help desk WordPress plugins discussed below.
1. WP Support Plus Responsive Ticket System:

One of the best ways to integrate awesome helpdesk ticket system into your WordPress powered website is called WP Support Plus Responsive Ticket System.
From free version to full documentation, paid add ons, professional technical and pre sale support, everything important is wrapped up in this handy plugin.
Some of the basic features of free version are as follows:
Unlimited tickets and agents support
Possibility to submit tickets on behalf of the others
Guest ticket
Support button
Custom fields
Responsive design and coding
Possibility to add note to the support team and many other useful features.
Email piping and notifications, stick and export tickets are among premium add ons you can have along with this plugin.
2. Awesome Support: WordPress Helpdesk and Support Plugin:

Awesome Support is another recommended option in our list of the best help desk WordPress plugins. It's the output of many years of hard work and improvement of experienced WordPress professionals and now you are lucky to have access to it in its best version.
You can check the demo version of this plugin where you will find many practical options, like login as Admin or Agent, Submit Ticket as a User, Guest login, login and register.
The features you are going to find with this pro quality plugin are many. Complete ticketing system is processed to enable your web users to submit their tickets quickly and you to receive and respond to them from the backend. It also comes with Zendesk, Helpscout and Ticsky support to import tickets from those platforms.
3. Zendesk Support for WordPress:

Another plugin supporting Zendesk is known as Zendesk Support for WordPress.
Actually, Zendesk is a popular helpdesk and customer support system that can be effortlessly connected to your WP site with the help of this plugin.
What this plugin actually does for your users is eliminating the need for them to switch their accounts for ticket submission. They will be provided with Single Sign on, meaning that whenever a user tries to login to Zendesk, the plugin will check whether the latter is already logged in to your WP website. If yes, then that user will not need to register on Zendesk to get in touch with you with his tickets.
Additionally, you can have Zendesk support web widget anywhere you need on your site's page so that your web users can quickly chat with you, ask questions, submit tickets, etc.
JS Support Ticket is a plugin that smartly unites easy to use and lightweight nature with high quality and effective tools and features.
The free version of this user optimized plugin makes front end ticket creation for all your visitors and guests easy, enables the admin of a website to create tickets on behalf of the users, offer useful filters on tickets both for the user and admin, etc.
Email notification can also be enabled for receiving email whenever a new ticket is received, edit tickets any time you want, change the order of ticket fields, etc.
5. uCare: Support Ticket System and Helpdesk:

One of the feature rich and fully fledged upport ticket system or help desk WordPress plugins you can find currently is launched as uCare.
Arming your WordPress site with this amazing help and support toolkit is going to be one of the reasons your web users and business clients are going to love you. Build customer trust with the help of uCare and prove you care for every single website guest you have.
uCare is tested with hundreds of WordPress themes and has never resulted in any issue with them.
Hence, you can choose this plugin without any hesitation and be sure your users can submit tickets both from their PCs and mobiles, as u Care is 100% responsive.
You will be amazed by the diversity and avalanche of features this support ticket system is going to grant you with. First and foremost, this plugin is very light and fast in performance which means that the overall speed rate and operation of your WP site are not going to suffer at all.
Further, multiple users and groups are supported like support Admin, support Agent and support User, work on more than one ticket is possible at the same time, as well as notification system is perfectly working.