Vito Peleg
Today we are going to list the interview of Vito Peleg from London, United Kingdom. He is the Founder of WP FeedBack. He has contributed his efforts and time to create a new home for WordPress community. His passion for WordPress field grew with each project.
Introduction
I'm the founder of WP FeedBack – A free platform designed to be the new home for the WordPress community. With unique tools that I always wish existed with the goal of helping all of us build better websites and grow our businesses.
WP FeedBack PRO is a platform that allows WordPress freelancers and agencies deliver project smoothly to their clients, visually.
Q. How did you come into your current field? Share a bit of the background?
A. I've built my first website on "Geocities" almost 20 years ago – Featuring my friends' skateboarding crew when I was 14 yo. Since then I've built more than 250 websites. Some for me but most for small-medium businesses, fashion brands and startups.
As a former touring (and broke) musician, I looked for ways to allow me to work while I was touring the world playing my RNR to thousands of people and the web was, once again, there for me.
I started to build websites for clients from the back of the van (and sometimes the odd broom closet) and my passion for the field grew with each project.
When the band finally broke up I moved from the van to a tiny room at home, then to a larger room with one employee sitting right next to me all the way to having my own agency with 12 guys on my team.
Even though I've had my share of experimentation between different platforms and building methods (I even gave Wix a shot for half a website), I fell in love with the WordPress ecosystem and the community around it.
Q. Have you ever been to any WordPress meetups or WordCamps? If yes did you learn anything useful?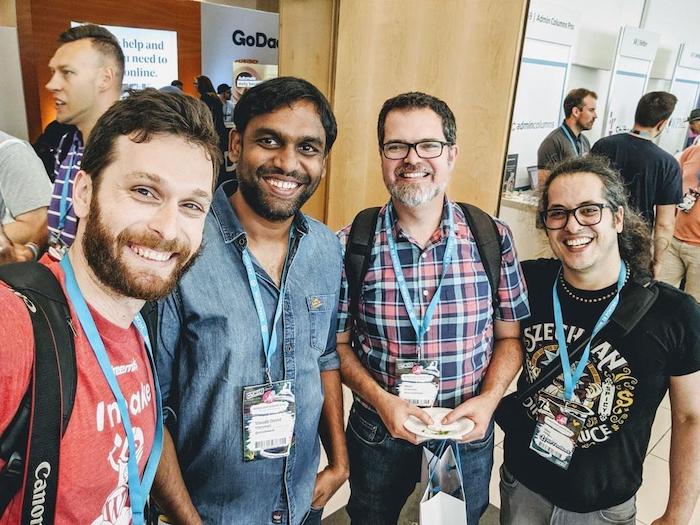 A. I have! as an attendee, speaker and sponsor.
Q. Whatís the most interesting project you have done to date in WordPress?
A. It was our biggest client project – We built a marketplace for interior designers, where users can collaborate with their designer of choice on customising their own home.
We incorporated Unity for 3D objects to give users a full design experiece without meeting each other.
We also incorporated 10,000 product through Woo that were integrated into the 3D feature so that once the design is over, users can buy the entire room (with items from 100+ different suppliers) with 1 click.
We worked on the project for 3 years being the digital partner for the client – It tool a lot of innovative thinking and WordPress allowed to test out ideas rapidly instead of building something for a year that no one end up caring about (which luckily wasnt the case here).
Q. What does your workstation look like?
A.

Q. What kind of tools/software do you currently use for your creations?
A. We're still using WordPress daily – Especially through our new free platform that takes what you know about BuddyPress to a whole new level.
Though now we also choose other tools and languages, frameworks and tools based on our expanding needs.
For example, our centralised PRO dashboard (allowing users to manage their entire network of websites from 1 place), is built with Laravel and React but we created integration through the REST API to connect it to our WordPress plugin.
Q. What interesting feature do you think you would like to see in WordPress and is currently missing?
A. Hmm, Better resource mangament at scaled up websites – Introducing new concpet like headless CMS is definitely the future as users are looking for fasters solutions.
Q. Out of the current plugins and themes which one do you like the most and why?
A. I'm a big fan of Gravity Forms and Toolset – During my agency days, these 2 tools alone saved me at least a few months of my life 🙂
Q. Which WordPress hosting do you use and would you recommend for your clients and others?
A. That's dependant on the needs of the client and the website – But if you can afford it, use Kinsta – That's my personal choice.
Q. Do you like/love what you currently do in WordPress?
A. I definitely do! Through my journey from a freelancer to agency to product, there were times that I wasn't satisfied with how my business and career was going.
But since launching WP FeedBack last year, it's been a true pleasure to come to work every morning.
A lot of it is thanks to the amazing power of the WordPress community – How they embraced us and how our clients support us through the growth stages, that can be a little sticky sometimes.
Q. What would you like to do in the future in the current field or somewhere else?
A. I came from the music industry so I got all of my needs of being a "rebel" through that 🙂
I am very happy where I am at the moment and WP FeedBack is my project for the next 10 years, so I remain focused and working toward our monthly, quartarly, yearly, 5 years and 10 year goals.
Q. Can you give us some reference for whom we should conduct an interview next and why?
A. Have a look here – I'm sure you'll see some familiar faces and I'm happy to do an intro to any of these guys: https://wpfeedback.co/#coreadmins