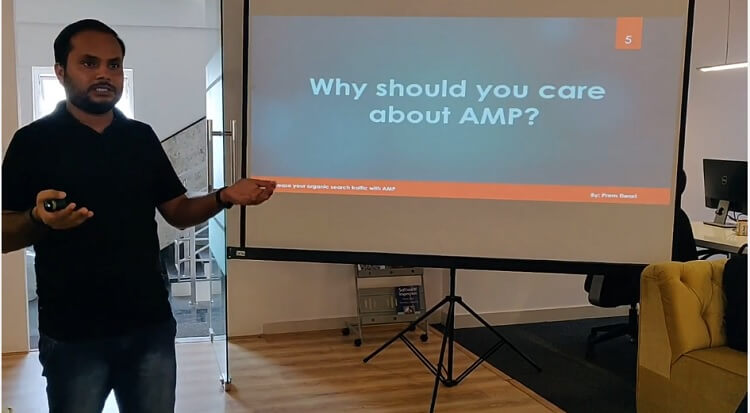 Prem Tiwari
Today we are going to conduct the interview of Prem Tiwari from Bengaluru, Karnataka, India. He is a Open Source Enthusiast, and WordPress Lover.
In the interview, Prem mentioned that he used to share knowledge on WordPress via YouTube, Video tutorials on his blog. Also, Prem mentioned that he loves to play badminton in free time.
Introduction
Prem is a self-taught full-stack developer from India. He is passionate about web development on PHP, MySQL, JavaScript and WordPress. Apart from this, he is a WordCamp Speaker, WordCamp Organizer, WordPress Meetup Organizer, and a regular contributor to the WordPress community.
He used to share his WordPress knowledge via Video tutorials via Youtube and on his personal blog.
He holds great experience when it comes to scaled WordPress projects which cater for the need of big enterprise clients on the WordPress VIP-GO platform.
Personally, he is jovial & a proud father. Playing badminton & living a healthy life is what he admires.
Q. How did you get to know about WordPress? Share if there is an interesting story.
Ans: I have started my IT career as WordPress Developer after my college campus placement in 2012.
In the company itself I came to know about WordPress and started learning WordPress theme creation. After that, I fall in love with WordPress because of its Admin interface with pre-build features.
In 2013, I contributed my first WordPress plugin named "Responsive Facebook Like Box" to the WordPress plugin directory. After that, I started my contribution to the WordPress community by joining and speaking in local WordPress Meetups and WordCamps.
Q. What's the most interesting project you have done to date in WordPress? What were your responsibilities?
Ans: I have developed a WordPress plugin called LiveBlog with a team of 3 developers that is the most interesting and challenging project I have done in WordPress.
I learned lots of things from that project like writing the JS tests using Jest and automation testing using Cypress.
With the LiveBlog plugin, your readers will get your updates as quickly as possible, and we think it provides the easiest and the most flexible publishing environment to make that happen. It is more helpful when you're covering any live events.
Q. Have you ever been to any WordPress meetups or WordCamps? Share your thoughts on WordPress Community.
Ans: Yes, I have attended many WordCamps in person and online. WordPress Community
is an inclusive, friendly, open, and place to thrive.
Q. How does your workstation look like? Can you send us a picture?
Ans: My workstation looks quite simple. Yes, I will attach a picture of my workstation.
Q. What interesting feature do you think you would like to see in WordPress and is currently missing?
Ans: Disable WordPress Update Notifications and auto-update Email Notifications. Because since WordPress 5.5 version, if you have enabled plugin and theme auto-update you will receive an automated email notification when any plugin or theme auto-update is successful or failed.
If you manage a dozen of websites, then you will receive a constant stream of auto-update notifications emails and maybe it annoying you.
Q. Out of the current plugins and themes which one do you like the most and why?
Ans: I like Jetpack plugin because it is a bundle of my features that every WordPress sites need.
Jetpack is highly optimized for performance with Automattic's (company behind Jetpack and WordPress.com) powerful infrastructure running in the background. It has a nicer user interface than your typical WordPress plugins.
Q. Any awesome technology you want to share other than WordPress?
Ans: ReactJS and Salesforce.
Q. Do you like/love what you currently do in WordPress?
Ans: Yes
Q. Where do you find yourself after 5 years
Ans: I want to see myself as a good public speaker and trainer in the next 5 years.
Q. Share something about your life other than work
Ans: Playing Badminton and spending time in crop farming whenever I was in my home town. Apart from this, I love to spend time on the bank of the river for more than an hour thinking about my life and upcoming challenges in life.
I also practice public speaking and try to improve my communication skills.
Q. To whom you give credit for your success?
Ans: My Parents and family.
Q. Can you give us some reference for whom we should conduct an interview next and why?
Ans: Yogesh Londhe, He is a WordPress enthusiastic and very active & popular face in the WordPress community.
Q. How do you reward yourself?
Ans: Watches a movie in the middle of the day with my favourite snack
Q. Any suggestion for WordPress beginners?
Ans: WordPress makes it possible for regular folks like you and me to set up and manage our own blogs and websites.
There are many built-in WordPress features that you should get familiar with. They can make your blogging life easy and delightful.
Take some time to explore the official WordPress documentation and https://learn.wordpress.org/ site.