Nicolas Lecocq
Today we are going to conduct the interview of Nicolas Lecocq from Gex, Ain, eastern France. He is a CEO at Zeus Elementor. In the interview, Nicolas mentioned that at the age of 18 he started learning different web tools and development, and then he quickly find out the WordPress.
Introduction:
Well I started coding quite young, I stopped school at 16 years old to work as a baker as it was close to where I lived back then.
After that, I stopped at 18 and I started to have a big interest on web tools and development, so I started to learn how to create website and I quickly find out that WordPress was my favorite tool for that so I learned many things related to it to always improve my skills.
As you can understand, I'm 29 now and coding is a big part of my life and will be for the years to come.
Q. How did you get to know about WordPress? Share if there is an interesting story.
Ans: Many years ago, I just wanted to create a blog, at that time, I didn't know what WordPress even was. I was a beginner.
By watching multiple video tutorials on how to create websites, WordPress was coming very often, so I started learning it, I began to change the default WordPress theme, responsiveness wasn't a mandatory things back then, so I was editing themes to make them totally responsive for every devices and I realized that I was loving coding.
I fell in love with WordPress, codes, challenges, improvements… The next step was to improve my skills even more.
Q. What's the most interesting project you have done to date in WordPress? What were your responsibilities?
Ans: I created OceanWP theme which is very popular and my responsibilities was to improve it every day, listen community about what they wanted to see in it and manage everything with all the people who was involve with it.
Now that I left OWP, I created a new theme named OlympusWP and a new plugin Zeus Elementor, and I will try those projects as great as I can with help of great people and of course the community.
So I will do my best to improve my new projects and propose great things to the WP community.
Q. Have you ever been to any WordPress meetups or WordCamps? Share your thoughts on WordPress Community.
Ans: Unfortunately no and with the epidemic, I don't know when it will be possible to attend to a WordCamp
Q. How does your workstation look like? Can you send us a picture?
Ans: I have a very simple desk with everything needed to do a great work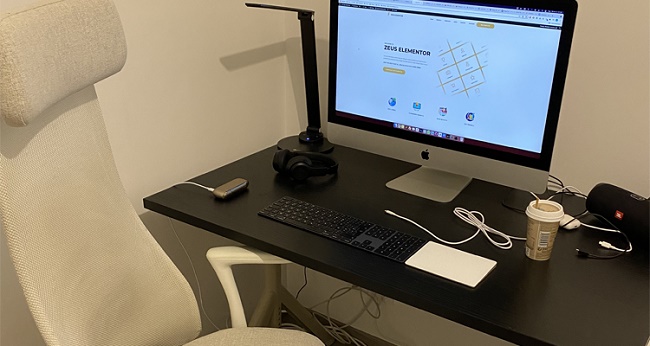 Q. What interesting feature do you think you would like to see in WordPress and is currently missing?
Ans: I would like to see Gutenberg to be improved like a front end page builder, that would change everything and I know it will become a game changer for everyone at the WordPress community.
Except from that, I think that WordPress is already quite amazing and with the community, we have a plugin for almost every need.
Q. Out of the current plugins and themes which one do you like the most and why?
Ans: I love many plugins like WP Rocket, which is a great caching plugin, I love Yoast SEO, Rank Math, I've recently discovered Fluent Forms which I find amazing, Fluent Support too, WooCommerce of course and so many that I can't list them all.
Related to theme, except from OlympusWP, I know that Astra doing amazing things, there is GeneratePress too and Blocksy.
Q. Any awesome technology you want to share other than WordPress?
Ans: Many things related to development like Grunt, SASS, Vanilla JS, Flexbox, and I will start for sure looking at React which I thing will become a very popular tool at some point.
Q. Do you like/love what you currently do in WordPress?
Ans: I love everything I do related to WordPress, most people of the WP community are amazing and want to help when they like your projects so they give great feedback to improve things, so yeah I think I just love WP itself and the community behind.
Q. Where do you find yourself after 5 years
Ans: That's a good question, I hope I will still working on my project and be part of the WordPress world.
Q. Share something about your life other than work
Ans: Well, I had the most amazing news from my wife this year, I will be dad for the first time in a few month! That's a little scary but very exciting too.
So now I think about making my wife and future kid safe and happy.
Usually, I love to go out, unfortunately, now it is a little complicated but I hope everything will be better soon.
Q. To whom you give credit for your success?
Ans: My family helped me a lot, when I wanted to give up, they was always here so I would like to thanks them for their great support.
Q. Can you give us some reference for whom we should conduct an interview next and why?
Ans: I thing people behind WP Manage Ninja would be great to learn about their stories as they propose excellent products.
Q. How do you reward yourself?
Ans: I love to buy gifts to my family, I love to buy me things too and I also love to give to good people as I strongly believe in more you give more good things will happen to you.
Q. Any suggestion for WordPress beginners?
Ans: Be patient, learn from your mistakes and believe in yourself, never give up, learn something new everyday and I can assure you from my very own personal experience that great things will come to you.
You can always learn, even after many years in the industry, new and very interesting languages are coming up, so you always need to keep learning.