David Needham
Today we are going to conduct the interview of David Needham from Champaign, Illinois, United States. He is a Developer Advocate at Pantheon.
In the interview, he mentioned that he started creating a WordPress website 15 years ago also. He also mentioned that he loves attending and organizing WordPress meetups and WordCamps.
David Needham is a Developer Advocate at Pantheon where he focuses on developer education and training. When he's not blogging about productivity at davidneedham.me or speaking at conferences, you can probably find him with his bicycle-loving family playing board games in Champaign, IL.
Q. How did you come into your current field? Share a bit of the background?
A I built my first WordPress site almost 15 years ago when I was in college. I was working on a Multimedia degree with a focus in Web Development and WordPress was a natural introduction to open source content management systems (CMS).
I eventually started focusing on the Drupal CMS, which is what led me to presenting at my first conference and landing my first job in the real world.
I didn't get back into WordPress site-building and development until I co-founded a small nonprofit agency specializing in online marketing for churches and nonprofits. Nowadays I'm a Developer Advocate at Pantheon, which is a WebOps platform for Drupal and WordPress sites.
Q. What's the most interesting project you have done to date in WordPress?
A I also help with a WWII documentary named The Girl Who Wore Freedom (https://thegirlwhoworefreedom.com) where we tell the stories of veterans and the love and appreciation that the people of Normandy have for them.
This has been an interesting project for me because when I inherited the site there was virtually no functionality – not even a blog! And now we have a store, podcast, videos, and yes of course a blog. Be sure to check out the trailer on the website!
Q. Have you ever been to any WordPress meetups or WordCamps? If yes did you learn anything useful?
A Oh yes, absolutely. Organizing and attending WordPress meetups and WordCamps are practically in my job description!


I'm writing this in 2020, which means almost all of the events I've attended have been virtual. The best meetups and camps still have ways to help foster communication and build community.
Sessions and workshops are excellent places to learn something new, but I take every opportunity I can to meet my heroes (and friends) in the WordPress community.
Q. What kind of tools/software do you currently use for your creations?
A It depends on the creation! My work is multidisciplinary, but here are a few of the apps I use frequently:
iTerm: terminal / command line
Atom: code editor
Photoshop: photo edits / simple compositions
ScreenFlow: video edits
Descript: simple video/audio edits with transcripts
Restream.io: streaming to multiple places at once
Simplenote: quick notes and zettle kasten
Todoist: task management
Google ecosystem (mail, calendar, docs, slides, etc)
Q. What does your workstation look like?
A I have a standing desk made from a solid wood door that my local university was tossing.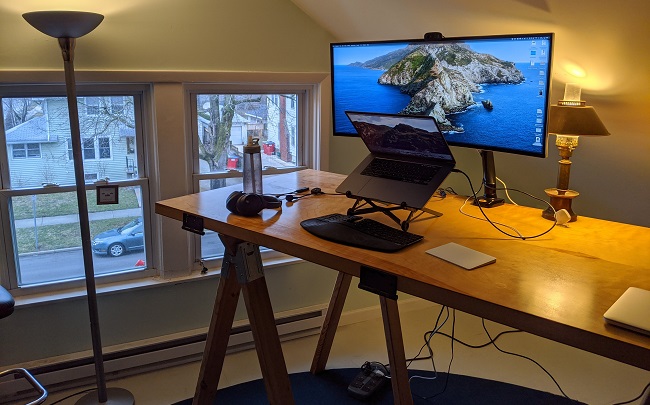 It gives me ample space for my laptop stand, keyboard, trackpad, plus I use the door handle hole to clamp down the monitor arm. I have a webcam clamped onto a freestanding microphone stand so that bumping my desk doesn't jiggle my camera.
Q. What interesting feature do you think you would like to see in WordPress and is currently missing?
A Configuration management. Every time you change the site configuration or build new functionality on a live site you're taking big risks.
Best practices say that work should be done locally or in a development environment. But if you're clicking buttons in the UI, that info gets saved to the database. How do you get that work back to production?
You could overwrite the live database, but that could be even riskier on a live site. You could write a script to update the correct database records, but that's beyond my expertise and too inconvenient for most people to do regularly.
The WP-CFM plugin accomplishes a lot, but it doesn't cover everything. If configuration management was in WordPress core it would unlock many interesting possibilities.
You can learn more about configuration management generally as well as what the Drupal project does for this in my presentation from DrupalCon 2020: https://youtu.be/S9GLT4ssj2Q.
Q. Out of the current plugins and themes which one do you like the most and why?
A I don't know if I like it the most per se, but there's one plugin you may not have ever heard of that I use on every WordPress site: Content Views.
I have a background in the Drupal Community, where the Views module allows you to build lists of dynamic content very easily. Content Views is about the closest thing I've found in WordPress and it's such a hard worker.
Q. Which WordPress hosting do you use and would you recommend for your clients and others?
A I'm a Developer Advocate at Pantheon, but I feel like my endorsement is sincere since I used and recommended Pantheon when I ran an agency too.
I actually just finished creating a video that explains my story in depth: Why We Moved to Pantheon – an 8-minute crash course of Pantheon's value through real-world customers .
Q. Do you like/love what you currently do in WordPress?
A Yes! Publishing websites has never been easier. And even if you're not using WordPress directly, we still have the WordPress community to thank for many of the modern advancements we take advantage of every day.
Q. What would you like to do in the future in the current field or somewhere else?
A It's hard for me to imagine anything better than I do right now! As a Developer Advocate, I spend one week out of every month traveling all over the world to speak at conferences or other events.
The rest of my time at home I'm working on improving Pantheon's training programs, teaching folks how to automate the monotonous or error-prone parts of their jobs, and generally just helping people do good work. What more could I ask for?
Q. Can you give us some reference for whom we should conduct an interview next and why?
A Bridget Willard: https://bridgetwillard.com/