Some steps to pick the best Mobile Application Development Company
Are you looking to create an app like WhatsApp, Facebook, and Ola?
It might seem that you have an idea that how your app will work but dont that how you will make your dream happen into reality.
In the market area, there are lots of mobile application development company that offer mobile app created with different services.
Some of companies might be not able to deliver your app with the feel and functionality you want.
Therefore from thousands of mobile app development companies, it is dificult to select the best one.
Some figures show that the earning produced from the different mobile app stores worldwide will raise extremely by 18.56 billion.
The result was disclosed in 2017, global mobile app revenues was premeditated up to 21 billion US Dollars whereas in 2019 it is anticipated to gross revenue to 76.52 billion US dollars.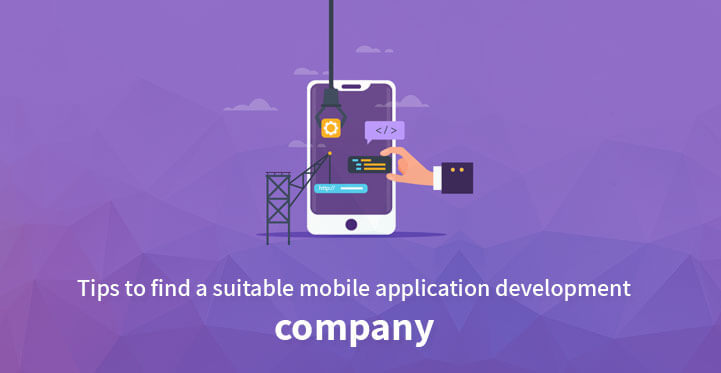 If you really have a flawless concept to create a most successful app that will help you to increase the revenue and earn more than millions, then you need to consider some steps that are mentioned below.
1. Experience and Reputation is the biggest factor
If you want to check the app development companies' reliability and trustworthiness then you need to check their past experience and reputation in the app development market area.
Online research is the process of checking past experience that will help you to get the companies reviews, the total number of experiences they have and total rating given to that company.
In the end, you will get the companies existing clients details and their company portfolio.
Plus be sure that the company has complete knowledge of iOS, Android and various mobile platforms.
Ultimately all this process will help you to get proper features solutions.
2. Customer Service
From installing to development of a mobile app, there might be many issues that can be resolved by only the customer service department.
Therefore, while choosing any company check if that company fits all your app requirements? whether they offer different services?
If they are unable to provide quality customer service then never ever choose to go with that company.
As your app and user may suffer a lot in the future because of their careless behavior.
Such type of companies just concentrate on their profit but not customer satisfaction.
3. Digital existence matters a lot
The app should pass all mobile friendly and responsive tests to boost user engagement and user traffic. Hence the app should be device-independent.
The users first choice must be the companies who focus more on user preference and the user-driven. these types of companies will result in persistent experience via marketing analytics and omni channel delivery.
Learn why mobile app is important for e-Commerce business?
4. Offer predetermined services
The Mobile application development company that is expert in providing and developing solutions plus they are creative and special can prove to be a good ROI for your app. This is the single factor that will convert your app expectation into results and concepts into reality.
5. Profitability
The effective price and quality features are always a battle when a customer willing to buy high-quality products and services at a reasonable price.
Therefore it is said that quality apps may require huge costs. Furthermore, your app must be cost-effective always. Usually, small newly startups offer poor rates whereas old firms offers better rates. Do you own research about their experience and price structure? Thus select the best one.
6. Participation of user through the mobile application development life cycle
Some companies provide the step by step procedure and visual models. This is the best step that can be taken by companies to enhance user performance, security, availability, and scalability.
With the use of transparent feedback loops, all interested users will be able to communicate in the process of app development life-cycle.
7. Quick and Prompt app delivery
Some companies provide the fastest delivery option hence such types of companies should be the first preference to choose. the process of deploying a high-quality app quickly should be the goal of each company.
This strategy will really help those companies to offers app development and will lead them in the competition. for the best business impact and ROI, the faster app plays an important role that always generates higher revenues.
Therefore every mobile application development company should consider this point. Plus to raise in the market they should be always upto-date.
8. App designing rules and regulations
The custom app means developing an app according to the user's expectations. Custom app is very important to lead a person to the path of success.
Therefore every person should select the app development company according to their expertise and skills. For example, if your app is all related to the images but the quality provided by developer and designer is poor, at this instance, your app will not be able to deliver the proper output to the users.
Therefore the user should check the portfolio and work related to their expectations. To assure the app developer follows designing rules and regulations.
9. Reliable quality assurance
Most of the mobile app encounters errors and bugs. While performing, Repeated errors may cause a less user interest. Therefore designing and development is not only sufficient.
Such companies should follow quality assurance and lastest manual testing to convince that final product or a app does not have any bugs and errors
If you are honest in search of the best mobile application development company to create a mobile app then choose a company likewise that can fulfill your needs and expectations. plus the company you choose must be affordable and should offer the best quality services.
10. Security of app
The companies should follow some security rules and regulations to avoid unauthorized persons to access the app. The app idea and concept should be unique and confidential so no other person will take your idea to create an app just like yours.
Therefore each and every mobile application development company should be in favor to sign a Non-disclosure agreement to keep security level high.
Checkout our mobile app theme.
Checkout Android mobile apps play store where you can release your app.