It is said that a professional business email address incorporates the custom domain, clear naming structuring, and easy-to-pronounce words. This way, a business is able to build trust with external stakeholders.
And, you probably have a fair idea of how the established levels of trust help to appropriately target your audience, position a brand name in the minds of consumers, and increase business sales over time.
There are certain rules when it comes to choosing an email address for your business. For instance, always use your domain (if feasible, use a custom domain), use a standard email format, use a standard display name format, employ original or novel ideas, and create special email address to officially display on your website.
However, if you attempt to follow the specified rules while structuring an email address for your business, you can gain potential benefits.
They possibly include: professional appearance of your business email address, email availability, allow for continuity, identifiable or more memorable email, and maintain better control if the business tends to change the web hosts.
So whatever your business is, it is suggested to carefully select a name for your business email address. Read on the article to learn about a few tips: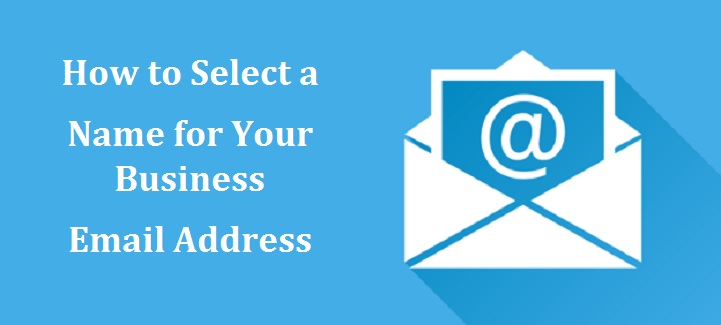 Consider What Your Business Is Trying To Sell
You may be surprised to see this on my list, but it is logical to consider the core of your business when it comes to finalizing the official email address.
Regardless of the industrial sector, nature, and type of your business, everything starts from the product or service. If your business is related to physical goods, you may be dealing in commercial, residential, consumer goods, etc.
On the other hand, if your business provides services, it may be related to banking, lending, insurance companies, education, consulting, restaurant, media, event planning, transportation, etc.
It is best suited to consider the prime activities of your business and then decide on the business email address. Not only this, it is also beneficial to appropriately target your audience in the market.
The unique business name and competitive official email address is significant to position your brand in the minds of suppliers, vendors, clients, customers, and other external stakeholders.
Pick a Trustworthy Domain
If your developer's team has decided on an email service, you must know that Gmail is considered more relevant and appropriate than traditional AOL platform.
This will attempt to serve how your recipients outlook your business. I am not saying that there are no great service providers other than Gmail, I am just mentioning here that reliable platforms offer professional services.
And, with that the chances to incorrectly spell the name gets eliminated to a larger extent. It is also easy for the suppliers, customers, and employees to easily remember the official business address.
You must opt for a customized domain for your business. It's a good choice to gain a needed level of security or safety. The same techniques are employed when it comes to establishing the URL.
Make sure that an email address is east-to-remember, easy-to-spell, and easy-to-pronounce. If you are finding troubles in deciding on the Select Name for Business Email address for your business, then I would recommend you to gain external help from a physical address.
The experts at physical address pull together great ideas to create a unique, yet very easy email address that best fits with your business. They offer high-quality services at affordable rates and help you pin down trustworthy domain for your business email address. If you need a professional business address, call the experts of the field.
Prefer Email Address That Is Easy To Remember
It is obvious that simple, easy, and short email addresses have high probabilities to be remembered by the people. Since so many businesses are conducted within the same industry, it is hard for the audience to keep in mind all the businesses' names and email addresses.
Due to that, it is quite obvious and common to misspell an email address on the small screens of smartphone devices or tabs.
Although it is normal to correctly spell a business email address because of the built-in automatic suggestion feature offered by the contemporary mailboxes.
This feature attempts to gain help from the mail history sent to the business, but unfortunately, it is not feasible in the case when you are sending an email to a new business address.
Thus, the businesses need to prefer building a short email address and avoid using the long string of letters or numbers. This way, it will be convenient for the users to accurately enter your business email address when sending vital files, professional documents, and important data.
With an easy-to-remember email address, they can effortlessly contact your business whenever and wherever it is needed.