In the present era, people believe Google more than they believe anyone else. Google is being searched for almost anything and everything. People, business, food, travel everything is being searched across Google and if unfortunately, Google cannot yield your search requests then the trust scores fall exponentially.
These things are getting into the nerves of people and therefore, if you are into a business, make sure to list your business with Google My Business to make your business stand out in the competition.
It is a free tool that can help businesses to manage a robust online presence so that they can be easily found on Googles' search engines when they are looked for.
There are various ways by which your business can be verified, like Postcards, Email, Instant verification, phone, and Bulk verification.
However, Google reserves the authority upon itself to choose the mode of verification depending on your type of business and location.
If you want instant verification the Search Console tool of Google will be an ideal solution. Google My Business is for bulk verification, like if you have a business that is spread over several locations.
So instead of finding yourself in a mess find out how you can make your business shine. Online business presence has become the part and parcel of business where true efforts and dedication alone cannot help your business to succeed. Here is how to verify Google Listing with My Business discussed in 5 different steps.
Step 1
Add Google Listing
This is the first step on how to verify Google Listing. After signing in to Google My Business click on the Start button and you will be taken to the set-up wizard of the website.
This is where you land up in the very first step of verification. Now you will be required to feed in your business's name or your brand's name in the space allotted for them.
Here is one thing that you need to remember that once you enter your brand's or business's name you can neither delete nor edit the names until you are finished with your verification process and get your verification code.
An alert message warning you to enter the name correctly will appear on the page otherwise you will have to wait for 14 days to reenter your business's name freshly.
Step 2
Business verification
The question of how to verify Google Listing gets answered in the best way in this step. To verify your business, you need to feed in the correct details of your locations where your business is like the street, city, state, postal zip code and the country.
Now select the most accurate location of your business on Google maps.
Drag the map and zoom the place, putting the pointer on the exact location of your business. If by any chance you cannot locate the exact location, place the pointer on the closest location. After this you will be asked for several permissions from Google, check the options that you want to grant permission for.
Like Google will ask for permission if you want to serve customers outside the said location. You can check or uncheck this option based on your convenience.
Step 3
List business category
This is yet another important requirement on how to verify Google Listing. You need to fill in the blank space that states "category of business" that you want to list with Google My Business.
Here you can add more categories or even change or delete certain categories as per your needs. Here you have to feed in your phone number, your email address or your website URL if you have already made one.
Otherwise here you can also create your own website for free wherein your customers can reach you. In the next step, Google will ask for permissions to send personalization tips by which you can improve your listing and online business presence. If you do not want such interference you can skip to the next step by unchecking the boxes.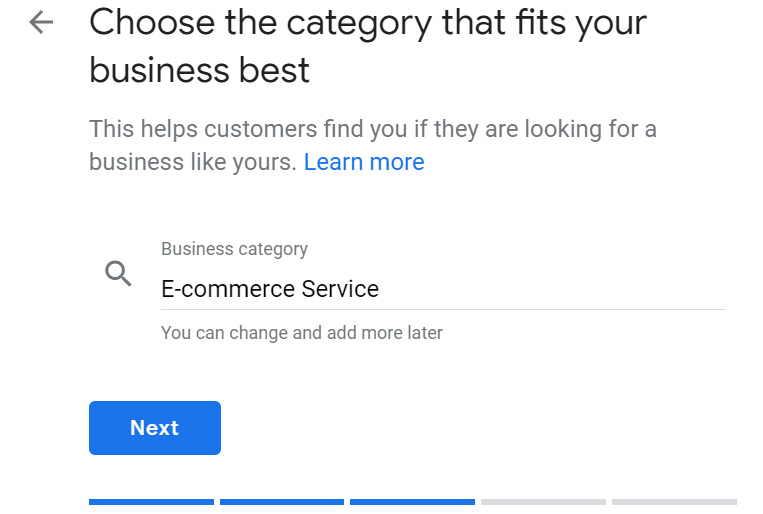 Step 4
Finish verification
When you are done with all the above steps you will be asked to click on the Finish button to end the verification process.
After you verify the connection with your business you will see an alert like "your Postcard is coming" appearing. This takes around 2 weeks to come to you and it will contain your verification code.
While you wait for your Postcard, do something productive for the benefit of your business. You can visit your website as if you are just another customer who found out your website on the web. Visit it and find out what your profile lacks and then make the necessary improvements.
Step 5
Profile personalization
This is the last step of the verification process. In this step, you will be given the option to customize your profile in your own way.
You can add specifications like working hours and days of your business, opening and closing times. You can write something about your business, you can add your business logo by which your customers can readily relate to your business.
You can add banners to the profile photo of your business, you can add photos and useful information related to your business on the dashboard. You will also be given the option to receive notification alerts as to when any customer views or leaves any comment or review on your profile.
This way you can control who can see your profile and how much you want to show them, it will entirely depend on your discretion how much to reveal about your business. It helps the trust scores for your business to soar high.
Take charge of what you want to show people about your business when they search for your business on Google search engines. You can create a free website, update your information and build on an engaging relationship with your customers instantly so that they can search you on their phones, desktops, and tablets.
Going through the above 5 steps you will learn how to verify Google Listing, following which you can list your local business on Google's search engines.