WordPress Themes like Avada are hard to find but we have some of the killer themes at lesser price.
Since these are GPL themes you just need to purchase them once in a lifetime and not per license basis.
Whether you function within the scope of personal or business zone, both traditional and experimental ways of online spectrum should be scrupulously taken care of in order to keep pace with constantly evolving trade, commercial and lucrative relations.
Hence, almost all kinds of small, medium – sized and even large and experienced companies, as well as personal and individual online undertakings should search the best digital strategies and channels to grow their business, enlarge market – base, boost productivity, etc.
In order to stay in a forefront of current and future clients and consumers, easily communicate with fans and followers, friends and relatives or for any other business or individual reason, WordPress content management system offers an amazing selection of templates in diverse categories.
Some of them have already conquered a global fame and client recognition thanks to their exceptional qualities and structural frameworks, user and developer – friendliness and other essential touches.
One of such themes is multi – purpose and responsive Avada with a striking number of active installs. All in all, it has long established itself as a bestseller in the given repository of modern WordPress themes.
In this article we have sort out 2 respectable and reliable WordPress themes like Avada for you to consider any of them for absolutely any kind of future online project.
From simplicity in usage to precision and completeness in case of every single aspect, the below – specified templates are totally worth our attention and further consideration.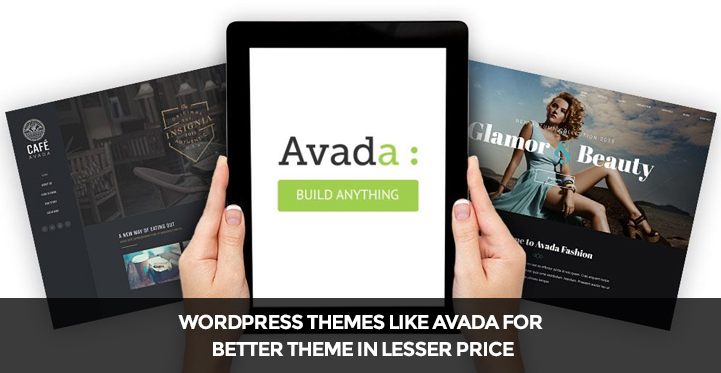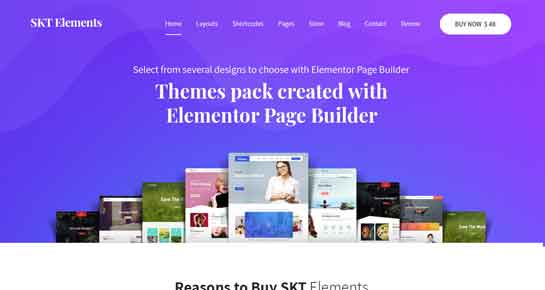 The next top – rated and error – free, challenge and competition – ready and practical template among the WordPress themes like Avada is SKT Elements Pro authored by SKT Themes.
Totally refined and secured, worked – out and updated to be complete and comprehensive in all its manifestations, this template is a sum of high – end features and qualities for superb and sophisticated web performance.
What is more joyful about SKT Elements Pro is that it is offered at an affordable price so that even startups and novices can afford themselves this luxuriance. And as time is the fairest judge ever, it will for sure prove you that every single penny you had ever shelled out for this theme was worth it.
Attention – grabbing and interactive, user and client – optimized, as a highly – recommended pattern in our list of the WordPress themes like Avada, SKT Elements Pro balances between persistent and eye – catchy look and steadfast inner operation juxtaposed with handy toolbox of boundless controls and elements.
From full color control options via color picker to typography arrangement via Google fonts, from beautiful full – width homepage slider to host your lovely images and photos to easy shortcodes, modern customizer at the theme's core to exercise customization options and review all the done work live, you are lucky enough to enjoy all.
The theme's armory also includes also includes accurately nestled theme sections and areas, several inner page layouts and inner page headers, header and footer variables to choose from, as well as PO file inclusion to make your website translation ready.
Tested with WPML and qTranslate X plugins, Complete Pro feels invincible when it comes to presenting your content in multilingual format. It will give you all the practical chances to market outside of your locality and get in touch with your international clients easily.
Responsive and device and mobile – friendly design coding of the theme also comes into play in an effort to keep pace with the rapidly increasing mobile internet consumption rates. It means that your content will keep its fantastic look and feel when viewed on different small, large or medium – scale mobiles or gadgets.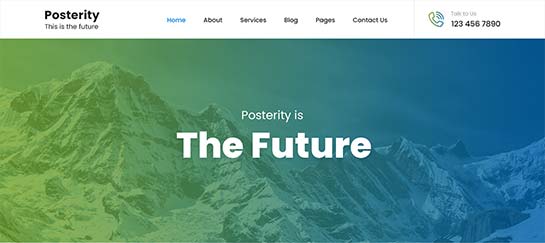 As one of the WordPress themes like Avada, Posterity Pro can be a stunning inspiration for contemporary business and personal undertakings to give rise to an unbeatable manifestation of all the target products and services.
Offers or portfolio in the visually engaging fashion with diverse high – resolution images and videos.
The sophisticated experts and specialist working on this awesome template spare no efforts to make this pliable and inherently invigorating, well – laid out fresh – faced website builder a cheer to play with without extra endeavors or obstacles to overcome.
It is packaged with pre-installed templates to be used as per the future web objectives and working style, shortcodes to quickly add any target content or edit it, page builder compatibility for creating any kind of required layout.
Nicely categorized homepage with respective sections and areas is also at your disposal to showcase your images and publish your content catering to your personal or business profile, services, works, portfolio or whatever you may think expedient to be shared with your audience.
Although functionally strong and feature – rich, this website builder as one of the WordPress themes like Avada is surprisingly simple and cozy, stylized with taste and elegance.
Moreover, you will be authorized to easily pick up from a convenient color wheel to change the existing colors and add your favorite ones matching your business or personal style.
Another tricky investment into the visual enhancement of your profile can be done via slider plugins when added to the existing theme. Lots of top – rated slider plugins have been tested with Posterity Pro so that you can review them and find the best variant for yours.
From SEO – optimization standpoint, the template is exclusive as well, since it is compatible with a wide array of SEO plugins such ass All in one SEO or Yoast SEO.
Accordingly, the extendable SEO nature of the theme, when supported by any of such plugins, will celebrate every single touch required for the right search engine – friendly layout to let your website content enter into the valuable calculations by the major search engines and rank it accordingly to occupy leading top positions, to boosting your website traffic, etc.
Other plugins including WooCommerce as an e – commerce solution, contact form, as well as gallery plugins also generate flawless collaboration when dealing with this template.
All the clear and streamlined coding which modern WordPress community and its Codex call for are strictly done and maintained, including total responsiveness and cross – mobile compatibility as well.