We have collected the most promising WordPress themes for 2022 to guarantee the sustainable and revenue generating nature of your website revolving around any niche or topic, from personal to business, and everything in between.
When it comes to choosing the starting point of a website now, you may feel confused by the avalanche of the offered web development systems, tools and templates.
Even if you narrow down your searches to the exact theme you need for the creation of your specialized one or multiple page, pixel perfect and easy to customize website that will be of premium quality.
You will be offered to make your selection among dozens of such promising WordPress themes for 2022 which again is a tough task to do.
Well, in order to help you sift through that mess, we have done our best to put together some of the most professional and promising WordPress themes for 2022 custom built to pave your digital way to perfection and solidity.
Irrespective of the fact that web design and coding trends are constantly changing, there are certain touches and controls every modern and future scalable template should incorporate.
With any of these promising WordPress themes for 2022, everything is kept under strong control and surveillance to make sure it can reliably determine the best structure, form and function of your website as per the latest standards and requirements of the digital realm and WordPress community, in particular.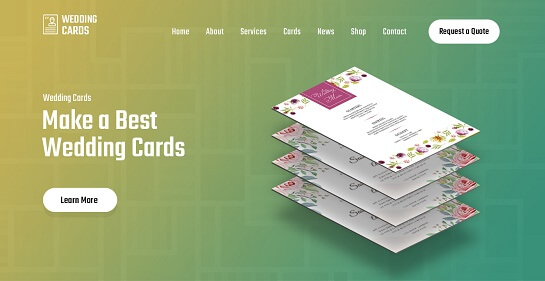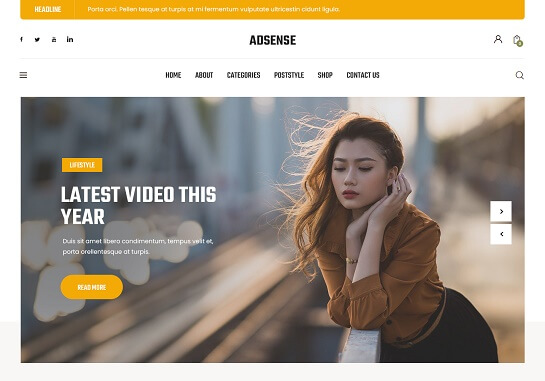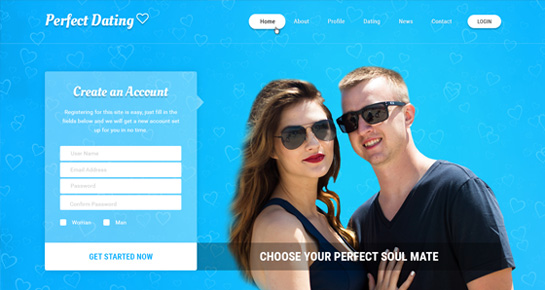 Dating is a sophisticated and well coded platform ready to serve the needs of absolutely any kind of business or personal undertakings online. From good to the best, the features and components included in the theme are irreplaceable when you are about to give your final touches to your future website.
The customizer on which Dating is based enables you to make tons of changes to the look and feel, functional and technical capacity of your site and check or preview them before making them accessible for your target audience.
Its' a way more than just a website template for WordPress based sites. It's a fantastic unity of modern design touches and advanced technology to make your online experience both enjoyable and productive.
The financial world has never been in need of online exposure and connection as right now. Therefore, the seasoned developers at SKT Themes have concentrated all their vocational efforts into creating and launching one of the promising WordPress themes for 2022 for the financial world and all its manifestations and representatives.
Given the dynamic high speed ways of Internet usage via smartphones and other portable devices, your website is going be well prepared for the flows coming from such sources. It means that Finance is fully responsive and knows the best way to adjust your website to any modern screen size or resolution.
As for the other important features this template shares, they are many, from SEO and SMO friendly coding to ideal cooperation with commercial platforms and systems, shortcodes based foundation and possibility to get access to additional packs of shortcodes via plugins, etc.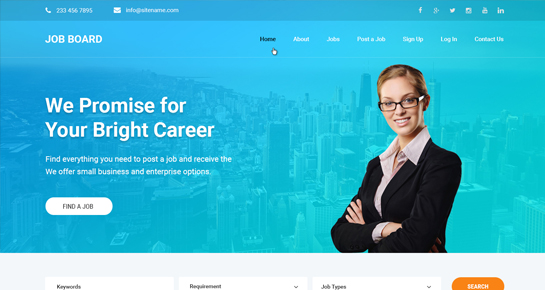 The importance of online recruitment and job portals for bringing employers closer to the jobs of their dreams can never be underestimated in today's virtual centric world.
SKT Job Portal is one of such job and work, HR and recruitment based template any respective business can rely on.
Reach out a wider audience with your website based on this responsive and mobile optimized template and provide your website guests with the most lovely and convenient user experience they have ever dealt with.
From smooth and light navigation controls to pixel perfect imagery on the homepage slider, from accurately arranged vacancy listing zones and widget ready areas to Google approved typography, everything is well taken care of.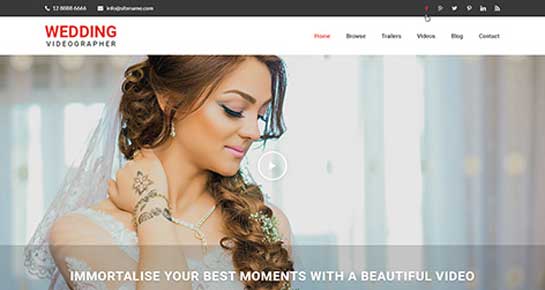 The next enthusiastic and visually pleasing template falling along the spectrum of the promising WordPress themes for 2018 is called Wedding Videographer.
This template is intended to make the life of photographers and videographers, wedding and event planners and coordinators, portfolio and shop owners, as well as any type of contractors and service providers easier than ever before.
The strong and results driven framework of this template is robustly linked to the security and error free performance of your site with HTML 5 coding and cross mobile and browser support.
It also comes with useful page and post layout managers, homepage beautiful slider with controllable transition and other effects, translation ready platform with PO file inclusion and much more other demanded features.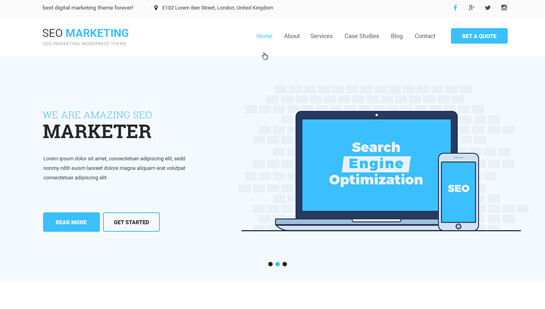 Once you are online with SKT SEO, you can enjoy the diversity of forms and appearances your site may wear, from the cleanest and simplest to the most colorful and saturated.
Designed by the digital experts for the digital specialists, web designers and programmers, SEO and SMO managers, hosting and domain providers, IT specialists and consultants, SKT SEO is convenient to install, manage and customize at any stage of your current or future website's development.
Footer, header and sidebar layout choices, typeface and color controls, homepage manageable slider, blog section, controllable inner banner and multilingual compatibility can also be found within the theme.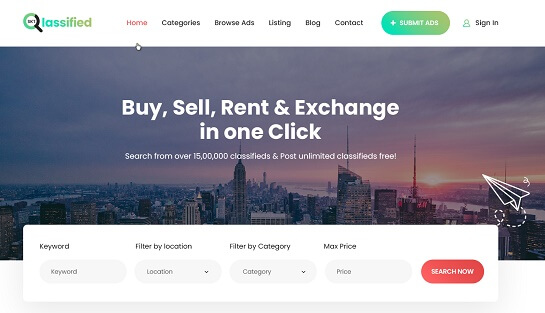 Classified Ads is all about charm and enthusiasm to make you be fired up to win in your target industry or business spectrum.
Designed both for startup and long established and expensive businesses, Classified Ads offers extra ways of monetizing your virtual presence with advertisements placements on your website relevant areas and sections.
Classified Ads is a template that can be managed by everyone since it is bundled with pieces of shortcodes, easy drag and drop functionality armed customizer with preview mode, extensible functionality with additional extensions and plugins. And all this can be perfectly organized without touching the basic codes of the theme.
With the overall responsive layout to adapt to any screen size, Classified Ads is also wonderfully search engine and social media friendly.