What design and visual style use in website to reflect the excitement and energy associated with motor sports?
When designing a motor sports website to reflect excitement and energy, it is essential to incorporate vibrant colors, dynamic visuals, and engaging design elements. Opting for a bold color palette, such as vibrant reds, oranges, and yellows, can evoke a sense of energy and enthusiasm.
Additionally, utilizing eye-catching and high-resolution images that capture movement, action, and passion can instantly convey excitement to the viewers. Incorporating sleek and modern typography can also contribute to the overall energetic vibe of the website.
Whether it's the sleek lines of a smartphone, the intuitive layout of a website, or the harmonious blend of colors in a room, design has the power to shape our perception and enhance our daily lives.
In addition, the use of interactive components like as animations, movies, and sliders may provide a sensation of motion, resulting in a user experience that is both immersive and engaging for that user. The use of striking layout, with typefaces that communicate a feeling of motion and energy, may also make a contribution to the design as a whole.
Do you know a good theme can entirely change your website's presence and make it a highly preferred one by your visitors? Thus, it is crucial to stay attentive to the features that you are picking for your theme.
Especially when it comes to picking a theme for a website related to car racing, car servicing, hiking, cycling, biking, etc., the template must have some speculative appeal and elements in it.
So, here are some motor sport WordPress themes for you that you can use to create a stellar website. Have a look!
If you are thinking of giving your website a trendy and well-optimized appearance, then you have to pick up those themes, which are perfectly made for you.
So, here are some of the themes that we have discussed that can give you an effective performance to boost your website's presence. Hence, give any of these motor sport WordPress themes a chance to add value to your website.
Best Motor Sport WordPress Themes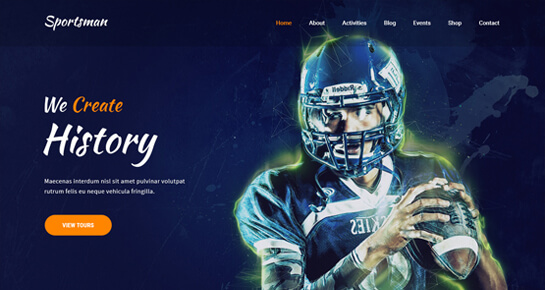 For your athlete WordPress website, you must look for motor sport WordPress themes that can offer your online presence a noteworthy appeal. Sportsman Pro is a unique WordPress theme that comes with a page builder plugin.
This theme is simply great with its impeccable design that goes hand in hand with the website subject like health club, sports training center, fitness center, sports material shop, etc.
Here are the following features that make this theme a great one:
There are five layout variations available to design the footer section
The coding in this theme is done based on SEO standards
This theme is entirely responsive that fits well with any device
Four layout variations available to design the header section
Works well with a variety of RTL languages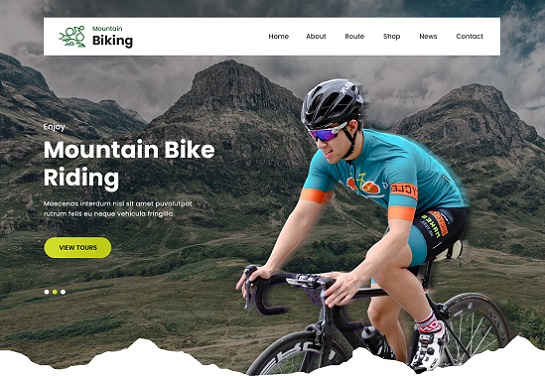 For a biking or cycling subject-related website, you need to have a theme that can speak of its core language beautifully. Mountain Biking is just the ideal one for this purpose.
This theme is one of the best web solutions for businesses that centers around biking, cycling, bike stores, etc. with this theme, owners of such businesses can take their success to a whole new level.
Even for niches like climbing, camping, hunting, sports shop, outdoor shop, etc., this theme goes exclusively suitable.
Here are the features it offers:
This one comes 100% GPL license-ready.
The installation process is very fast and convenient.
Works well with major third-party plugins like WooCommeerce, SEO plugins, Contact Form plugin, etc.
There is no need for any technical knowledge to set this theme up.
It comes with 1 year of customer support.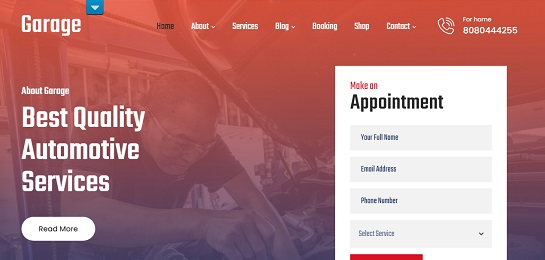 For your car repair service-related website, you must go for motor sport WordPress themes, which are an ideal match. For auto glass, auto inspection, auto painting, auto repair, car repair, car wash, body shop, maintenance, tires shop, etc.
SKT Garage theme offers a unique appearance. There are loads of features that are included in this theme that can make your job easier.
Here are the features:
This theme features contact form 7 that helps you to reach out to more followers.
This theme is multilingual and translation ready for a great SEO.
You can add various options like FAQs, team pages opening hours, etc. with its preconfigured functionalities.
You can keep your visitors engaged with widgets, footer, and header area.
It is compatible with inner page builders like Gutenberg editor, SiteOrigin, Divi, WPBakery.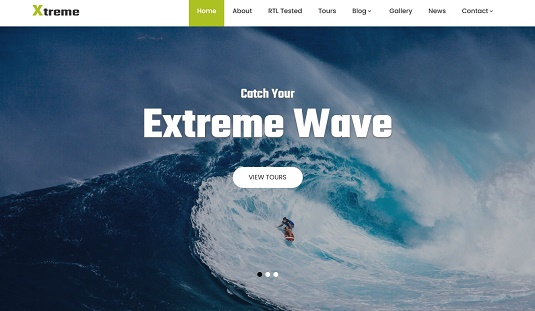 SKT GB Extreme theme is much easier to use and a simply great one with its well-optimized themes. This theme is made to become multi-purpose so that you can have a great time while working with it for your multiple sports-related sites.
The sleek design of this theme makes it great enough to offer your site a very responsive outlook. At the same time, it is compatible with the new Gutenberg editor.
Here is what this theme offers:
This theme is based on SKT blocks.
It features 2 different layouts to create a contact page.
This theme is iPad and iPhone optimized.
There are 900 + google font options to create a stellar typography.
It is compatible with shortcodes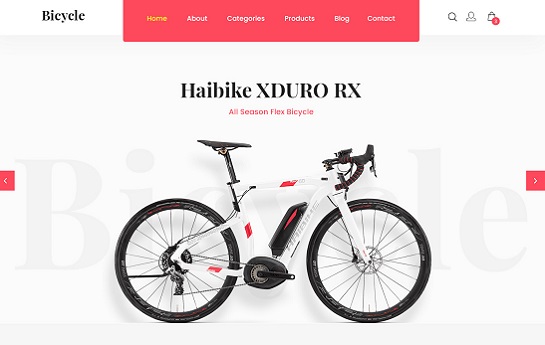 Bicycle Shop is a unique cycling WordPress theme that you can use to style blogs, businesses, portfolios, and an eCommerce site for Bicycles.
The demo content of this theme nicely gratifies all the needs for service niches like bicycle parts, sports shops, bike junkyards, electric cargo bike sellers, and many more.
The clean code of this theme will help you to secure a position at the top of a search engine result page.
Here are the features it offers:
You can add a custom logo to your website
Lets you showcase your cycling services in the column feature area
This theme is WordPress 5.6 version compatible
It lets you track your customer's behavior with Google analytics
Fully compatible with WPML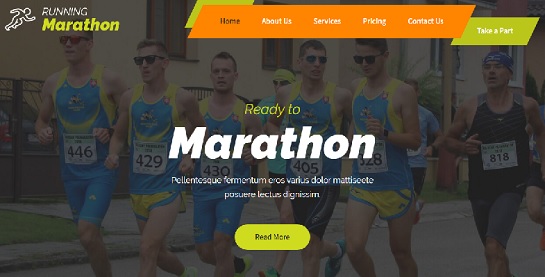 SKT Marathon is a multicolored website template that makes it one of the greatest motor sport WordPress themes. You can conveniently use this theme for subjects related to runners, athletes, sportsmen, and various healthy lifestyle people.
The design of this theme is very special as it is crafted with the latest elementor page builder. You can customize the theme the way you want.
Here are the features it offers:
This theme comes with the great support of 1 year for maintenance.
Compatible with WordPress 5.0.
It sports all types of sliders, which are user-friendly and mobile-friendly.
The layouts are 100% responsive and retina ready.
Coded with SEO approaches.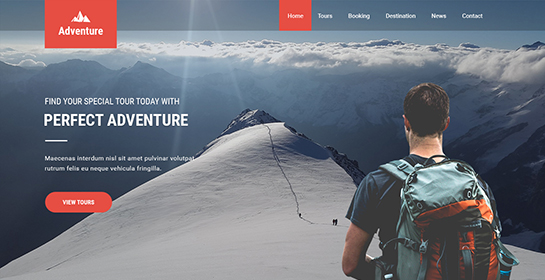 The Adventure WordPress theme is easy to use for various adventurous sports purposes. With this theme, you can list all your sports and merchandise.
You can use this theme for various kinds of activities like skiing, cycling, hiking, trekking, etc. This theme is simple to use and easy to edit from its backend.
Here is its multitude of features that make this theme a great suit for you:
It is WooCommerce compatible.
It goes compatible with plenty of calendar plugins and various other events.
It has up to 5 dropdown levels.
This theme is CSS3 based, which lets you use animated columns.
Compatible within paid and free page builders.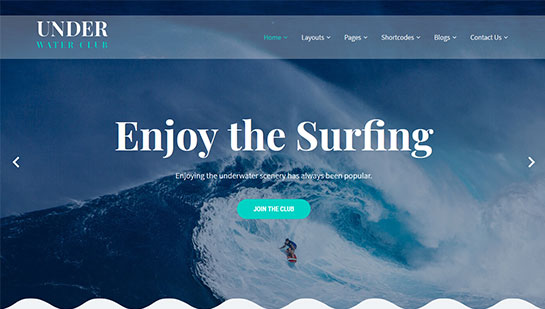 Are you looking for one of the best motor sport WordPress themes for your stellar website based on water sports-related services? Then this theme has umpteen advantages for you. This theme is very simple to use with its professional-looking design.
You can use this theme for aqua diving clouds, snorkeling, surfing, adventure agency, and various other activities. There are plenty of features included in this theme to give you a unique website presence.
Here are the features that are made to benefit you:
This template goes congenial with the latest WordPress version and latest plugin.
This one is built dynamically so that you can change all the fonts, texts, images, and videos without any hassle.
This theme is 100% responsive.
This theme has passed Google mobile-friendly test
It is coded with the latest technical languages like CSS3 and HTML5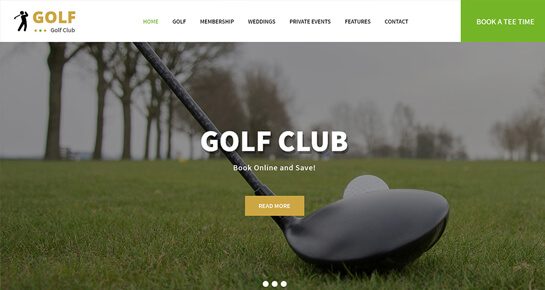 SKT Golf is one of the most easy-to-understand themes that you can use for sports-based WordPress sites. The multi-purpose design of this theme makes it highly exclusive to use for any closely related niche-based service options.
One of the most interesting facts about this theme is, as you install it once, it will become available to your customers for free of cost.
Here are the features it offers:
The coding has been done as per SEO standards.
You can add various plugins like maps, Google analytics, events, gallery, slideshows, and others to make your site's performance better.
The coding is done as per codex standards.
There are color picker options added to this theme.
800+ google fonts have been integrated into this theme.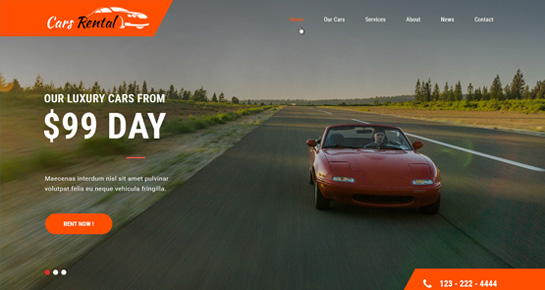 The Car Rental theme is a unique choice for any site offering related services. Being one of the motor sport WordPress themes, this one comes up with a variety of functionalities. This responsive theme goes nicely compatible with various screen resolutions.
There are various colors available for this theme that you can change as per your necessity. You can easily add Cyrillic and Latin subsets with the help of compatible font sets.
Here are the unique features this theme offers:
100+ shortcodes added in theme for your ease of using
This theme is very simple and easy to manage
It features a much flat design that goes highly compatible with old browsers as well as with current designing trends
At least 6+ sliders are compatible with this template
Retina ready and HD ready code compliance has been done on this theme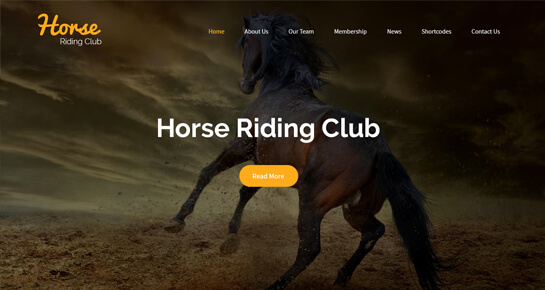 This Horse Riding theme is designed to meet perfection in every manner. This theme is a CSS3 animated one that loads quite quickly with plenty of nice effects. You can remove all the effects on your homepage area quite quickly with a single click.
In this theme, each of the sections is a way to choose through pages. You can add any type of content to those pages. The top area of this theme has pause time and easy animation control for its 10 slides.
Here are a bunch of features this theme includes:
This theme is SEO friendly that helps you to secure a very quick rank.
It is RTL language compatible.
Blog layouts are added for blog and single posts.
The sidebar area is widget friendly.
There are header and footer layout options present in this theme.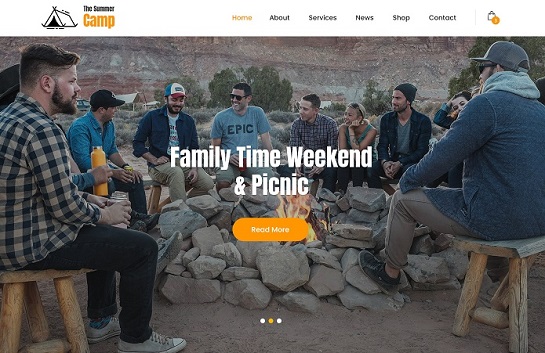 The Summer Camp theme is a unique choice for any of your clean WordPress websites that is focused on campsites, camping agencies, campers, activity sites, etc.
You can also employ this theme for summer children camps, camping facility services, kid's events firms, hiking agencies, campers, sports solutions, kids' activity center companies, etc. This theme fits well for various other service offerings like water camp, nature camp, etc.
Here are the features it offers:
Lets you add HD video, photographs for your camping to make your portfolio unique.
This theme offers a wide range of colors.
The coding is done as per SEO standards.
Works quite smooth on every screen size.
WordPress 5.4+ compatible.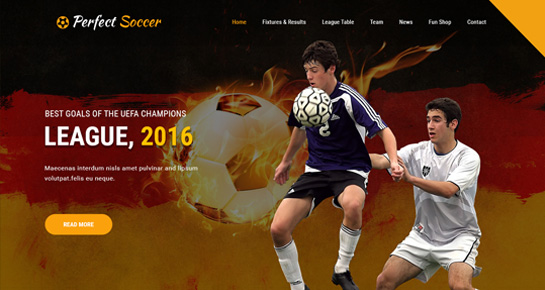 The SKT Soccer theme is simply one of the most responsive motor sport WordPress themes that you can use to create a unique looking extensive website. This theme has been made intuitive with its easier-to-use panels and options.
Users can easily make necessary changes on this theme as per their necessity. You can have total control over your site layout, page layout, and various other layouts. There are color-changing options that you can use to customize your theme.
Here are the features this theme offers:
4+ layout options are offered for the header section
Easy typography control is offered with the font selection, full-text color, etc.
The footer section has 4+ choices
Convenient CTAs are offered in the sidebar, header, and footer
There are plenty of standard pages like 404, categories, archives, search, and on other pages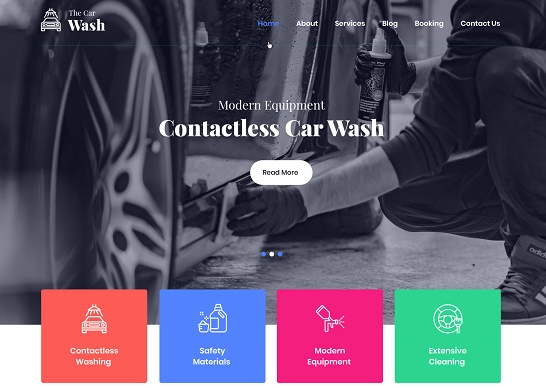 To grow your cars' wash and maintenance business, you must give it an online platform. It will help you to gain more customers, which will boost your overall revenue.
However, the main concern is how do you give your website a unique look to make it stand out significantly? You can opt for the SKT Car Wash theme, which is just made to offer your website the appeal which can drive more visitors.
Here are the features it includes:
For branding and color scheme, this theme is simply unique
It offers hundreds of Google fonts for a unique typography
It gets integrated easily with Elementor and other top page builders
It gets integrated with free and premium plugins
This theme is fully responsive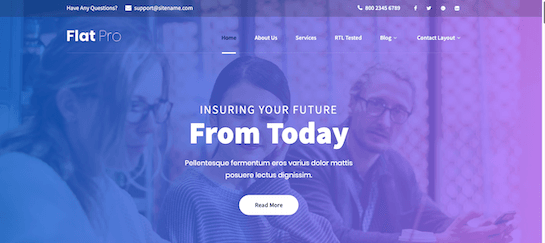 Flat pro is one of the most unique-looking motor sport WordPress themes that you can seamlessly use to give your website a unique presence. It comes with some of the exclusive functions that make it a great choice for your service-related website.
There are a large number of unique features which are created to give you a good performance every time.
Here are the features it offers:
It has been code with CSS3 and HTML5
It comes completely documented
There are 8+ templates available in this theme
It comes with some brilliant header and footer collections
The inner banner is easy to customize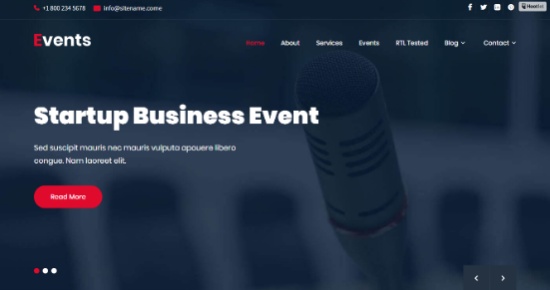 SKT Events is another responsive theme that you can try out to give your WordPress website a note-worthy appeal. This multi-purpose theme is suitable for a large range of sites.
You can use this theme with your website to easily manage several events from one single platform. This template comes with a design that makes it easier for you to create a multi blogging website.
Here are the features it offers:
The template supports elementor page builder.
It supports SEO plugins and WooCommerce plugins quite seamlessly
There are 4 stylish headers included in the page and post layout
Compatible with the latest WordPress 5.4.2 and the latest version of PHP
One can have easy access to 870+ Google fonts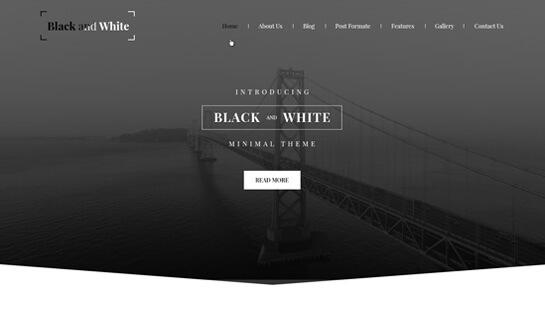 Black and White are one of the minimalist motor sport WordPress themes that you can use to create a stunning website. There are color-changing elements present in this theme that you can use to render a customized experience.
There is a large range of features present in this theme that you can use to enable some of the great functionalities in your website.
Here are the features that this theme showcases:
WooCommerce ready and compatible
Widget ready with its header, footer, and sidebar
It comes shortcode ready with its built-in 100 shortcodes
This theme is CTA ready
This theme is HD and retina ready