Lighting shop WordPress themes are excellent choices for businesses to present their products and services in a visually-appealing and professional manner.
These themes often include functions like a product catalog, product search, responsive design, and e-commerce connection. Custom color schemes, custom backdrops, and the ability to alter the appearance and feel using custom scripting are very common.
Lighting shop WordPress themes deliver an excellent approach to putting a business online and establishing a professional presence. They are built to be readily configurable, allowing you to adjust the appearance and feel of the site to reflect your brand.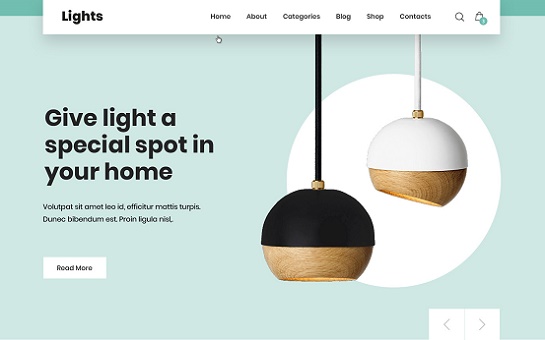 SKT Lights WordPress theme is responsive, which means they look fantastic on all platforms, from computers to mobile phones. It is SEO optimized, which means they are built to help your website rank higher in search engine results pages.
Here are some beneficial features of the SKT Lights theme for the website. It provides free customer support, guaranteeing that you have access to assistance if you require it.
Developers find it simple to use.
Even inexperienced users are easier
Provide step-by-step directions
Easy to find helpful video tutorials to get you started
Comes with fully customizable options
Allowing you to modify the look and feel of your website.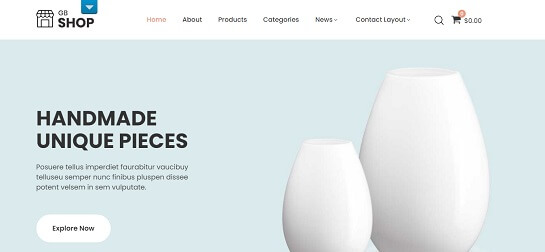 Among the Lighting shop WordPress themes, this theme provides an excellent alternative for developing online retailers. It has a contemporary, clean look and several customization possibilities. Its user-friendly design also makes it simple to use and administer.
It is one of the greatest alternatives for creating an online store because of its built-in WooCommerce plugin. Developers can add the options like a shopping cart and wishlist within the website to make shopping easier.
Responsive design.
Ecommerce integration.
Easy to use drag and drop page builder.
Easy to customize design and layout.
Variety of product display options.
Easy checkout process.
Multiple payment gateways.
SEO friendly.
User account management.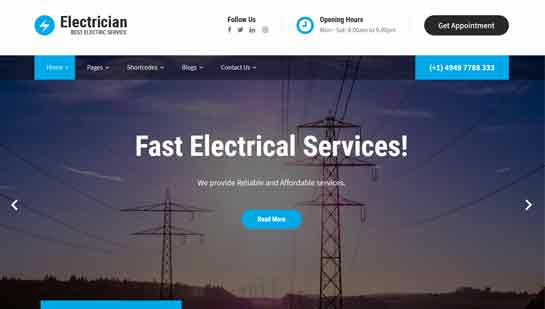 The Electrician Pro WordPress theme appears to be an excellent option for electricians wishing to build a professional website. It offers a contemporary look, a comprehensive range of features and customization possibilities, and is SEO-friendly.
It also offers a template library to help you get started quickly. Overall, this theme appears to be a good pick for anyone working in the electrical industry. These are some awesome features:
Integration of an e-commerce site.
Design that is responsive.
Design and layout are easily customizable.
Page builder with drag and drop functionality.
Checkout is simple.
A variety of product display choices are available.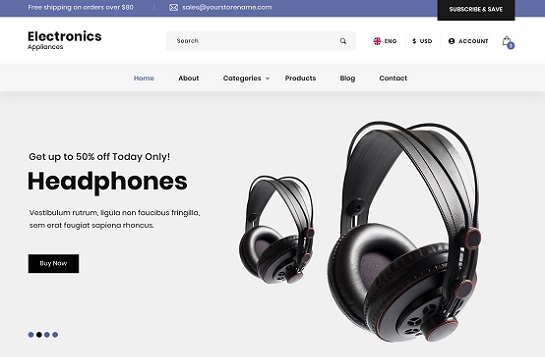 The SKT Appliances Pro WordPress theme is one of the popular Lighting shop WordPress themes. It is an excellent choice for appliance-related businesses. It boasts a sleek, modern appearance that is guaranteed to catch potential buyers' attention.
The theme also contains a number of customization possibilities, allowing users to construct a one-of-a-kind and professional website that represents their company. This theme has a plethora of customization possibilities, allowing you to create a one-of-a-kind design for your website.
Delivers mobile-friendly website design.
Allows clients to see and purchase items on any device.
Provides an excellent choice for companies in the appliance market.
Responsive website design
Cross-browser compatibility.
eCommerce integration
Dedicated support.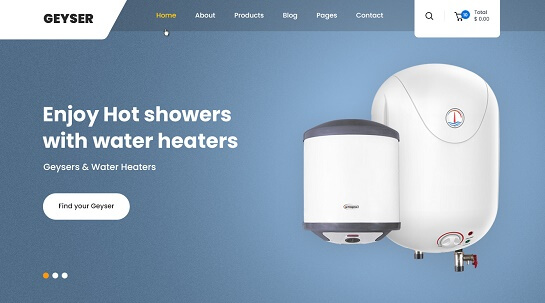 SKT Geyser is responsive, so it looks well on every device and screen size. It also features a flexible layout that allows it to be readily changed to meet your needs.
It comes with 5 various header styles to select from, allowing you to build unique themes for your website. It has social networking icons built in so you can share your material with your audience.
Provides custom widgets that you can use to enhance your site's functionality and content.
Better search engine optimized.
Compatible with the famous WooCommerce plugin
Allows you to sell things on your website with ease.
Includes a library of Google fonts.
Simple to install.
When choosing a home decoration website theme among Lighting shop WordPress themes, the Home Décor theme has a stunning, contemporary, and minimalist look. This theme allows you to develop great Home Decor websites easily.
A full-width slider highlights product categories and includes a call-to-action button. This WordPress theme is totally responsive across all devices and platforms, ensuring that your consumers have an excellent viewing experience regardless of the device they use
Comes with a simple customizer.
Allows you to make tweaks
Change the colors, fonts, and design.
Use of powerful widgets
Creates an attractive homepage.
WooCommerce integration is easy to achieve.
Greater and plenty of features.
The Luxury Watch theme is entirely responsive, guaranteeing that your website looks great on all devices of any size. It also has a Retina-ready design, which allows you to show your photographs in better quality for improved clarity.
It has a robust admin panel allows you to easily personalize your website. You can easily modify your content and alter colors, font sizes, and more.
Includes a customizable homepage option.
Holds a powerful admin panel.
Easy to insert images and videos.
Easy to create a unique design.
Comes with a fully-functional online store.
Better SEO optimization.
Allows the use of powerful widgets.
SKT Feng Shui comes with a number of custom widgets that enable you to add content sections, contact lists, and other elements to your website.
It is 100% responsive and mobile-friendly, guaranteeing that your website looks amazing and works correctly on all devices. The theme contains various slider settings, allowing you to create a gorgeous, eye-catching slider for the homepage of your website.
Obtains better flexibility to develop your webpage.
Developers can get easy customization without any coding work.
Provides custom menu options to develop your organized website's content.
Works well to boost SEO.
Supports different browsers.
SKT Minimal Pro is a visually beautiful and responsive WordPress theme. It looks fantastic on all platforms, from desktop computers to smartphones.
The theme includes a number of custom widgets, such as a Recent Posts widget, a Social Media widget, a Popular Posts widget, and others. It is SEO-optimized, so your content will appear higher in search engines.
Allows the use of shortcodes.
Showcase your website properly on the internet.
Makes content creation easier.
Offers multiple layout options.
Allows the use of a custom footer.
Easy to add important information.
Comes with a built-in slider.
The SKT Gold WordPress theme is built to appear fantastic on every platform, from desktop PCs to mobile phones. It is responsive, which means that it adapts to the size and form of the device on which it is being seen.
It is SEO-friendly, enabling you to generate search-engine-optimized content. This will allow it to rank higher on search engine results pages, resulting in more organic visitors
Easy to customize.
Addition of custom widgets
Pick the best layout that fits your website.
Implements different color schemes.
Comes with an effective page builder.
In the list of Lighting shop WordPress themes, the Home Theatre theme is optimized for every device and screen size. The WordPress Customizer makes it simple to change the theme's look by allowing you to change the colors, fonts, and layouts.
Using the bundled slider, developers can showcase their latest movie clips, theater events, and more. Developers can add a Google Map to your website in minutes to help clients locate your theater quickly and effortlessly.
Allows the integration of social media.
Brings multiple-page templates.
Helps your website to get SEO optimization.
Brings customer attention with awesome website designs.
Get an eCommerce-ready website.
The WooCommerce plugin is completely compatible with the PVC Pipes WordPress theme, so you can quickly set up an online store. It is entirely responsive and hence looks excellent on any device.
The theme comes with a number of modification possibilities, allowing you to build a one-of-a-kind appearance for your website. It comes with a range of page layouts, allowing you the freedom to design the ideal website for your company.
Enables the incorporation of social media.
Provides a variety of page templates.
Assists your website in obtaining SEO optimization.
Attracts customers' attention with eye-catching website designs.
Obtain a website that is ready for eCommerce.